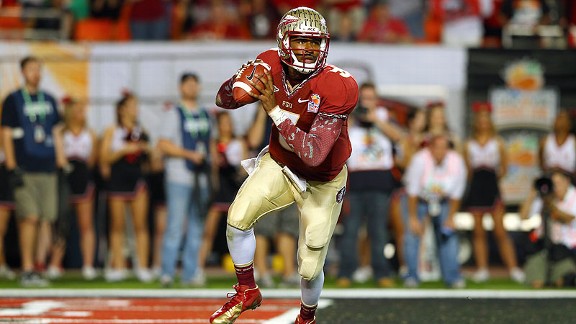 Mike Ehrmann/Getty ImagesEJ Manuel tells the guys about his expectations for the NFL draft, the success of mobile QBs and more.
• Florida State QB EJ Manuel discusses preparing for the NFL draft, the recent success of mobile QBs, dealing with criticism, his expectations and more. Manuel

• ESPN NFL draft Insiders Mel Kiper Jr. and Todd McShay talk about the QB class, the depth of the draft, Marcus Lattimore, Manti Te'o, the Darrelle Revis trade and more.
Kiper Jr. and McShay

• ESPN NFL Insider John Clayton comments on potential trades involving Branden Albert, Chris Ivory and LeGarrette Blount, the QB class in the draft and more. Clayton

THE HIGHLIGHTS
Herm Edwards, NFL
ESPN NFL analyst Herm Edwards weighs in on how to beat the Seahawks, Bill Belichick's comments about replay, the playoff picture, Mike Tomlin's apology and more.
Mike Slive, CFB
SEC commissioner Mike Slive comments on why the winner of his conference deserves to play in the national championship more than Ohio State, the value of a loss, the competitiveness of his teams and more.
Charles Barkley, CFB
Basketball Hall of Famer Charles Barkley comments on Auburn's last-second win over Alabama, the BCS standings, the Nets' disappointing start, Paul George's style of play and more.
Rob Gronkowski, Patriots
Patriots TE Rob Gronkowski weighs in on the state of New England's offense, Antonio Smith's controversial comments, illegal hits, his health and more.
Cris Carter, NFL
ESPN NFL analyst Cris Carter covers Saints-Seahawks, Russell Wilson's style of play, USC's decision to hire Steve Sarkisian, the BCS standings and more.
John Clayton, NFL
ESPN NFL Insider John Clayton comments on Saints-Seahawks, how the league could discipline Mike Tomlin, the injuries to Aaron Rodgers and Jay Cutler and more.
Fred Smoot, NFL
Former NFL CB Fred Smoot responds to Steve Smith's recent remarks. Smoot also dishes on what playing against Smith was like, the nature of WRs and more.
Chris Weinke, CFB
2000 Heisman Trophy winner Chris Weinke talks about the BCS standings, Jameis Winston's legal status, Geno Smith's struggles and more.