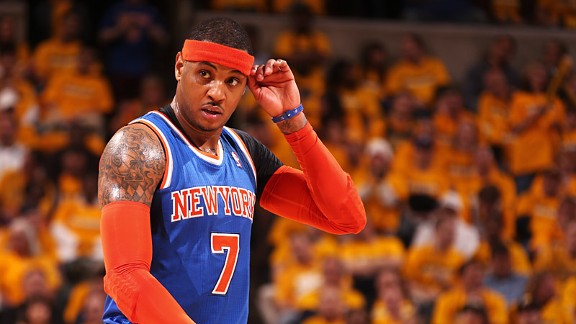 Nathaniel S. Butler/NBAE/Getty ImagesSkip Bayless tells Greeny and Stephen A. Smith about Knicks-Pacers, Carmelo Anthony and more.
• ESPN First Take's Skip Bayless weighs in on the Pacers' elimination of the Knicks, Carmelo Anthony's performance, his relationship with Stephen A. Smith and more.
Bayless

• ESPN NBA analyst Antonio Davis dishes on the end of the Knicks' season, LeBron James' response to Frank Vogel's comments, Pacers-Heat, Grizzlies-Spurs and more. Davis

• ESPN Radio's Mike Lupica talks about the criticism of Carmelo Anthony, Anthony's style of play, the Heat's dominance and more. Lupica

• Greeny and Stephen A. share their thoughts on the Pacers' elimination of the Knicks, LeBron James' reaction to Frank Vogel's remarks about the Heat and more. Listen

THE HIGHLIGHTS
Michael Wilbon, NFL
PTI's Michael Wilbon weighs in on the Redskins' decision to bench Robert Griffin III, Mike Shanahan's future in Washington, the Bears' QB situation and more.
Paul Finebaum, CFB
ESPN Radio's Paul Finebaum talks about Johnny Manziel's NFL prospects, Nick Saban's future, why Saban should stay at Alabama, his legacy with the Crimson Tide and more.
Chris Mortensen, NFL
ESPN NFL Insider Chris Mortensen shares his thoughts on whether Texas would recruit NFL coaches and coordinators, Nick Saban's NFL prospects, the Texans' search for a new coach, the Redskins' future and more.
John Keim, NFL
ESPN Redskins reporter John Keim shares his thoughts on the benching of Robert Griffin III, whether Mike Shanahan will lose his job due to the decision, the motives behind starting Kirk Cousins and more.
Roy Halladay, MLB
Former MLB pitcher Roy Halladay reflects on his career and talks about his decision to retire, the changes in the MLB throughout his time in the league and more.
Jimbo Fisher, Florida State
Florida State coach Jimbo Fisher comments on Jameis Winston's candidacy for the Heisman Trophy, his relationship with Winston, the nature of the BCS standings and more.
Tony La Russa, MLB
Three-time World Series champion Tony La Russa talks about being elected to the Baseball Hall of Fame and more. Plus, 1997 World Series champion Jim Leyland congratulates La Russa.
Cris Carter, NFL
ESPN NFL analyst Cris Carter covers the impact of Rob Gronkowski's injury, the Bears' win over the Cowboys, Alshon Jeffery's development, Chicago's QB situation and more.