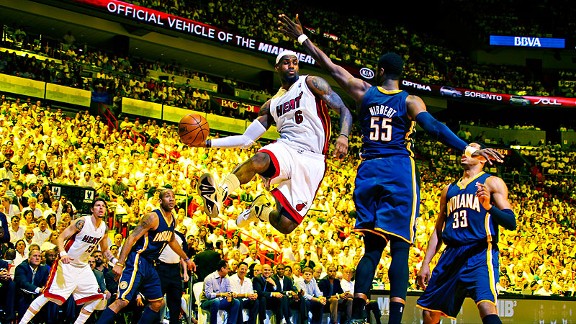 Nathaniel S. Butler/NBAE/Getty ImagesThe guys give their takes on Pacers-Heat, LeBron James, Roy Hibbert, Dwyane Wade and much more.
• Syracuse coach Jim Boeheim comments on Pacers-Knicks, Carmelo Anthony's performance, Anthony's style of play, LeBron James, Roy Hibbert and more. Boeheim

• ESPN 1070 The Fan's Dan Dakich dishes on Roy Hibbert's emergence, Pacers-Heat, how Indiana will defend against LeBron James and more. Dakich

• Greeny and Golic look ahead to the matchup between the Pacers and the Heat. Will Dwyane Wade's health be the difference in the Eastern Conference finals? Listen

THE HIGHLIGHTS
Jimbo Fisher, Florida State
Florida State coach Jimbo Fisher comments on Jameis Winston's candidacy for the Heisman Trophy, his relationship with Winston, the nature of the BCS standings and more.
Tony La Russa, MLB
Three-time World Series champion Tony La Russa talks about being elected to the Baseball Hall of Fame and more. Plus, 1997 World Series champion Jim Leyland congratulates La Russa.
Cris Carter, NFL
ESPN NFL analyst Cris Carter covers the impact of Rob Gronkowski's injury, the Bears' win over the Cowboys, Alshon Jeffery's development, Chicago's QB situation and more.
John Clayton, NFL
ESPN NFL Insider John Clayton discusses the Bears' QBs, the state of the Cowboys' defense, Mike Shanahan's future with the Redskins, coaches that could be on the hot seat, illegal hits and more.
Gus Malzahn, Auburn
Auburn coach Gus Malzahn dishes on the success of his team's running game against Missouri, what contributed to the Tigers' turnaround, Nick Marshall's performance this season and more.
Mike Ditka, NFL
ESPN NFL analyst Mike Ditka reflects on his football career and discusses the impact of Rob Gronkowski's injury on the Patriots, Peyton Manning's performance against the Titans, the Saints' offense and more.
Ron Jaworski, NFL
ESPN NFL analyst Ron Jaworski discusses how Rob Gronkowski's injury could affect the Patriots' playoff success, the Eagles' offense, Peyton Manning's throwing style and more.
Gary Player, Golf
Golf legend Gary Player reacts to Nelson Mandela's death and talks about meeting Mandela, Mandela's compassion and humility, the value the former South African president placed on sports and more.