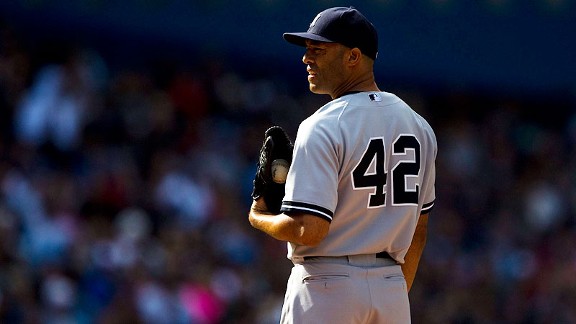 AP Photo/Darren Calabrese/Canadian PressJayson Stark tells the guys about Mariano Rivera, the Dodgers' slow start, Don Mattingly and more.
• ESPN MLB Insider Jayson Stark shares his thoughts on Mariano Rivera's hot start, the Dodgers' struggles, Don Mattingly's status and more. Stark

• Greeny and Golic weigh in on Jayson Stark's article about whether Mariano Rivera is the greatest 43-year-old athlete in any sport. Listen

ESPNBOSTON STREAMING ONLINE
MIKE & MIKE AT THE MLB ALL-STAR GAME
NCAA TOURNAMENT BET PAYOFFS
Mike Greenberg completes the latest installment of the guys' bracket wager payoff. Photos


Watch: Greeny Milks a Cow


Watch: Greeny Gets Waxed


Watch: Greeny Competitively Eats


Watch: Greeny Sings Vanilla Ice

JAYSON STARK'S MLB TRIVIA
Miguel Cabrera will start in his ninth MLB All-Star Game on July 15. Only two other active players have participated in more Midsummer Classics than him. Who are these individuals? Listen

THE HIGHLIGHTS
Chris Broussard, NBA
ESPN NBA Insider Chris Broussard discusses what Chris Bosh could earn from the Heat, Dwyane Wade's health, the Lakers' pitch to Carmelo Anthony and Derrick Rose's role in recruiting Anthony.
Alexi Lalas, Soccer
ESPN soccer analyst Alexi Lalas weighs in on Brazil's defense in its loss to Germany, Miroslav Klose's World Cup scoring record and the Selecao's approach to the third-place match.
Aaron Goldhammer, NFL
ESPN Cleveland's Aaron Goldhammer gives his take on the rumors surrounding LeBron James' future, fan perception of Josh Gordon and Johnny Manziel's conduct away from the field.
Tom Izzo, Michigan State
Michigan State coach Tom Izzo discusses NBA free agency, whether coaching Team USA interests him, college athletics reform and the closest he has come to leaving the Spartans.
Lionel Hollins, Nets
Nets coach Lionel Hollins comments on the circumstances that led to his hire by Brooklyn, the team's biggest challenge for the upcoming season and the futures of Paul Pierce and Kevin Garnett.
Jayson Stark, MLB
ESPN MLB Insider Jayson Stark covers David Price's future, the Athletics' trade for Jeff Samardzija and Mike Trout's refusal to participate in the Home Run Derby.
Tim Kurkjian, MLB
ESPN MLB Insider Tim Kurkjian weighs in on whether Derek Jeter deserves to start in the All-Star Game, David Price's future and Nelson Cruz's selection to the AL All-Star roster.
Cris Carter, NFL
ESPN NFL analyst Cris Carter talks about his experiences with substance abuse, how the Browns should handle Josh Gordon, Gordon's future and what it takes to recover from addiction.
BEST OF MIKE & MIKE ON ESPN RADIO: NOTHING BUT A NUMBER