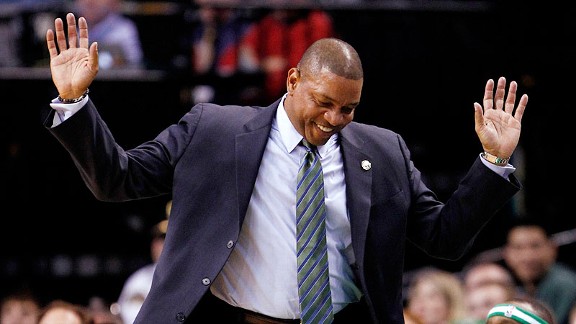 Mark L. Baer/USA TODAY SportsChris Broussard tells the guys about the Clippers' addition of Doc Rivers, the Celtics' future and more.
• ESPN NBA Insider Chris Broussard comments on whether Kevin Garnett can join Doc Rivers with the Clippers, what comes next for Chris Paul, the perception of Rajon Rondo and more. Broussard

• The Boston Globe's Gary Washburn weighs in on Doc Rivers' departure from the Celtics, the futures of Kevin Garnett and Paul Pierce, the relationship between Rajon Rondo and Rivers and more. Washburn

ESPNBOSTON STREAMING ONLINE


merepar Meredith Pariano
Missin the fam tonight @MGolicJR57 @JGolic88 @SydGolic @NDmom @espngolic you guys are never allowed to leave again #haha #imserious
about 9 hours ago

espngolic Mike Golic
Watching "A Christmas Story" may be no better Xmas movie, who doesn't want a red Ryder BB gun
about 10 hours ago

espngolic Mike Golic
In Washington for military bowl with the @Bearcats_FB, this perfect pour is about to be enjoyed http://t.co/DXUNIOS5mF
about 13 hours ago

NDmom christine golic
Congrats to two of my favorite people @dcrist10 and @hillyferg Your Christmas surprise was a great gift to all of us! http://t.co/Zt4wMYbk6N
about 14 hours ago

MikeAndMike Mike & Mike
Play this one for the kids before bed... @FrankCaliendo presents: "T'was the Night Before Christmas" http://t.co/HAnLVEO0G9
about 14 hours ago

espngolic Mike Golic
If you weren't in one of the big 6 bowls.. The winner is the Bahamas bowl, Popeyes chicken and football in the Bahamas, and what a 4th Qtr
about 14 hours ago

adnanESPN Adnan Virk, ESPN
The interview with @Buck in which @dannykanell accused me of "over laughing"http://t.co/A7bJkiqHod @MikeAndMike
about 19 hours ago

GoBEARCATS Cincinnati Bearcats
The #Bearcats lined up in the new U.S. Capitol Visitor Center. @MilitaryBowl @visitthecapitol http://t.co/Fq9rfMLjio
about 21 hours ago

espngolic Mike Golic
Hey @adnanESPN I'd rather see you wear a canadian tuxedo and be a roadie for Bieber before listening to u on this show..signed not espngolic
about 23 hours ago

MikeAndMike Mike & Mike
Keep sending your #GrudensGroove suggestions for Jon Gruden, he'll be back for the NFL Playoffs! Thanks to @5hourenergy.
about 23 hours ago

MikeAndMike Mike & Mike
Got a question for @dannykanell? Tweet us using #NextQuestion and we'll answer them on the air!
1 day ago

MikeAndMike Mike & Mike
Hey @Browns we heard you might be looking for a QB Sunday. Our boy @dannykanell is available! http://t.co/si0f1BFRi2
1 day ago

MikeAndMike Mike & Mike
Top 5 Super Bowl Contenders: @adnanESPN has SEA, NE, GB, DAL & DEN. @dannykanell has NE, SEA, GB, DEN & DAL. What do you think?
1 day ago

dannykanell Danny Kanell
Back at it this AM on @MikeAndMike w/ @adnanESPN -- we'll talk our Top 5 NFL teams, movies of the year, and mean tweets! Next on @espnradio
1 day ago

MikeAndMike Mike & Mike
@markschlereth she's teaching you well
1 day ago

StacyGSG StacyGSGreenberg
My latest interview w/one of the stars @SelmaMovie. Excited to see it!The Overhead Compartment with Omar J. Dorsey: http://t.co/bYWnVB7y7f
1 day ago

Ky1eLong Kyle Long
Help me http://t.co/CK9C4weCwN
1 day ago

NDmom christine golic
Please watch this video then buy a Golic shirt. Amazing video. It's all about helping others.http://t.co/jZ2HQeEDGw
1 day ago
#GOLICBUTTPHOTO SHIRT
Muze Clothing has created a shirt featuring the infamous #GolicButtPhoto. All proceeds benefit the South Bend Center for the Homeless. More »
FRANK CALIENDO
Our favorite moments with Frank Caliendo:
-Watch: 'A Visit from St. Nicholas'


-Watch: William Shatner


-Listen: #GolicButtPhoto voicemails


-Watch: Donald Trump


-Listen: Trick-or-Treat


-Watch: Stephen A. Smith


-Watch: Mel Kiper Jr.


-Watch: Charles Barkley


-Watch: Allen Iverson's rant


-Watch: Remembering Robin Williams


-Watch: LeBron James' letter

THE HIGHLIGHTS
Golden Tate, Lions
Lions WR Golden Tate weighs in on Detroit's upcoming matchup with the Packers, the possibility of facing the Seahawks in the playoffs and more.
Tim Howard, USMNT
Everton and United States goalkeeper Tim Howard dishes on his new book, the growth of soccer in America, the reaction to his performance against Belgium in the FIFA World Cup and more.
Mike Golic, NFL
ESPN Radio's Mike Golic shares his thoughts on losing a bet to Brendan Peregrin after the Cowboys clinched a playoff spot and more.
Mark Wahlberg: 12/22
Actor Mark Wahlberg weighs in on his new movie, the Patriots' success, the possibility of a sequel to "The Departed" and more.
Jimbo Fisher, Florida State
Florida State coach Jimbo Fisher dishes on his team's approach to the Rose Bowl, the Seminoles' motivation, Jameis Winston's drive and whether Winston will declare for the NFL draft.
Frank Caliendo, Comedian
Comedian Frank Caliendo channels the voices of various ESPN personalities in a special reading of "A Visit from St. Nicholas."
Charles Tillman, Bears
Bears CB Charles Tillman dishes on his team's decision to bench Jay Cutler, Cutler's leadership, whether Chicago will retain Marc Trestman and the criticism of the squad's defense.
Mark Helfrich, Oregon
Oregon coach Mark Helfrich comments on Ifo Ekpre-Olomu's injury, preparing for the Rose Bowl, what makes Marcus Mariota unique and the Ducks' reaction to Mariota's Heisman Trophy win.
BEST OF MIKE & MIKE ON ESPN RADIO: SHIPPING OUT OF BOSTON