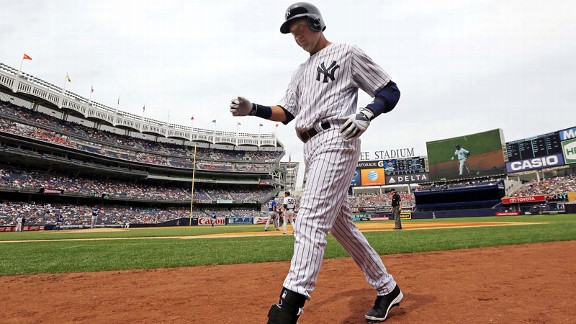 John Munson/THE STAR-LEDGER/USA TODAY SportsJeremy Schaap tells the guys about Derek Jeter's return, Alex Rodriguez's health and much more.
• ESPN reporter Jeremy Schaap discusses Derek Jeter's return to the Yankees, the injury that Jeter suffered during New York's win over the Royals, Alex Rodriguez's status and more. Schaap

• Two-time World Series champion David Wells weighs in on his expectations for Derek Jeter, whether Yasiel Puig should be an All-Star, the usage of performance-enhancing drugs in MLB and more. Wells

• ESPN Radio's Colin Cowherd gives his take on what comes next for Kobe Bryant and the Lakers, the criticism of Yasiel Puig and more. Cowherd


ESPNBOSTON STREAMING ONLINE


BEST OF MIKE & MIKE PODCAST
LOCKS
ELIMINATOR CHALLENGE
See how Greeny, Golic and the Mike & Mike staff are faring in the show's Eliminator Challenge group for the NFL season. Eliminator Challenge »
JAYSON STARK'S MLB TRIVIA
If Jake Arrieta fails to win the NL Cy Young Award, he has the consolation that three active pitchers with at least 21 victories in a season didn't receive the Cy Young during that same season. Who are these individuals? Listen

FRANK CALIENDO
Our favorite moments with Frank Caliendo:
-Watch: 'A Visit from St. Nicholas'


-Watch: William Shatner


-Listen: #GolicButtPhoto voicemails


-Watch: Donald Trump


-Listen: Trick-or-Treat


-Watch: Stephen A. Smith


-Watch: Mel Kiper Jr.


-Watch: Charles Barkley


-Watch: Allen Iverson's rant


-Watch: Remembering Robin Williams


-Watch: LeBron James' letter

THE HIGHLIGHTS
Tim Kurkjian, ESPN MLB Insider
ESPN MLB Insider Tim Kurkjian weighs in on the postseason struggles of David Price, Josh Donaldson's injury, the matchup between Clayton Kershaw and Jacob deGrom and more.
Ron Jaworski, ESPN NFL Analyst
ESPN NFL analyst Ron Jaworski comments on Bill O'Brien's indecision at QB for the Texans, the deficiencies of Ryan Mallet, Eli Manning's improvement in facing the blitz and more.
Herm Edwards, ESPN NFL Analyst
ESPN NFL analyst Herm Edwards dishes on coaching changes for the Dolphins and criticisms of Ndamukong Suh. He feels that coaches need to adjust to their players, but that the effort is up to them.
Brian Billick, NFL
Super Bowl XXXV champion Brian Billick shares his thoughts on discontent growing within the Eagles' locker room and breaks down Dan Campbell's first week in charge as head coach of the Dolphins.
Myles Jack, CFB
Former UCLA LB Myles Jack breaks down his decision to withdraw from school and head to the NFL, his relationship with coach Jim Mora and why it is apparent that schools can still profit off of players' likenesses.
Ronda Rousey, UFC
UFC women's bantamweight champion Ronda Rousey discusses her upcoming matchup with Holly Holm in Australia, her parts in Hollywood films, whether or not kids should view her as a role model and more.
Kirk Herbstreit, CFB
College GameDay's Kirk Herbstreit comments on Northwestern's matchup with Michigan, Jared Goff's progression as QB for California, Ohio State's lack of a deep passing threat and more.
Jon Gruden, NFL
Monday Night Football's Jon Gruden shares his thoughts on the missed call in Lions-Seahawks, the Dolphins' struggles, the Steelers' ability to feature Le'Veon Bell in their offense and more.
OFF-MIKES EPISODES
View episodes of ESPN.com's first Emmy winner, "Off-Mikes," a series based on the interactions of Greeny and Golic on "Mike & Mike."
-"Snook, Line and Sinker"


-"Wee-Wee Mon Sewer"


-"Raging Bull-Oney"


-"Bend It Like Golic"


-"The Wettest Yard"


-"Pomp You Up"


-"Throw Momma from the Chair"


-"Air Force Ton"


-"Night of the Living Chippers"

BEST OF MIKE & MIKE ON ESPN RADIO: NEW YORK GROOVE?