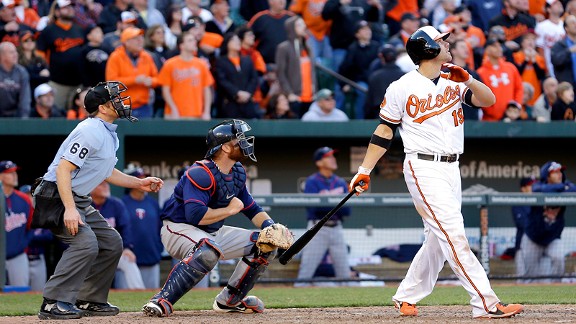 Rob Carr/Getty ImagesBuster Olney tells the guys about the first half of the MLB season, the Biogenesis case and more.
• Pirates OF Andrew McCutchen discusses Pittsburgh's surprising first half, the importance of winning the All-Star Game, the usage of performance-enhancing drugs in MLB and more. McCutchen

• ESPN MLB Insider Buster Olney dishes on the Biogenesis case, whether Alex Rodriguez will play for the Yankees again, the teams that are interested in acquiring Matt Garza, the top players of the first half and more. Olney

• ESPN MLB Insider Tim Kurkjian talks about the potential suspensions of players connected to the Biogenesis clinic, his expectations for Alex Rodriguez, the emergence of Chris Davis and more. Kurkjian

• ESPN MLB Insider Jayson Stark shares his thoughts on the timetable for the possible Biogenesis suspensions, the teams to watch in the second half of the season, Miguel Cabrera's dominance and more. Stark

• Three-time World Series champion Al Leiter weighs in on Miguel Cabrera's success, Yasiel Puig's potential, the Home Run Derby, the usage of performance-enhancing drugs in MLB and more. Leiter

ESPNBOSTON STREAMING ONLINE
MIKE & MIKE AT NBA ALL-STAR WEEKEND
MIKES AND ME
Now you can be pictured with Mike & Mike! Print this image, pose with the Mikes and tweet your photo to @MikeAndMike using the hashtag #MikesAndMe for a chance to be featured here and on the show. Watch

THE HIGHLIGHTS
Herm Edwards, NFL
ESPN NFL analyst Herm Edwards discusses Darrelle Revis' future, the value of cover corners, where Michael Vick and Josh McCown could land, Darren Sproles' abilities and more.
Avery Johnson, NBA
ESPN NBA analyst Avery Johnson discusses Joakim Noah's value, Blake Griffin's development, the 76ers' decision to tank, Phil Jackson's potential role with the Knicks and more.
Jim Delany, Big Ten
Big Ten commissioner Jim Delany comments on concerns with conference realignment, Northwestern student-athletes' attempt to unionize, the one-and-done rule and more.
On Phil Jackson, 3/10
Mike Greenberg and Mark Schlereth share their thoughts on the reports that Phil Jackson could take a front-office job with the Knicks, Jackson's competitiveness and more.
Stephen A. Smith, NBA
ESPN New York 98.7 FM's Stephen A. Smith covers the Knicks' reasons for offering a front-office job to Phil Jackson, what Jackson could gain from taking the position and more.
Josh McCown, Bears
Bears QB Josh McCown dishes on his performance last season, the number of teams he has communicated with regarding his future, his relationship with Jay Cutler, Cutler's maturation and more.
Buster Olney, MLB
ESPN MLB Insider Buster Olney weighs in on the Royals' potential, Ervin Santana's health, Robinson Cano's remarks about the Mariners' roster, Ryan Braun's return and more.
Chris Broussard, NBA
ESPN NBA Insider Chris Broussard discusses what it would take to bring Carmelo Anthony to Chicago, how much money matters to Melo, Melo's options in 2015 and more.
BEST OF MIKE & MIKE ON ESPN RADIO: WE'RE HALFWAY THERE