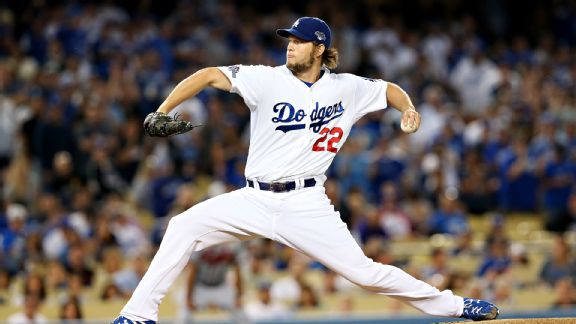 Stephen Dunn/Getty ImagesJayson Stark tells the guys about Braves-Dodgers, Clayton Kershaw, Pirates-Cardinals and more.
• ESPN MLB Insider Jayson Stark dishes on Pirates-Cardinals, the Dodgers' decision to use Clayton Kershaw in Game 4 and more. Stark

• FOX Sports' Joe Buck discusses his expectations for Game 5 of Pirates-Cardinals, a potential matchup between the Athletics and Red Sox, the Saints' 5-0 start and more.
Buck

• Two-time World Series champion Johnny Damon weighs in on Rays-Red Sox, Evan Longoria's demeanor, Tigers-Athletics and more. Damon

ESPNBOSTON STREAMING ONLINE


MIKE & MIKE AT THE MLB ALL-STAR GAME
NCAA TOURNAMENT BET PAYOFFS
Mike Greenberg completes the latest installment of the guys' bracket wager payoff. Photos


Watch: Greeny Milks a Cow


Watch: Greeny Gets Waxed


Watch: Greeny Competitively Eats


Watch: Greeny Sings Vanilla Ice

JAYSON STARK'S MLB TRIVIA
Miguel Cabrera will start in his ninth MLB All-Star Game on July 15. Only two other active players have participated in more Midsummer Classics than him. Who are these individuals? Listen

THE HIGHLIGHTS
Brian Windhorst, NBA
ESPN NBA Insider Brian Windhorst covers how LeBron James' impending choice affects the Rockets, whether James and Carmelo Anthony could team up in Miami and Dwyane Wade's future.
Michael Strahan, NFL
Pro Football Hall of Fame inductee Michael Strahan discusses how he would approach Johnny Manziel, the handling of Josh Gordon and the negotiations between Jimmy Graham and the Saints.
Richard Sherman, Seahawks
Seahawks CB Richard Sherman dishes on life since the Super Bowl, why he believes Seattle will perform better during the upcoming season, Johnny Manziel's lifestyle and Josh Gordon's arrest.
Chris Broussard, NBA
ESPN NBA Insider Chris Broussard discusses what Chris Bosh could earn from the Heat, Dwyane Wade's health, the Lakers' pitch to Carmelo Anthony and Derrick Rose's role in recruiting Anthony.
Alexi Lalas, Soccer
ESPN soccer analyst Alexi Lalas weighs in on Brazil's defense in its loss to Germany, Miroslav Klose's World Cup scoring record and the Selecao's approach to the third-place match.
Aaron Goldhammer, NFL
ESPN Cleveland's Aaron Goldhammer gives his take on the rumors surrounding LeBron James' future, fan perception of Josh Gordon and Johnny Manziel's conduct away from the field.
Tom Izzo, Michigan State
Michigan State coach Tom Izzo discusses NBA free agency, whether coaching Team USA interests him, college athletics reform and the closest he has come to leaving the Spartans.
Lionel Hollins, Nets
Nets coach Lionel Hollins comments on the circumstances that led to his hire by Brooklyn, the team's biggest challenge for the upcoming season and the futures of Paul Pierce and Kevin Garnett.
BEST OF MIKE & MIKE ON ESPN RADIO: FINISHING MOVE