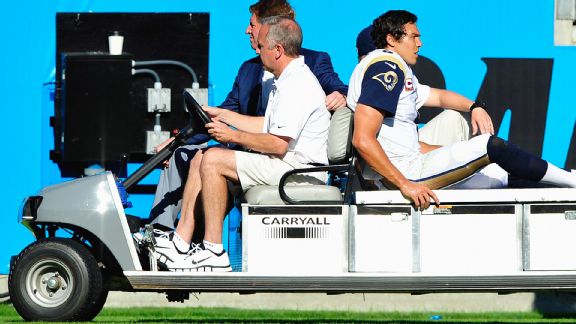 Grant Halverson/Getty ImagesJon Gruden tells the guys about dealing with QB injuries, Josh Freeman, Patriots-Jets and much more.
• Monday Night Football's Jon Gruden covers Vikings-Giants, Minnesota's usage of Josh Freeman, Seahawks-Rams, Sam Bradford's injury, Russell Wilson's development, Patriots-Jets and more. Gruden

• ESPN NFL Insider Adam Schefter shares his thoughts on Jermichael Finley's future, the suspension of Brandon Meriweather, the Vikings' decision to start Josh Freeman and more. Schefter

• Two-time Super Bowl champion Tony Dungy discusses the Colts' win over the Broncos in Peyton Manning's return to Indianapolis and more. Dungy


ESPNBOSTON STREAMING ONLINE

Espngreeny Mike Greenberg
#Jets need a new general manager, a new coach and a new quarterback. There's your advice. You're welcome.
10 minutes ago

Espngreeny Mike Greenberg
Not sure why Woody Johnson needs all this advice. He's been in the game 15 years. #Jets
16 minutes ago

espngolic Mike Golic
Lions Dominic Raiola deserves the 1 game suspension as his team plays for division title, and he sits. He can look in the mirror
20 minutes ago

Espngreeny Mike Greenberg
So, Cutler this week. Not sure this could have gone worse for #Bears.
22 minutes ago

Espngreeny Mike Greenberg
Dominic Raiola absolutely deserves this. Missing the biggest game #Lions have played in forever. His teammates and fans should be disgusted.
23 minutes ago

LRiddickESPN Louis Riddick
Talking some football on @MikeAndMike at 9:30AM ET....
about 7 hours ago

MikeAndMike Mike & Mike
Star of new movie The Gambler, Mark Wahlberg will be joining us next!
about 7 hours ago

MikeAndMike Mike & Mike
Cris Carter joins us in studio now!
about 8 hours ago

MikeAndMike Mike & Mike
Who should win the NFL MVP this year? J.J. Watt? Aaron Rodgers? DeMarco Murray? Someone else?
about 8 hours ago

MikeAndMike Mike & Mike
Herm's NFC Playoff predictions: 1. SEA, 2. DAL, 3. GB, 4. DET, 5. ARI - Bold to put SEA ahead of DAL since they lost the head-to-head?
about 9 hours ago

MikeAndMike Mike & Mike
Coming up next: Trestman's future in CHI could be in jeopardy. Their former coach Mike Ditka tells us what, or WHO, is next for the Bears.
about 9 hours ago

MikeAndMike Mike & Mike
Benched for most of the season, then posted a 1.0 QBR vs. CIN, now a hamstring injury in his 2nd NFL start. Worst rookie season by NFL QB?
about 9 hours ago

MikeAndMike Mike & Mike
Which team has the best shot to beat the Patriots heading into the playoffs? Denver? How about the Steelers? Tweet us your thoughts!
about 9 hours ago

BubbaTheGlue Bubba Peregrin
We're going to the Playoffs, woo!!!!! Cowboys!!!!! #ThrowUpTheX #BubbaGolicBet @Espngreeny @espngolic http://t.co/RHZ2emmKqD
about 19 hours ago

JGolic88 Jake Golic
Cheat aggressively on children's games at Dave & Busters for 1000s of tickets, get rewarded with tiny walkie talkies. http://t.co/XrwlkD2XX8
about 20 hours ago

espngolic Mike Golic
That's why they play the games, Philly, Buff, and Balt, all crush their playoff chances by losing to teams .500 or way lower
about 20 hours ago

Espngreeny Mike Greenberg
Kyle Orton. Wow... #Bills
about 21 hours ago

Espngreeny Mike Greenberg
Ultimate indictment of John Idzik is watching the impact rookies are having across the NFL. #Jets had most picks and got NOTHING from them.
about 21 hours ago

Espngreeny Mike Greenberg
Bubba is going to the playoffs!#howboutdemcowboys
about 21 hours ago

Espngreeny Mike Greenberg
This is third week in a row #Colts look positively awful.
about 22 hours ago
#GOLICBUTTPHOTO SHIRT
Muze Clothing has created a shirt featuring the infamous #GolicButtPhoto. All proceeds benefit the South Bend Center for the Homeless. More »
FRANK CALIENDO
Our favorite moments with Frank Caliendo:
-Watch: 'A Visit from St. Nicholas'


-Watch: William Shatner


-Listen: #GolicButtPhoto voicemails


-Watch: Donald Trump


-Listen: Trick-or-Treat


-Watch: Stephen A. Smith


-Watch: Mel Kiper Jr.


-Watch: Charles Barkley


-Watch: Allen Iverson's rant


-Watch: Remembering Robin Williams


-Watch: LeBron James' letter

THE HIGHLIGHTS
Mike Ditka, NFL
ESPN NFL analyst Mike Ditka dishes on the state of the Bears, whether the Patriots are the team to beat in the AFC and more.
Mike Golic, NFL
ESPN Radio's Mike Golic shares his thoughts on losing a bet to Brendan Peregrin after the Cowboys clinched a playoff spot and more.
Mark Wahlberg: 12/22
Actor Mark Wahlberg weighs in on his new movie, the Patriots' success, the possibility of a sequel to "The Departed" and more.
Jimbo Fisher, Florida State
Florida State coach Jimbo Fisher dishes on his team's approach to the Rose Bowl, the Seminoles' motivation, Jameis Winston's drive and whether Winston will declare for the NFL draft.
Frank Caliendo, Comedian
Comedian Frank Caliendo channels the voices of various ESPN personalities in a special reading of "A Visit from St. Nicholas."
George Karl, NBA
ESPN NBA analyst George Karl offers his insights on the Mavericks' acquisition of Rajon Rondo, Rondo's transition to Dallas and the development of Stephen Curry and Klay Thompson.
Charles Tillman, Bears
Bears CB Charles Tillman dishes on his team's decision to bench Jay Cutler, Cutler's leadership, whether Chicago will retain Marc Trestman and the criticism of the squad's defense.
Mark Helfrich, Oregon
Oregon coach Mark Helfrich comments on Ifo Ekpre-Olomu's injury, preparing for the Rose Bowl, what makes Marcus Mariota unique and the Ducks' reaction to Mariota's Heisman Trophy win.
BEST OF MIKE & MIKE ON ESPN RADIO: BACKUP PLAN?