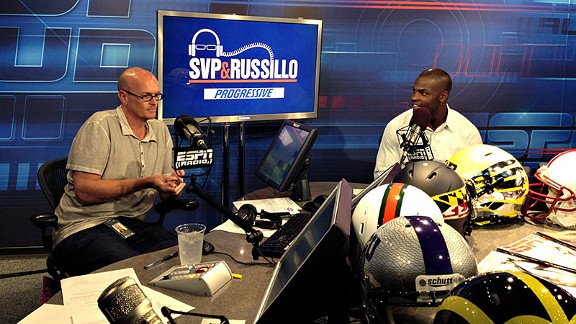 Ray Necci/ESPN RadioDeMarco Murray joins SVP in studio to discuss his recovery and the Cowboys' outlook in 2013.
Wednesday, Scott Van Pelt discusses what the latest in the Biogenesis case, ranks the five worst teams in the NFL and much more. Listen to the best highlights of the show below!
Cowboys running back DeMarco Murray dishes on his rehab process, talks about how good he can be when completely healthy and discusses what the Cowboys need to do to improve in 2013. Listen

Angels pitcher Jered Weaver discusses the birth of his son and why he was named Aden. Weaver also talks about what the Angels have to do to get back into the race for the AL West pennant. Listen

Rays manager Joe Maddon chats about Tampa's recent hot streak, the importance of closing out the first half strong and the extremely competitive AL East. Listen

Giants outfielder Hunter Pence talks about what it would mean to make the All-Star team and where the Giants are mentally after a sub-par first half of the season. Listen

ESPN MLB Insider Buster Olney updates MLB's investigation into Biogenesis and discusses what the majority of players want to happen to Ryan Braun and others. Listen

SVP & RUSSILLO'S FAVORITE DROPS
Wookie Adnan
One of "SVP & Russillo's" favorite fill-in hosts, Adnan Virk, suddenly turns into a wookie with very little explanation.
Who's Into Fitness!
ESPN Deportes' Kenneth Garay asks "Who's into fitness?!"
Hey Ryen, What's Up!
ESPN Deportes' Kenneth Garay asks Ryen Russillo what's up!
And The Children Danced
ESPN Deportes' Kenneth Garay recites his most famous phrase.
Maybach Music
The classic "Maybach music" drop from "SVP & Russillo"
Meathead Gronkowski
Patriots TE Rob Gronkowski responds to Ryen Russillo calling him a meathead
Roadhouse
The classic "Roadhouse" drop from "SVP & Russillo"
MacGruber
The classic "What are you, MacGruber?" drop from "SVP & Russillo"
PODCASTS
A daily best of SVP & Russillo on ESPN Radio.

ESPN's NBA Lockdown with Bruce Bowen covers all of the latest news, rumors and opinion in the NBA alongside ESPN's team of experts.