Commentary
Uni Watch Power Rankings: Overall
Originally Published:
August 23, 2013
By
Paul Lukas
| ESPN.com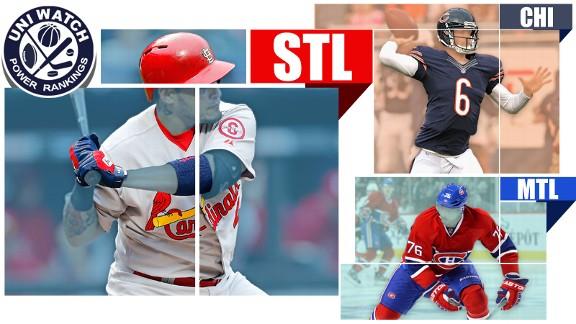 Uni Watch Power Rankings: All Sports
ESPN's Paul Lukas ranks the uniforms for every team in the four major professional sports in the final installment of the Uni Watch Power Rankings.
Uni Watch Power Rankings: All Sports
It's been a fun week here at Uni Watch HQ, as lots of you have responded to our Uni Watch Power Rankings for the NFL, NBA, NHL and MLB. The responses have broken down roughly like this:
• About half of you think the rankings are mostly on the money, and the other half of you think they're way, way off-base.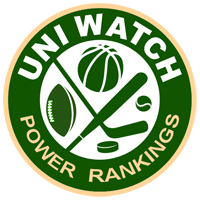 • About a third of you think the rankings have been too generous toward your favorite teams, another third think they've been too harsh, and the remaining third have taken the Goldilocks approach (i.e., "just right").
• About a third of you think the guy who did the rankings should be fired from his job, another third wish they could have his job, and the remaining third can't understand why such a job even exists.
• Lots of you think the rankings have "no credibility." About half of those people can't spell "credibility."
All of which is a lengthy way of saying that the Power Rankings have done pretty much what we wanted, which was to spur lots of debate and discussion. There'll no doubt be more of that today, as we take our individual league rankings and intermix them to create our master Power Rankings chart of all 122 pro teams, complete with a new team at the top spot and a new bottom-feeder at No. 122. (Remember: You can click on each team's name to see photos of its current uniform set.)
Not ready to stop debating and discussing? I'll be doing a live web chat today at 2 p.m. ET. See you there.
---
Uni Watch Power Rankings 2013:
MLB | NBA | NFL | NHL | Overall: 1-122 | Introduction and ground rules
Create your own rankings: MLB | NBA | NFL | NHL | Overall
ESPN experts respond to the rankings:
MLB: Jim Caple | NBA: Justin Verrier | NFL: Ashley Fox | NHL: Craig Custance
Chat with Paul Lukas: Friday, 2 p.m. ET
UNI WATCH POWER RANKINGS: OVERALL

(Click team names to view uniform sets)
| Rank | Team | Logo | Trending | Comments |
| --- | --- | --- | --- | --- |
| 1 | St. Louis Cardinals | | +2 | MLB's best-looking team looks even better this season, thanks to the addition of that great retro-style alternate jersey, which is enough to nudge the Redbirds into the Power Rankings' top spot. Kudos to team president Bill DeWitt III, who takes a much greater interest in his team's uniforms than the average sports exec, and who has been a first-rate steward of his club's visual heritage. |
| 2 | Chicago Bears | | — | Moving the TV numbers from the sleeves to the shoulders last season did no great harm to what is still the cream of the NFL crop. No other team looks as consistently sharp week after week, no matter if they're playing at home or on the road. Key element: the striped socks, which tie the whole look together. Other NFL teams could learn from that. |
| 3 | Montreal Canadiens | | -2 | Last year's Power Rankings champs still score the Uni Watch hat trick: an iconic logo, equally classic home and road designs, and an ideal balance of red, white and blue. But trouble might be lurking on the horizon: If you scroll down a bit on this page, you'll see that the Canadiens might be tinkering with their uniforms for the upcoming season. Let's hope the changes are teeny-tiny, lest the Habs become the Hab Nots. |
| 4 | Green Bay Packers | | +2 | Still the perfect autumnal color pattern for an autumn sport. Poised to snag the top spot on the NFL chart if only they'd address those distractingly large TV numbers. |
| 5 | Chicago Cubs | | -1 | The Cubbies reportedly have some logo and uni changes in the works, so their place in the rankings could end up moving soon, but for now they still have one of the sports world's top looks (even though they're the only team with an annoying "circle-R" trademark symbol on their uniform). |
| 6 | Oakland Raiders | | +7 | Just suit up, baby. Simple, elemental, and timeless, the Raiders' uniforms look as good today as they did back when Daryle Lamonica was tossing bombs downfield. Imagine a faceoff between this uni set and one of the newfangled designs with all the extraneous bells and whistles. It isn't even a fair fight. |
| 7 | Boston Celtics | | +3 | Still the class of the NBA. No goofy side panels, no extraneous bells or whistles -- just a perfect vertically arched wordmark and a simple green-and-white color scheme. Remember the rule about classics: They got to be classic for a reason. |
| 8 | Boston Bruins | | -3 | If someone asked you what a hockey uniform is supposed to look like, this is probably what would come to mind. There's no higher compliment than that. |
| 9 | Oakland Athletics | | -1 | Crazy but true: When A's owner Charles Finley dressed the team in green and gold back in 1963, it was only the second time an MLB team had ever worn green. (The previous case: the 1937 Brooklyn Dodgers.) Half a century later, green is still a rarity on the diamond, but it sure looks great on the A's, whose core look, once viewed as outrageous, has evolved into a modern classic. Bonus points to equipment manager Steve Vucinich, who always sweats the details on the team's throwbacks. |
| 10 | Detroit Red Wings | | +5 | Imagine the reaction if someone came up with the Red Wings' design today: "No, sorry, it's too plain -- can you add some black accents? And the logo isn't intimidating enough. And where's the alternate uniform?" Fortunately, nobody was worried about any of those things back in 1932, when the Wings came out with their basic look. Eight decades later, it still works. Bonus points for the vertically arched lettering on the player names. |
| 11 | Philadelphia Phillies | | +1 | The Phillies' chest script strikes a perfect balance between classy and playful -- ideal for grown men playing a kids' game. Bonus points for the sleeve numbers (unique among current MLB teams), the chain-stitched chest insignia, the little stars dotting the i's, and of course the Liberty Bell logo on the socks and stirrups (for those smart enough to go high-cuffed, that is). |
| 12 | Pittsburgh Steelers | | -5 | Love the way those gold pants work equally well with the black jersey and the white jersey. The Steelers are also the only NFL team with a logo on just one side of the helmet, a quirk that scores a few points in the intangibles column. Sure, it'd be nice if they went back to the block numbers (you'd be surprised by how many fans still gripe about this), but that's about the only thing to complain about here. |
| 13 | Los Angeles Lakers | | +5 | Ideally, a uniform should be viewed in a vacuum, strictly on the basis of its aesthetics. But every now and then there'll be a team that's so consistently successful on the field (or the court, or the ice) that it creates an aura of quality about the entire franchise -- an aura that can extend to the team's uniforms. The Lakers fall into that category. Are their uniforms really so good, or do they just seem that way? Either way, they've achieved that rarefied status reserved for upper-echelon designs. The only fly in the ointment is the white alternate uni. Come on, guys, you used to be special because you were the only team in the league without a white uni. |
| 14 | Los Angeles Dodgers | | — | Ever notice that the Dodgers' white pants look extra-white, whiter than white? What's their secret -- extra bleach in the laundry? Nope. It's because the Dodgers are one of the three MLB teams whose pants don't have any pinstripes or side piping. (The other two: Oakland and St. Louis.) Their basic look, essentially unchanged for 60 years, looks as fresh as ever. Now if they'd just take the "LA" logo off the sleeve and replace it with a round patch of some sort. |
| 15 | San Antonio Spurs | | +1 | Love the way they use the spur as the "U" in their jersey insignia -- such a small, simple thing, but it instantly elevates them above all the teams that just use standard typography. Great silver/black color scheme, too. Docked a notch for wearing that alternate uni too often in last season's playoffs. |
| 16 | Buffalo Bills | | +17 | Stevens Wright, who designed the Bills' "charging buffalo" helmet logo, died earlier this year. This will mark the team's 40th season wearing his design, and it has never been part of a better uni set than it is right now. The blue pants, the striped socks, the white helmet -- it all looks great. And it will look even better this season, because that annoying neck roll collar (also known as the toilet seat collar) has been scrapped. Such a sharp look, it's hard to believe this was arguably the worst-dressed team in pro sports just a few short years ago. |
| 17 | Detroit Tigers | | +7 | Fun fact: The Tigers' pants have more belt loops than any other team's. Been that way for decades. No real reason for it -- it's just one of those team-specific quirks (although it no doubt comes in handy for Prince Fielder's uni). |
| 18 | New York Yankees | | -9 | They deserve major credit for staying the course and avoiding trends, but those pinstripes don't look so great in the pajama pants era (or when CC Sabathia pitches), they have major logo-consistency problems, and the road jersey treads a fine line between minimalist and plain. An excellent wardrobe, but not quite the flawless masterpiece it's often made out to be. |
| 19 | San Francisco 49ers | | +15 | Defending NFC champs still need to do something about those oddly truncated sleeve stripes. Look, guys, here's how it works: You can either have real wraparound stripes or you can have no stripes at all, but you can't have it both ways. Aside from that, though, the Niners are a very good-looking team these days. |
| 20 | New York Rangers | | -9 | Underrated details: the piping on the Rangers' pants, and the striping on the shoulder yoke of their white jersey. Little touches like these put this archetypal uni set over the top. |
| 21 | Utah Jazz | | +1 | The Jazz have now been in Utah for 34 years (longer than you realized, right?), and they've never looked better than they do right now. Sure, the team name is a bit incongruous, but nobody complains about the Lakers' or Dodgers' names, even though there are no lakes to swim in or trolleys to dodge in L.A. So forget about the Jazz's name and just dig the excellent threads. |
| 22 | Philadelphia Flyers | | -5 | Best-looking of the non-Original Six teams. Some fans don't dig the contrast-colored nameplates, but other observers -- including this one -- really like them. |
| 23 | Golden State Warriors | | -2 | The NBA's most interesting uniform set got even more interesting last season, thanks to that alternate uni with the sleeves. Yeah, it looks absurd, so the Warriors have dropped a bit in the rankings, but here's the thing: That sleeved jersey would actually look pretty good if not for the pinstriped shorts. Here's hoping they go with basic gold shorts instead this season. |
| 24 | Dallas Cowboys | | +6 | Dallas' home whites rank among the most iconic uniforms in all of pro sports. But the blue jersey never feels right, and the Cowboys also lose points for having too many inconsistent shades of blue and silver scattered throughout their uni package. It's time to fix that already! |
| 25 | Toronto Maple Leafs | | -2 | Fun fact: In 1977-78, the NHL required teams to put player names on their road jerseys, but Leafs owner Harold Ballard was opposed to the new rule, so he "complied" by rendering his players' names in blue lettering on the Leafs' blue road jerseys, making them impossible to read (further info here). What does this have to do with the team's current look? Nothing, but it's a good story, and you already knew the Leafs look great these days. |
| 26 | Miami Heat | | +14 | Way too many variations on the same basic theme, but the theme is a good one, highlighted by the flaming "T" -- a brilliantly simple detail that totally works. Why can't other teams come up with something like this? No extraneous nonsense under the armholes or on the shorts. Such a solid set that you can almost forgive them for having a team name that doesn't end in "s." |
| 27 | Toronto Blue Jays | | -6 | Their roster moves may have backfired this season, but there's no disputing that the Jays are very easy on the eyes these days. Let's hope they stick with this look for many years to come. |
| 28 | San Diego Chargers | | +23 | The neck roll collar, which looked so awful last year, has been scrapped, which is addition by subtraction. The socks now have a yellow stripe, a small but positive detail that qualifies as addition by addition. Add it up and you have a team that's moved up in the rankings. |
| 29 | Pittsburgh Penguins | | -3 | How can you resist a skating penguin? That's a trick question -- everyone knows there's no way to resist a skating a penguin, because a skating penguin is literally irresistible! Once you have that kind of karma going for you, the rest of the uniform falls into place pretty easily. (One note for the upcoming season: The Pens' blue throwbacks are reportedly going to be replaced by a new throwback, but we don't have any visuals yet on that.) |
| 30 | Kansas City Chiefs | | +17 | The Chiefs, like the Bears, moved their TV numbers from the sleeves to the shoulders last season. That practically qualifies as a major change for this franchise, which has had essentially the same uniform design since its inception. Some fans seem to think KC is overdue for a design change, but you know what they say about something that ain't broke, and that definitely applies here. Just one mystery to solve: The Chiefs' red pants are arguably the single most gorgeous uni element in the league, so why would they ever wear white pants with the white jerseys? |
| 31 | Washington Wizards | | — | If you're too young to remember the Washington Bullets, well, they didn't look exactly like the Wizards' current set, but the resemblance is pretty obvious. Aside from being a nice shout-out to DC's hoops heritage, these uniforms are also miles better than any of the Wizards' previous designs. One of the better uni-related success stories of recent years. |
| 32 | Baltimore Orioles | | -5 | Un-fun fact: The Orioles' secondary logo, which appears on their alternate cap, has an upside-down apostrophe! How many people in various MLB offices signed off on that mistake? Grrrr. Despite this flaw, the team's current look is very sharp. |
| 33 | Kansas City Royals | | -8 | With the Royals' on-field fortunes improving, maybe people will finally realize how good their uniforms have been for all these years. Underrated. |
| 34 | Philadelphia Eagles | | -6 | Still a fairly good-looking team, but the midnight green and black trim are starting to wear out their welcomes. Remember when they wore kelly green throwbacks a few years ago? Might be time to move back in that direction, colorwise. |
| 35 | Pittsburgh Pirates | | -6 | Much like the Royals, this is a fine-looking franchise whose uniforms were largely ignored for a generation because of the team's on-field woes. Now that the team is winning, maybe the unis will get some respect. If only they wouldn't wear that black alternate jersey so often. |
| 36 | Chicago Blackhawks | | +13 | The Blackhawks' ranking was the most controversial aspect of last year's Power Rankings. After some serious consideration, they've moved up a few slots this year, but the basic problem still remains: While the white uni is one of the best in the league, the background color on the red uni is so loud that it swallows up all the details and colors in the chest logo. When you have a bright red uni, you need a simple, bold chest logo (like the Devils', say), not a subtle, detailed rendering like Chief Blackhawk. See how all the colors in his headdress totally pop on the white jersey but look dull and diminished on the red jersey? Even the chief's skin tone gets overwhelmed by the red background. That's what keeps this uni set from being in the upper echelon. |
| 37 | Tampa Bay Buccaneers | | +8 | Remember when the very notion of a team wearing pewter made people snicker? The Bucs have successfully made that color their own and made us like it. Great example of a team creating a unique look and owning it. But they'd own it even more if they'd stop wearing white pants with the white jerseys (the pewter pants look way better). Bonus points for ditching the neck roll collar this season. |
| 38 | L.A. Angels of Anaheim | | -2 | The home and road sets are starting to feel a bit like modern classics. But the Halos lose points for their alternate jersey, which features red type on a red background -- a serious no-no. |
| 39 | Oklahoma City Thunder | | -2 | The NBA has been in a minimalist phase over the past four years or so, with teams like the Thunder, Sixers, Nets, Cavs and Pelicans all unveiling very conservative designs. The Thunder's set is the best of this lot, thanks in large part to the orange trim, which really pops. The road design would probably be stronger if they put "City" below the uni number instead of stacking the two words, but it still works. Too bad about the alternate uni, though, which is one for the "what were they thinking?" file. |
| 40 | San Francisco Giants | | +6 | It still seems silly to have two different sets of road grays, but it's hard to quibble when they both look so solid. Could definitely live without the orange alternate, though. |
| 41 | Columbus Blue Jackets | | — | The home and road designs, based on America's coolest state flag, are textbook examples of what a modern hockey uniform can be. But man, that alternate uni -- retro-by-numbers on the front, and that ridiculous typeface on the back. Woof! |
| 42 | Portland Trail Blazers | | +6 | Last year the Blazers gave their red alternate uni a really sharp updating. See how the tapered diagonal stripes now look more like a wagon wheel pattern from the Oregon Trail? If they apply that same approach to their home and road designs, they'll move up more in the rankings. |
| 43 | New York Mets | | -24 | The basic home and road looks are among the sport's best, but too many alternate jerseys plus a completely unnecessary alternate cap equals a classic case of uni overkill. |
| 44 | Chicago Bulls | | +23 | The Bulls have been using black lettering and numbering on their road jersey for 40 years now. Prior to that, though, they used white type with black outlining. Wouldn't mind seeing them go back to that style. And of course they should scrap the black alternate uni. |
| 45 | Chicago White Sox | | -6 | Such an odd franchise. Back in the 1970s and '80s, they were changing their look every five minutes, but they've now stuck with their current set for over two decades. It's a solid look, and the Sunday throwbacks are a nice reminder of the wacky old days. |
| 46 | New York Jets | | +6 | Rumors that the Jets will put a little "Butt Fumble Bull's Eye" on the seat of each player's pants this season are almost completely untrue. Seriously, their uniforms aren't bad, although the shoulder/sleeve arrangement gets trickier to execute as NFL sleeves continue to do their disappearing act. They'd rank higher if they'd stay away from the green-over-green format. |
| 47 | Minnesota Wild | | -15 | Word on the street is that the Wild will be revising their white road jersey this fall. On the one hand, this is troubling, because the white jersey looks great as it is. On the other hand, almost every design move by this team has been a winner, so there's every reason to expect that the new revisions will look sharp. |
| 48 | Boston Red Sox | | -6 | If we were just talking about the home uni, the Sox would rank near the top of this chart. Their old-school home whites are a perfect match for the old-fashioned charms of Fenway Park. After that, though, it's all downhill: The lettering on the road uni feels flat, the blue alternate is unnecessary, and the garish red alternate ranks up there with the Bill Buckner play as one of the worst chapters in BoSox history. |
| 49 | New Jersey Devils | | -6 | So here's something to consider: The Devils have had the same uniforms since 1992, which almost perfectly aligns with Martin Brodeur's career. When he finally retires (has to happen eventually, right?), will the team give itself a makeover? |
| 50 | Phoenix Suns | | +27 | This brand-new uni set, unveiled just a few days before the Power Rankings went live, will need to log some time on the court before we can fully evaluate it, but the early indications are promising. The whole package feels like a very tasteful updating of the Suns' 1990s look, and the orange gradient on the home lettering looks particularly sharp. Even the sleeved alternate works. One serious fly in the ointment, though: the wraparound butt striping on the shorts. |
| 51 | Atlanta Braves | | -13 | Face it, no team needs three alternates, or two different solid-colored alternates, or two different sets of gray pants -- it waters everything down too much (and probably makes your equipment manager's job a serious pain in the butt). Keep the navy jersey if you must, but get rid of the others. |
| 52 | Indianapolis Colts | | +1 | The Colts' jersey stripes have dwindled over the years, to the point where they're barely vestigial. If they can't be restored to their proper length, then it's time to retire them for good, because at this point they've become a distraction. |
| 53 | Detroit Pistons | | +4 | How great would it be if the Pistons revived their old Ft. Wayne Pistons mascot character? OK, so that's not going to happen, but the new "Motor City" alternate uni helps give this set some much-needed zip. |
| 54 | Brooklyn Nets | | +66 | It'll take a little time for this austere design to grow into its own, but the early returns are very promising. Kudos to the team and the league for having the guts to go with such a simple, no-frills approach. It works. |
| 55 | New England Patriots | | +3 | Good-looking team with one major flaw: those miserable side panels on the jersey. Get rid of those and the Pats would jump several spots in the rankings. |
| 56 | Dallas Stars | | +61 | The new uniforms, unveiled in June, mark a welcome return to aesthetic respectability for the Stars. The only gripe here is that the new set doesn't include gold, making this the first gold-free design in team history (dating back to the franchise's Minnesota North Stars days) -- a shame, since green and gold go so well together. |
| 57 | New York Giants | | +6 | Last year we wrote that the Giants' use of gray pants for all games was making their uni set "feel drab and blah," so it's good to see them introducing a set of alternate white pants this season (here's a Photoshop rendering of how they might look on the field). One big problem still remains, though: It makes no sense for a team whose main color is blue to have such a red-centric road uniform. (A more detailed argument on this point can be found here.) |
| 58 | Florida Panthers | | +6 | Look: You can have a long panel of color running down the sleeve or you can have stripes wrapping around the sleeves, but you can't have both. Aside from that, this is a pretty good-looking team right now. |
| 59 | Tampa Bay Rays | | +9 | Here we have the very definition of "solid but unspectacular," although things get a little more exciting when they break out the striped socks. Bonus points for the fauxback, a fun gimmick that actually works. |
| 60 | Edmonton Oilers | | +44 | The Oilers were ranked 104th in last year's Power Rankings, which sparked a bit of an outcry. Totally justified, too (the outcry, not the ranking), so here's a heartfelt apology to the team and its fans, and a revised ranking that more accurately reflects the team's aesthetic status. Hey, we all make mistakes. |
| 61 | Cleveland Browns | | -2 | The Browns' plain Jane uniform set -- loved by some, loathed by others, but in reality a middle-of-the-pack design -- is like The Thing That Wouldn't Die. There had been talk about the team getting new uniforms for 2014, but now that plan has been bumped back to 2015. Anyone want to take bets on the plan being postponed yet again, and then being shelved indefinitely? |
| 62 | Seattle Mariners | | -12 | Sometimes there's a uniform (or a band, or a movie, or a book, or a building, or whatever) that's pretty good, but it's pretty good in a completely unremarkable way that resists superlatives. So you just end up saying, "Yup, it's pretty good." This is that uniform. |
| 63 | Indiana Pacers | | -2 | A basketball uniform doesn't leave much room for creative design. There's no headwear, no long pants, no sleeves, no team-colored socks, and the players are required to wear uniform numbers on the front of the jersey, which eats up a lot of the available space. As a result, you end up with lots of middle-of-the-road designs that are neither wonderful nor awful -- they're just adequate. The Pacers' set is a prime example. |
| 64 | Cincinnati Reds | | +5 | They'd rank higher if not for all the black trim, which feels sooooo 1990s. A more conventional number font would help, too. |
| 65 | Philadelphia 76ers | | +5 | If they had worn this set for the past 30 years, we'd probably think of it as a classic. For now, though, it just seems a bit dull. Then again, dull is better than some other designs they've worn. Suggestion: Redesignate the blue alternate as the primary road uni. |
| 66 | Texas Rangers | | — | The Rangers would rank higher if they'd stop wearing their red caps with their blue-lettered home jerseys. Stick to the blue caps at home, guys. Also: The team's typeface has too many spikes and bumps and color layers, which creates a jumbled mess on the back of the jersey. |
| 67 | New York Knicks | | -23 | The good news is that the Knicks finally got rid of the black trim last season. The bad news is that they reduced the arching on their chest lettering (looks kinda amateurish now), and can someone please explain what the deal is with those thick waistbands on the shorts? Looks totally 1980s junior high gym class. |
| 68 | Minnesota Vikings | | +51 | The Vikes' return to aesthetic respectability carries the whiff of Nikefied gimmickry: the odd sleeve stripes and asymmetrical pants stripes, the weird numbering system, the matte helmet that doesn't appear to match the jersey -- all this is unnecessary. Still, it's all so much better than what they were wearing before that it qualifies as a major leap forward. |
| 69 | New York Islanders | | -14 | It's widely assumed that the Isles will get a redesign when they move to Brooklyn in 2015. Until then, their basic home and road unis are perfectly serviceable, if a bit dated. They'd rank higher if not for the alternate, which might be the single worst uniform in North American sports. |
| 70 | Miami Dolphins | | -35 | The new helmet logo is passable but still a downgrade, and the same can be said about virtually every other aspect of Miami's new uni set. The boring helmet stripe, the de-emphasis of the orange trim, the tramp stamp on the back of the pants, and on and on. And can someone please explain why the aqua pants are being paired with navy-topped socks? |
| 71 | Buffalo Sabres | | -17 | Not bad, but they'd look so much better without the torso stripes and the front uni number. Meanwhile, prepare for a new gold alternate jersey, which should be unveiled in time for the start of this season. |
| 72 | Denver Nuggets | | +12 | Sorry, but that type font just cannot be taken seriously. The rounded letters and numbers look so juvenile, like they should be spelling out, "Happy 10th Birthday!" On the plus side, the retro-style alternate, which they began wearing last season, is serious fun. |
| 73 | Anaheim Ducks | | +24 | Another great example of how orange works really well as a trim color. But the diagonal waist striping on the home and road jerseys feels too gimmicky, and the alternate uni takes the orange elements a little too far. |
| 74 | Washington Redskins | | -12 | In strictly aesthetic terms, Washington's white jersey, gold pants and striped socks add up to one of the best looks in the league, and that uni will look even better this season, because they've scrapped the neck roll on the collar. But the ugly reality is that the Skins' name and brand embody an ethnic slur that taints everything it touches, including the team's uniforms. It's time for Daniel Snyder to heed the growing chorus of voices calling for a new direction. |
| 75 | Colorado Rockies | | +13 | Let's give them some credit: They've stuck with one basic look for 20 years now, and while it's not a great look, it's aged reasonably well, even if a certain uniform columnist will never come to terms with that purple alternate jersey. Bonus points for hosiery hero Josh Outman, who wears the best stirrups in the bigs. |
| 76 | Memphis Grizzlies | | +2 | I have this friend. He used to be a blast to hang out with, but he was also pretty wild -- drank too much, did too many drugs, got into too much trouble. Then he cleaned up, got sober and settled into a fairly conventional life. I'm happy for him, and I'm glad I no longer have to deal with his insane antics, but there's no denying that he was a much more interesting character in his wilder days. That's how I feel about the evolution of the Grizzlies' uniforms. Like, I know it's for the best, and the wild style was unsustainable, but things sure feel a lot less interesting nowadays. |
| 77 | Winnipeg Jets | | -5 | I've tried really hard to like this uniform. There's nothing to dislike about it, but it feels too generic, too plain, too meh. |
| 78 | San Jose Sharks | | -18 | The Sharks would have ranked higher, but their new home and road jerseys, unveiled just days ago, look like practice jerseys. Where's the hemline striping? Where's the shoulder yoke? Why cut back on the orange trim? Why not get rid of those front jersey numbers already? They still have a strong chest logo, but now it's like a star player with no supporting cast. |
| 79 | Houston Rockets | | +5 | The stripes on the Rockets' shorts might have worked back in the era when basketball shorts were actually, you know, short. But with today's billowy NBA uniforms, those stripes look too swoopy -- the effect is almost clownish. Also, the chest lettering feels scratchy and primitive, which doesn't match the team's space-age name. Also-also, the "R" logo on the shorts is supposed to look like a rocket blasting off, but it really just looks like dripping paint. |
| 80 | Vancouver Canucks | | -7 | Is there anyone -- like, anyone -- who wouldn't be happier if the Canucks replaced their Orca logo with Johnny Canuck? |
| 81 | Atlanta Hawks | | +8 | Classic example of a safe, boring uniform template that could be applied to virtually any team. Inoffensive, sure, but also unimaginative. Remember when this team used to break the mold? |
| 82 | Houston Astros | | -26 | It's nice to see the star-"H" cap logo again, but here's a weird thing about the new 'Stros uni set: The lettering on the front of the jersey is the same size as the lettering for the players' names on the back of the jersey. This makes the chest lettering look rinky-dink and the back of the jersey look clunky. Let's hope they address this for next season. |
| 83 | Phoenix Coyotes | | -7 | They used to look ridiculous. Now they look boring. Given the choice, I'll take ridiculous, because at least ridiculous is interesting. |
| 84 | New Orleans Saints | | -1 | Once upon a time, the Saints would have ranked much higher on this chart, but they've been docked for wearing solid black way too often. A pity, because their other uni combos are quite solid. |
| 85 | Minnesota Twins | | -14 | The Twins' home script hasn't aged well. It always felt too clunky, and now it also feels too 1980s. The current road script is handsome but feels too clean, too sterile, too suburban, like it was designed by someone at Hallmark instead of someone connected to the sports world. The net result is a uni set that feels not quite ready for prime time -- the uniform equivalent of a four-A player. |
| 86 | Toronto Raptors | | +6 | The Raptors are reportedly considering a full rebranding, including a name change, and not a moment too soon. They've never even settled into a consistent color scheme, much less a consistent visual identity. Time to start over. |
| 87 | Calgary Flames | | -8 | This team has had some odd uni-related moments. Remember the diagonal jersey stripe? The fire-breathing stallion? The big problem now is the use of black on the home jersey. Come on, you're the Flames, not the charred ashes! And while you're at it, clean up the underarm area and side panels on the home and road designs. Bonus points for using the franchise's old Atlanta Flames logo for the alternate captaincy designations. (Meanwhile: There's some chatter about the Flames trading in their retro alternate for a new alternate design this season. Stay tuned.) |
| 88 | New Orleans Pelicans | | -14 | Well, you certainly can't say they overdesigned it. But doesn't it seem odd to give your team a new name and then not use that name anywhere on your uniforms? And isn't even odder to use such small lettering for your city name? It's actually smaller than the players' names on the back! |
| 89 | Tampa Bay Lightning | | -8 | Why use lightning bolt shoulder patches when you already have a big lightning bolt on your chest and your pants? Why put that ugly "Tampa Bay" lettering on your road jersey? Why have that miserable alternate uni at all? |
| 90 | Carolina Hurricanes | | +1 | On the plus side, their new uni set has dispensed with the faux shoulder yokes, which always looked cheesy. On the minus side, they've scrapped the hurricane warning flag trim, which gave their uniform program its identity. The two moves pretty much cancel each other out. |
| 91 | Milwaukee Bucks | | +5 | This team once had one of the best logos in pro sports. Now it's a poster child for uninspired design. Too bad. |
| 92 | Milwaukee Brewers | | -7 | Five uni combos apparently weren't enough for the Brew Crew, so they added a gold jersey this season (and that's not counting their assorted throwbacks and other one-offs, including MLB's first-ever Polish-language jersey). Unfortunately, all those different jerseys still can't hide how bland and generic the chest script is. |
| 93 | St. Louis Rams | | -13 | A good-looking team when they go white-over-blue. An OK-looking team when they go white-over-white. A terrible-looking team when they go blue-over-blue, which they did for over half of last season's games. They were once a good-looking team in blue over white, but they've stopped wearing that combo. And the gold pants, now mothballed, are sorely missed. A franchise on the aesthetic decline, despite the enduringly classic helmet. |
| 94 | Cleveland Cavaliers | | +7 | You know your uniform program has a problem when the most dynamic thing about it is the striping on the waistband. |
| 95 | Nashville Predators | | -1 | The collarbone horns are somewhat defensible, since they sort of mimic the teeth on the crest logo. But the apron strings going down the length of the jersey -- front and back! -- are too much. Clean that up and then we'll talk. |
| 96 | Dallas Mavericks | | +9 | Mark Cuban has announced that the Mavs will have new uniforms for the 2015-16 season, and he's even asked fans to submit their own design ideas. Whatever the new uni set turns out to be, let's hope it doesn't have navy lettering on a royal jersey (hard to read, don'tcha know). Or pointlessly off-center uni numbers. Or idiotic panels on the back of the shorts. |
| 97 | Washington Nationals | | -10 | The number being positioned below the logo on the home jersey is sooooo annoying. Also, does any team need three different caps? (Hint: Answer rhymes with "No.") |
| 98 | Seattle Seahawks | | +12 | All right, so it's not anyone's idea of a good uniform set, but it's not as bad as it initially appeared. Truth to tell, the Seabirds would look A-OK if they'd just get rid of, or at least tone down, all the neon green trim. Until that happens, though, they're still saddled with a lower-echelon look. |
| 99 | Los Angeles Clippers | | +7 | Memo to the Clippers: You're doing better on the court these days, and that's great. Congrats! Now it's time to do something about your visual approach. For starters, everyone -- everyone -- views your logo as a cheap imitation of the Lakers' logo. That needs to change, like, yesterday. Once that's taken care of, we can address your uniforms, which look like they were picked up on closeout at the discount store. |
| 100 | Houston Texans | | -25 | For some reason this team never looks better than so-so. It's not that they look bad -- it's more that they feel generic. And man, the extra-thick collar that Nike gave them last year sure doesn't help. |
| 101 | Charlotte Bobcats | | +8 | A fairly obvious Mavs knockoff. At least we won't have to look at it much longer, because the team will be rebranded as the Hornets in 2014-15. |
| 102 | Arizona Diamondbacks | | -12 | Never thought I'd be saying this, but this set is bad enough to make a fella nostalgic for their original purple and teal design. |
| 103 | Ottawa Senators | | -4 | Anyone else out there think the Sens look like an AHL team that took a wrong turn on the way to the minor league arena? The main problem is their centurion logo character, who's always felt a bit lightweight. The black lines are too thick, especially on his face -- give him some details, some feeling, some dignity. The barber pole throwback is a hoot, though. |
| 104 | Cleveland Indians | | -6 | It's no longer a question of when the Indians will retire their racist Chief Wahoo caricature. It's just a matter of when. |
| 105 | Baltimore Ravens | | -12 | Worst-looking Super Bowl champs since, um, the last time this team won the Super Bowl a dozen years earlier (although it's nice that they've dropped the neck roll). |
| 106 | Denver Broncos | | -11 | Peyton Manning has now had the odd dual distinction of wearing one of the league's most classic old-school uniforms (Colts) and one of its most definitive contemporary uniforms (Broncos). Which one do you think he prefers? If you answered, "Whichever one offered him the most endorsement deals," you're probably right! But for the rest of us, it's an easy choice, as Denver's uniform set -- never a gem to begin with -- is starting to look a bit too 1990s. They've dropped the neck roll collar this year, which is a plus, but this franchise is due for a redesign. |
| 107 | Orlando Magic | | +4 | Orlando's original uni set felt like a fun party. Over the years they've chipped away at that design, removing most of the interesting details, and all that's left now is a boring, watered-down version of the original. Disappointing. |
| 108 | Tennessee Titans | | -43 | Last year's Power Rankings gave an overly generous assessment to the Titans, whose visual program really needs some work. Imagine how much better they'd look if they updated the flaming thumbtack logo. Or if they wore white pants with the light-blue jersey. Or if they did something about those tapered helmet stripes. |
| 109 | St. Louis Blues | | -9 | Still an excellent jersey crest, but it almost gets lost amid all the other nonsense. The apron strings, swoopy stripes on the pants, the collarbone horns -- it's all too much. And the third jersey, much like the Blue Jackets', feels like retro-by-numbers. |
| 110 | Miami Marlins | | -28 | Here's how ridiculous things have gotten for the Marlins: They actually decided before the start of the season not to wear their gray road jerseys or orange caps, although they didn't bother to tell anyone until late July (and even then only because someone asked). Who ever heard of a team never wearing its road grays? And why bother having -- and selling -- official uniform components if you're never going to wear them? Just another sign of dysfunction for a team that has more than its share. |
| 111 | Detroit Lions | | -3 | Matt Millen's ghost lives on in the form of all the black trim on the Lions' uniforms. Every stripe, every numeral, every letter, the color break in the socks, the helmet logo, the face mask -- all accented in black. Look, gang, here's how it works: You've got that Honolulu blue thing going. You should own that color. Don't tart it up with black. |
| 112 | San Diego Padres | | -9 | By far MLB's blandest, most watered-down uniform set. A blank slate would have more character, and a Little League uni would have more gravitas. Bring back the brown! |
| 113 | Washington Capitals | | -6 | Why bother with a design based on your throwback when the throwback is clearly so much better? |
| 114 | Atlanta Falcons | | -12 | Matt Ryan's new contract extension ties him to the Falcons through 2017. For his sake, let's hope they trade in their clown suits for a decent uniform by then. |
| 115 | Arizona Cardinals | | -1 | Well, at least they didn't wear the blood clot uni last season, so that's a small morsel of progress. |
| 116 | Colorado Avalanche | | +2 | Hard to respect a uniform that doesn't even know the difference between Bigfoot and the Abominable Snowman. |
| 117 | Carolina Panthers | | -1 | Hahahahahahahaha. |
| 118 | Cincinnati Bengals | | +3 | There's a fine line between uniform and costume, and the Bengals have been on the wrong side of it for years now. The fact that they wear Halloween colors just reinforces the point. |
| 119 | Los Angeles Kings | | -7 | Which Kings team looks worse: L.A. or Sacramento? It's a pretty close call. |
| 120 | Minnesota Timberwolves | | -5 | This team has never had a workable look. Instead, they've featured one pointless gimmick after another (the illegible typeface, the "tree line" on the shorts, the odd collars, etc.). Blow the whole thing up and start over. |
| 121 | Sacramento Kings | | +1 | The scary thing is that it could actually be worse, as they reminded us when wearing their two-tone 1990s throwbacks last season. |
| 122 | Jacksonville Jaguars | | -9 | Worthy of the Power Rankings' bottom spot simply by virtue of having what's bound to go down as the worst helmet in NFL history. Like, did they run out of spray paint or what? As for the rest of the design, it's risky to come up with a superhero costume for a bad team, because superheroes don't look very superheroic when they're on the wrong end of a 37-10 score week after week. Or to put it another way, the Jags are about to learn the same hard lesson that Maryland has learned: If you dress like a clown and win, you look like a winner. But if you dress like a clown and lose, you just look like a clown. |
Sports journalism's foremost uniform reporter
ESPN.com columnist since 2004
Also blogs at uni-watch.com
2013 UNI WATCH POWER RANKINGS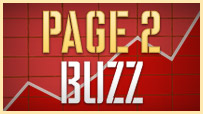 HOT BUTTON
BEST OF THE BUZZ
YOU MIGHT HAVE MISSED …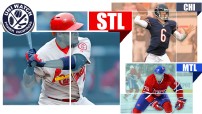 Breaking down all the uniforms in every major sport. Where does your team rank?