Commentary
An era ends in embarrassment
Within a month Red Sox allow pettiness, division to tear down their greatest years
Originally Published:
October 13, 2011
By
Howard Bryant
| ESPN.com
Contrary to conventional wisdom, winning is not the hardest accomplishment an organization can achieve. Draft the right players, sign them as free agents, trade for them, get lucky, or all of the above, and any team can win a championship.
The most difficult thing for a team to do is to alter its historical makeup, to engage in decades of conduct and behavior, create a collective institutional culture that hardens over generations and then, through dedication and commitment, vow to become something different, something better.
For the past nine years, it appeared the Boston Red Sox had achieved the difficult. When John Henry, Larry Lucchino and Tom Werner purchased the Red Sox in January 2002, the new ownership vowed to value its season-ticket holders, who had been patronized for years under the Yawkey trust. New ownership was determined to strengthen its bonds with the city and its communities, which felt detached from the home team. It pledged to disavow its defining, unwelcoming racial past, and reform a dysfunctional clubhouse culture famous for its disunity.
Most importantly, it vowed to field a championship-level team not once a decade, but to compete with the New York Yankees every season. In short, Henry and his new owners promised to be all that the Yawkey dynasty had not been. "What we were before," Henry told me nine years ago, "we will be no longer."
[+] Enlarge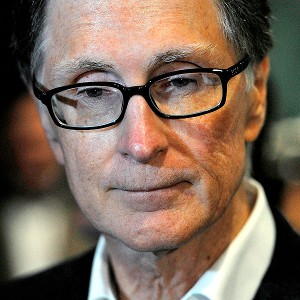 Carl Court/Getty ImagesIt didn't take long for Red Sox owner John Henry to watch his championship franchise fall to new depths.
For a time, the plan worked. The Red Sox spent with the Yankees and finally beat them. They went from losers to winners, the clubhouse from individualistic loners to the infectious band of "Idiots," who came together, actually got along and won a championship in the most miraculous way possible in 2004. David Ortiz hung out with Johnny Damon. Kevin Millar hung out with everyone. The "25 players, 25 cabs" Red Sox were history.
And then, three years later, they won another title.
Maybe it was all an illusion in the first place. Maybe nothing changed other than nicer, softer window treatments, and the winning of titles. But in the span of a disastrous September, during a bizarre and tumultuously uneven season that produced a thermonuclear aftermath that will be felt in Boston for years, the Red Sox undid it all.
What an embarrassing way for the most successful nine years the Red Sox have had in a century to end, with a successful, likable manager having his personal life exposed to the public; the front office appearing small and vindictive, using the old playbook of running people out of town in order to desperately get in the last word and win the public; the players failing to live up to the standards that made them idols and champions; and most of all, virtually none having the class to rise above the anger and pettiness and ego that so often destroy the best times.
Now Terry Francona is gone, and apparently so is Theo Epstein, and so is the great monument known as the 2003-11 Boston Red Sox. It will not rest in peace, for it did not end gracefully with acknowledgment of the most special time in franchise history, or even a hint of respect for everything about the franchise that was transformed. Instead, a two-year disintegration revealed much about the people and personalities who played for and ran the Boston Red Sox, with members of the organization insinuating that the manager who brought two titles was perhaps addicted to painkillers and a team growing so fractured that only its immense talent temporarily kept it together.
Perhaps over time it will again be remembered for Dave Roberts and his famous steal or the bloody sock or coming back against Cleveland in 2007. For now, though, the lasting image of this period will be not that the Red Sox lost the season in the final month, but how each subset of the organization individually handled its piece of the collapse and undermined a great run.
The reign is over, and what is left is a broken trust. According to a revealing in-depth account of the Red Sox's demise by Bob Hohler of the Boston Globe, Henry authorized the team to buy players $300 headphones and allowed the players to party on Henry's private boat. Perhaps ownership felt it was attempting to bridge gaps that Francona could not, but the owners, convinced that the manager had lost his clubhouse, took a divided team and rewarded it with free headphones and a party on the billionaire's yacht. It represented the kind of enabling behavior that players would take advantage of and undermined whatever authority Francona might have had to be tougher with his clubhouse.
The larger question is whether Francona lost the clubhouse because the players knew ownership wouldn't support his voice. Two years ago, ownership undermined Francona when Henry voiced support and allegiance to David Ortiz when the manager wanted to bench him.
[+] Enlarge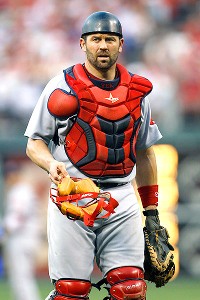 AP Photo/Matt SlocumRed Sox captain Jason Varitek didn't act like one when his team needed one the most.
For years, managing the Red Sox was the greatest job in baseball. Potential candidates imagined the scenario Francona would ultimately feel: being the person who led the Red Sox to the first World Series title since 1918. It made the headache of managing in Boston worth it. Today, with the ugly aftermaths of the two managers under the Henry regime -- Grady Little in 2003 and now Francona -- the Red Sox are the least attractive job in baseball, with every potential manager knowing that being fired by management won't be enough. If things go bad enough, they just might destroy your reputation as well. Flush with cash, consecutive sellouts and talent, managing the Red Sox has never been as unattractive as it is today.
During the postseason, baseball people around the game have commented on how obvious the Red Sox dysfunction was on the field. The captain, Jason Varitek, for years has been the most immodest player in the clubhouse, evidenced over the past few seasons first by wearing the letter "C" on his chest to signal his captaincy (was he Ray Bourque or a baseball player?) and then by not voluntarily relinquishing it once he ceased to be a regular player. Professional ballplayers take their leadership cues from everyday players, and Varitek hasn't been one since 2008.
Varitek was a key member of their title run, but was more concerned with himself reaching the end of his career than his team. Being a captain means leading. It doesn't mean refusing to address serious issues on a fractured team.
"They were selfish. They played selfish and you could see it," one baseball source said. "They would barely communicate with each other after outs. You could tell from the start they did not believe in each other."
Along with Varitek, the remaining members of the seminal 2004 championship -- Ortiz, Kevin Youkilis and Tim Wakefield -- left the 2011 team as ruptured as they were unified in 2004. Youkilis, who was never overly popular with his teammates or in the league because of his perceived on-field petulance, turned on his clubhouse. Ortiz, still feeling betrayed by the Red Sox for not sticking with him during his slumps the past two years, has never been the ebullient player he was before. Wakefield, for all his good-guy endeavors, has felt slighted by Francona and epitomized the selfishness that ruined the season.
Certainly, the era had to end, as they all do, but it didn't have to end like this. As Carl Crawford, Dustin Pedroia and Adrian Gonzalez form the new core of the Red Sox, management must decide if it will support its next manager, who must establish the trust and authority Francona lost while restoring order with a renegade pitching staff that let its teammates down.
For nine years, the Red Sox were every bit as tough and dangerous as the Yankees. During that period, Boston did something it hadn't done -- won more championships than the Yankees over any stretch of time -- since before the Yankees had won their first title, back in 1923. Francona became quite possibly a Hall of Fame manager. Everyone got rich. Henry bought a baseball team but ended with real estate holdings, a race team and an English soccer club. Everyone got what they wanted -- and it still wasn't enough.
If Henry and Epstein and company take credit for the championships of 2004 and 2007, they must in turn take responsibility for their part in the end. When Henry and Lucchino and Werner took over the Red Sox, they promised to be better than what they had been before. But the one cultural aspect of the franchise they have not remedied is the one they've fallen victim to -- the security to win the public not by burying its own with pettiness and vitriol, a tactic mastered by management during previous Red Sox strife, but by winning and losing with class. For everything positive the Red Sox had accomplished in distancing itself from its past, now ownership and the clubhouse will once again be starting from scratch.
Howard Bryant is a senior writer for ESPN.com. He is the author of "The Last Hero: A Life of Henry Aaron," "Shut Out: A Story of Race and Baseball in Boston" and "Juicing the Game: Drugs, Power and the Fight for the Soul of Major League Baseball." He can be reached at Howard.Bryant@espn.com. He can be followed on Twitter at www.twitter.com/hbryant42.
Senior Writer
Senior Writer, ESPN.com and ESPN The Magazine
Author of "The Last Hero: A Life of Henry Aaron"
Author of "Juicing the Game"
EDITORS' PICKS
When Doc Rivers returns to town, it's always an event. Sunday was no different, as he praised the Celtics' recent playoff push, Chris Forsberg writes.