The Parcells/Belichick coaching tree
Lengendary tandem, disciples have combined to capture eight Super Bowl titles
Originally Published:
May 29, 2013
By
ESPN.com
ESPN celebrates the 100th anniversary of Vince Lombardi's birth with the "Greatest Coaches in NFL History" series, saluting the finest innovators, motivators, tacticians, teachers and champions ever to stalk the sidelines. Follow along as we reveal our list of the top 20 coaches of all time and document the lineage of the league's most influential coaching trees.
The Bill Parcells/Bill Belichick coaching tree is documented below with a feature on Parcells and short biographies of his many disciples.
This package also includes a feature on the Bill Belichick branch of Parcells' tree.

As a football coach, Bill Parcells was many things. He was a motivator. A psychologist. A daily sound bite. A bully. Your worst enemy or your best friend, depending on the day.
More than anything, he was a winner -- a champion -- because of his innate ability to see beyond the X's and O's. He recognized it was a people business, and he found ways to get inside the heads of the people who populated his locker room, turning losers into believers and winners into champions.
Parcells provided instant hope in places where losing had become the norm. After winning two Super Bowls with the New York Giants, he showed up in New England, a football wasteland. Within two years, the Patriots were in the playoffs. Two years later, they were in the Super Bowl.
GREATEST COACHES IN NFL HISTORY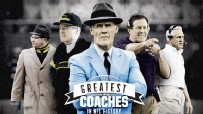 This series is a collaborative effort between ESPN TV, ESPN.com, ESPN Digital Video, ESPN The Magazine,
the Elias Sports Bureau, ESPN Radio
and ESPN Stats & Info.
Counting down to the 100th anniversary of Vince Lombardi's birth on June 11, 2013, we selected the top 20 coaches of all time, as chosen by a blue-ribbon panel of ESPN analysts and writers.
We've also traced the NFL's evolution with 14 extensive features on the league's most significant coaching trees.
In all, we've profiled 175 coaches in more than 50,000 words, a colossal project befitting the greatest coaches in NFL history.
Also see:
• The Bill Belichick tree branch
• Bill Parcells coaching tree gallery


• Countdown: No. 7 -- Bill Belichick
• Countdown: No. 11 -- Bill Parcells
• Countdown: No. 14 -- Tom Coughlin
• ESPN New York: Top 50 Giants


• "Greatest Coaches" home page
He nearly pulled off the same miracle at his next stop, the New York Jets, inheriting a 1-15 mess and leading them to the AFC Championship Game two years later.
In all three places, Parcells made mansions out of termite-infested shacks.
"I'm biased, but there are only a few coaches that stand out in the history of the game," said Hall of Fame running back Curtis Martin, who played for Parcells with both the Patriots and Jets. "You think of the Lombardis and coaches like that. Bill should be mentioned in the same breath."
Parcells will join Martin in Canton in August, the culmination of a 50-year journey that began in rural Nebraska, where he got his start as a linebackers coach at tiny Hastings College. It was the first of seven college coaching jobs, leading to the Giants, Patriots, Jets and Dallas Cowboys. He's the only coach in NFL history to lead four different teams to the playoffs.
He was blessed with great players, of course, including Hall of Famers Martin, Lawrence Taylor and Harry Carson. But Parcells had the rare ability to sense greatness in his players.
Martin, a third-round pick, was an afterthought coming out of Pitt, but he flourished under Parcells' demanding style. He grew up in a Pittsburgh ghetto without his father and formed an immediate bond with Parcells, whom he worships to this day.
Taylor was a ridiculously talented but out-of-control linebacker who irked Parcells because he played outside the structure of his 3-4 defense. But it didn't take long for Parcells to figure out that he needed to change his defense to fit Taylor, not the other way around. He created the rush-linebacker position, and LT was born.
For an old-school coach, Parcells adapted to the times. He won with run-oriented teams, and he won with teams that spread the field and passed 40 times a game. He won with pocket quarterbacks, and he won with mobile quarterbacks. Once, he did it in the same year, 1990, when Jeff Hostetler replaced an injured Phil Simms and the Giants still won the Super Bowl.
That team wasn't Parcells' most talented group, but it might have been his best team -- tough, resourceful and resilient. Just like its coach. That championship vaulted him into the icon category, but it was his work in seemingly hopeless situations that set him apart in the coaching ranks.
Parcells once was asked why he'd want to take over sorry franchises. His answer was vintage Parcells.
AP Photo Bill Parcells' final game as the Giants' head coach was the Super Bowl XXV victory over the Bills.
"Two guys are sent to Australia to sell shoes to the Aborigines," he said. "One calls his boss and says, 'There's no opportunity here; the natives don't wear shoes.' The other guy calls and says, 'Boss, great news: These people don't have any shoes.'"
Parcells made a career of being the "other guy," providing sturdy soles for tortured souls.
A great example: On the first day of his first training camp with the Jets in 1997, Parcells stopped practice, gathered his coaches and chewed them out in full view of the spectators. The fans loved the theatrics, chanting Parcells' nickname, Tuna -- "Too-na! Too-na!" Players watched in disbelief.
Yep, there was a new sheriff in town. Not two months later, those same players -- largely the same group that went 1-15 the previous year -- opened the season with a 41-3 road win over the Seattle Seahawks. He had delivered the Jets from awful.
Seven years after his last season in coaching, Parcells' impact on the game still is felt. His coaching tree includes three former Super Bowl champions -- Bill Belichick, Tom Coughlin and Sean Payton, three of the top coaches in the league.
Parcells' words -- his philosophies on football and life -- still resonate. His many famous quotes epitomize the sport. His most repeated line -- "You are what your record says you are" -- is mandatory preaching fodder for coaches everywhere.
Parcells is a complicated man, notoriously moody and known for inelegant farewells. But he also can be wonderfully poignant. He showed that side of his personality 15 years ago in a rare speech to high school coaches on Long Island.
With no mass media in attendance, only a young Jets beat writer from a New York daily, Parcells told a rapt audience about a man who "had as much influence on me as any single guy I've encountered in this profession" -- a man he met only once. His name was Gordon Wood, a legendary high school coach in Texas.
In the 1970s, Parcells was an assistant at Texas Tech, and Wood was a fixture at Tech's spring drills, commuting five hours every day to watch practice.
"Here's a guy who had 300 wins, and he's driving back and forth because he's trying to learn something," Parcells told the coaches. "I thought to myself, 'If you ever want to get anywhere in this business, you better start acting like this guy, because he's something special.'"
That young Tech assistant, perceptive enough to recognize greatness, turned out to be pretty special, too.
-- Rich Cimini

Belichick has led New England on arguably the most dominant extended stretch in NFL history. He is known for his attention to detail and defensive strategy, although his Patriots have produced some of the most prolific offensive seasons in history.
BELICHICK'S INFLUENCE
ESPN Boston's Mike Reiss explores the influence and legacy of Bill Belichick.
• The Belichick tree branch
Also see:
• Countdown: No. 7 -- Bill Belichick
• Bill Parcells coaching tree gallery

Belichick was the first coach to win at least 10 games in 10 consecutive seasons and the first to win three Super Bowls in a four-year span (2001, 2003 and 2004 seasons). He also coached the Patriots to the NFL's first 16-0 regular season in 2007 (although they lost the Super Bowl to the Giants). That 2007 team set a league record by averaging 36.8 points per game.
Belichick ranked ninth in career coaching wins after the 2012 season, including five seasons with the Browns (1991-95) that resulted in a 36-44 record with one playoff trip.
Before finding his niche in New England, Belichick's greatest success came working under Bill Parcells for 12 seasons on three teams. Belichick won two Super Bowls (1986 and 1990 seasons) as Parcells' defensive coordinator with the Giants. Belichick was assistant head coach for Parcells when the Patriots went to Super Bowl XXXI and held the same role with the Jets when they reached the 1998 AFC Championship Game.
When Parcells retired from the Jets after the 1999 season, Belichick became their head coach for one day before resigning to take over the Patriots.
-- Kevin Stone

Handley had never been a head coach above the high school level when he was tasked with replacing Bill Parcells, who stepped down unexpectedly after the New York Giants won Super Bowl XXV. The Giants went 14-18 in two seasons (1991-92) before firing Handley, who never coached again.
Handley had been the Giants' running backs coach for two Super Bowl teams, and he also held the title of offensive coordinator for the 1990 season. Bill Belichick and Tom Coughlin also were assistants for the 1990 Giants and might have been stronger candidates to replace Parcells. But by the time Parcells announced his departure in May 1991, both had taken other head-coaching jobs -- Belichick with the Cleveland Browns and Coughlin with Boston College.
Prior to his NFL tenure, Handley coached with Parcells at Army (1968-69) and Air Force (1978).
-- Kevin Stone

Fassel was the New York Giants' head coach for seven roller-coaster seasons (1997-2003), with the high point being a berth in Super Bowl XXXV. But the Giants reached the playoffs just once over the following three seasons and fired Fassel after they went 4-12 in 2003.
Fassel served as quarterbacks coach and offensive coordinator at Stanford in the early 1980s, working with future No. 1 overall pick and Pro Football Hall of Famer John Elway. One of the defensive coaches on that same Stanford staff under Paul Wiggan was his future boss with the Giants, Ray Handley.
Fassel's résumé includes multiple nontraditional stops. He played quarterback for the Hawaiians of the short-lived World Football League in the mid-1970s. One of his earliest coaching jobs was as offensive coordinator for the New Orleans Breakers of the USFL. In 2009, he became head coach of the Las Vegas Locomotives of the fledgling United Football League. He also has worked as a color commentator for NFL radio broadcasts.
He broke into the NFL under Handley as offensive coordinator for the Giants (1991-92), Broncos (1993-94) and Cardinals (1996). He was quarterbacks coach for the Raiders (1995) before becoming the Giants' head coach. He later worked for three seasons under Brian Billick with the Baltimore Ravens, the coach and team that defeated his Giants in the Super Bowl.
-- Kevin Stone

Also see:
"Greatest Coaches" countdown: No. 14 -- Tom Coughlin
Coughlin is a resilient, old-school coach with two Super Bowl titles highlighting a long, successful career. Known as a strict disciplinarian, Coughlin quickly built the Jacksonville Jaguars from scratch into contenders before turning the Giants into two-time champions.
Four seasons into his tenure as New York's head coach, while many were questioning his job security, Coughlin led the wild-card Giants on an improbable 2007 postseason run that culminated with a stunning victory over the previously unbeaten and heavily favored New England Patriots in Super Bowl XLII.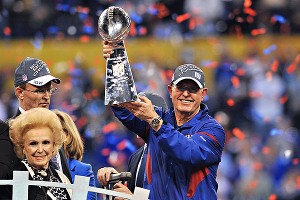 Larry French/Getty Images Tom Coughlin matched his old boss, Bill Parcells, with two Super Bowl titles as the Giants' head coach.
History repeated itself four seasons later. With Coughlin again on the hot seat, the Giants eked out the NFC East title with a 9-7 record, then went on an unlikely run to a Super Bowl XLVI victory over the Patriots. The Giants set a record for lowest regular-season winning percentage for a Super Bowl champion.
Coughlin was a three-time letter winner as a wingback at Syracuse in the 1960s, playing alongside future Pro Football Hall of Famers Larry Csonka and Floyd Little. He broke into the NFL as wide receivers coach for two seasons each with the Eagles and Packers in the 1980s.
He got his big break when he joined the Giants in the same role in 1988 under Bill Parcells. Coughlin coached on Parcells' staff for three years, culminating with the 1990 Super Bowl championship season. He then took over as head coach at Boston College, where he had served as quarterbacks coach a decade earlier, for three seasons. BC went 9-3 in 1993, including a win over No. 1 Notre Dame, raising Coughlin's coaching stock.
The Jaguars franchise hired Coughlin to run the show in February 1994 -- more than 18 months before its first game -- selecting him over 49ers offensive coordinator Mike Shanahan and Vikings defensive coordinator Tony Dungy.
In 1996, their second season of existence, the Jaguars made it to the AFC Championship Game. Coughlin's Jags again got within one game of the Super Bowl in 1999.
-- Kevin Stone

Petrino had one of the shortest noninterim stints as a head coach in NFL history, abruptly resigning 13 games into his only season with the Atlanta Falcons. He later became even more notorious for a messy scandal that cost him his subsequent job at Arkansas.
Petrino served as quarterbacks coach and offensive coordinator for the Jacksonville Jaguars (1999-2001) under Tom Coughlin. He held assistant positions at seven colleges before going to Jacksonville and followed his Jaguars tenure by going 41-9 in four high-flying seasons (2003-06) as Louisville's head coach.
The Falcons hoped that Petrino, known for his innovative offensive mind, could get the most out of quarterback Michael Vick when they hired him in 2007. However, Vick became embroiled in a dogfighting scandal and was suspended indefinitely. When the Falcons fell to 3-10, Petrino abruptly resigned to become Arkansas' head coach, revealing his decision to Atlanta's players with a note left in their lockers. The move came one day after Vick was sentenced to 23 months in federal prison.
Petrino was fired by Arkansas in April 2012 after a motorcycle accident led to the revelation of an affair and the fact that he'd hired his mistress to work within the school's football program. In December 2012, Petrino was introduced as the head coach at Western Kentucky.
-- Kevin Stone

Palmer was the first coach of the Cleveland Browns when they were revived in 1999, four years after the previous version of the team relocated to Baltimore and became the Ravens. Palmer was fired after going 5-27 over two seasons with what was essentially an expansion team.
Palmer's most notable stretch as an NFL assistant was with the Patriots as wide receivers and quarterbacks coach under Bill Parcells (1993-96). He also worked two seasons as offensive coordinator under Tom Coughlin in Jacksonville (1997-98) before going to Cleveland.
He later rejoined Coughlin with the Giants and was the team's quarterbacks coach when it won Super Bowl XLII, and his long career includes multiple college jobs as well as stops in the CFL (1983), USFL (1984-85) and United Football League (2010). He served as offensive coordinator of the Tennessee Titans in 2011 and 2012.
-- Kevin Stone

The New York Jets turned to Groh during a tumultuous time in the franchise's history, but he wound up only adding to the instability. After Groh led the Jets to a 9-7 mark in 2000, he stunned the team by resigning to take the head-coaching job at his alma mater, Virginia.
Groh became the Jets' head coach only because Bill Parcells moved from the sideline to the front office after the 1999 season. Parcells' replacement, Bill Belichick, was on the job for one day before leaving to become New England's head coach. In stepped Groh, who had been the Jets' linebackers coach and also had worked for Parcells with the Giants and Patriots.
Groh wound up coaching Virginia for nine seasons. His ties to Parcells extend to the college ranks, as they coached together at Army in 1968-69 and Air Force in 1978.
-- Kevin Stone

Crennel was on the staff of five Super Bowl champions but didn't have the same level of success as a head coach. He won two rings with Bill Parcells' New York Giants and three with Bill Belichick's New England Patriots.
In four seasons as the Cleveland Browns' head coach (2005-08), Crennel finished over .500 just once and never made the playoffs. Then he lasted one full season with the Kansas City Chiefs, getting fired after going 2-14 in 2012.
Crennel also worked as defensive coordinator of the Browns in 2000 under Chris Palmer, who was a fellow Patriots assistant during the Parcells era in New England. Crennel's connection to Parcells goes back to 1975, when they were on the Texas Tech staff together.
-- Kevin Stone

Payton, a former college quarterback and replacement player during the 1987 NFL strike, reached the pinnacle of his profession by leading the New Orleans Saints to their first Super Bowl victory, but he also was the first head coach ever to be suspended by the NFL.
Chris Graythen/Getty Images Sean Payton pointed the Saints to their only championship.
Payton's Saints went 13-3 in 2009, setting a franchise record for victories, and capped off the season by beating the Indianapolis Colts in Super Bowl XLIV. Payton's decision to start the second half with an onside kick, which the Saints recovered, is cited as the turning point of the game and considered one of the boldest calls in Super Bowl history.
The NFL suspended Payton for the entire 2012 season for his role in the Saints bounty scandal, but his spot in New Orleans history had been secured by then. He revived a franchise that had made just one playoff appearance in the 13 seasons before he took over in 2006. Payton took the Saints to three NFC South titles and four postseasons in his first six seasons as head coach. He was named NFL Coach of the Year for 2006 after the Saints went 10-6 and reached the NFC Championship Game.
Before becoming the Saints' head coach, Payton had several college jobs and worked for the Eagles (1997-98) and Giants (1999-2000). He's most notably associated with Bill Parcells, who made Payton an assistant head coach during three seasons with the Cowboys (2003-05). He was offensive coordinator for the 2000 NFC champion Giants under Jim Fassel.
-- Kevin Stone

Sparano started his head-coaching career on a high note but couldn't sustain the success. He was hired by the Miami Dolphins in 2008, a year after they went 1-15, and led them to an 11-5 mark and a playoff berth in his first season. The 10-win improvement in one season tied an NFL record.
That was followed by three sub-.500 campaigns, and he was fired after the 2011 season.
Before the Dolphins hired him, he spent five seasons as an offensive assistant with the Dallas Cowboys (2003-07), the first four under Bill Parcells. Sparano's first NFL assistant job came with the revived Cleveland Browns in 1999, under former Parcells assistant Chris Palmer. He also worked for another former Parcells assistant, Tom Coughlin, for one season in Jacksonville. Sparano's coaching career included stints as offensive line coach (1984-87) and head coach (1994-98) at his alma mater, the University of New Haven.
-- Kevin Stone

Haley coached the Kansas City Chiefs for two-plus seasons, taking the team to the playoffs once.
The son of former NFL player and player personnel director Dick Haley, Todd Haley began his NFL coaching career with the New York Jets under Bill Parcells. He remained on the Jets' staff all three years that Parcells was head coach and one more under successor Al Groh. He then joined the Chicago Bears' staff for three seasons before reuniting with Parcells as wide receivers coach and passing game coordinator of the Dallas Cowboys for three years.
Haley became offensive coordinator of the Arizona Cardinals in 2007. With a revitalized Kurt Warner at quarterback, the 2008 Cardinals made a surprising run to Super Bowl XLIII, where they lost 27-23 to the Pittsburgh Steelers.
The Chiefs hired Haley as head coach in 2009. After going 4-12 in his first year, Kansas City went 10-6 and won the AFC West title in 2010. The Chiefs, however, fired Haley after a disappointing 5-8 start the next season. He was hired as offensive coordinator of the Pittsburgh Steelers in 2012.
-- Shawna Seed
Special thanks to the Elias Sports Bureau for research assistance in compiling this project.
GREATEST COACHES IN NFL HISTORY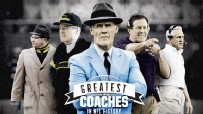 ESPN lists the top 20 coaches of all time and examines the most influential coaching trees.
Greatest Coaches in NFL History home page


EDITORS' PICKS
The Bruins, who suffered a shootout loss to the Flames, must be better.