Martinez-Chavez
Sept. 15, 2012 // 9 p.m. ET; 6 p.m. PT (HBO PPV)
Thomas & Mack Center, Las Vegas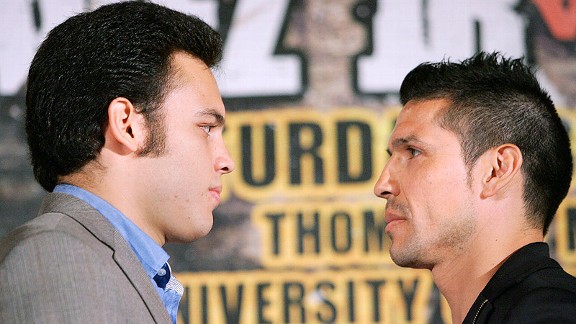 Chris Farina/Top Rank
Predictions

Dan Rafael
Over the past 18 months, the gap has closed between Martinez and Chavez -- but not enough, as far as I am concerned. It will be a good fight, but I like Martinez in a late stoppage.

Kieran Mulvaney
This is tough to call because Martinez has struggled a little with pressure fighters, but I think Sergio's speed and skill prevail over Junior's size and strength, earning him a close decision win.
Diego Morilla
Martinez's experience and maturity will help him dominate the first three-quarters of the fight, and Chavez's resurgence toward the end will be futile. Martinez on points.