Pacquiao's speed too much for Rios
Originally Published:
November 25, 2013
By
Dan Rafael
| ESPN.com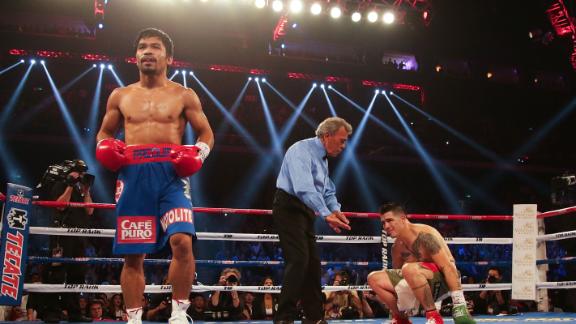 Pacquiao Ends Layoff With Victory
Bernardo Osuna and Kieran Mulvaney break down Manny Pacquiao's dominating win over Brandon Rios.
Pacquiao Ends Layoff With Victory
A roundup of the past week's notable boxing results from around the world:
Saturday at Macau, China
Manny Pacquiao W12 Brandon Rios
Welterweight
Scores: 120-108, 119-109, 118-110
Records: Pacquiao (55-5-2, 38 KOs); Rios (31-2-1, 22 KOs)
Rafael's remarks: When the fight was made between Pacquiao, the Filipino icon and record-setting eight-division world titleholder, and Rios, the former lightweight titlist and consummate brawler, it was about one thing and one thing only: What did Pacquiao have left? After all, he had suffered a monstrous one-punch knockout in the sixth round at the hands of his all-time rival Juan Manuel Marquez in their fourth showdown last December. Could Pacquiao rebound against Rios, whose selection as the opponent was a calculated risk by Top Rank?
If the 34-year-old Pacquiao had anything left, he would probably shine against Rios, who, for all his heart and bravery and good chin, is nowhere close to the Pacquiao we all know in terms of speed and skills. But if Pacquiao didn't have much or anything left, Rios, 27, of Oxnard, Calif., would be a very dangerous opponent given his youth and relentless style. After a long buildup, culminated by the fight-week altercation between Pacquiao trainer Freddie Roach and Rios trainer Robert Garcia and Rios strength coach Alex Ariza (who used to work closely with Roach and Pacquiao before Roach fired him during the summer), the question of which Pacquiao would show up was basically answered in the first round of the main event of the first major pay-per-view fight from China, where a sellout crowd of 13,101 showed up at the CotaiArena at the Venetian Macao for the unusual early-afternoon fight (to accommodate the live HBO PPV in the United States).
In that first round, Pacquiao immediately took control and outlanded Rios 20-5, according to CompuBox statistics. It looked as if it was going to be a very tough fight for Rios, who was moving up in weight and coming off his first career defeat, a decision at the hands of Mike Alvarado in their March rematch (a leading fight-of-the-year candidate). Pacquiao, a southpaw, never stopped landing punches -- especially his straight left hand -- on the stationary Rios, who earned a career-best $4 million for his trouble. He was so much slower than Pacquiao that he could barely land anything cleanly. Meanwhile, Pacquiao would fire shots, take a step to the side and be long gone before Rios' wild shots hit nothing but air. It was a brilliant display from Pacquiao, who dedicated to fight to the victims of Typhoon Haiyan, which crushed the Philippines near the end of his training camp, and it showed just how important the art of matchmaking is in boxing.
Pacquiao, who earned a minimum guarantee of $18 million (for which he doesn't have to pay U.S. taxes), was never in any trouble in the fight, although he fought a bit more reserved than we have become accustomed to seeing him. Perhaps that is because he wanted to make sure he didn't get caught with the big bomb Marquez landed on him last time out. In the end, Pacquiao won his first fight in two years and shook off a two-fight losing streak (which also includes the ghastly robbery against Timothy Bradley Jr. from June 2012). Back in the win column and looking good doing it, Pacquiao is due back in the ring April 12 in Las Vegas, perhaps in a rematch with Bradley. Whomever Pacquiao fights, as he said after the fight: "This is still my time. My time is not over."
Evgeny Gradovich TKO9 Billy Dib
Retains a featherweight title
Records: Gradovich (18-0, 9 KOs); Dib (36-3, 21 KOs)
Rafael's remarks: Back in March, Dib was supposed to make his third defense by squaring off with Luis Franco, but Franco pulled out in a contract dispute and announced what would be a short-lived retirement a month before the fight. Gradovich filled in on 29 days' notice and pulled the upset, winning a hard-fought split decision and the title in a grueling fight. Dib had a rematch option in his contract and exercised it. After both fighters took July interim bouts -- Gradovich a mandatory defense against Mauricio Munoz (also in Macau) and Dib struggled to a majority decision against Mike Oliver -- the rematch was on.
As competitive as the first encounter was, this time it was a Gradovich whitewash. Gradovich, 27, of Russia, who trains with Robert Garcia in Oxnard, Calif., had a full training camp this time and was absolutely relentless breaking down Dib, 28, of Australia. Dib tried to box and move against the slower Gradovich but had no success. Then he tried to rumble with him, and that didn't work either. Instead, Gradovich plowed forward and ripped Dib with clean shots. He was putting a beating on him, marking up his face, and knocked his mouthpiece out so many times that referee Allan Huggins warned Dib in the fifth round that he would deduct a point if it came out again.
In the sixth round, Gradovich dropped Dib with a right hand and a stoppage seemed to be only a matter of time. Dib showed a lot of heart to take the punishment he did. The fight could have easily been stopped just about any time after the sixth round. Finally, in the ninth round, with Dib being manhandled and driven into the corner, Billy Hussein, Dib's trainer, came into the ring and Huggins called off the fight at 1 minute, 10 seconds.
Gradovich is going to give a lot of top featherweights problems because he applies ridiculous pressure to opponents, and although he's not a big puncher, his power is solid. He also appears to take a good shot. He is in a terrific position because Top Rank, his promoter, is heavily involved in the 126-pound division, and Gradovich figures in any number of notable fights against titleholders Nicholas Walters and Orlando Salido, 2012 fighter of the year Nonito Donaire, Vasyl Lomachenko or unified junior featherweight champion Guillermo Rigondeaux, who figures to move up in weight eventually.
Andy Ruiz TKO3 Tor Hamer
Heavyweight
Records: Ruiz (21-0, 15 KOs); Hamer (21-3, 14 KOs)
Rafael's remarks: Not that it was all that shocking, but the Hamer showed that he is nothing but a quitter, bailing out after the third round of a fight in which he had probably won the first two rounds.
Although Ruiz, 24, of Mexico, a solid prospect who needs experience and better conditioning, had come on in the third round and was beginning to connect on Hamer with his fast hands, Hamer was in no particular trouble. He had not been knocked down, was not cut and was not injured. He just did not have any heart to fight. If there was a silver lining to his quit job, it was at least it meant the main event was one fight closer to beginning.
Hamer had landed a lot of right hands on Ruiz in the first two rounds and was fighting very well, but so much for that. This was just like what Hamer did in December 2012 in a nationally televised fight against 2008 Ukrainian Olympic bronze medalist Vyacheslav "Czar" Glazkov. In that one, he was also boxing well but Hamer quit in the same manner, after the fourth round.
Hamer's performance against Ruiz was so pathetic that his $45,000 purse was withheld for the time being. His infuriated promoter, Lou DiBella, was so disgusted by Hamer's non-effort that he announced on Twitter that he had released him immediately after the fight. Why any promoter would put Hamer on one of their cards again would be a mystery. He doesn't want to fight and nobody wants to see him. As for Ruiz, he scored his second consecutive stoppage win in Macau, having also stopped previously undefeated Joe Hanks there in the fourth round in July.
Zou Shiming W6 Juan Toscano
Flyweight
Scores: 60-54 (twice), 60-52
Records: Shiming (3-0, 0 KOs); Toscano (4-1, 1 KO)
Rafael's remarks: If you are a fan of boxing in Macau, thank Zou. He is the reason the market is open to big-time boxing. The 32-year-old is a Chinese national hero after winning three Olympic medals (gold in 2012 and 2008, bronze in 2004) and his popularity is the key reason the Venetian Macao became so interested in hosting fights.
Fighting at the casino's CotaiArena for the third time, Zou looked a lot better and more professional than he had in his first two pro fights, in April and July. Training with Hall of Famer Freddie Roach and being part of Manny Pacquiao's training camp (and sparring with him) has clearly helped. Zou was much more aggressive and sat down a lot better on his punches than in his first two fights, when he was basically arm punching and slapping at his opponents. Zou battered poor Toscano, 21, of Mexico, who showed enormous heart to make it through all six rounds. Zou probably deserved his first pro knockout victory, however.
Referee Genaro Rodriguez allowed Toscano to take inordinate punishment in the final couple of rounds, for absolutely no reason. He was bleeding from his nose, badly cut under his left eye and being battered, and he was unable to land a thing of consequence in return to make anyone believe he had a prayer. Allowing Toscano to continue to the final bell was dangerous and showed a lack of judgment from Rodriguez.
Zou took care of business without Roach in the corner on fight night; Roach was in the dressing room preparing Pacquiao for the main event, instead sending very capable assistant Marvin Somodio to run the corner. Zou will be back at CotaiArena for his fourth pro fight on Feb. 22 as he moves closer to a world title shot that Top Rank promoter Bob Arum said will happen in 2014 as long as Zou keeps winning.
Felix Verdejo W6 Petchsamuther Duanaaymukdahan
Lightweight
Scores: 60-53 (three times)
Records: Verdejo (9-0, 6 KOs); Duanaaymukdahan (8-2, 1 KO)
Rafael's remarks: Many believe that Verdejo, the charismatic 20-year-old and 2012 Puerto Rican Olympian, is on his way to stardom. This was his first appearance on pay-per-view. He was added to the Manny Pacquiao-Brandon Rios undercard because Top Rank promoter Bob Arum believed that because of Verdejo's popularity in Puerto Rico, his presence on the card would help the pay-per-view sales on the island. Someday, Verdejo may very well be headlining his own pay-per-view events. But this was the first step, a showcase fight against the unknown but durable Duanaaymukdahan, 32, of Thailand, whose name was so rough to say that the HBO PPV broadcast crew dubbed him "Mookie."
Verdejo landed nearly at will against Duanaaymukdahan, but he showed a good chin and took everything he could dish out, even smiling and sticking out his tongue. But sticking out your tongue does not give a fighter points, and Duanaaymukdahan was hammered repeatedly with blows from both hands, including a terrific uppercut in the fifth round. As if Duanaaymukdahan was not already hopelessly behind, referee Danrex Tapdasan took a point from him for hitting Verdejo with a low blow after having been previously warned. While Duanaaymukdahan will go back to obscurity, the sky is the limit for Verdejo, who will return to fight at home in Puerto Rico on a UniMas-televised card on Dec. 14 and is expected to close his rookie year 10-0.
Saturday at Manchester, England
Carl Froch TKO9 George Groves
Retains unified super middleweight title
Records: Froch (32-2, 23 KOs); Groves (19-1, 15 KOs)
Rafael's remarks: Worst. Stoppage. Ever. Referee Howard John Foster absolutely destroyed what had been a terrific action-packed fight with a premature, horrible stoppage that stole what could have been a glorious upset victory for Groves or a memorable comeback victory for Froch, his British countryman. Instead, Foster intervened for no apparent reason and made himself the story -- instead of the great battle Groves and Froch had waged. In doing so, Foster handed Froch, 36 and looking every bit his age, the victory.
Froch and Groves, 25, had a heated war of words leading into the much-anticipated fight. Froch, coming off a unification victory in a rematch with Mikkel Kessler in May, took exception to the lack of respect that Groves had shown him.
When the fight began in front of a rocking sold-out crowd of about 21,000, Groves took it right to Froch, dropping him hard with a clean right hand near the end of the first round. Froch took another right hand and looked in bad shape. Had Foster stopped the fight then, it would have been 100 times more acceptable than what wound up happening.
Groves, who was fighting for the first time since he dumped trainer Adam Booth for undisclosed reasons just weeks earlier and turned the reins over to assistant Paddy Fitzpatrick, was much faster than Froch. The speed difference gave Froch all kinds of problems. Although Froch pressed forward -- he even had Groves on the ropes in the third round and Groves' left eye began to swell -- Groves seemed to dominate most of the terrific two-way action. It got to the point in the middle rounds where it was as if Groves' right hand could not miss Froch's head.
The action remained intense, but it looked as if Froch was going to need a miracle to win the fight, and he got one from Foster. Froch was coming on in the ninth round and landed a couple of solid right hands, one that sent Groves into the ropes. But he was firing back just as hard as Froch was firing at him when, suddenly, Foster jumped in and stopped the fight. Groves went wild, the crowd did too and the Sky broadcasters handling the pay-per-view in the United Kingdom all ripped the stoppage, as they should have.
Groves was ahead on all three scorecards, although ridiculously only by one point on two cards when it had been a much, much more lopsided fight. Regardless, Froch retained his belts but it was just a pity Groves was outright robbed by Foster, who should at least be forced by British authorities to explain his actions.
Maybe there will be a rematch, but Froch looked as though all the wars he has been in have taken their toll. After the punishment he took from Groves, who knows if Froch even wants another dose of that. Groves surely would accept a rematch, but he should have the opportunity to continue in this fight. He fought the fight of his life but was stopped not by Froch, but by a terrible referee.
Scott Quigg KO2 Diego Silva
Retains a junior featherweight title
Records: Quigg (27-0-2, 20 KOs); Silva (29-3-4, 15 KOs)
Rafael's remarks: Seven weeks ago, Quigg, who had been elevated from an interim titlist to a full one, retained his full title for the first time when he fought to a draw with Yoandris Salinas on Oct. 5 in a shaky performance. Making a very quick turnaround, at least by today's standards, Quigg, 25, of England, returned for his second defense against Silva, 30, of Argentina, and destroyed him in impressive fashion. Silva's only previous loss had come by third-round knockout in Mexico to Fernando Montiel in an interim bantamweight title bout. Quigg took Silva out even more impressively.
After easily winning the opening round, Quigg turned up the offense in the second round and nailed Silva with a pair of right uppercuts to send him to the mat. Quigg continued to pound him with right hands, then drilled him with a right uppercut that dropped him face-first. Silva rolled over onto his back and the referee waved off the fight at 1 minute, 41 seconds.
Quigg is now hoping for a unification fight, be it against Kiko Martinez or Leo Santa Cruz. Promoter Eddie Hearn said that Martinez was the first target and that Quigg would be ringside to watch Martinez's Dec. 21 title defense, hoping he wins and to drum up interest in a potential fight. If a unification bout does not materialize, Hearn said Quigg could face interim titlist Nehomar Cermeno.
Andy Lee TKO2 Ferenc Hafner
Middleweight
Records: Lee (31-2, 22 KOs); Hafner (21-5, 12 KOs)
Rafael's remarks: Originally, interim middleweight titlist Martin Murray was supposed box on this card in a nontitle bout, but when he came down with a virus and dropped off the show, Lee, a 29-year-old southpaw from Ireland, was invited to take his place on three days' notice and happily accepted, as Hafner, 37, of Hungary.
In June 2012, Lee, a 2004 Olympian, was stopped in the seventh round challenging then-middleweight titleholder Julio Cesar Chavez Jr. A few months later Emanuel Steward, Lee's trainer and close friend, died after a shot illness. When Lee resumed his career in February, he went to work with trainer Adam Booth and this was their third fight together, an easy victory for Lee, who is poised now for a major showdown with one of the top middleweights from the United Kingdom, be it Murray, world titleholder Darren Barker or contender Matthew Macklin.
Lee took Hafner apart with ease, dropping him with a left hand to the body in the first round. He battered Hafner in the second round, dropping him for a second time with another left hand, then finishing him with a right to the jaw that knocked him to his knees. Hafner, whose three-fight winning streak came to an end, beat the count, but this was a one-sided mismatch and referee Mark Lyson called it off at 1 minute, 19 seconds.
Luke Campbell W4 Chuck Jones
Lightweight
Score: 40-36
Records: Campbell (4-0, 3 KOs); Jones (4-13-2, 0 KOs)
Rafael's remarks: Campbell, 26, of England, won the bantamweight gold medal at the 2012 London Olympics and turned pro at lightweight to much fanfare in July. After scoring knockouts in his first three bouts, 23-year-old Jones, stopped only once in his 13 defeats, went the distance with Campbell, giving him valuable rounds as he makes his way up the ladder. Campbell, a southpaw, landed some hard shots and good combinations, but Jones stood up to everything and made it to the final bell, even though he lost every round with referee Steve Gray turning in the shutout scorecard for Campbell.
Jamie McDonnell TKO7 Bernard Inom
Bantamweight
Records: McDonnell (22-2-1, 10 KOs); Inom (22-4-1, 10 KOs)
Rafael's remarks: In May, McDonnell, 27, of England, won a majority decision against Julio Ceja to win a vacant bantamweight world title. But when he failed to make a mandatory defense, he was stripped of the belt. Fighting for the first time since, McDonnell returned in a scheduled eight-round bout against 40-year-old Inom of France, the former European flyweight champion and also a former world flyweight title challenger who was knocked out by Omar Narvaez in 2005.
McDonnell had no trouble with Inom, dominating the entire fight. Inom seemed to be in the ring with one mission: survival. But McDonnell tried to get him, landing all kinds of shots to the head and body. Finally, with Inom doing very little but taking shots, the referee stepped in and stopped the bout at 1 minute, 47 seconds of the seventh round.
Saturday at Bamberg, Germany
Yoan Pablo Hernandez KO10 Alexander Alekseev
Retains a cruiserweight title
Records: Hernandez (28-1, 14 KOs); Alekseev (24-3-1, 20 KOs)
Rafael's remarks: Hernandez, 29, a former Cuban amateur star who defected and lives in Germany, returned to the ring for his only fight of 2013, a mandatory defense against fellow southpaw Alekseev, 32, a native of Uzbekistan living in Germany. Hernandez had been scheduled for a February defense against American Eric Fields but he broke his left hand for a second time and the fight was canceled. Hernandez needed to have his hand surgically repaired and was out for most of the year.
Making his third title defense, Hernandez was dominant, scoring three knockdowns en route to the knockout win. With 10 seconds left in the first round, Hernandez landed a long left hand, nailing Alekseev in the face and forcing him to put his hands down to the mat for a knockdown. The second knockdown came with 40 seconds remaining in the fifth round, when Hernandez sent Alekseev to the seat of his pants with an overhand left to the head. Alekseev was shellacked for the rest of the round, but he made it through. In the 10th round, Hernandez finished Alekseev, hammering him with a right uppercut that sent him sprawling to the mat, prompting referee Lindsey Page to call off the fight immediately at 1 minute, 35 seconds.
It was another fine performance from Hernandez, who was ahead 87-82 on all three scorecards at the time of the KO.
Alekseev came into the fight, his first shot at a world title, having gone 5-0-1 since a second-round knockout loss to former cruiserweight titlist Denis Lebedev in 2010. Alekseev had become the mandatory challenger by outpointing American Garrett Wilson in a February title elimination bout.
Alex Leapai W10 Denis Boytsov
Heavyweights
Scores: 98-90, 96-92 (twice)
Records: Leapai (30-4-3, 24 KOs); Boytsov (33-1, 26 KOs)
Rafael's remarks: This is a huge upset. Boytsov, 27, a Russian living in Germany, was one of heavyweight champion Wladimir Klitschko's mandatory challengers and had a good chance to be his next opponent in March. Boytsov didn't deserve the position based on his lean résumé, but he was still a heavy favorite against Leapai, 34, of Australia, as he looked to stay active with the title shot on the horizon. It turned out to be a terrible decision; Boytsov and his handlers gambled and lost big time as Leapai cruised the decision win, dropping Boytsov in the seventh and ninth rounds along the way in a shocker. Leapai landed a right and left, both to the top of the head, ruining Boytsov's balance and knocking him down for the first time. The ninth-round knockdown came on a right hand that sent Boytsov into the ropes and down to his knees. Boytsov was lucky he made it to the final bell because he was exhausted and in a lot of trouble in the 10th round.
Friday at Lincoln, R.I.
Peter Manfredo Jr. TKO8 Rich Gingras
Super middleweights
Records: Manfredo Jr. (40-7, 21 KOs); Gingras (13-4-1, 8 KOs)
Rafael's remarks: The last time Manfredo, 32, of Providence, R.I., was on the big stage, he was stopped in the fifth round of a middleweight world title fight against then-titlist Julio Cesar Chavez Jr. in November 2011. Although Manfredo announced his retirement, he has done that three times already and is not to be taken seriously. He has fought three times since the Chavez fight and is now 3-0 after stopping fellow "Contender" alum Gingras, 32, of Lincoln, R.I.
Gingras had his best moments early in the fight, hurting Manfredo midway through the third round with an overhand right against the ropes that sent Manfredo stumbling toward the neutral corner. Gingras was seemingly just a couple of shots away from ending the fight, but the resilient Manfredo weathered the storm. Manfredo was in control by the sixth round, eventually opening a cut over Gingras' left eye. In the eighth round, Manfredo ended the fight with a right uppercut-left hand combination that send Gingras stumbling into the ropes and caused referee Joey Lupino to wave off the fight at 1 minute, 33 seconds.
Boxing
2013 BWAA Nat Fleischer Award winner for excellence in boxing journalism
ESPN.com boxing writer since 2005
Five years at USA Today
SPONSORED HEADLINES
MORE BOXING HEADLINES
MOST SENT STORIES ON ESPN.COM
EDITORS' PICKS
Golden Boy promotes rival cards on Dec. 13 in Las Vegas.
Blog »

At 49, Hopkins a slight favorite over Kovalev in media poll.
Blog »

Golovkin stays put despite another KO victory.
P4P Rankings »