Golovkin scores another KO victory
Originally Published:
February 3, 2014
By
Dan Rafael
| ESPN.com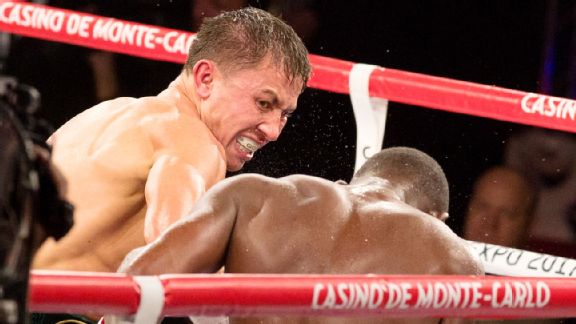 Didier Baverel/WireImageGennady Golovkin, left, kicked off 2014 with another impressive KO win.
A roundup of the past week's notable boxing results from around the world:
Saturday at Monte Carlo, Monaco
Gennady Golovkin TKO7 Osumanu Adama
Retains a middleweight title
Records: Golovkin (29-0, 26 KOs); Adama (22-4, 16 KOs)
Rafael's remarks: The GGG train rolled on with yet another one-sided knockout victory. After four exciting knockouts in four fights in 2013, Golovkin kept it up as he opened what he expects to be another four-fight year in 2014. Unable to lure the very top middleweights into the ring to face him, Golovkin has stayed active nonetheless, fighting the best opponents willing to fight him and destroying them, which is exactly what he did to Adama.
Although the fight was not televised in the United States because of HBO's unwillingness to take a world feed of the event, 100-plus other countries televised Golovkin's destruction of Adama, who had never previously been stopped, including in a competitive performance in a 2012 world title bout against then-titleholder Daniel Geale in Australia.
But Golovkin, 31, of Kazakhstan -- who lives in Germany and trains in California -- had an easy time with him, breaking him down, dropping him three times and stopping him as he retained his world title for the 10th time and recorded his 16th knockout in a row while also raising his knockout percentage to 89.66, the best among active titleholders.
Golovkin looked very sharp from the outset. He scored the first knockdown at the tail end of the opening round when he landed a crisp right hand. Adama, 32, a native of Ghana living in Chicago, got knocked down for the second time with a booming left hook -- perhaps Golovkin's best punch -- in the sixth round. By the seventh round, Adama was fading and all it took for Golovkin to drop him for the third time was a solid left jab on the button. Adama beat the count but moments later, Golovkin badly rocked him with another powerful left hook. As Adama staggered backward from the punch, referee Luis Pabon appropriately stepped in to stop the fight at 1 minute, 20 seconds. There was no reason to let Adama take more punishment. He was done.
Golovkin came out of the fight clean, which means he will return to the United States and to HBO on April 26, when he headlines at the Theater at Madison Square Garden in New York, where Golovkin fought twice in 2013. His opponent has not been signed yet, but the possibilities, according to Golovkin's team, are former titleholder Geale, longtime middleweight contender Andy Lee and junior middleweight banger James Kirkland.
Golovkin called out recognized 160-pound champ Sergio Martinez after the fight. That would be a huge fight at the end of the year if Golovkin keeps winning and Martinez defeats Miguel Cotto in the fight they are trying to finalize for June 7. However, whomever Golovkin faces, he commands the attention of the boxing world because of his exciting display of power, skills and brute force.
Saturday at Laredo, Texas
Gilberto Ramirez KO1 Don Mouton
Super middleweight
Records: Ramirez (27-0, 21 KOs); Mouton (12-8-1, 10 KOs)
Rafael's remarks: Ramirez might just be the next big fighter out of Mexico. The 22-year-old southpaw has movie star looks and an aggressive fighting style that should make him a fan favorite. The fact that he defeated Mouton, 35, of Houston, was no big surprise as Mouton has now lost four bouts in a row. But was rather shocking was how easily and violently Ramirez dusted him.
Mouton had never previously been stopped, including going the eight-round distance with Anthony Dirrell, Badou Jack and Brandon Gonzalez -- all good, young fighters -- in his previous three bouts. But Ramirez destroyed him. Ramirez drove him Mouton to the ropes and landed a right hand to the body during a flurry that literally knocked Mouton out of the ring and onto a table at the ring apron. Mouton struggled to get back in the ring and beat the count, but he was wobbly. As soon as the fight resumed, Ramirez blasted him with a right hand that dropped Mouton sideways and sent him skidding across the ring as referee Rafael Ramos immediately waved off the fight at 1 minute, 31 seconds. This fight was short but a very impressive victory for Ramirez.
Jose Ramirez KO1 Javier Perez
Junior welterweight
Records: Ramirez (8-0, 6 KOs); Perez (8-7, 5 KOs)
Rafael's remarks: Ramirez, the 21-year-old 2012 U.S. Olympian from Avenal, Calif., turned in a devastating performance, albeit against an obviously outclassed Perez, 29, of Puerto Rico. This one was over quickly as Ramirez took it to Perez from the outset and had him backing up. Eventually, he staggered Perez with a left hook that turned his legs to jelly. Ramirez followed up with a five-punch flurry punctuated by another brutal left hook that dropped Perez to his rear end. He was badly hurt and although he tried to beat the count -- and nearly did -- referee Jon Schorle counted him out at 2 minutes, 32 seconds.
Robert Marroquin D8 Alejandro Rodriguez
Lightweights
Scores: 76-76 (three times)
Records: Marroquin (23-3-1, 16 KOs); Rodriguez (21-13-1, 12 KOs)
Rafael's remarks: Marroquin was once one of boxing's most promising prospects. But the 24-year-old from Dallas has watched his career go into a downward spiral in recent fights. He has not looked good in a few fights and although this one was a draw, it might as well have been a loss for Marroquin, the heavy favorite against Rodriguez, 25, a journeyman from Mexico. Marroquin struggled throughout the physical fight and was lucky to even get the draw because it looked as though Rodriguez probably deserved the nod by a couple of rounds. Rodriguez was a lot busier, he cut Marroquin over both eyes and had him bleeding from the nose. Draw or not, Marroquin's face sure had him looking like the loser when it was over. Marroquin dropped to 1-2-1 in his past four bouts and looks just about done.
Saturday at Cardiff, Wales
Lee Selby TKO6 Rendall Munroe
Wins vacant European and retains British featherweight title
Records: Selby (18-1, 7 KOs); Munroe (27-4-1, 11 KOs)
Rafael's remarks: Selby, 26, of Wales, had a raucous hometown crowd behind him as he scored his most notable victory in taking apart Munroe, 33, of England, a former European junior featherweight titleholder (with two wins over Kiko Martinez, who later won a world title) and former junior featherweight world title challenger.
Selby turned in a thoroughly dominating performance. He displayed his full arsenal of punches as he outboxed and overpowered Munroe, who looked like he had nothing left. In the sixth round, Selby had Munroe trapped in a corner and was teeing off. At one point, he even motioned to referee Ian John-Lewis to stop the fight, but he didn't. So Selby continued to pound Munroe, landing several more shots until John-Lewis finally did step in to end the fight at 1 minute, 31 seconds. It was a terrific performance from Selby and one that should have Munroe considering what he might want to do in the future.
In the action-packed co-feature between Welsh countrymen, which was an elimination bout for a shot at the British lightweight title, Gary Buckland (28-3, 9 KOs), 27, rebounded from a knockout loss to score a split decision victory against former junior welterweight world titleholder Gavin Rees (37-4-1, 18 KOs), 33, who lost his third fight in a row, including a shot at then lightweight world titleholder Adrien Broner last February. Two judges had it for Buckland, 116-113 and 115-114 and one judge scored the fight for Rees, 116-113.
Anthony Joshua TKO2 Dorian Darch
Heavyweights
Records: Joshua (4-0, 4 KOs); Darch (7-3, 1 KO)
Rafael's remarks: Joshua, 24, of England, was the 2012 Olympic super heavyweight gold medalist. That automatically means that he is a significant prospect to watch as a professional. And so far, so good in the pro ranks for the 6-foot-6, 241-pound Joshua, who is getting his bearings as a pro and not being matched tough at all. That is to be expected. But what you want to see is how he handles guys he is supposed to handle. Darch, for example, went the six-round distance with another British prospect, Hughie Fury (a cousin of contender Tyson Fury) in September. Joshua got rid of him in two rounds.
When Joshua turned pro last year, he fought his first three bouts in six weeks, but some minor injuries forced him out of two others. The nicks seemed behind him and he looked good against Darch, 29, of England.
Joshua nearly stopped him in the final seconds of the first round, staggering him with a right hand and unleashing several follow-up punches that Darch managed to take without going down before the bell seemed to save him. Joshua continued to pound him in the second round and had him in all kinds of trouble. Then he nailed Darch with a left hook that sent him staggering backward to the ropes and referee Terry O'Connor stepped in and called off the at 51 seconds. Joshua is scheduled for his next fight on March 1 in Glasgow, Scotland on the undercard of Ricky Burns' lightweight title defense against Terence Crawford.
Friday at West Orange, N.J.
Blake Caparello W10 Elvir Muriqi
Light heavyweight
Scores: 100-90, 98-92 (twice)
Records: Caparello (19-0-1, 6 KOs); Muriqi (40-6, 24 KOs)
Rafael's remarks: Caparello, a 27-year-old southpaw from Australia, was a late addition to the "Friday Night Fights" main event. Muriqi, 34, a native of Kosovo living in New York, was originally supposed to face former light heavyweight and cruiserweight titleholder Zsolt Erdei, but Erdei pulled out of the fight for personal reasons. So promoter Lou DiBella signed Caparello and brought him to the United States for his first bout outside of Australia.
Caparello came into the bout with a reputation as a fairly slick, technical fighter who had outpointed long-faded former super middleweight contender Allan Green in his previous fight Oct. 17. He showed those same skills against Muriqi in a dominating but brutally boring performance. If you stayed awake through all 10 rounds, props to you. Caparello was content to shoot straight left hands, fire several combinations that did not seem to have much steam on them and coast to a decision without ever looking to fight in a higher gear. His best moment probably came in the seventh round when he landed a left hand that snapped Muriqi's head back.
This was a great showcase for Caparello but he did little to impress. However, he was too quick for the stationary Muriqi, who has been very inactive. This was only Muriqi's fourth fight since 2009 and probably his last, as he announced his retirement after the fight.
Luis Rosa W8 Jorge Diaz
Featherweights
Scores: 80-70, 79-71, 78-72
Records: Rosa (16-0, 7 KOs); Diaz (17-3, 10 KOs)
Rafael's remarks: Rosa, 22, of New Haven, Conn., is a solid-looking prospect who put on a dominant performance. He dropped Diaz, 26, of New Brunswick, N.J., at the end of the third, again in the fourth round and dished out tremendous punishment to Diaz, whose left eye was swollen. The last two rounds were especially brutal and Diaz's corner did him no favors by continuing to send him back out for more of the beating. It was a rough, rough night for Diaz, who missed the birth of his first child, a boy, in order to fight. After the fight was over, the ringside doctor examined Diaz and when he didn't like his responses to neurological tests he sent him by ambulance the hospital, the same one where his baby had been born hours earlier. Diaz has lost two fights in a row, having also been knocked out by Yenifel Vicente in the fourth round of his previous fight last June.
Dusty Hernandez-Harrison W8 Tim Witherspoon Jr.
Welterweights
Scores: 78-74 (three times)
Records: Hernandez-Harrison (20-0, 11 KOs); Witherspoon Jr. (10-4-1, 2 KOs)
Rafael's remarks: Hernandez-Harrison, 19, of Washington, D.C., is a good prospect who got his first national television exposure in this solid performance in a relatively one-sided victory against Witherspoon, 29, of Philadelphia. Witherspoon is the son of former two-time heavyweight titleholder Tim Witherspoon, who is his trainer and was in his corner. Witherspoon made it interesting here and there, like when he landed a good body shot in the third round, but Hernandez-Harrison was the quicker man, fought well on the inside, showed a good jab and won the majority of the exchanges to take the decision victory.
Thursday at Brooklyn, N.Y.
Luis Collazo KO2 Victor Ortiz
Welterweights
Records: Collazo (35-5, 18 KOs); Ortiz (29-5-2, 22 KOs)
Rafael's remarks: Ortiz, who turned 27 the day after the fight and probably had a miserable birthday, just may have come to the end of the road with this bad loss. How bad was it? His own promoter, Hall of Famer Oscar De La Hoya, tweeted that he thought Ortiz should retire. At one time, Ortiz, of Ventura, Calif., was one of boxing's best young fighters. He always made good fights, usually provided drama and had won a welterweight world title in a sensational battle with Andre Berto in 2011.
But it has been all downhill since -- to the tune of three consecutive knockout losses. First came the fourth-round knockout -- controversial to some -- to Floyd Mayweather Jr. Then came a big upset loss in a ninth-round stoppage to late substitute Josesito Lopez in which Lopez badly broke Ortiz's jaw in two places. After that June 2012 fight, Ortiz took time off to let his jaw heal, doing a stint on "Dancing With the Stars" and filming a role in "The Expendables 3." He was out of the ring until returning for a tough test against fellow southpaw Collazo, also a former welterweight titleholder.
In retrospect, Ortiz probably bit off more than he could chew for his first bout in a year and a half by facing an opponent of Collazo's caliber.
Collazo, 32, who was fighting in his hometown at the Barclays Center, and Ortiz started slowly, feeling each other out in the first round. But in the second round, Ortiz began to take a few more chances. They began to connect more frequently but when Ortiz dropped his left hand, Collazo nailed him with a right hook to the chin and a follow-up left hand to the head as he was going down. Ortiz landed on his knees near the ropes and did not look to make any serious effort to get to his feet as referee Benjy Esteves counted him out at 2 minutes, 59 seconds in a surprising end to the fight.
It was a big win for Collazo, who won his fourth bout in a row and surely put himself into the picture for an even bigger fight, especially considering that Golden Boy Promotions, his promoter, is stocked with the numerous top fighters from 140 to 154 pounds. For Ortiz, who knows what he does next. But it doesn't look good.
Eddie Gomez W10 Daquan Arnett
Welterweights
Scores: 98-91, 97-92 (twice)
Records: Gomez (16-0, 10 KOs); Arnett (11-1, 7 KOs)
Rafael's remarks: This was one of those all-too-rare kinds of fights in boxing, where two promising undefeated prospects square off early in their careers. But Gomez, 21, of the Bronx, N.Y., and Arnett, also 21, of Winter Park, Fla., both quality amateurs, took the gamble. It paid off handsomely for Gomez, who had once beaten Arnett (dropping him three times) when they were 12-year-old amateurs. Now he has a clear professional victory against him as well.
Both fighters were appearing in their first scheduled 10-round bout and while both seemed to tire as the final bell approached, Gomez had done a solid job of outboxing Arnett and beating him to the punch. Gomez aided his cause when he knocked Arnett down with a body shot in the seventh round, although he failed to follow up with much after that. It wasn't a perfect performance from Gomez, but it certainly ranks as the best of his young career so far.
Gary Russell KO4 Miguel Tamayo
Junior lightweights
Records: Russell (24-0, 14 KOs); Tamayo (14-8-2, 12 KOs)
Rafael's remarks: Twenty-four fights into his pro career and Russell, 25, of Capitol Heights, Md., has fought nothing but absolutely woeful opponents. It's really a shame too, because he has prodigious talent and potential. He was a gifted amateur, a 2008 U.S. Olympian and the 2011 ESPN.com prospect of the year. Yet he continues to fight sparingly (just two bouts in 2012 and two in 2013). The disgusting part of it all is that one of the sanctioning bodies made him a featherweight mandatory challenger, which means he will wind up getting a title shot -- against the winner of the March 1 fight between titleholder Orlando Salido and Vasyl Lomachenko -- without ever having faced even a remotely decent opponent.
Tamayo, a 30-year-old southpaw from Mexico, was just another in a long line of stiffs that Russell, a southpaw, has faced in a fight that meant nothing and was not at all competitive. Russell, who said he was ill going into the fight, started slowly and then put Tamayo away with ease, dropping him to his rear end with a right hook to the chin. Tamayo looked around but did not appear interested in continuing, electing to stay on his rump as referee Eddie Claudio counted him out at 1 minute, 4 seconds.
Also on the undercard, 23-year-old light heavyweight Marcus Browne (9-0, 7 KOs), a 2012 U.S. Olympian from Staten Island, N.Y., cruised to a six-round victory in front his home fans against Kentrell Claiborne (4-9, 3 KOs), 32, of Shreveport, La. Browne pitched the shutout, winning 60-54 on all three judges' scorecards.
Boxing
2013 BWAA Nat Fleischer Award winner for excellence in boxing journalism
ESPN.com boxing writer since 2005
Five years at USA Today
SPONSORED HEADLINES
MORE BOXING HEADLINES
MOST SENT STORIES ON ESPN.COM
EDITORS' PICKS
Best of ESPN's "Friday Night Fights" in 2014.
Watch

Klitschko's fifth-round KO of Pulev is best of the year.
Dan Rafael »

Felix Verdejo is ESPN.com 2014 prospect of the year.
Dan Rafael »