Chisora, Fury keep rematch on target
Originally Published:
February 17, 2014
By
Dan Rafael
| ESPN.com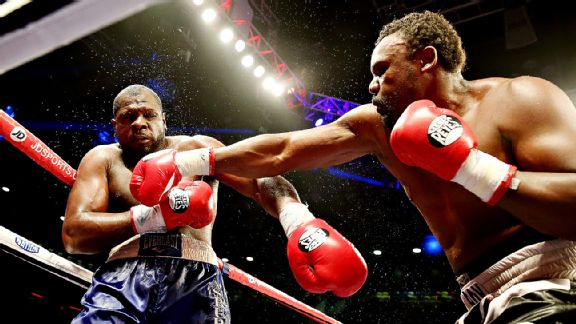 Scott Heavey/Getty ImagesDereck Chisora, right, was very effective pressuring Kevin Johnson during 12 rounds.
A roundup of the past week's notable boxing results from around the world:
Saturday at London
Dereck Chisora W12 Kevin Johnson
Heavyweight
Scores: 118-109 (twice), 118-110
Records: Chisora (20-4, 13 KOs); Johnson (29-5-1, 14 KOs)
Rafael's remarks: This was all about one thing -- for Chisora to win and move on to an expected June rematch with fellow British contender Tyson Fury, who took care of his part of the bargain by winning on the undercard.
But the bad part was that Chisora had to face Johnson, because if Johnson is in a fight, you can count on one thing: It will be horrible. True to form, Johnson, 34, of Atlanta, stunk the joint out, as usual, in a fight in which he barely threw any punches, as usual, and was dominated by the 30-year-old Chisora.
While Chisora tried for the knockout and to also make the fight interesting, Johnson wanted no part of an actual fight. He ran and held and did nothing other than jab here and there. It's too bad, too, because Johnson, at least at one point, had some talent and an excellent jab. But why promoters still give him a payday when all he does is stink up their cards is surprising. He took this fight on three weeks' notice when original opponent Andriy Rudenko of Ukraine pulled out because of a ruptured Achilles tendon.
Chisora, the European champion, lost a decision to Vitali Klitschko in a world title fight in 2012 and then got knocked out by former titlist David Haye in his next fight later in the year. But Chisora had a pretty easy time with Johnson, which isn't hard to do when the opponent won't throw a meaningful punch. Chisora, who won his fifth fight in a row since the loss to Haye, had his biggest moment in the fifth round when he cleanly dropped Johnson with an overhand right. Johnson survived, and eating that big shot probably made him even more reluctant to throw punches. So Chisora spent the rest of the fight basically chasing him around and trying to make a fight of it. In the end, he won the clear decision, got the win and came away with no injuries to keep the rematch with Fury -- who outpointed him in an exciting fight in 2011 -- on target. Although the plan calls for Fury-Chisora II this summer, Chisora also mentioned after the fight that he was interested in going to Russia to fight former titleholder Alexander Povetkin before facing Fury again.
Johnson, who always talks a big game before delivering nothing, lost for the third time in four fights and dropped to 3-4 in his last seven.
Tyson Fury TKO4 Joey Abell
Heavyweight
Records: Fury (22-0, 16 KOs); Abell (29-8, 28 KOs)
Rafael's remarks: Fury talks trash with the best of them, fights sloppy, gets hit, always seems to be a punch away from disaster -- even against a club fighter such as Abell -- yet manages to come through and do so in crowd-pleasing style. One of these days he's going to be drilled because his defense is woeful and he's not very fast, but it's always fun to watch the lumbering Fury in action.
Out of the ring since last April -- because former world titleholder David Haye twice pulled out of fights on his claiming injuries -- Fury, 25, of England, returned with the idea that he would appear on fellow British contender Dereck Chisora's undercard with the plan for them to have a rematch in June, three years after Fury outpointed him the first time they met.
Chisora won the main event and the 6-foot-9 Fury took care of business against Abell, 32, of Coon Rapids, Minn., although he got rocked a couple of times -- including with a hard left hand early in the second round -- and clearly was not in top condition as he weighed a career-heavy 274 pounds, 20 more than his last fight, when he got dropped by former cruiserweight titlist Steve Cunningham. But against an opponent such as the 241-pound southpaw Abell, Fury was able to get away with it.
It was a fun fight with plenty of action, but that was really only because Fury fought so poorly, which allowed such an inferior opponent to even hang in there for a few rounds. In the third round, Fury nailed Abell with a low blow on a break and referee Jeff Hinds issued him a warning. Fury, who suffered a bruise under his right eye, went on to drop Abell twice in the third round on right hands, including for the second time right as the bell rang to end the round. In the fourth round, Abell rocked Fury again with a right hand but Fury immediately turned the tables and let a combination go that dropped Abell to a knee along the ropes. Moments later Fury landed a three-punch combination that knocked Abell to a knee once again. Abell easily beat the count and looked clear-headed, but Hinds elected to wave off the fight at 1 minute, 36 seconds.
Abell has now been stopped six times in his eight defeats, including in four of his last six fights. With the win, Fury, who called heavyweight champ Wladimir Klitschko a derogatory name after the fight and called him out, has no chance to get that title fight in the immediate future, but he might if he keeps winning. As for his next fight, Fury is expected back in the spring against another low-level opponent with the Chisora rematch intended to follow that perhaps as soon as June.
Saturday at Hawaiian Gardens, Calif.
Diego Magdaleno KO4 Jorge Pazos
Lightweight
Records: Magdaleno (25-1, 10 KOs); Pazos (14-7-1, 8 KOs)
Rafael's remarks: In April 2013, Magdaleno, a 27-year-old southpaw from Las Vegas, challenged then-junior lightweight titlist Rocky Martinez for his 130-pound title in Macau but lost a highly competitive split decision. Magdaleno returned to win a shutout decision against Edgar Riovalle in September and blew out Pazos in his second fight since losing the world title bout.
Magdaleno, not known for his power, showed a lot of it as he blew out Pazos, 24, of Mexico, who took the fight on a week's notice when the Philippines Ernie Sanchez (14-5, 5 KOs) dropped out.
Magdaleno was in total control all the way, getting into a smooth rhythm almost immediately and connecting to the head and body. He knocked Pazos down with a combination in the third round. Pazos made it out of the round and took more of a beating in the fourth round, when Magdaleno smacked him around. He finally landed a left hand to the body and Pazos was done. He went down to all fours and took the full count from referee Jack Reiss, who counted him out at 2 minutes, 27 seconds.
Magdaleno could go back to junior lightweight -- he was only 133 pounds for this bout -- and look for another title opportunity or fight at lightweight, where promoter Top Rank is active and probably could secure him a meaningful fight. Pazos lost his fourth fight in a row and for the fifth time in his last six bouts.
Jessie Magdaleno TKO5 Roberto Castaneda
Featherweight
Records: Magdaleno (18-0,14 KOs); Castaneda (20-6-1, 15 KOs)
Rafael's remarks: Magdaleno, a 22-year-old southpaw from Las Vegas, is the younger brother of main event winner and junior lightweight contender Diego Magdaleno. Jessie Magdaleno is also one of the best prospects in boxing but was seemingly not fully prepared for this expected walkover fight as he showed up more than four pounds over, according to Top Rank. Still, after going 4-0 with four knockouts in 2013, Magdaleno rolled to an easy knockout win in a mismatch.
As usual, Magdaleno, who is very poised and patient for such a young fighter, took his time and broke down his slower opponent before getting rid of him. He dropped Castaneda twice in the second round with a diverse arsenal and combination punching. In the fifth round, Magdaleno nailed Castaneda with a counter right hand to the head, dropping him to a knee. Castaneda, 22, of Mexico, showed no interest in going on as referee Jack Reiss counted him out at 2 minutes, 8 seconds. Castaneda lost his fifth fight in a row, including four of them by knockout inside six rounds.
Esquiva Falcao TKO4 Joshua Roberts
Super middleweight
Records: Falcao (1-0, 1 KOs); Roberts (5-5, 1 KO)
Rafael's remarks: Falcao, a 24-year-old southpaw, was a 2012 Olympic silver medalist for Brazil, where he became a national hero and then signed a pro contract with Top Rank. His older brother, Yamaguchi Falcao, 26, received a light heavyweight bronze medal at the 2012 Games and signed with Top Rank rival Golden Boy, setting up what could be an interesting family rivalry. Prior to the brothers winning medals in London, no Brazilian had won an Olympic boxing medal in 44 years.
While Yamaguchi turned pro on Jan. 25 in Brazil in a ridiculously dirty fight that ended in a double disqualification moments into the third round (and went down as a no decision), Esquiva's pro debut went a lot more smoothly. Falcao looked a bit sloppy and out of sorts at times, but in a pro debut the fighter's aim is usually just to get through it. And even though Falcao did not look overly impressive, he got the knockout against the overmatched Robertson, 29, of Lynchburg, Va., who lost his fourth fight in a row. Robertson was game but ultimately no match for Esquiva's power shots to the head and body. Falcao had Robertson in trouble in the fourth round, when he forced him to the ropes. When Robertson failed to respond to Falcao's onslaught, referee Jerry Cantu intervened at 2 minutes, 36 seconds.
Saturday at Tapachula, Mexico
Roman Gonzalez TKO6 Juan Kantun
Flyweight
Records: Gonzalez (38-0, 32 KOs); Kantun (21-6-3, 15 KOs)
Rafael's remarks: Gonzalez, 26, of Nicaragua, just keeps rolling along and knocking guys out. The former strawweight and junior flyweight titlist is seeking to win a world title in a third weight class, which is why he recently gave up his 108-pound world title after five defenses. He had already taken three consecutive nontitle bouts before vacating the title and faced Kantun knowing that a win in the stay-busy fight would set him up for a likely title bout later this year.
Gonzalez encountered little resistance from Kantun, of Mexico, who fought hard and was game, but outclassed.
Gonzalez, one of boxing's best punchers pound-for-pound, dominated most of what was a fan-friendly but one-sided fight. Gonzalez was much faster with his punches and landed numerous hard left hooks and body shots. He took his time, broke Kantun down and then finished him. In the sixth round, he scored two knockdowns to finish a weary Kantun. The first one came when he trapped Kantun against the ropes and fired several shots, including a right hand to the head that seemed to do the most damage. Gonzalez had Kantun in big trouble again moments later as he landed several more shots before dropping him again with a right hand to the gut. Kantun was on his knees but counted out at 1 minute, 1 second.
Gonzalez is supposed to be back in action in Japan on April 6. Kantun has now lost three of his last four fights, including two straight knockouts.
Rodrigo Guerrero TKO7 Daniel Rosas
Bantamweight
Records: Guerrero (20-5-1, 13 KOs); Rosas (17-1-1, 11 KOs)
Rafael's remarks: This was easily the best fight of the weekend -- and perhaps the fight of the year so far in a very young 2014. It was an exciting battle that ended in a mild upset with Guerrero getting the stoppage against a worn-out Rosas.
In 2011, Guerrero, 26, a southpaw from Mexico, won a vacant junior bantamweight world title on a sixth-round technical decision against Raul Martinez but then lost the 115-pound belt in his first defense by unanimous decision to countryman Juan Carlos Sanchez Jr. in February 2012. Guerrero rebounded with three wins in a row and then traveled to Japan to face Daiki Kameda for a vacant title in September but lost a unanimous decision.
In his first bout since the loss to Kameda, Guerrero returned to face Rosas, 24, of Mexico, and they engaged in a brutal slugfest. Guerrero started fast, dropping Rosas hard in the first round. Rosas, who suffered a deep cut in his right eyebrow, got himself together and fought back for a strong third round. There were numerous violent exchanges in which both men took punishment. In the seventh round, Rosas was fading, his eye was bleeding and he was taking a pounding when the referee stepped in to stop the fight at 2 minutes, 26 seconds during an unanswered assault from Guerrero.
Saturday at Buenos Aires, Argentina
Diego Gabriel Chaves TKO3 Juan Alberto Godoy
Welterweight
Records: Chaves (23-1, 19 KOs); Godoy (31-14-1, 10 KOs)
Rafael's remarks: In July, Chaves, 27, of Argentina, lost his interim welterweight belt to Keith Thurman in a 10th-round knockout loss in an action-packed fight. In his first bout since that defeat, Chaves scored a knockout win against a hand-picked opponent in Godoy, 34, also of Argentina, who came into the fight riding a six-fight winning streak against lesser opponents.
Chaves had little trouble dispatching the very slow and basic Godoy.
In the third round, Chaves opened up with a flurry of shots that wobbled Godoy. When he retreated to the ropes, Chaves followed him and banged away some more, staggering him worse this time. Referee Gustavo Tomas credited Chaves with a knockdown when he ruled the ropes were responsible for keeping Godoy on his feet. Moments later, Chaves rocked Godoy with a left hook followed by another left and a right that sent Godoy staggering into the ropes again. As Chaves began to tee off with both hands, Tomas stepped in and called off the fight with 10 seconds left in the round.
After the terrific fight that Chaves had against Thurman last summer, Chaves would like a rematch. He might not get one, but he certainly would make sense against any number of good welterweights, especially since he is interested in returning to fight in the United States.
Friday at Huntington, N.Y.
Chris Algieri W10 Emmanuel Taylor
Junior welterweight
Scores: 98-92, 97-93 (twice)
Records: Algieri (19-0, 8 KOs); Taylor (17-2, 12 KOs)
Rafael's remarks: On paper, this "Friday Night Fights" main event shaped up to be about as evenly matched a fight as there could be. Algieri, 29, fighting at the sold-out Paramount Theater in his hometown for the eighth consecutive time, ultimately dominated what was an entertaining fight.
Algieri, pushing himself into the fringes of title contention at 140 pounds, was aggressive from the outset. He worked his jab, fired hooks to the body, bloodied Taylor's nose and beat him to the punch throughout a fight that featured some exciting two-way exchanges. Taylor, 23, of Baltimore, was competitive, but Algieri, who was quicker and throwing more punches, was putting rounds in the bank. Taylor never really seemed to understand that he was going to have to step on the gas if he wanted to change the rhythm of the fight and win some rounds, especially given that he was in his opponent's hometown. Taylor did pick up the pace a bit in the final round, but it was too late to make much of a difference, especially with Algieri so responsible on defense. He knew he had the fight in the bag and wasn't about to do anything dumb.
Taylor, whose only loss was an eight-round split decision to Prenice Brewer in November 2011, won four fights in a row after that defeat, including an eighth-round knockout of fringe contender Victor Cayo last March, before facing Algieri.
Boxing
2013 BWAA Nat Fleischer Award winner for excellence in boxing journalism
ESPN.com boxing writer since 2005
Five years at USA Today