Thompson handles ineffective Solis
Originally Published:
March 24, 2014
By
Dan Rafael
| ESPN.com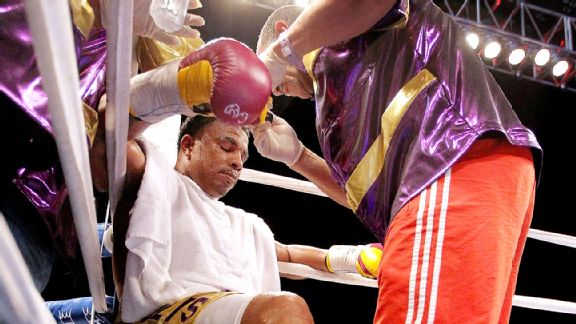 Mike Ehrmann/Getty ImagesHeavyweight Odlanier Solis suffered a disappointing loss in another lackluster performance.
A roundup of the past week's notable boxing results from around the world:
Saturday at Tekirdag, Turkey
Tony Thompson W12 Odlanier Solis
Heavyweight
Scores: 115-114, 115-113 Thompson, 116-112 Solis
Records: Thompson (39-4, 26 KOs); Solis (20-2, 13 KOs)
Rafael's remarks: Thompson, the 42-year-old former two-time world title challenger from Washington, D.C., resurrected his career once again as he handed the ultra disappointing Solis a clear loss, despite what one judge said. Thompson, twice knocked out in world title fights by Wladimir Klitschko (in 2008 and 2012), followed the second loss to Klitschko by authoring back-to-back upset knockouts of hot British prospect and 2008 Olympic bronze medalist David Price in 2013. Those big wins earned Thompson a title eliminator against Kubrat Pulev last August and Thompson lost a rather lopsided decision.
In his first fight since, Thompson went overseas for the fifth consecutive fight -- and the home turf of Solis promoter Ahmet Oner. But even Oner's juice with the officials did Solis, 33, no good because the 2004 Cuban Olympic gold medalist, who defected and lives in Miami, was utterly ineffective. Solis has tremendous skills and hand speed, but he is rarely in top shape and is one of laziest fighters ever. As usual, he did almost nothing against Thompson. He didn't throw many punches and didn't seem to care. He has absolutely no discernible drive or fire to win. He fought like he was going through the motions. The one time he got an undeserved mandatory title shot against then-titleholder Vitali Klitschko in 2011, he blew out his knee at the end of the first round, resulting in a first-round knockout loss when he could not go on. After multiple surgeries, Solis came back 14 months later, won three lackluster fights in a row and then faced Thompson, who was the underdog.
Now it's not as if Thompson set the world on fire with his aggressive style or punch output. But Thompson fought smartly and was busy enough to win the rounds. His defense was sound and he used his reach advantage to nail Solis with good jabs throughout the fight. Because the fight was for one of the WBC's regional belts, its terrible open scoring system was in use so the scores were announced after the fourth and eighth rounds. Solis led 40-36, 39-37 and 39-37 after the fourth but by the eighth Thompson had taken the well-deserved lead, 77-75 on two scorecards while Solis ridiculously was ahead 78-74 on the other card.
Thompson, a 6-foot-5, 266-pound southpaw, continued to fire his jab and put together occasional combinations against a Solis who was not interested in throwing any punches. Finally, in the 10th round, Solis, 6-1 and 257 pounds, did pick up his pace a little but he was not very effective, unless you count the shots he landed behind Thompson's head in the 11th round. In the end, Thompson worked hard, got the win he deserved and kept himself in contention for another notable fight. Solis, meanwhile, showed once again what an absolute waste of talent he is, and nothing is about to change.
Saturday at Caguas, Puerto Rico
Jorge Melendez W10 Richard Gutierrez
Junior middleweight
Scores: 98-91, 97-92 (twice)
Records: Melendez (28-3-1, 26 KOs); Gutierrez (27-13-1, 17 KOs)
Rafael's remarks: The 35-year-old Gutierrez, a native of Colombia living in Miami, was a decent welterweight contender in around 2005 and 2006. But he's been nothing but an opponent for aspiring contenders for the past several years. Melendez, 25, of Puerto Rico, is just the latest fighter to beat up on the poor guy.
Melendez, who fights out of Miguel Cotto's promotional stable, has tremendous power. Although he couldn't put Gutierrez away, he did score a first-round knockdown and hammered him throughout the one-sided fight. Melendez rocked Gutierrez with a right hand along the ropes and continued to pound away at him in the final seconds of the opening round. He landed several more right hands and body shots until Gutierrez went down to one knee under the avalanche of shots. He got up at the count of six, took several more shots but made it out of the round. He had a few moments later in the fight, but Melendez dished out a lot of punishment and rolled to the win.
Melendez scored his second victory in a row after losing a 10-round decision in an upset to Nick Brinson in June. Gutierrez, meanwhile, dropped to a pathetic 1-9 in his last 10 fights and 3-12-1 in his last 16 fights dating to a fifth-round knockout loss to Alfredo Angulo in 2008.
Felix Verdejo TKO3 Juan Santiago
Lightweight
Records: Verdejo (11-0, 8 KOs); Santiago (14-12-1, 8 KOs)
Rafael's remarks: Verdejo, 20, Puerto Rico's most significant rising prospect, looked spectacular against Santiago, 29, of Denver. Granted, Santiago is a journeyman opponent, but he did go the 10-round distance in a loss to former unified lightweight titleholder Juan Diaz in October. Verdejo, a charismatic and exciting 2012 Olympian, took him out in style. Although the fight was the co-feature on UniMas "Solo Boxeo" telecast, it might as well have been the main event because Verdejo had the crowd going absolutely wild. The fans were there primarily for him and he did not disappoint.
Verdejo was patient, poised and powerful in the dominant performance. He took his time and established control in the first round. In the second round, Verdejo began to open up. He rocked Santiago with hard jabs and also put together fast combinations while cutting him above his right eye. It was more of the same in the third round until Verdejo creamed Santiago with a clean right hand to the chin and he went down hard on his rear end in the center of the ring. Santiago showed a big heart and barely beat the count, but his face was all bloody and he was staggering toward the ropes, which prompted referee Robert Ramirez Sr. to wave off the fight at 1 minute, 26 seconds.
Verdejo's next fight was already scheduled before he even faced Santiago. He will be back in action in Orlando, Fla., on April 19 on another UniMas card against Jeremy McLaurin (10-7-1, 5 KOs). If all goes well for Verdejo in that bout, he will be added to the undercard of the Sergio Martinez-Miguel Cotto middleweight championship fight on June 7 at Madison Square Garden in New York. The kid is a star in the making.
Saturday at Panama City
Anselmo Moreno W12 Javier Nicolas Chacon
Retains a bantamweight title
Scores: 118-108, 117-108, 117-109
Records: Moreno (35-2-1, 12 KOs); Chacon (19-2, 4 KOs)
Rafael's remarks: Moreno, a 28-year-old southpaw, is one of boxing's longest-reigning active world titleholders. He has held his 118-pound title since 2008 and rolled to victory in his 12th defense in front of a hometown crowd. Moreno's only loss during his title reign came by decision to Abner Mares when Moreno moved up one weight class to challenge for a junior featherweight title in 2012.
Chacon, 32, of Argentina, was a particularly unworthy title challenger. He had faced woeful opposition until meeting Moreno. In fact, Chacon's previous three bouts before challenging Moreno were in scheduled six-round fights against opponents all of whom had records well below .500. That Chacon got a title shot with such a meaningless resume is pathetic. At least Moreno, who only fought once in 2013, took care of him and did so with relative ease. He opened a big lead early by scoring a pair of knockdowns in the second round. Neither knockdown was particularly hard and both looked like Chacon was also slipping on the canvas, but referee Russell Mora ruled both as knockdowns, the first coming from a right hand to the body and the second coming near the end of the round on a left uppercut to the body. From there, the technically gifted Moreno simply outboxed Chacon, almost like a sparring session. Chacon's seven-fight winning streak come to an end.
Saturday at Monterrey, Mexico
Vivian Harris W10 Jorge Paez Jr.
Welterweight
Scores: 96-94 (twice), 95-95
Records: Harris (32-9-2, 19 KOs); Paez Jr. (37-5-1, 22 KOs)
Rafael's remarks: Paez Jr., 26, of Mexico, the son of former featherweight titlist Jorge Paez Sr., was originally supposed to face future Hall of Famer Erik Morales, but Morales injured his hand and withdrew. Then Paez was supposed to fight Breidis Prescott (best known for his first-round destruction of Amir Khan in 2008) but he hurt his rib and dropped out. That left Zanfer Promotions scrambling for another opponent, leading to Harris, the shot 35-year-old former junior welterweight titlist from New York to take the fight on short notice.
Harris should not have been in the fight, however. In February, he was scheduled to fight British prospect Bradley Skeete in London on the Dereck Chisora-Kevin Johnson undercard. But Harris failed his pre-fight medical exam, British regulators would not license him and he was dropped from the card. But almost nothing prevents a fighter from getting a license in Mexico, where Harris was licensed while regulators ignored the issues from Great Britain. That Harris won this close fight does not in any way make up for the fact that he should have never been licensed in Mexico, which is a haven for medically unfit boxers to continue to fight. That Harris won just shows how bad Paez is. His 10-fight winning streak ended, although his opponents should not have been confused with serious contenders. Harris improved to 4-7-1 with one no contest since 2007, although in six of those seven losses he was knocked out and in the no contest he was badly concussed by a head butt.
Francisco Rodriguez Jr. TKO10 Merlito Sabillo
Wins a strawweight title
Records: Rodriguez Jr. (14-2, 10 KOs); Sabillo (23-1-1, 12 KOs)
Rafael's remarks: Sabillo, 30, of the Philippines, was making the second defense of his title but took a beating in the loss. He had not looked very good in his previous defense either, fighting to a draw with Carlos Buitrago in November. This result, however, was far more definitive as he came to the unheralded Rodriguez's hometown for what was supposed to be a routine defense. Rodriguez, 20, was just two fights removed from a seventh-round knockout loss to undefeated two-division titleholder Roman Gonzalez.
This was far from a routine defense as Rodriguez looked strong and pulled the upset. He laid the foundation with a strong body attack early on. In the second round, Rodriguez dropped Sabillo with a flurry culminated by a pair of right hands upside Sabillo's head that knocked him to his knees. Rodriguez was all over him during the final 30 seconds of the round and Sabillo was lucky to make it to the bell. He was basically a sitting duck for Rodriguez's punches throughout the bout. Sabillo was running out of gas as the fight wore on and taking tremendous punishment while Rodriguez looked rather fresh. Finally, in the 10th round, with Rodriguez battering him and pounding him virtually at will all over the ring, referee Eddie Claudio stepped in at 1 minute, 50 seconds. Sabillo put up a mild protest, but it was a good stoppage. Sabillo was being destroyed and Rodriguez was not about to let up.
Saturday at Los Mochis, Mexico
Humberto Soto W10 Juan Carlos Abreu
Junior welterweight
Scores: Not available
Records: Soto (63-8-2, 35 KOs); Abreu (16-1, 15 KOs)
Rafael's remarks: Soto, 33, of Mexico, is a former junior lightweight and lightweight world titleholder. Since being knocked out in the fifth round by Lucas Matthysse in a June 2012 junior welterweight bout, Soto has not been considered by many as much of a threat anymore. But he has continued to fight in his native country and racked up his fifth win in a row since the loss to Matthysse. Soto had to fight hard to beat Abreu, 26, of the Dominican Republic, who had faced a collection of nobodies before taking a huge step up against Soto. It was a good fight with a lot of two-way action. Soto nearly ended the fight midway through the sixth round when he landed a hard left hook to Abreu's chin, sending him to the mat flat on his back. Abreu didn't move for a moment but eventually beat the count. The ring announcer did not announce the scores, only that Soto was the winner by unanimous decision.
Hugo Ruiz TKO1 Ramon Maas
Junior featherweight
Records: Ruiz (34-2, 30 KOs); Maas (26-4, 15 KOs)
Rafael's remarks: Ruiz, 27, of Mexico, a former interim bantamweight titleholder, got a shot at the full title in December 2012 and dropped a controversial split decision to Koki Kameda in Japan. Since then, Ruiz has won three fights in a row, including this first-round destruction of Maas, his Mexican countryman, who lost his third fight in a row and fourth of his last five. Ruiz, fighting in his hometown, was having a good first round when he landed a left hand that caught Maas high on the head and sent him staggering backward into a corner and down to his rear end. The shot did not look very punishing, but it did mess up Maas' balance. He beat the count but the referee waved off the fight with 12 seconds left in the round. It seemed like a bit of a quick stoppage, which Maas complained about immediately.
Friday at Cabazon, Calif.
Vanes Martirosyan W10 Mario Alberto Lozano
Junior middleweight
Scores: 100-89 (three times)
Records: Martirosyan (34-1-1, 21 KOs); Lozano (27-5, 20 KOs)
Rafael's remarks: Martirosyan, 27, a 2004 U.S. Olympian from Glendale, Calif., was staring over. After a career with Top Rank and having been trained by Freddie Roach, Martirosyan had turned in disappointing performances in two of his previous three fights, including a November 2012 ninth-round technical draw with Erislandy Lara in a title eliminator and a decision loss to Demetrius Andrade for a vacant world title in November. Top Rank released him and Martirosyan signed with Dan Goossen. Martirosyan also hired highly regarded trainer Joe Goossen, Dan's brother, and aimed to begin his climb once again in the ESPN2 "Friday Night Fights" main event against Lozano, 26, of Mexico, who took the fight when original opponent, Luciano Cuello, backed out.
Lozano had won nine of his last 10 fights but was not match for Martirosyan, who although he did not look particularly sharp still pounded his way to the shutout decision in a fairly entertaining fight. Martirosyan scored the lone knockdown of the bout when he landed a clean straight right hand to drop Lozano in the second round. Lozano tried to fight back and had a little success backing Martirosyan up in the sixth round, but his moments were few and far between. This was all Martirosyan, who will be best served by more time working with his new trainer. They only spent about three weeks together before this fight.
Anthony Peterson W10 Marcos Leonardo Jimenez
Lightweight
Scores: 100-90, 99-91, 98-92
Records: Peterson (33-1, 21 KOs); Jimenez (20-5, 13 KOs)
Rafael's remarks: Peterson, 29, of Washington, D.C., the younger brother of junior welterweight titlist Lamont Peterson, was once considered by many to be the better fighter of the two. But that was a long time ago. Anthony Peterson, who along with his brother recently signed with powerful adviser Al Haymon, was fighting for only the third time -- all against low-level opponents -- since being knocked down and then disqualified in the seventh round for repeated low blows against Brandon Rios in a September 2010 lightweight title eliminator.
Peterson fought once in 2011, once in 2013 and made his return against Jimenez, 28, of the Dominican Republic. Part of the reason for Peterson's inactivity was a shoulder injury. But there were no signs of any shoulder issues as Peterson rolled past Jimenez, relying largely on a strong jab. He also landed solid right hands to the head, attacked the body and was much quicker than the aggressive Jimenez. The quick pace of the fight slowed somewhat in the second half of the bout, which suited Peterson just fine. He kept doing what he had been doing and was the clear winner. This was not a particularly interesting fight, but it was just what Peterson needed -- to get in rounds against a durable opponent and set himself up for what hopefully will be a more active schedule. He has a lot of talent, just like his brother, but needs to get some momentum going.
Friday at Buenos Aires, Argentina
Juan Carlos Reveco KO2 Manuel Vides
Retains a flyweight title
Records: Reveco (33-1, 18 KOs); Vides (15-3, 9 KOs)
Rafael's remarks: Reveco, who made the fourth defense of his secondary title -- Juan Estrada is the legit champ of the organization -- retained his belt in emphatic fashion in front of a home crowd. The 30-year-old dominated from the outset. Reveco dropped Vides, 23, of Panama, with a left hand to the body just before the first round ended. Vides went down to a knee in the center of the ring from the borderline low blow, beat the count and the bell rang to end the round before another punch could be thrown.
Reveco put a beating on him in the second round. He rocked Vides with a variety of punches and finally knocked him down face first with a hard right hand to the chin followed by a left hook that caught him on the top of the head as he was falling. Vides barely moved and referee Tony Weeks counted him out with 21 seconds left in the round as Vides saw his five-fight winning streak since 2012 come to a crashing halt.
Boxing
2013 BWAA Nat Fleischer Award winner for excellence in boxing journalism
ESPN.com boxing writer since 2005
Five years at USA Today