Another KO win for Kovalev
Originally Published:
March 31, 2014
By
Dan Rafael
| ESPN.com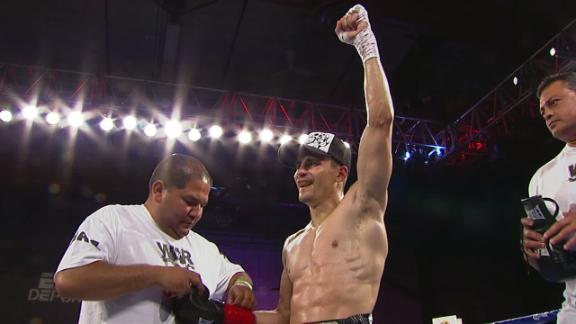 Petrov Advances To Lightweight Final
Petr Petrov stopped Chis Rudd in the fourth round to advance to the Boxcino tournament finals.
Petrov Advances To Lightweight Final
NEXT VIDEO
A roundup of the past week's notable boxing results from around the world:
Saturday at Atlantic City, N.J.
Sergey Kovalev KO7 Cedric Agnew
Retains a light heavyweight title
Records: Kovalev (24-0-1, 22 KOs); Agnew (26-1, 13 KOs)
Rafael's remarks: When this fight was first made, Kovalev -- and everyone else who follows boxing -- believed it was his tuneup fight for a fall showdown against light heavyweight champion Adonis Stevenson. That is until Stevenson, under the guidance of promoter Yvon Michel and new adviser Al Haymon, reneged on a deal with HBO for the fight last week and instead took a multifight deal from Showtime, where Haymon has a ton of juice, for Stevenson's showcase fight May 24 against Andrzej Fonfara, thus killing the fight with Kovalev, certainly for this year and perhaps forever.
Although Kovalev, 30, a native of Russia living in Fort Lauderdale, Fla., declined to talk about the turn of events going into the fight with Agnew, 27, of Chicago, it would be hard to believe if Kovalev was not at least a bit disappointed about it. If he was, perhaps he took it out on Agnew, to whom he delivered a sustained beating before scoring yet another knockout.
Agnew was an utterly unknown fighter coming into the bout and even though he got rolled, he deserves credit for showing heart and skills. He lasted into the seventh round, a place only two previous Kovalev opponents have made it to. Yet he took a beating as Kovalev retained his title for the second time.
Kovalev suffered cuts near both eyes thanks to a head-butt and elbow from Agnew, but that was about all the "offense" Agnew could muster other than the low blow he was warned for in the first round. Agnew was extremely reluctant to throw punches, undoubtedly concerned about the thunder coming back. While the offensive-minded Kovalev landed 109 of 402 punches (28 percent), Agnew mustered just 31 landed blows out of 107 thrown (27 percent). And Agnew's punches were not all that powerful. Kovalev's, on the other hand, had serious steam on them.
Kovalev scored knockdowns in the fight, first dropping him with a clean left hook to the chin in the waning moments of the second round. Kovalev pounded on Agnew round after round, and when he started going to the body had Agnew in deep trouble. He landed a hard left to the body followed by a hook to the head to drop him again in the sixth round. He doled out so much punishment in the round that referee Samuel Viruet appeared on the verge of stopping the fight. In the seventh round, Kovalev, still committed to the body attack, fired a powerful jab to his body, and Agnew went down to a knee and Viruet counted him out 58 seconds into the round. Agnew's handlers believed he suffered a broken rib as well as a broken nose.
Kovalev got the knockout everyone expected that he would record but, unfortunately for him and all boxing fans, he will not get the unification showdown we all wanted against Stevenson, who never seemingly wanted anything to do Kovalev and found a way out of the fight. So Kovalev will instead likely return this summer, although who will be in the ring with him is anyone's guess.
Thomas Dulorme W10 Karim Mayfield
Junior welterweight
Scores: 98-92, 97-93, 96-94
Records: Dulorme (21-1, 14 KOs); Mayfield (18-1-1, 11 KOs)
Rafael's remarks: In 2012, Dulorme, 24, of Puerto Rico, was one of the hottest prospects in boxing. He was offensive-minded, showed a lot of charisma, had scored some exciting knockouts and seemed to be going straight to the top. But then he was prematurely matched with Luis Carlos Abregu, an experienced fighter from Argentina with a good chin and good power whose only loss had come by decision to Timothy Bradley Jr., Abregu took advantage of Dulorme's inexperience and stopped him in the seventh round of a high-profile welterweight fight on HBO.
Dulorme rebounded to win his next four fights in a row as he steadily made his way down in weight to junior welterweight, setting up this high-profile return to HBO to face Mayfield, 33, of San Francisco, a fighter with a reputation for having good power but also an unattractive mauling, holding style.
Although Dulorme, working with trainer Robert Garcia for the first time, beat Mayfield rather handily, it was not a good fight as their styles did not mesh at all. There was sporadic action, but also a lot of holding and grabbing by both fighters and precious little punching as both men made it an easy night for the CompuBox punch counters. Dulorme landed just 83 of 308 punches (27 percent) and Mayfield was even worse, connecting on just 61 of 284 shots (21 percent).
Dulorme's left hook was good, and he used it to wobble the shorter Mayfield a few times in the fight, including in the first round. In the seventh round, an accidental head butt opened a gash on top of Dulorme's head, which required five stitches after the fight. In the eighth round, referee Steve Smoger warned Dulorme twice for low blows, but did not take a point. Dulorme was clearly winning the fight at that point, but began to fade over the final two rounds.
Mayfield had to deal with the distraction of his manager, Marlon Sullivan, being wanted by police in an alleged murder-for-hire conspiracy, gun- and drug-trafficking and credit card theft.
Going into the fight there was much discussion that the winner of the fight could be in line for a June 14 world title shot against Ruslan Provodnikov of Russia. While Dulorme might get the fight, his promoter, Gary Shaw, was not very confident that he would. The fight more likely will go to Chris Algieri (19-0, 8 KOs), although there is nothing official at this point and it's possible one of the other candidates -- Dulorme, Antonio DeMarco and Hank Lundy are the others -- could get it. Dulorme, however, is not ready for Provodnikov. He still has a bright future and needs a few more fights, not to mention time working with Garcia, before he will be ready for such a big step up in class.
Saturday at Las Vegas
Juan Carlos Martinez W10 Alejandro Perez
Featherweight
Scores: 96-93 (twice) Martinez, 96-93 Perez
Records: Martinez (19-14-1, 6 KOs); Perez (19-4-1, 13 KOs)
Rafael's remarks: Upset alert! Perez, 27, of Salinas, Calif., was scheduled to challenge featherweight titlist Nicholas Walters on May 31 in Macau, China. But Perez took this supposed tuneup fight, and what happened? He lost, and the title shot went down the drain as Top Rank will now look for a new opponent to face Walters. For Martinez, 32, of Chicago, it is a big win and one he earned. Even though it was judged a split decision, Perez had no argument about the scores after the fight, clapping for Perez and giving him his credit.
It was a competitive and entertaining fight, but Martinez basically outhustled Perez, landed many solid hands and had a solid-enough defense to keep from taking the full impact of too many of Perez's blows. In the sixth round, an accidental head-butt opened a cut over Perez's left eye, and blood poured down the side of his face. Even if Perez had won the fight, the cut might have been bad enough to keep him out of the title fight. In the 10th round, referee Russell Mora docked a point from Perez for a low blow.
Martinez, who had not fought since April 2012, ended a two-fight losing streak, including a fourth-round knockout by Mikey Garcia in 2011. Joel Diaz, Martinez's trainer who also trains welterweight titlist Timothy Bradley Jr., was thrilled by the upset. "We came to Las Vegas to take out Perez and wreck his plans for a world title fight in Macau."
Mission accomplished.
Jose Ramirez TKO2 Boyd Henley
Junior welterweight
Records: Ramirez (9-0, 7 KOs); Henley (10-4-1, 9 KOs)
Rafael's remarks: Ramirez, 21, of Avenal, Calif., was a 2012 U.S. Olympian and is one of boxing's best prospects. Henley had lost two in a row coming into the fight but had gone the distance (four rounds and eight rounds) with a pair of unbeaten prospects. But Ramirez took Henley, 25, of Kansas City, Mo., out with ease. As part of his preparation for the fight, Ramirez had the great benefit of sparring with superstar Manny Pacquiao, who was getting ready for his April 12 welterweight title rematch with Timothy Bradley Jr. That work, although only four rounds, had to have been helpful to Ramirez, whose May 17 return to action in Fresno, Calif. -- in his home region -- had already been scheduled before this bout took place.
Ramirez dominated Henley throughout the fight. He landed an assortment of hard left hands to the head and body in the first round and it was surprising that Henley did not go down. In the second round, Ramirez staggered Henley with a left hand that landed high on his head and messed up his balance and had him in retreat. Ramirez then blasted him with numerous shots, including several left hands to the body. Henley, who had blood over his left eye, in his nose and around his mouth, was in big trouble and taking punishment and, as Ramirez continued to attack him, referee Roberto Byrd stepped in and called off the bout at 2 minutes, 32 seconds.
Brian Viloria W10 Juan Herrera
Flyweight
Scores: 98-92 (twice), 97-93
Records: Viloria (33-4, 19 KOs); Herrera (9-8, 4 KOs)
Rafael's remarks: Former junior flyweight and flyweight titlist Viloria, 33, of Hawaii, had been out of action for 51 weeks, since losing his unified flyweight belts to Juan Francisco Estrada in Macau, China, last April. Top Rank promoter Bob Arum hopes to line up another title shot for Viloria on a July 19 card in Macau, so Viloria returned to action to shake off the rust of the long layoff and did so against a nonthreatening opponent in Herrera, 24, of Puerto Rico, who has never been stopped and gave Viloria the rounds he was looking for in the one-sided decision.
Also on the undercard, welterweight Egidijus Kavaliauskas (5-0, 4 KOs), 25, a two-time Olympian from Lithuania who is now based in Oxnard, Calif., needed just 73 seconds to stop James Harrison (3-6-1, 1 KO), 33, of Marrera, La. Also, 21-year-old Jose Benavidez (19-0, 14 KOs), of Phoenix, who has been a disappointment despite his perfect record and who only fought once in 2013, routed Prince Doku (16-5, 12 KOs), 27, of Ghana, winning 60-54 on all three judges' scorecards.
Saturday at Newcastle, England
Stuart Hall Tech. Draw 2 Martin Ward
Retains a bantamweight title
Records: Hall (16-2-2, 7 KOs); Ward (18-2-1, 4 KOs)
Rafael's remarks: Hall, 34, of England, was one of the feel-good stories of 2013. Previously down and out and hooked on drugs and alcohol, Hall got himself clean and outpointed Vusi Malinga of South Africa in December to win a vacant world title. Returning just three months later to make his first defense, he took on Ward, 26, a regional rival in a fight that ended prematurely because of an accidental head-butt.
Hall got going late in the first round, working Ward's body and backing him into the ropes. Ward, a southpaw, also suffered a cut over his right eye from an accidental head clash late in the round. It did not appear to be a bad cut as Ward's corner worked on it between rounds, but 35 seconds into the second round, the referee stopped the bout because of the cut. Because the fight had not gone at least four full rounds, it was declared a technical draw (although in the United States it would have been ruled a no decision). It was a big disappointment. It remains to be seen if Hall and Ward will have a rematch.
Friday at New Town, S.D.
Petr Petrov TKO4 Chris Rudd
Boxcino lightweight tournament semifinals
Records: Petrov (34-4-2, 15 KOs); Rudd (13-2, 8 KOs)
Rafael's remarks: Petrov, 31, a native of Russia living in Spain, won a competitive six-round decision against Fedor Papazov in the Boxcino tournament quarterfinals on Feb. 21 to advance to the semifinals against Rudd, 29, of Covington, Tenn., who scored an upset on the same card, defeating Yakubu Amidu in a fight that had to go to a seventh-round "drawbreaker" to determine the winner.
Meeting with a spot in the tournament final on May 23, Petrov looked very impressive as he took the overmatched, but game Russ apart. Petrov, who was stopped in the fourth round challenging then-junior welterweight titlist Marcos Maidana for his belt in 2011, never dropped Rudd but scored a convincing victory nonetheless. Petrov was quick with his punches and pressured Russ throughout. He could not take the heat. By the third round, Petrov was hammering Rudd with everything -- body shots and head shots with both hands. Rudd tried to stand and fight but took a shellacking in an extended exchange late in the round. He was lucky to make it out of the third round, during which Petrov landed a stunning 61 of 90 power shots, according to CompuBox. Early in the fourth round, Petrov connected with clean right hand that stopped Rudd in his tracks, but he amazingly stayed on his feet. Petrov continued to land all kinds of shots on Rudd, who briefly threw back but was getting destroyed before referee Billy Johnson had no choice but to intervene 51 seconds into the round. Petrov looked really good in this victory.
Fernando Carcamo W8 Miguel Gonzalez
Boxcino lightweight tournament semifinals
Scores: 78-74, 77-75, 76-76
Records: Carcamo (17-5, 13 KOs); Gonzalez (23-4, 16 KOs)
Rafael's remarks: Carcamo, 23, of Mexico, knocked out previously unbeaten Samuel Neequaye in the second round of the Boxcino tournament quarterfinals on Feb. 21 to advance to the semis against Gonzalez, 28, of Cleveland, who made it into the semifinals by winning a six-round split decision against Miguel Mendoza on the same card.
But it will be Carcamo who is going to the final on May 23 to face Petr Petrov after this strong performance against Gonzalez, despite the questionable draw scorecard turned in by one judge. Carcamo won his seventh fight in a row with an assist from a booming left hand that dropped Gonzalez in the first round. Gonzalez seemed OK and we got a good fight the rest of the way. Both fighters gave it their all and both landed a lot of body shots, but it was the heavier-punching Carcamo who was beating Gonzalez to the punch and landing hard right hands. Gonzalez had some moments of success, like when he nailed Carcamo with a right hand at the end of the seventh round, but Carcamo deservedly won the fight.
Friday at Gatineau, Canada
Antonin Decarie W10 Pablo Munguia
Welterweight
Scores: 98-92, 97-93, 96-94
Records: Decarie (30-2, 9 KOs); Munguia (19-5, 11 KOs)
Rafael's remarks: Decarie, a 31-year-old fringe contender from Montreal, overcame a serious cut to take the unanimous decision against Munguia, a southpaw who was fighting outside of his native Mexico for the first time.
Decarie suffered the cut near the end of the fifth round from an accidental head-butt, although he overcame the difficulty of the blood dripping into his eye to beat the physically strong Munguia. Decarie, who lost a fight for a vacant interim belt in 2010 to Souleymane M'baye, won his third fight in a row since a decision loss to Luis Carlos Abregu last April on the Sergio Martinez-Martin Murray undercard in Buenos Aires, Argentina.
Wednesday at Tokyo
Kohei Kono KO8 Denkaosan Kaovichit
Wins a vacant junior bantamweight title
Records: Kono (30-8, 13 KOs); Kaovichit (62-4-1, 26 KOs)
Rafael's remarks: In December 2012, Kono, 33, of Japan, knocked out Tepparith Kokietgym to win a junior bantamweight belt but lost it to Liborio Solis in his first defense five months later. He reclaimed his old belt, which had become vacant when Solis was stripped for not making weight for a defense. So Kono faced former flyweight titlist and ultra-experienced Kaovichit, the 37-year-old interim titlist from Thailand.
Kono dropped Kaovichit hard in the fourth round with a clean right hand on the chin. Kaovichit dropped to his rear end but seemed OK and was able to survive the final minute of the round. Kaovichit rallied to dominate in the fifth and sixth rounds. But early in the eighth round, Kono landed another right hand to Kaovichit's face. He went down face first and referee Raul Caiz Sr. counted him out 50 seconds into the round.
Boxing
2013 BWAA Nat Fleischer Award winner for excellence in boxing journalism
ESPN.com boxing writer since 2005
Five years at USA Today