Commentary
Marquez tears through Pacquiao tuneup
Updated:
July 18, 2011, 3:22 PM ET
By
Dan Rafael
| ESPN.com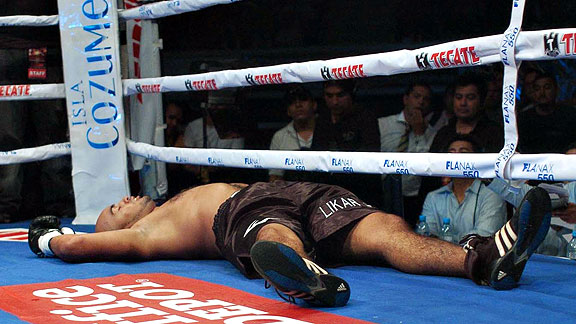 Zanfer PromotionsWas Likar Ramos' knockout by Juan Manuel Marquez contrived, or at least exaggerated? Maybe we should just be glad Marquez is moving on to bigger things.
A roundup of the past week's notable boxing results from around the world:
Saturday at Cancun, Mexico
Juan Manuel Marquez KO1 Likar Ramos

Junior welterweight
Records: Marquez, 53-5-1, 39 KOs; Likar Ramos, 24-4, 18 KOs

Rafael's remark: Marquez, the lightweight champion and one of the top fighters in the world, took this fight against Colombia's Ramos at junior welterweight because he wanted to slowly make his way up the scale in preparation for a Nov. 12 pay-per-view fight at welterweight (a catchweight of 144 pounds) with pound-for-pound king Manny Pacquiao. Marquez and Pacquiao have fought twice before, to controversial decisions: a draw in a 2004 featherweight title fight and a Pacquiao split-decision win in a 2008 junior lightweight title fight. Marquez also wanted to face Ramos, 25, because he is a southpaw and wanted the practice ahead of facing Pacquiao, who is also a left-hander. Further, Marquez, who turns 38 on Aug. 23, didn't want to go into the fight with Pacquiao coming off a one-year layoff. He hadn't fought since last November, when he stopped Michael Katsidis in the ninth round to retain the lightweight championship.

After working out his contractual situation with Golden Boy, Marquez became a free agent and made a deal with Top Rank in order to get Pacquiao. Marquez was allowed to take this tuneup bout as part of the contract, knowing that a loss or significant injury would scrap the Pacquiao fight -- and a minimum payday of $5 million. So it was against that backdrop that this embarrassment took place, Marquez's first fight in his native Mexico since his seventh professional bout in 1994.

Ramos, who weighed 140 to Marquez's 138, had briefly held an interim junior lightweight title before losing it in his first defense when he was crushed by Jorge Solis in the seventh round. Against Marquez, Ramos showed absolutely nothing. Marquez landed a nice straight right hand and scored the knockout at 1 minute, 47 seconds. Marquez did what he was supposed to do. However -- and this is a big however -- this did not look like a legitimate knockout punch. Absolutely, it was a clean shot to Ramos' chin that certainly could have resulted in a knockdown. But Ramos went down in such an exaggerated manner -- first stumbling with his eyes open and then breaking his fall with his right arm -- before seemingly tightly closing his eyes, that it just didn't look like anything other than a really bad acting job, not even worthy of the WWE.

It was a good shot from Marquez, but the punch didn't look like a serious knockout blow. Further, Ramos didn't hit his head going down, which is what usually happens when a fighter is knocked out cold. His landing was cushioned by his arm. Yet Ramos made it look like he had just taken a left hook from Joe Frazier, staying on his back for several minutes. Maybe he just didn't like how it felt and knew he was in way over his head, and decided that was enough. Whatever happened, this was a poor display. At least Marquez didn't lose, get cut or get injured. That's the best you can say about it. And now that this nonsense is over, it's on to the more serious matter of Nov. 12 and Pacquiao-Marquez III.

As an aside, Top Rank offered the card for free as a live stream on its website. After several previous offerings that were substandard, with shaky streams and a freezing picture, the company changed to a new vendor for its streaming video. It was flawless -- clear and crisp, with no issues.

Rafael Marquez TKO6 Eduardo Becerril

Junior featherweight
Records: Marquez, 40-6, 36 KOs; Becerril, 12-8-2, 4 KOs

Rafael's remark: Former bantamweight and junior featherweight champion Marquez, 36, of Mexico, was fighting on the same card as his older brother, Juan Manuel Marquez, for the first time since 2006. Rafael Marquez, who is revered by fight fans for his epic four-fight series with Israel Vazquez, was fighting for the first time since suffering a shoulder injury in an all-action eighth-round TKO loss to then-featherweight titlist Juan Manuel Lopez on Nov. 6. With a possible fight against junior featherweight titlist Toshiaki Nishioka on deck for the fall, Marquez was making his comeback from the injury and loss to Lopez.

Considering the layoff and shoulder problem, Marquez looked pretty sharp and strong back in the 122-pound weight class. In the fourth round, he knocked Mexico's Becerril, 26, to his rear end. Although that was the only knockdown, Marquez battered him throughout the fight. The beating eventually took its toll as Becerril, who had won a fight just a week earlier, retired on his stool after the sixth round. Becerril has now lost five of his last six fights.

Roman Gonzalez TKO7 Omar Salado

Junior flyweight
Retains a junior flyweight title
Records: Gonzalez, 29-0, 24 KOs; Salado, 22-4-2, 13 KOs

Rafael's remark: Gonzalez, 24, of Nicaragua, was dominating the strawweight division, but when he could no longer make weight, he gave up his belt and moved up to junior flyweight. Having won his second belt in the 108-pound division, he was making his second title defense against Salado, 31, of Mexico. Salado is an experienced fighter. He fought to a draw with Ulises Solis in a 2006 junior-flyweight title bout and was stopped in the 12th round by Luis Concepcion in a 2009 interim-flyweight title bout. But entering the fight with Gonzalez, Salado had lost two of his last three.

The powerful Gonzalez utterly outclassed him in a strong performance. He dropped Salado twice in the first round, although Salado didn't seem badly hurt either time. In the third round, Gonzalez opened a cut over Salado's right eye. The bloody cut became a problem as the fight wore on, as it clearly bothered Salado. Gonzalez kept up the pressure and knocked him down with a flurry of unanswered punches in the seventh round. Salado, his face a bloody mess, was hurt this time, but he beat the count. Moments later, as Gonzalez was hammering him again, Salado's corner threw in the towel, prompting referee Julio Cesar Alvarado to stop the bout at 48 seconds. Gonzalez showed nice sportsmanship afterward, helping towel off Salado's bloody face. Gonzalez against Solis would be a nice fight, but how about a fight at flyweight against Giovani Segura? That would be sensational for as long as it lasted.



Saturday at Liverpool, England
Kevin Mitchell TKO8 John Murray

Lightweight
Records: Mitchell, 32-1, 24 KOs; Murray, 31-1, 18 KOs

Rafael's remark: Fourteen months ago, Mitchell was surprisingly blown out in three rounds by Michael Katsidis in an interim title bout. Katsidis had come from Australia to face Mitchell in his native England and embarrassed him. But Mitchell, 26, moved on in sensational fashion as he put away his countryman Murray, also 26, in one of England's most anticipated domestic showdowns. The fight was supposed to take place in April, but promoter Frank Warren couldn't finalize the deal. Then it was scheduled for July 9, but it was pushed back one week because, according to Warren, Mitchell had missed about a week of training due to a viral infection. When they finally met, it was worth the wait because they put on, as the Brits like to say, a real cracker.

Murray started out well and looked like the physically stronger of the two fighters, landing some hard right hands and seemingly hurting Mitchell in the early going. But Mitchell was landing shots, too, which is why Murray's right eye began to swell in the fifth round. The fight seemed dead-even after six rounds, but by the seventh round, Murray's eye was bleeding. Mitchell was landing shots and moving well as he began to take over the fight. He visibly hurt Murray in the seventh round with a left uppercut, and then again at the end of the round with a left hand. In the eighth round, Mitchell dropped Murray to his knees with a left hook. Although Murray beat the count, he was done. Mitchell plowed into him when the fight resumed, landing another left uppercut that rocked Murray again before referee Richie Davies stepped in at 1 minutes, 36 seconds. Not only was this a highly entertaining fight, but it was the signature victory of Mitchell's career -- a win that could vault him into a world-title opportunity. Murray fought valiantly and shouldn't be written off after one defeat in a great fight.

Ricky Burns TKO1 Nicky Cook

Junior lightweight
Retains a junior lightweight title
Records: Burns, 32-2, 9 KOs; Nicky Cook, 30-3, 16 KOs

Rafael's remark: This fight was a complete joke because Cook, a former titlist bidding to regain the belt he had lost to Roman Martinez in March 2009, obviously was in no condition to be in a world-title bout. Burns, 28, of Scotland, needed only 93 seconds to make his third title defense of the belt he had taken from Martinez.

Burns hardly broke a sweat as he dropped Cook with the very first punch he landed -- a right hand about six seconds into the bout. It was a good shot, but Cook, who went down to all fours, grabbed his back. Obviously, there was a problem. Cook, 31, of England, got up and seemed contorted and unable to straighten himself out. He went down for a second time moments later without a punch landing, as though he was bracing for impact or trying to get away from Burns. He got up and limped around, but the fight continued. He went down for a third time from a decent right hand as this farce was allowed to continue. Then Burns landed a body shot that seemed to hurt Cook's back. Cook hobbled around and took a couple more punches before Paul Cook, his father and trainer, threw in the towel.

Nicky Cook left the ring on a stretcher because his back was in such bad shape. According to the British broadcasters, Cook had mentioned having a degenerative back condition before the fight. Why in the world was this fight allowed to take place? Burns, Cook and all the fans who bought tickets deserved much, much better. Just an absolutely pathetic scene.

On the undercard, welterweight Frankie Gavin (11-0, 8 KOs), 25, a former world amateur champion and 2008 British Olympian, struggled to a split-decision win against Curtis Woodhouse, 31, of England. Two judges scored for Gavin 117-112 and 116-113, while the third had it 115-114 for Woodhouse (15-3, 10 KOs), who is 1-2 in his last three bouts. Gavin, regarded as one of boxing's top prospects, didn't look sharp.



Saturday at Munich, Germany
Marco Huck KO10 Hugo Hernan Garay

Cruiserweight
Retains a cruiserweight title
Records: Huck, 33-1, 24 KOs; Garay, 34-6, 18 KOs

Rafael's remark: Huck had extra motivation for this fight. The 26-year-old from Germany had his mother and fiancée ringside for one of his fights for the first time. On top of that, Huck is getting married next week and wanted to ensure he still had his title for the celebration. Mission accomplished -- and in exciting fashion.

Huck, who was making his seventh title defense, put on a good show in dropping the tough-as-nails Garay, 30, of Argentina, with a right hand in the first round. It was more of a flash knockdown, and Garay, a former light heavyweight titlist, didn't appear hurt. Huck is a brute slugger who lacks refined technique, so he is sometimes a bit sloppy with his punches. When he and his opponent get in close, he likes to throw downward punches that often go behind the head. Those are illegal shots, and referee Luis Pabon warned him about them until finally docking Huck one point for the repeated infraction in the third round.

But that didn't stop Huck from continuing to throw his right hand. Garay hung in the fight as long as he could, but Huck's strength and relentless pressure finally won out. Huck nailed him with three shots that sent him staggering across the ring before he landed one more right hand to send Garay, who never saw the punches coming, down for the count. Nice win for Huck, who should step up and fight one of the other titleholders in the division, fights that shouldn't be all that difficult to make since his promoter, Sauerland Event, also promotes a number of other top cruiserweights -- including titlist Steve Cunningham, who handed Huck his only loss. A rematch/unification bout is probably the best fight that can be made in the weight class.

Also on the card, European light heavyweight champion Eduard Gutknecht (22-1, 9 KOs), 29, of Germany, made the first defense of his belt in a lopsided decision win against Italy's 33-year-old Lorenzo Di Giacomo (41-5, 18 KOs). The judges had Gutknecht winning 120-105, 119-107 and 119-107.



Saturday at Honolulu
Brian Viloria W12 Julio Cesar Miranda

Flyweight
Wins a flyweight title
Scores: 117-110, 116-113, 114-113
Records: Viloria, 29-3, 16 KOs; Miranda, 35-6-1, 28 KOs

Rafael's remark: At age 30 and already with two title reigns at junior flyweight behind him, Viloria knew this might be his last shot at glory. So with the Hawaiian Punch fighting at home in front of a supportive crowd, the 2000 U.S. Olympian got the job done and claimed his third world title. Viloria started quickly, using a quick right-left combination to surprise Miranda and knock him down about a minute into the fight. Viloria kept the pressure on against Miranda throughout the fight, continually beating him to the punch. He also worked well to the body and just looked a lot fresher. Miranda, 31, of Mexico, could have been sapped from making weight. He needed all the time allotted to lose two pounds in order to make the 112-pound limit the day before the bout.

When it was over, it was obvious Viloria would be announced as the winner, but it sure was a surprise when the ring announcer called out scores reflecting only a 10-round fight, rather than the 12 it had gone -- like all world-title bouts. Regardless, Viloria came out on top, winning his third consecutive bout since losing a junior flyweight belt in an upset 12th-round knockout to Carlos Tamara in January 2010, which was followed by a move up to flyweight. Miranda, 31, of Mexico, was making the fourth defense of the vacant belt he won with a fifth-round knockout of Richie Mepranum in June 2010.



Friday at New York
Delvin Rodriguez D10 Pawel Wolak

Junior middleweight
Scores: 95-95 (twice), 97-93 Rodriguez
Records: Rodriguez, 25-5-3, 14 KOs; Wolak, 29-1-1, 19 KOs

Rafael's remark: In easily the best fight of the season on ESPN2/ESPN3's "Friday Night Fights," Rodriguez and Wolak battled nose to nose in a fight of the year candidate that had the crowd roaring throughout. This was one of those fights on paper that everyone predicted would be a barn burner. And then when it was announced that Steve Smoger would be the referee, you just had that feeling this was going to be a memorable fight; Smoger, one of the best in the business, has been the third man in the ring for so many terrific fights. That is not an accident.

Wolak, 29, of Rockaway, N.J., but originally from Poland, had most of the crowd on his side. He had burst into the junior middleweight top 10 based on his dominant knockout performance against former titlist Yuri Foreman on March 12, Wolak's eighth consecutive victory. A win against Rodriguez figured to pave the way to a more significant fight, or perhaps even a title opportunity. Rodriguez, 31, a native of the Dominican Republic who grew up in Danbury, Conn., has been a staple of FNF broadcasts for years, turning in a number of crowd-pleasing performances. But he was coming off a one-year layoff and moving up in weight. He was the clear underdog in need of a win, entering the fight in a 1-3 rut. But both men fought as if their careers were on the line in a blazing action fight filled with clean punching and a lot of guts from both guys.

It was a very close bout. Wolak was aggressive, as usual, and pressured the taller Rodriguez. Rodriguez, meanwhile, tried to box and fire combinations, but he reverted to his natural instincts, which (lucky for us) is to brawl. Many of Rodriguez's shots landed, eventually taking their toll, because Wolak's right eye became horribly swollen -- almost all the way shut from about the seventh round on. His face was a mess, but he kept punching and was determined to finish the fight no matter how much pain he was in or how little he could see. Frankly, the fight would have been stopped in many places, especially after the ninth round when it was very obvious that Wolak couldn't see.

You could watch any round of this fight and be highly entertained. It looked like Rodriguez had pulled out the win by closing strong in the final two rounds, when Wolak was most handicapped by his eye, but two judges scored the fight even. No complaints about that. Obviously, the result sets up a likely rematch for the fall. It wouldn't be a surprise to see it land on the likely Dec. 3 pay-per-view card headlined by the Miguel Cotto-Antonio Margarito rematch. It will likely take place at New York's Madison Square Garden, where Wolak and Rodriguez would help pack the place. Wherever the rematch takes place, it just needs to happen when they are both refreshed after a rest from this outstanding and grueling fight.



Friday at Las Vegas
Diego Magdaleno W10 Alejandro Perez

Junior lightweight
Scores: 99-90, 98-91, 98-90
Records: Magdaleno, 20-0, 7 KOs; Perez, 15-3-1, 10 KOs

Rafael's remark: Magdaleno, 24, who is from Las Vegas and had the crowd cheering for him, is one of boxing's better prospects at 130 pounds. Because he's a draw, makes entertaining fights and has the acumen of Top Rank behind him, he is likely to get a title opportunity in the not-too-distant future. But he is still a work in progress. After having knocked out his previous four opponents, Magdaleno was forced to the distance against Perez, 25, of Salinas, Calif., although he dominated in this main event of Showtime's "ShoBox: The New Generation," which was celebrating its 10th anniversary on this card.

Perez's one big moment came when he scored a flash knockdown on a right hand in the first round. But Magdaleno was more embarrassed than hurt. He shook it off and pounded out the lopsided decision, outboxing Perez all the way and dictating the pace, much to the delight of the crowd. Magdaleno strayed below the belt with a low blow in the second round and referee Robert Byrd docked him one point, but it hardly mattered when the scorecards were read. Perez dropped to 1-2 in his last three, with the one win coming via first-round knockout against fringe featherweight contender Antonio Escalante and the other loss coming by decision in an eight-rounder to Rico Ramos, who went on to claim a junior featherweight world title on July 9.

Casey Ramos W8 Georgi Kevlishvili

Junior lightweight
Scores: 78-74, 77-75 Ramos, 77-75 Kevlishvili
Records: Ramos, 14-0, 4 KOs; Kevlishvili, 8-4, 3 KOs

Rafael's remark: Ramos, 21, of Austin, Texas, was scheduled to face Queens, N.Y., prospect Joselito Collado (12-0, 3 KOs), but Collado dropped out because he was ill a week before the fight. Kevlishvili, 30, a native of Russia based in Philadelphia, took the fight on short notice and dropped his second fight in a row (and third in his last four). Although Ramos won only by split decision, the verdict was a surprise. He appeared to win quite easily. Ramos, who was quicker than the well-conditioned Kevlishvili, controlled the fight all the way. Kevlishvili, fighting in the United States for the third time since relocating from Russia in April 2010, landed some decent left hands, but he couldn't do much more. Ramos' toughest moment of the fight came in the third round when he suffered a cut after an accidental head clash. Despite the cut, Ramos stayed calm and in control and continued to box his way to the win.
Dan Rafael is the boxing writer for ESPN.com. Follow him on Twitter @danrafaelespn.
Boxing
2013 BWAA Nat Fleischer Award winner for excellence in boxing journalism
ESPN.com boxing writer since 2005
Five years at USA Today
SPONSORED HEADLINES
MORE BOXING HEADLINES
MOST SENT STORIES ON ESPN.COM
EDITORS' PICKS
Best of ESPN's "Friday Night Fights" in 2014.
Watch

Klitschko's fifth-round KO of Pulev is best of the year.
Dan Rafael »

Felix Verdejo is ESPN.com 2014 prospect of the year.
Dan Rafael »