Commentary
Mike Alvarado proves he's ready
Updated:
August 1, 2011, 8:03 PM ET
By
Dan Rafael
| ESPN.com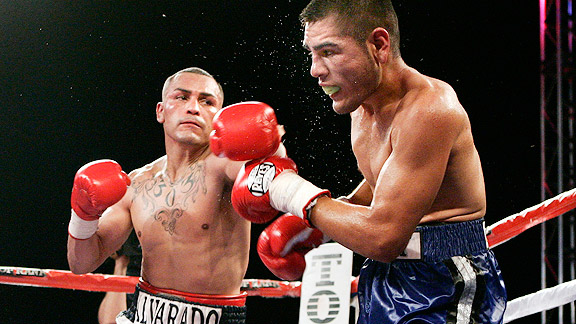 Chris Farina/Top RankMike Alvarado steamrolled Gabriel Martinez in front of his hometown crowd on Saturday.
A roundup of the past week's notable boxing results from around the world:
Saturday at Denver
Mike Alvarado W10 Gabriel Martinez

Junior welterweight
Scores: 100-89, 100-90, 99-90
Records: Alvarado, 31-0, 22 KOs; Martinez, 27-3-1, 14 KOs

Rafael's remark: Alvarado's career has seen its share of stops and starts because of his multiple stints in jail, but he seems to have gotten his life together and has been able to stay out of trouble recently as his career picks up steam. Top Rank, which has promoted Alvarado for his entire career, thought enough of him to give him a prime slot on the Manny Pacquiao-Shane Mosley undercard on May 7, when Alvarado made Ray Narh quit after three rounds.

Alvarado, 30, is physically strong and aggressive and makes good TV fights. Although he easily rolled over Martinez, the "Top Rank Live" main event was entertaining because Alvarado just keeps pressing the action. He had to have been motivated by the hometown crowd that turned out to support him at the outdoor Softball Country Arena for his first fight at home in Denver since 2008. Alvarado was simply too much for Martinez, whom he pounded for most of the fight. He was credited with a knockdown in the opening round when Martinez looked like he clearly slipped, but it wasn't a factor, as Alvarado cruised.

Martinez, 24, of Mexico, dropped his second fight in a row, having also lost to Mark Melligen in February. Martinez's only other loss came to future junior middleweight titlist Saul "Canelo" Alvarez, who stopped him in the 12th round of a 2008 welterweight bout. Alvarado, meanwhile, is on the verge of a meaningful fight. He fights in one of the hottest divisions in boxing and is ready for a step up in competition. And with his crowd-pleasing style, he belongs on an HBO or Showtime platform against a top contender battling for a shot at a title. It's time.

Roberto Marroquin W8 Jose Angel Beranza

Featherweight
Scores: 79-70, 78-71 (twice)
Records: Marroquin, 20-1, 14 KOs; Beranza, 30-23-2, 26 KOs

Rafael's remark: Top Rank considers Marroquin, a 21-year-old from Dallas with a tremendous amateur background, one of its most prized prospects. So it was a shock when he lost a bloody split decision to Frankie Leal in April in a fight that figured to test the youngster, but one that he was supposed to win. In the wake of the loss, Marroquin split with trainer Danny Smith and is now working with Paul Reyes, who is best known for his work with a pair of former champions from Texas: Donald Curry and Paulie Ayala.

Although Marroquin rolled to the clear points win against Beranza, of Mexico, it's obvious there is work to do. Marroquin didn't look that good. He got hit way too much, and Beranza, 35, caused him significant swelling near his right eye, which was also a problem in the fight with Leal. That said, Marroquin took the win and scored a pair of knockdowns along the way. He dropped Beranza with a right hand in the third round and with a right uppercut in the sixth round. Beranza, who showed a lot of grit, pushed Marroquin very hard and was not badly hurt by either knockdown, but both came as the result of clean shots. Marroquin landed a lot of right hands and knocked Beranza's mouthpiece out multiple times, including once when he also knocked out a tooth, which landed on the canvas. Beranza lost his third fight in a row and seventh in nine fights, with most of the defeats coming against high-quality prospects, including Guillermo Rigondeaux and Teon Kennedy.



Saturday at Odessa, Ukraine
Zaurbek Baysangurov KO1 Mike Miranda

Junior middleweight
Wins a vacant interim junior middleweight title
Records: Baysangurov, 26-1, 20 KOs; Miranda, 34-4, 31 KOs

Rafael's remark: Apparently, pretty much anything can pass for a title fight these days. This trash was one of those fights and was for an utterly unnecessary 154-pound WBO belt.

Sergiy Dzinziruk, healthy and ready to fight, is the alphabet organization's actual titleholder and has held the title since 2005, making him one of boxing's longest active titleholders. But why let that get in the way of doling out another trinket for another sanctioning fee? So this fight was approved for the interim belt. Baysangurov, 26, of Russia, is a decent contender with somewhat recent wins against Eromosele Albert and the faded Richard Gutierrez. He has now won seven fights in a row since suffering his lone professional loss, a fifth-round knockout in Germany, to future titleholder Cornelius "K9" Bundrage in December 2008. Compared to Miranda, Baysangurov is Manny Pacquiao.

Miranda, 38, of Brazil, may be a nice guy who works hard, but as a title challenger, he is ludicrous. He got this opportunity despite not having a win of even remote consequence on his record while fighting opponents with records like 8-6-1, 19-19 and 0-5 in his three bouts before the fight with Baysangurov. He has been knocked out in three of his four losses, with Baysangurov taking him out with a right hand in just 51 seconds as referee Robert Byrd counted him out.



Saturday at San Jose, Costa Rica
Brian Magee W12 Jaime Barboza

Super middleweight
Wins a vacant interim super middleweight title
Scores: 118-110, 117-111, 116-112
Records: Magee, 35-4-1, 24 KOs; Barboza, 17-5, 8 KOs

Rafael's remark: In March, super middleweight titlist Lucian Bute routed Magee, 36, of Northern Ireland, for a 10th-round knockout. In October 2010, Barboza, 33, of Costa Rica, got knocked out in the eighth round by the ordinary Jose Pinzon, then returned to defeat a 21-21-1 opponent in March. For those outstanding accomplishments, the horrible WBA approved this joke for an interim belt in a division that will soon have three titlists -- legit belt holder Andre Ward, who fights in October in the Super Six World Boxing Classic final against Carl Froch in a unification bout; Magee, who won this interim title; and the winner of an Aug. 26 bout between Karoly Balzsay and Stas Kashtanov, who will hold the so-called "regular" title. The WBA continues to destroy boxing with this kind of absurd "title" fight.



Friday at Las Vegas
Lamont Peterson KO12 Victor Cayo

Junior welterweight
Title eliminator
Records: Peterson, 29-1-1, 15 KOs; Cayo, 26-2, 17 KOs

Rafael's remark: It took three tries for this fight to finally take place, but for Peterson, at least, it was worth the wait. It was first scheduled for April 29 on ESPN2/ESPN3's "Friday Night Fights," but it was called off after Cayo suffered a shoulder injury in training. Then it was supposed to take place July 23 on the undercard of Amir Khan's fifth-round knockout of Zab Judah in their unification bout before contractual language between the promoters killed the fight. Finally, it found its way back to an open date on "Friday Night Fights," with Peterson, 27, of Washington, D.C., and Cayo, 26, of the Dominican Republic, meeting for the right to become one of Khan's mandatory challengers.

Peterson was offered a title shot and a career-high purse of more than $300,000 to challenge Khan in England in April. He turned it down because he was unhappy with some of the contract language and wound up accepting the fight with Cayo for about $10,000. It was a gamble that may have paid off. Now he is Khan's mandatory challenger and, if he gets the fight, will likely earn more than the April offer -- and he won't be under any obligation to give away options of signing a rematch clause. However, Khan's mandatory isn't due yet, and by the time it is, he may either let the belt go or move up in weight. In any case, Peterson, who was coming off a gift draw against Victor Ortiz in December, will get a second shot at a world title -- he lost a lopsided decision to Timothy Bradley Jr. in December 2009 -- be it against Khan or for a vacant belt. He put on a good show against Cayo, who came into the fight having won two in a row since Marcos Maidana knocked him out in the sixth round of an interim title bout in March 2010.

It was a competitive fight, although the sharp-punching Peterson always seemed to have the edge against the awkward Cayo. Early in the 12th round, with Cayo seeming to fade, Peterson rocked him with two right hands and continued to pound away while looking for the finish. In the final minute, Peterson hurt him again with a right hand. Peterson put his punches together, landing them to the head and body, and Cayo dropped to his knees after eating another right hand. Cayo had no intention of continuing as he listened to the full count from referee Kenny Bayless, who waved the fight over with 14 seconds left in the final round. In an excellent performance, Peterson notched the best win of his career.

Yordanis Despaigne W-DQ5 Edison Miranda

Light heavyweight
Records: Despaigne, 9-1, 4 KOs; Miranda, 34-6, 29 KOs

Rafael's remark: This was a very interesting match on paper and was developing into an interesting fight in the ring until referee Vic Drakulich, who regularly inserts himself way too much into fights he officiates, did it again with a premature and, frankly, just wrong disqualification of Miranda for a low blow in the fifth round.

It was a much-needed win for Despaigne, even though it came cheaply. Despaigne, 31, a 2004 Olympian from Cuba (he beat future champion Jean Pascal in the Olympic tournament and lost to Andre Dirrell), is based in Miami after having defected and turned pro in 2009. In his previous fight, he gambled by taking an assignment against another former amateur star, Ismayl Sillakh, and lost a unanimous decision in a "Friday Night Fights" main event. Looking to bounce back against a name opponent, he took on Miranda, 30, a native of Colombia living in Puerto Rico. Miranda, of course, has been fighting quality opponents for years, including in two title bouts -- a controversial decision loss to then-middleweight titlist Arthur Abraham in their first fight in 2006 and a third-round knockout loss to super middleweight titlist Lucian Bute in 2010. Miranda also has lost nontitle fights to future middleweight champ Kelly Pavlik and future super middleweight titlist Andre Ward.

Despaigne started well, hurting Miranda with a right hand just as the first round was ending. At the end of the second round, Miranda touched Despaigne on the belt line with a shot, and Despaigne flopped to the mat in an Academy Award-worthy performance. Drakulich bought it hook, line and sinker and wrongly deducted a point from Miranda. In the third round, Miranda legitimately landed a left hand low, and Drakulich took away another point. Late in the fourth round, Despaigne hurt Miranda with a right hand and proceeded to unload a flurry of punches, most of which connected in the middle of the ring. But Miranda took them and managed to stay on his feet as the crowd erupted in excitement. In the fifth round, Despaigne and Miranda were in close and exchanging punches when Miranda landed a solid right to the body and then a left hand, which strayed low as Despaigne pulled his head down. Drakulich jumped in right away and disqualified Miranda 45 seconds into the round. It was a lame call because the ref had too quick a trigger on the first point deduction, then made this call when Despaigne had clearly pulled Miranda down, causing his punch to stray low. Drakulich ruined a good fight with a needless deduction and DQ.

Badou Jack TKO2 Timothy Hall Jr.

Super middleweight
Records: Jack, 7-0, 6 KOs; Hall, 6-12, 4 KOs

Rafael's remark: Jack, 27, is a good-looking prospect (trained by former champ Eddie Mustafa Muhammad) with a strong amateur background. A native of Sweden who lives in Las Vegas, he became the first boxer to make the Olympics for the African country of Gambia (his father's country) in 2008. He had 115 amateur bouts and recently signed with promoters Lou DiBella and Leon Margules. Hall, 30, of Athens, Ga., had no amateur fights and a losing record, so you pretty much knew how this fight was going to go.

Sure enough, after dominating the first round, Jack did damage in the second. He floored Hall with a thudding and wide-open right to the body, sending him to a knee. Hall reluctantly continued, and Jack was all over him, hammering him until he dropped to the canvas again as referee Kenny Bayless called it off at 1 minute, 31 seconds. Jack wasn't facing any kind of serious opponent, but he has a lot of tools and a crowd-pleasing style. Let's hope to see more of him soon.



Friday at Las Vegas
Beibut Shumenov TKO9 Danny Santiago

Light heavyweight
Retains a light heavyweight title
Records: Shumenov, 12-1, 8 KOs; Santiago, 31-5-1, 19 KOs

Rafael's remark: Shumenov won his belt when the judges robbed Gabriel Campillo in a split decision in their January 2010 rematch. It was one of the worst -- if not the worst -- decisions of the year. But Shumenov has been dominant in his three defenses since, including this beatdown of Santiago in the main event of Telefutura's "Solo Boxeo Tecate." Shumenov's last defense came in January against former middleweight titlist William Joppy, who moved up from the undercard into the main event on a few days' notice when Jürgen Brahmer bailed on their unification fight just days before the bout, which was in Shumenov's native Kazakhstan. Shumenov, 27, stopped Joppy in six one-sided rounds, fulfilling a dream to defend the title in his native country. Not long after the fight, Shumenov split with promoter Dan Goossen. They are embroiled in a lawsuit, but Shumenov went ahead with this fight against Santiago with his own company, KZ Event Productions, promoting with Don Chargin and Golden Boy. Shumenov lives in Las Vegas and wanted to defend there.

The promoters found him an opponent with a big heart but virtually no shot to win in Santiago, 38, of Ocala, Fla., who has been stopped all three times he has stepped up in class. (In 2007, then-titleholder Zsolt Erdei stopped him in the eighth round and former champion Antonio Tarver knocked him out in the fourth round.) Shumenov marked up Santiago's face, bruising both eyes, and landed tons of combinations as he broke him down throughout the fight. Finally, in the ninth round, Shumenov, who had dominated all the way, unloaded more than 20 unanswered punches as Santiago backed into the ropes and tried to cover up until referee Tony Weeks stepped in to stop the fight 46 seconds into the round.

Former champion Jean Pascal watched from ringside and was in the ring after the fight, angling for a shot at Shumenov and gauging whether he would be willing to come to Montreal, where Pascal would draw a huge crowd. That would be a very interesting fight and certainly a great challenge for Shumenov.



Friday at Mexico City
Dante "Crazy" Jardon KO2 Adrian Tellez

Junior lightweight
Records: Jardon, 18-1, 16 KOs; Tellez, 15-6-1, 10 KOs

Rafael's remark: Jardon, 23, of Mexico, had an easy time with countryman Tellez, 25, in the Telemundo main event. They came out firing and were both landing, but Jardon got to Tellez with a right hand that dropped him. Tellez went down and didn't seem too hurt. Although he did a backward somersault when he landed, he popped right back up, took a deep breath and continued the fight.

Early in the second round, Jardon dropped Tellez again, this time to his backside with a clean right-left combination on the chin. Tellez was hurt this time, but he managed to beat the count. Moments later, Jardon landed a clean right uppercut, and Tellez went down flat on his back as the referee called it off at 1 minute, 27 seconds. This was a fun fight while it lasted -- short and sweet. Tellez lost his second fight in a row and third in his past four.



Friday at Homebush, Australia
Billy Dib W12 Jorge Lacierva

Featherweight
Wins a vacant featherweight title
Scores: 119-109, 118-109, 115-112
Records: Dib, 32-1, 19 KOs; Lacierva, 39-8-6, 26 KOs

Rafael's remark: In March, the IBF stripped Yuriorkis Gamboa of its 126-pound belt because he didn't come to a weight check on the morning of his fight with Jorge Solis. Solis could have won the vacant strap, but Gamboa beat him silly, leaving the title vacant. Australia's Dib was supposed to face Miguel Angel "Mikey" Garcia of Oxnard, Calif., in June on the Julio Cesar Chavez Jr.-Sebastian Zbik undercard, but HBO refused to buy the fight because Dib is one of the least fan-friendly fighters you could watch -- so bad that Golden Boy, which had been working with him, dropped him. Usually, his fights are agony and an instant reason to change the channel. So Garcia gave up the shot at the belt in order to fight another opponent on HBO in a nontitle bout. Then Dib, 25, was ordered to face Mexico's Lacierva, 33, the next available contender.

The title opportunity was the third of Lacierva's career. He had lost to Mark "Too Sharp" Johnson in a 1999 junior bantamweight title fight and to Celestino Caballero in a 2007 junior featherweight title bout. And now he has lost to Dib for a featherweight belt. It was no surprise that Dib was faster, better on defense and able to outbox the aggressive Lacierva, who was also docked a point by referee Jack Reiss for hitting on the break in the fourth round. The fight was Dib's second shot at a belt. He had lost a unanimous decision challenging then-titlist Steven Luevano on the Bernard Hopkins-Kelly Pavlik undercard in Atlantic City, N.J., in 2008. Dib is aiming for a December defense at home in Australia, then would like to meet long-reigning titleholder Chris John of Indonesia in a unification fight.
Dan Rafael is the boxing writer for ESPN.com. Follow him on Twitter @danrafaelespn.
Boxing
2013 BWAA Nat Fleischer Award winner for excellence in boxing journalism
ESPN.com boxing writer since 2005
Five years at USA Today
SPONSORED HEADLINES
MORE BOXING HEADLINES
MOST SENT STORIES ON ESPN.COM
EDITORS' PICKS
Rios dominates Alvarado in their rubber match.
Dan Rafael »

Gilberto Ramirez wins decision over Maxim Vlasov.
Dan Rafael »

Alvarez-Kirkland bout tentatively set for May 2.
Dan Rafael »