Commentary
Bozella's relentlessness wins out again
Updated:
October 16, 2011, 4:08 AM ET
By
Cal Fussman
| Special to ESPN.com
If you want your dreams to come true, it has been said, the first thing you must do is wake up.
Dewey Bozella got a chance to live his dream Saturday night. He got a chance to step into the ring for a professional fight at the age of 52 after being wrongfully imprisoned for 26 years for a murder he didn't commit.
It was boxing that had given him the discipline to fight for his freedom at Sing Sing Correctional Facility. It was boxing that attracted the ESPYs to present him with the Arthur Ashe Award for Courage. It was light heavyweight champion Bernard Hopkins who saw Dewey's story and invited him into his training camp. And it was Oscar De La Hoya who helped get Dewey licensed, and Golden Boy promotions that got him a spot on the undercard of the championship card at the Staples Center in Los Angeles.
[+] Enlarge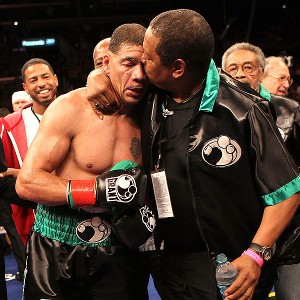 Stephen Dunn/Getty ImagesNot surprisingly, it seemed to be Dewey Bozella's will and determination that saw him through Saturday's fight -- his one and only professional bout.
Nobody was going to compare this fight to "The Thrilla In Manila." Dewey was paired with a cruiserweight named Larry Hopkins, who had lost all three of his previous fights and hadn't made it past the third round in any of them. But still, his opponent was two decades younger. And Dewey hadn't been the light heavyweight champion in Sing Sing for 20 years.
He'd had only had five weeks to get in shape. He hadn't even had a chance to break in his boxing shoes. Life was moving too fast. He got a wish-you-well phone call from President Obama in his hotel room and was left with his hand over his forehead, shaking in wonderment.
As he walked out of his dressing room to enter the ring, he thought, "This is it. This is what you wanted. Now you've got it."
And he did get it. Dewey got clipped with a wild, looping right hand over the left cheek in the first round, leaving an angry red welt. That was his first wake-up call.
The crowd was all for him. How could it not be? Dewey received standing ovations at the colleges where he spoke. And he had even received a standing ovation from boxing writers at a press conference earlier in the week. He threw jabs and, as Rounds 2 and 3 passed, tried to find an opponent who seemed content to bide his time and throw roundhouse punches.
It was the fourth round when Dewey fully awoke and realized that his dream was coming to a close. His opponent was the tired one. He saw an opening and went for it. "I gotta end this big," he thought.
It was the fourth round when Dewey fully awoke and realized that his dream was coming to a close. His opponent was the tired one. He saw an opening and went for it. "I gotta end this big," he thought.
As Dewey advanced and threw combinations, Hopkins' mouthpiece must have fallen out six times. It might have been a mouthpiece that didn't fit right, but a dropped mouthpiece is also the sign of somebody who doesn't want to fight. Dewey kept moving forward, pushing Hopkins against the ropes, firing punches. It was naked will and determination. It was what got him his freedom.
The fight ended with Hopkins' mouthpiece flying up in the air, and Dewey clobbering him with a right hand. The one thing that will be remembered about the fight is that Dewey kept on coming until the end.
The three judges all voted for Dewey. Max Kellerman of HBO did a congratulatory interview for the crowd. Junior welterweight champion Erik Morales was waiting on the way to the dressing room for a photo.
Dewey will now go on and inspire people with speeches. His foundation will help raise money so that he can build a gym and help kids in Newburgh, which one magazine recently called "The Murder Capital of New York."
Never give up -- that's the message Dewey wanted people to take from him, and it's the message that was taken.
Dewey Bozella retires undefeated.
Cal Fussman is a writer for Esquire Magazine.
EDITORS' PICKS
Provodnikov, Matthysse set to settle their differences.
Rankings »

Moonves, Roach and a restaurant waiter play key roles.
Dan Rafael »

Molina has a plan for Saturday: Test Broner's chin.
Brian Campbell »
MOST SENT STORIES ON ESPN.COM