Commentary
Narvaez refused to engage Donaire
Updated:
October 24, 2011, 1:59 PM ET
By
Dan Rafael
| ESPN.com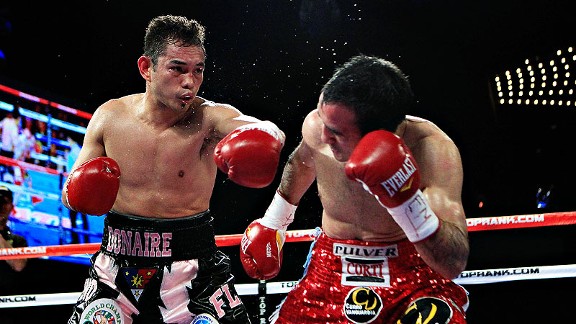 Chris Trotman/Getty ImagesOmar Narvaez, right, hardly threw any punches against Nonito Donaire on Saturday.
A roundup of the past week's notable boxing results from around the world:
Saturday at New York
Nonito Donaire W12 Omar Narvaez

Bantamweight
Retains unified bantamweight titles
Scores: 120-108 (three times)
Records: Donaire (27-1, 18 KOs); Narvaez (35-1-2, 19 KOs)

Rafael's remark: Zzzzzzzzzzzzzzzzzzzzzzzzzzzzzzz. This main event on HBO's "Boxing After Dark" was a huge disappointment, but not because of Donaire. He was in there trying to entertain the fans, trying to make it a real fight and even dropping his hands here and there and inviting Narvaez in to hit him to get things going. But Narvaez refused to engage, refused to fight and stunk out the Madison Square Garden Theater as what had been a very excited near-sellout crowd of 4,425 spent long stretches of the fight booing relentlessly. Donaire easily won every single round in a forgettable first defense that followed his brutal second-round knockout of Fernando Montiel to win a pair of 118-pound belts in February.

What was so disappointing was that Narvaez, 36, of Argentina, was not some hobo opponent. Although an underdog and smaller than Donaire, Narvaez, a southpaw, was a legitimate foe. He was a two-time Olympian and is a two-division titleholder. He had made 16 flyweight defenses during his 2002 to 2009 title reign (which ran simultaneously, in part, to Donaire's own flyweight title reign) and then moved up to junior bantamweight, where he holds a title. He moved up another weight class to challenge Donaire and instead made David Haye look like he laid it all on the line when he fought Wladimir Klitschko in July. Narvaez just did not fight the way he normally does. He was defensive from the beginning and it got way worse when he went into a permanent defensive shell in the fourth round, which is when Donaire staggered him with a right hand to the head. From then on, Narvaez wanted absolutely no part of Donaire and the goal was simply to survive without getting drilled. While Donaire landed 99 of 666 punches (15 percent), according to CompuBox, Narvaez's output was absolutely pathetic. He landed 74 of just 299 punches (25 percent). That means he threw only 25 punches per round when the bantamweight average is about 60 per round.

The whole miserable display was frustrating for everyone. The fans started to walk out of the arena well before the fight had ended. Donaire was disgusted with Narvaez's refusal to fight, even apologizing to the fans afterward -- even though it was not his fault. But Donaire knows he is a highly regarded pound-for-pound talent and wanted to continue living up to the lofty standard he has set with other tremendous performances. As bad as the fight was Donaire should at least look on the bright side -- he kept his title, won every round and handed a longtime undefeated titleholder his first loss.

The defense will be Donaire's only one of the bantamweight title. He is moving up to junior featherweight for his next fight in the first quarter of 2012 and Top Rank's Bob Arum has plenty of good fights he can offer Donaire, 28, a native of the Philippines who has lived in the Bay Area since he was a kid. At the top of the hit list are potential matches with 122-pound titleholders Jorge Arce of Mexico and Japan's Toshiaki Nishioka. Both have been discussed and both could happen in either order in the first half of next year.

Miguel Angel "Mikey" Garcia TKO4 Juan Carlos Martinez

Featherweight
Records: Garcia (27-0, 23 KOs); Martinez (19-13-1, 7 KOs)

Rafael's remark: Garcia is just 23, but he is ready now for a top opponent or even a title shot. If the Oxnard, Calif., is just little more patient he is going to get one, because he is with Top Rank and it promotes several quality fighters in the featherweight division. Garcia may turn out to be the best of them. He is so ultra poised and professional for a young guy and he has the talent to go with it.

Although his previous two bouts were on HBO, dominant knockout performances against previously undefeated Matt Remillard in March and the late Rafael Guzman in June, the network could not fit in Garcia's fight on this broadcast (other than some highlights) so he fought a bit of a lesser opponent. The result was as expected -- a blowout. Martinez, 29, of Mexico, had won two fights in a row coming into the bout, including an upset decision over former title challenger Bernabe Concepcion in his last fight in May upset. But he was no match for Garcia. Other than swelling his left eye with a punch in the first round, Martinez could do little else but eat Garcia's hard punches. Garcia scored a knockdown with a hard left hook just before the end of the third round. He continued to punish Martinez in the fourth round, landing a big overhand right than dropped Martinez to his rear end. Garcia could not miss with the right and dropped him again. Martinez was game and was able to continue, but Garcia did not let up and referee Harvey Dock called off the fight at 2 minutes, 46 seconds as Garcia was banging him around. Garcia is a lock to receive a title shot in 2012.



Saturday at Ludwigsburg, Germany
Marco Huck KO6 Rogelio Omar Rossi

Cruiserweight
Retains a cruiserweight title
Records: Huck (34-1, 25 KOs); Rossi (17-3-1, 11 KOs)

Rafael's remark: Huck's eighth title defense was one of his easiest as he powered through Argentina's Rossi in brutal fashion. Huck, 26, of Germany, was never in any trouble as he battered Rossi. He landed strong jabs that gave Rossi, 30, a bloody nose in the second round. Rossi's eyes were marked up by the third round during which he lost a point for hitting Huck low. Huck responded by dropping him to all fours with a right hand in the final 10 seconds of the round. After the bell rang to end the fourth round, Huck unnecessarily slammed Rossi with a left hook to the head to drop him. The blow was clearly after the bell and referee Paul Thomas did not rule a knockdown. Instead, he properly docked two points from Huck, even if it would not matter because he was beating the heck out of Rossi. Huck scored two more knockdowns in the fifth round, first on a left hand and later in the round on a body shot. Rossi was brave, but the end was obviously near and then it happened in the sixth round when Huck rocked him with an uppercut and then knocked him out cold with a crushing straight right hand. Rossi, out when he got hit, went down flat on his back and Thomas could have counted to 100. Rossi was down for several minutes before regaining his senses while Huck had an easy defense against an opponent whose resume showed nothing on it to show he deserved the title shot in the first place.



Friday at Mashantucket, Conn.
Edwin Rodriguez W10 Will Rosinsky

Light heavyweight
Scores: 100-90 (three times)
Records: Rodriguez (20-0, 14 KOs); Rosinsky (14-1, 8 KOs)

Rafael's remark: Although the three judges somehow managed to score every single round for Rodriguez for the clean shutout, this was one helluva competitive (and excellent) fight. The Showtime "ShoBox: The New Generation" main event was exactly what the show is supposed to be about -- good prospects being matched in competitive fights. Although Rodriguez, 26, of Worcester, Mass., did deserve the decision there's no way this was a shutout.

Rodriguez clearly won the first few rounds, but Rosinsky did some excellent work during the middle rounds, but obviously got zero credit from the judges. Showtime's announcers scored the fight a draw, and it could have been. Rosinsky, 26, of Ozone Park, N.Y., was in the fight all the way despite the crazy scores. He and Rodriguez were both top amateurs and were once roommates in the unpaid ranks. They did not let any sort of friendship get in the way of a good battle that was the exact opposite of the horrible opening fight between Gabriel Bracer and Daniel Sostre.

Rodriguez, a former two-time national amateur champion, tried to box from the outside while the shorter Rosinsky, also a former amateur national champ, pressured him throughout the fight that featured several hotly contested close rounds. The eight was one of those rounds. Rosinsky was winning it until Rodriguez badly stunned Rosinsky with a left hand near the end of the round and they finished in an exciting toe-to-toe exchange. This is a good win for Rodriguez, who has looked very good as he has worked his way up the ladder. Promoter Lou DiBella believes Rodriguez will get a title opportunity in 2012. And although Rosinsky, who didn't have nearly the national profile of Rodriguez, lost he showed a lot in defeat.

Gabriel Bracero W10 Daniel Sostre

Junior welterweight
Scores: 100-90 (twice), 99-91
Records: Bracero (18-0, 3 KOs); Sostre (11-5-1, 4 KOs)

Rafael's remark: Bracero, 30, of Brooklyn, N.Y., did not fight between 2002 and 2009 while in prison, but he won his 13th fight in a row since being released and returning to the ring. He is a skillful boxer, but as boring to watch as paint dry and carries virtually no punching power. Round after round, this was a redundant fight as Bracero simply outboxed Sostre, 27, of Highland, N.Y., in a sleep-inducing fight that could have cured even the worst case of insomnia. Sostre lost his second fight in a row and dropped to 0-2-1 in his last three. Why this was even on Showtime's "ShoBox: The New Generation" in the first place is hard to figure out.



Friday at Pharr, Texas
Fidel Maldonado Jr. W8 Eric Cruz

Lightweight
Scores: 77-74, 76-75 (twice)
Records: Maldonado Jr. (12-0, 10 KOs); Cruz (13-8-3, 13 KOs)

Rafael's remark: Maldonado, a 20-year-old southpaw from Albuquerque, N.M., knocked down Cruz, 24, of Puerto Rico, on a straight left hand 15 seconds into the fight on the first real punch of the bout. And that turned out to be the winning margin in the close bout that headlined Telefutura's "Solo Boxeo Tecate." Cruz went down to his backside and was up quickly and did not appear hurt. Rather than a quick end, it turned out to be a pretty good fight. Maldonado, a Golden Boy-promoted prospect who was facing by the far the best opponent of his career, was a bit more aggressive and seemed to tire some in the second half of the fight, but Cruz could not take advantage.



Friday at Bangkok
Pongsaklek Wonjongkam W12 Edgar Sosa

Flyweight
Retains a flyweight title
Scores: 117-110 (twice), 116-111.
Records: Wonjongkam (82-3-1, 43 KOs); Sosa (43-7, 26 KOs)

Rafael's remark: Wonjongkam, 34, the Thai hero and longtime flyweight titleholder, scored one of the biggest wins of his career in turning back mandatory challenger (and former longtime junior flyweight titlist) Sosa, 32, of Mexico. Wonjongkam, who has only one loss since 1996, is likely going to the International Boxing Hall of Fame, with this being one of his signature victories. He made 17 defenses of a flyweight belt during a 2001 to 2007 reign. He reclaimed that belt in 2010 and now has made three defenses. He and Sosa turned in a pretty good fight, but one that Wonjongkam was clearly leading from the outset. With the terrible WBC open scoring system being used, Wonjongkam, who countered Sosa with ease, worked the body well and landed many combinations, knew he was comfortably ahead after the fourth (40-36 twice and 39-37) and the eighth round (80-72, 79-73 twice). Sosa, who had predicted a knockdown, did pick up the pace in the final few rounds to draw slightly closer, but Wonjongkam was in command. In the ninth round, an accidental head clash opened a small cut over Sosa's eye. Under another stupid WBC rule, in the event of a cut being caused by an accidental head butt the uncut fighter loses a point, so referee Massimo Barrovecchio docked Wonjongkam, although it did not make a difference in the final score.
Dan Rafael is the boxing writer for ESPN.com. Follow him on Twitter @danrafaelespn.
Boxing
2013 BWAA Nat Fleischer Award winner for excellence in boxing journalism
ESPN.com boxing writer since 2005
Five years at USA Today
SPONSORED HEADLINES
MORE BOXING HEADLINES
MOST SENT STORIES ON ESPN.COM