Commentary
Calderon did just enough to get the win
Updated:
October 31, 2011, 11:39 AM ET
By
Dan Rafael
| ESPN.com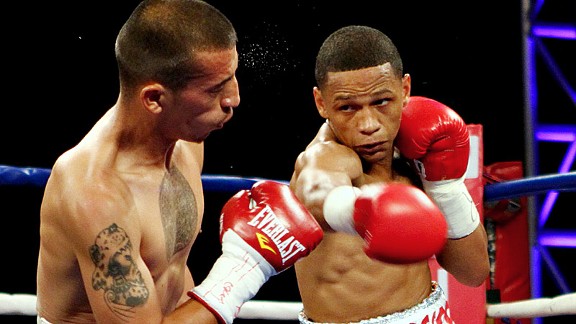 Jose Perez/PR Best Boxing PromotionsIvan Calderon, right, did just enough to notch his first victory in 16 months.
A roundup of the past week's notable boxing results from around the world:
Saturday at Hermosillo, Mexico
Hernan "Tyson" Marquez TKO1 Luis Concepcion

Flyweight
Retains a flyweight title
Records: Marquez (32-2, 25 KOs), Concepcion (23-3, 18 KOs)

Rafael's remark: In April, Marquez and Concepcion waged a fantastic slugfest that is a clear fight of the year candidate. It was a sensational fight in which both men were down before Marquez finally stopped Concepcion in the 11th round to win a 112-pound belt in Panama, Concepcion's home country. Meeting again in a rematch that hardcore fans were really pumped up for -- it is a shame there was no U.S. television for either fight, but do yourself a favor and check them out on YouTube -- Marquez, 23, made the second defense of his belt and did it this time on his home turf in Mexico. And it was over quickly. In the first fight, he and Concepcion, 26, were both knocked down. In the rematch, it was only Concepcion who hit the deck. Three times. In the first round. Marquez was dominant in a stunningly violent and efficient performance that seemed to show that the first battle took way more out of Concepcion than it did Marquez, who won his fifth fight in a row since a forgivable eighth-round knockout loss to Nonito Donaire in an interim junior bantamweight title bout in July 2010.

The fight began like the first one did, with Marquez and Concepcion swinging for the fences. They were slugging away for the first half of the round. But then Marquez landed a left hand to the head that dropped Concepcion, who popped right back but was never the same. Moments later, they were in close again and the punches were flying from both guys. But Marquez's shots were a little straighter and not as wild. He landed a right hand on the jaw and Concepcion went down for the second time. Almost as soon as the fight resumed, Marquez landed a powerful left hook to the jaw and Concepcion crumpled to his backside, and referee Rafael Ramos immediately waved it off with 58 seconds left in the round. Marquez celebrated wildly, and who could blame him? There's obviously no need now for a trilogy.



Saturday at Thackerville, Okla.
Vanes Martirosyan W10 Richard Gutierrez

Junior middleweight
Scores: 100-90 (twice), 99-91
Records: Martirosyan (31-0, 19 KOs); Gutierrez (26-8-1, 16 KOs)

Rafael's remark: This was easy work for Martirosyan, but that was no surprise. We know he can beat guys like Gutierrez, a faded former welterweight contender, all day long. The question for the 25-year-old 2004 U.S. Olympian is can he beat the top junior middleweights? We are all still waiting for the answer. Martirosyan has called out basically every contender and titleholder in the 154-pound division, but when offered a career-high purse of about $200,000 to fight Alfredo "Perro" Angulo on HBO on Nov. 5 in Cancun, he turned it down. That is Martirosyan's prerogative, of course, and he said he was going through managerial issues, but eventually he is going to have to fight a top guy or he needs to keep his mouth shut.

Instead of facing Angulo in a title eliminator, Top Rank, which would have liked for him to take the Angulo fight, put Martirosyan, of Glendale, Calif., in the main event of "Top Rank Live." He easily handled Gutierrez, 33, a native of Colombia living in Miami, who lost his fourth consecutive fight and dropped to 2-7-1 in his last 10. His only two wins during the slump came against novice opponents who were winless. Gutierrez was game, as always, but he could not deal with Martirosyan's superior speed and movement. Martirosyan also displayed a good jab but threw numerous accurate combinations to pile up the points in a fight that was not competitive. Gutierrez was understandably discouraged by his inability to land more than a few clean shots. Martirosyan won't fight again this year, but he should be ready to roll for some sort of notable fight in early 2012, be it a title shot or a high-profile TV fight against a name opponent.

Casey Ramos W8 Joselito Collado

Junior lightweight
Scores: 78-74 (twice), 77
Records: Ramos (15-0, 4 KOs); Collado (12-1, 3 KOs)

Rafael's remark: Ramos, 22, of Austin, Texas, and Collado, 29, of Queens, N.Y., were supposed to meet in July in the opening bout of a "ShoBox: The New Generation" card on Showtime, but Collado got sick the week of the fight and withdrew. Ramos went on to defeat another opponent but Top Rank, which promotes Ramos, and Main Events, which handles Collado, still wanted to make the match. So that is what they did in the "Top Rank Live" opener, which turned out to be a terrific, fan-friendly fight. It looked like Collado might make it an early night when he scored a solid third-round knockdown, but Ramos was undaunted. Maybe it woke him up a bit, because from there he went on to outslug Collado in a grinding, physical battle of attrition. Both guys deserve a lot of credit for showing heart and not backing down while getting tagged with clean shots. Neither of them are big punchers, but Ramos seemed to consistently land the more stinging punches as he scored the most notable victory of his career. When the fight was over they both showed the damage of getting hit. Ramos' right eye was a swollen mess and cut and Collado's left eye was nearly closed.



Saturday at Guaynabo, Puerto Rico
Ivan "Iron Boy" Calderon W10 Felipe Rivas

Strawweight
Scores: 97-93, 96-94 Calderon, 96-94 Rivas
Records: Calderon (35-2-1, 6 KOs); Rivas (11-9-1, 5 KOs)

Rafael's remark: From the time Calderon turned pro in 2001 (after representing Puerto Rico in the 2000 Olympics) until 2007, he was untouchable and became the No. 1 strawweight in the world and a regular in the pound-for-pound top 10. The southpaw won a title 2003 and made 11 defenses, rarely losing a round. Then he moved up to junior flyweight and won another belt in 2007, defending it six times and solidifying a likely spot in the International Boxing Hall of Fame.

But then he ran into fellow titleholder Giovani Segura in August 2010 and got knocked out in the eighth round in their unification bout, which was one of the best fights of the year. Then Calderon, known for his superb defense, got knocked out in the third round in the immediate rematch in April. Six months after the loss, Calderon, now 36 and a step slower, returned to action and also returned to the strawweight division he had once dominated. He was supposed to fight former strawweight titlist Raul Garcia for a vacant interim title in the main event of a pay-per-view card being put on in conjunction with the annual WBO convention. However, Garcia withdrew because of an injury and Mexico's Rivas, 27, took the bout, downgraded to a 10-round regional title match, on short notice.

Maybe Calderon lost a little edge when the opponent changed and the stakes were lowered, but he struggled a bit to the split-decision victory. There was a time when Calderon never lost rounds. Those days are gone, even if he countered enough and made Rivas miss enough to win the decision. Rivas, who suffered a cut over his right eye, lost his third fight in a row.

Wilfredo Vazquez Jr. KO3 Roberto Leyva

Featherweight
Records: Vazquez Jr. (21-1-1, 18 KOs); Leyva (27-15-1, 21 KOs)

Rafael's remark: In May, Vazquez, 27, of Puerto Rico, was the favorite to retain his junior featherweight belt for the third time on the Manny Pacquiao-Shane Mosley pay-per-view undercard when Jorge Arce pulled the upset and stopped him in 12th round of what had been an excellent fight. Fighting for the first time since the defeat, Vazquez was matched very, very softly. Leyva, who was not even announced as the opponent until a couple of days beforehand, held a strawweight belt in 2001 and 2002 but has been getting beat up regularly since. Vazquez, the bigger man, had no problem dispatching Leyva, knocking him out with a right hand at 2 minutes, 59 seconds of the third round. Leyva, 32, who has lost six consecutive fights and is 1-9 in his last 10, (fortunately) announced his retirement after the bout. Let's see if he sticks to it. As for Vazquez, he figures to be right back in the title hunt in 2012, possibly in a rematch with Arce. He has also been mentioned as a possible opponent for bantamweight champ Nonito Donaire, who is moving up to junior featherweight for his next fight in early 2012.



Saturday at Colima, Mexico
Takalani Ndlovu W12 Giovanni Caro

Junior featherweight
Retains a junior featherweight title
Scores: 114-113 Ndlovu, 114-113 Caro
Records: Ndlovu (33-6, 18 KOs); Caro (22-10-4, 17 KOs)

Rafael's remark: After losing title bouts to Steve Molitor in 2007 and 2010, Ndlovu got another shot in March and made the most of it, dethroning Molitor via unanimous decision to claim a 122-pound belt. Making his first defense, Ndlovu, 33, of South Africa, went on the road to Caro's home country of Mexico for what many figured would be a routine victory against a less-than-stellar opponent. But Ndlovu found himself in some early trouble when Caro, who put up a spirited effort throughout, scored a first-round knockdown. Ndlovu, however, was not badly hurt and boxed his way to the split decision. Caro, 27, lost his second consecutive fight following a nine-fight winning streak.



Friday at Atlantic City, N.J.
Brandon Gonzales W8 Ossie Duran

Middleweight
Scores: 77-75 (twice) Gonzales, 78-74 Duran
Records: Gonzales (15-0-1, 10 KOs); Duran (26-9-2, 10 KOs)

Rafael's remark: Gonzales, 27, of Sacramento, is nicknamed "Flawless," but he was far from that and lucky to escape with a split-decision victory against Duran in the main event of Showtime's "ShoBox: The New Generation." Gonzales, fighting for the first time in 10 months, is best known for inflicting the cut to stablemate Andre Ward's eye, which caused the Super Six World Boxing Classic final between super middleweight titleholders Ward and Carl Froch to be postponed from Oct. 29 to Dec. 17.

Gonzales got a lot of attention going into this fight, but he underwhelmed in a major way against durable tough guy Duran, 34, a native of Ghana living in Paterson, N.J., saw his three-fight winning streak come to an end. It was a highly competitive and entertaining fight. Gonzalez got off to a strong start, but Duran was very steady throughout the fight, including opening a cut over Gonzales' left eye in the third round. Duran doesn't usually throw a lot of punches, and he didn't in this fight either, but he seemed to get the slight better of the action. Many thought he had won the fight, including Showtime analyst Steve Farhood. Showtime expert commentator Antonio Tarver had the fight a draw. Gonzales did not appear to deserve the win. Even if you thought he did, he certainly did not live up to the hype he had been getting. This was the case (as is usually happens in boxing) of the younger, undefeated house fighter (in other words, the guy with a future) getting the benefit of the doubt against an older journeyman opponent with no real future as anything other than as an opponent.

Artemio Reyes W8 Javier Molina

Welterweight
Scores: 78-74 (twice), 77-75
Records: Reyes (14-1, 11 KOs); Molina (9-1, 4 KOs)

Rafael's remark: Going into this fight, Molina's handlers were concerned. The 21-year-old 2008 U.S. Olympian from Norwalk, Calif., was taking a step up in competition and his people were unsure whether he could handle it. It turned out that he couldn't, although he showed grit and determination as he and Reyes, 25, of Colton, Calif., threw down in a terrific action battle that was the epitome of the kind of fight that makes Showtime's "ShoBox: The New Generation" the ultimate proving ground for prospects. Molina was quicker and a better boxer, and he was doing his thing in the early going. But Reyes continuously applied tremendous pressure, eventually forcing Molina into the kind of dog fight that would work against him. Molina is not a big puncher -- his career has been slowed at times because of hand problems -- and had very little to keep Reyes off him. In the end, it was Reyes -- who fights while his father remains in a coma following a 2008 car accident -- using constant pressure and heavier punches to carry the day in the memorable scrap.



Friday at Salinas, Calif.
Eloy Perez TKO6 Ira Terry

Junior lightweight
Records: Perez (23-0-2, 7 KOs); Terry (24-7, 14 KOs)

Rafael's remark: Fighting in front of his hometown crowd and headlining on Telefutura's "Solo Boxeo Tecate," Perez, 25, rolled to the expected victory against Terry, who has become a go-to opponent. Perez, who is on the verge of a 130-pound title opportunity, just had way too much for Terry, a 24-year-old from Memphis who lost his fifth consecutive fight by knockout inside six rounds. It was not really a matter of whether Perez would win, it was more like how many rounds would it take him to get rid of Terry.

Terry started off pretty well actually, but from the second round until the end of the fight it was all Perez. He hurt Terry in the third round and continued to do so. But Terry was game and did just enough to keep referee Dan Stell from stopping the bout. However, it would not last. Perez rocked him in the sixth and was landing with ease while Terry was unable to get anything of consequence off in return when Stell jumped in to stop the fight at 1 minute, 22 seconds. Terry was not badly hurt, but it was very evident that he had no chance to win, so this was a good stoppage. Even though Perez is not considered a big puncher, he scored his second consecutive knockout.



Friday at Cagliari, Italy
Moruti Mthalane TKO7 Andrea Sarritzu

Flyweight
Retains a flyweight title
Records: Mthalane (28-2, 19 KOs); Sarritzu (32-5-4, 12 KOs)

Rafael's remark: Mthalane, 29, of South Africa, had only fought once previously outside of his home nation and that did not go well. He challenged then-flyweight titlist Nonito Donaire in Las Vegas in 2008 and was stopped on cuts in the sixth round. This time things went much better for him as he traveled to Sarritzu's home country for the third defense of the vacant 112-pound belt he won by outpointing Julio Cesar Miranda in November 2009. Mthalane took a few rounds to get going as he and Sarritzu felt each other out. Eventually, Mthalane picked up the pace and began landing combinations in the third and fourth rounds. In the seventh round, Mthalane had Sarritzu in trouble when Sarritzu's corner threw in the towel as referee Wayne Kelly was jumping in to stop the bout. Sarritzu, 35, a former European flyweight champion, dropped to 0-2-1 in world title bouts, each of which took place in Italy. He lost a split decision in December 2002 to Omar Narvaez and then drew with him in immediate rematch in August 2003.
Dan Rafael is the boxing writer for ESPN.com. Follow him on Twitter @danrafaelespn.
Boxing
2013 BWAA Nat Fleischer Award winner for excellence in boxing journalism
ESPN.com boxing writer since 2005
Five years at USA Today
SPONSORED HEADLINES
MORE BOXING HEADLINES
MOST SENT STORIES ON ESPN.COM
EDITORS' PICKS
Boxer Rubin "Hurricane" Carter died Sunday at 76.
Story »

Bernard Hopkins keeps defeating Father Time.
Kieran Mulvaney »

Hopkins unifies light heavyweight titles at age 49.
Dan Rafael »