Commentary
Chavez Jr. shines in win over Manfredo
Updated:
November 21, 2011, 4:23 PM ET
By
Dan Rafael
| ESPN.com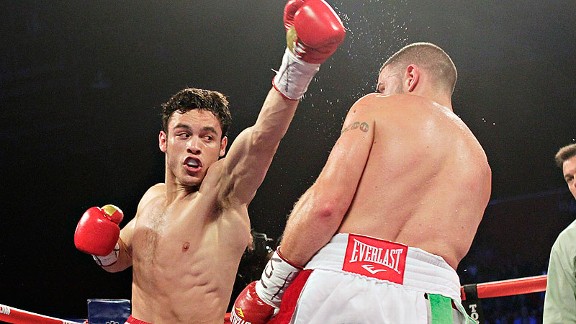 Bob Levey/Getty Images
A roundup of the past week's notable boxing results from around the world:
Saturday at Houston
Julio Cesar Chavez Jr. TKO5 Peter Manfredo Jr.

Middleweight
Retains a middleweight title
Records: Chavez Jr. (44-0-1, 31 KOs); Manfredo Jr. (37-7, 20 KOs)

Rafael's remark: However good (or not so good) it turns out that Chavez is, he makes fun fights, and this was an example. The son of the legendary Mexican icon -- Julio Cesar Chavez Sr., who was ringside -- joined his Hall of Fame father by winning a belt in June when he outpointed Sebastian Zbik. It was a paper title, to be sure, one that rightfully belongs to legitimate champion Sergio Martinez, who was stripped by two alphabet organizations. But Chavez's fans don't seem to care. Whatever you think of his title, at least Chavez, 25, entertains when he gets into the ring. Manfredo, a native of Providence, R.I., who turns 31 on Saturday, does the same thing.

While Chavez was born with the silver spoon in his mouth, Manfredo is as blue-collar as it gets. A laborer by day, Manfredo got his big boxing break in the first season of "The Contender" reality series, which he parlayed into a title shot against then-super middleweight champion Joe Calzaghe in 2007. Manfredo was stopped in the third round and has had his ups and downs since, but he put together a six-fight winning streak since a knockout loss to Sakio Bika in 2008 to get the shot at Chavez in his first defense on HBO's "Boxing After Dark." Manfredo, a considerable underdog, looked a bit smaller and had less zip on his punches. Chavez boxed a little more than he normally does -- perhaps that is something trainer Freddie Roach has been working on with him -- and built up a clear lead in the first few rounds.

By the third round, Manfredo's right eye was beginning to swell as Chavez landed several solid right hands. In an action-packed fourth round, Chavez was banging Manfredo around before the challenger mounted a comeback to land his own shots and bloody Chavez's nose. But in the fifth round, Chavez staggered Manfredo with a clean right hand and sent him reeling. Instead of taking a knee or trying to hold, Manfredo's heart got the better of him and he tried to fight his way out, but Chavez continued to throw punches. Although he was not landing much cleanly, Chavez was emptying his tank and landing just enough with Manfredo not throwing enough back to cause referee Laurence Cole to jump in and stop it at 1 minute, 52 seconds. Was Manfredo losing? Yes. Might he have gone down? Yes. But there have been better stoppages. Many of Chavez's shots were missing and Manfredo was not out of it and was attempting to hold just as the fight was being stopped. If anything, Cole is inconsistent. He let Antonio Margarito take a monstrous beating from Manny Pacquiao for 12 one-sided rounds a year ago, and now all of a sudden he jumps in to stop this fight at the first sign of trouble?

Stoppage aside, all in all, this was a good performance from Chavez. Martinez was ringside, but do not count on Top Rank making that fight. Bob Arum and his staff know Chavez is not in that league, at least not yet. Chavez could potentially wind up facing the winner of the Dec. 3 Miguel Cotto-Antonio Margarito rematch, which would be massive to the Mexican public. There is also the much-talked-about possible showdown with fellow Mexican star and junior middleweight titlist Saul "Canelo" Alvarez, who defends his title on Saturday. Eventually, Chavez figures to be in a big fight. Manfredo said before the fight that a loss would probably mean the end of his career. And after the fight, even though Manfredo was not happy with Cole's stoppage, he announced his retirement. "Obviously, I thought the fight should have continued," he said. "It did not, so that was it, my last time in the ring. I now have to go out there and get a real job."

Joshua Clottey TKO2 Calvin Green

Junior middleweight
Records: Clottey (36-4, 21 KOs); Green (21-7-1, 13 KOs)

Rafael's remark: Former welterweight titlist Clottey, 34, a native of Ghana living in New York, was fighting for the first time since a miserable near-shutout decision loss challenging titleholder Manny Pacquiao at Cowboys Stadium in March 2010. Clottey was supposed to face Green in March on the Miguel Cotto-Ricardo Mayorga undercard, but Clottey withdrew the week of the fight when he tripped in a pothole while doing roadwork and suffered ankle and wrist injuries. Now healthy, Clottey, who ended a two-fight losing streak (to Pacquiao and Cotto), ripped through Green with ease.

He looked strong and ended matters when he landed a flush left hook on Green's jaw and dropped him in the second round. Green went down face-first and struggled to his feet, but was wobbly and out of it and in no condition to continue as referee Gary Simon called it off at 1 minute, 56 seconds. Green, 33, of Baytown, Texas, lost his third in a row by knockout (earlier, to Alfonso Gomez and former junior middleweight titlist Sergio Mora) and for the fourth time by knockout in his last five fights. Clottey hopes to stay busy and work his way into another significant fight, and Top Rank would like that too.

Marcus Johnson W6 Billy Bailey

Light heavyweight
Scores: 60-53 (twice), 60-52
Records: Johnson (21-1, 15 KOs); Bailey (11-13, 4 KOs)

Rafael's remark: Johnson, 26, was fighting in front of his hometown fans and rolled to a victory as he dished out a beating to Bailey, who takes a great shot. Johnson, who is promoted by Lou DiBella and got a spot on the show because DiBella also promotes main event participant Peter Manfredo Jr., was a standout amateur and once was one of the top prospects in boxing. But inactivity, a failed drug test and a decision loss to Dyah Davis in April knocked a lot of luster off of him. For his first fight since the defeat, Johnson seemed to take it all out on Bailey, who took a massive amount of punishment but did not go down. Johnson attacked Bailey's body and teed off with hard shots from both hands throughout the fight, even knocking Bailey's mouthpiece out multiple times. Johnson needed rounds and he got them, getting multiple 10-8 rounds from the judges even without any knockdowns. Bailey, 33, of Bakersfield, Calif., is incredibly durable but dropped to 1-8 in his last nine fights. He has been stopped only once in his career.



Saturday at Johannesburg, South Africa
Michael Grant KO12 Francois Botha

Heavyweight
Records: Grant (48-4, 36 KOs); Botha (48-6-3, 29 KOs)

Rafael's remark: If you feel like you are in a time warp with this match, it is understandable. It would have been a significant fight between top contenders in the late 1990s. More than a decade later, these guys are still plugging along and, believe it or not, they made an entertaining fight (at least in the second half of the bout) in the headline match of a card that was available on American pay-per-view. Grant, 39, of Blue Bell, Pa., has not been a serious factor since he was blown away in two rounds by then-champion Lennox Lewis in 2000. Botha, 43, of South Africa, was also blown away in two rounds in Lewis' next fight in 2000.

After careers of ups and downs, they met for as fringe a belt as there is in boxing, and Botha looked like he was well on his way to victory. He had dominated the fight and landed numerous clean shots on Grant's tender chin. Frankly, it was a surprise to see Grant still standing in the 12th round given how bad his chin has been. But then again, Botha is not known as a big puncher. But after Botha rocked Grant multiple times in the fight, including in the seventh and 11th rounds, Grant rallied in the 12th round, finally dropping Botha late in the final round. Botha came to rest with his body half under the ring ropes on the apron and half inside the ring and it was a shocker as referee Ingo Barrabas counted him out with 37 seconds left in the fight to give Grant the improbable and dramatic victory.

Grant has won two fights in a row since his loss to Tomasz Adamek in August 2010. Botha has now dropped two of his past three fights (including by eighth-round knockout to Evander Holyfield in April 2010). Delusionally, Grant called out the Klitschko brothers after the fight.

There were two notable undercard fights. Former junior lightweight titlist Malcolm Klassen (25-5-2, 15 KOs), 29, of South Africa outpointed Mexico's Daniel Lomeli (21-3, 11 KOs), 26, winning 118-110, 117-111 and 115-113. Klassen was fighting for the first time since coming to the United States and losing his belt to Robert Guerrero by clear decision in August 2009. Also, former lightweight contender Ali Funeka (31-3-3, 25 KOs), 33, of South Africa, now fighting at junior welterweight, scored an 11th-round knockdown and won a split decision against countryman Zolani Marali (21-5, 13 KOs), 34, on scores of 116-112 and 115-111 while the third judge had it 115-112 for Marali. Funeka was fighting for the first time since a split decision loss to Joan Guzman in March 2010, after which Funeka was suspended and fined by the Nevada State Athletic Commission for testing positive for a banned substance, the diuretic hydrochlorothiazide.



Saturday at Sydney, Australia
Billy Dib KO1 Alberto Servidei

Featherweight
Retains a featherweight title
Records: Dib (33-1, 20 KOs); Servidei (31-1-2, 7 KOs)

Rafael's remark: Australia's Dib, 26, claimed a vacant title -- which had been stripped from Yuriorkis Gamboa -- via unanimous decision against Jorge Lacierva in July and was making his first defense against Servidei, 36, who was fighting outside of his native Italy for the first time. Dib has typically made for fights so bad that American networks have refused to buy his bouts. Last summer, for example, HBO declined to buy a vacant title bout between Dib and young Top Rank fighter Miguel Angel "Mikey" Garcia for the vacant belt, and Garcia declined a shot at a title in order to fight on HBO instead. However, Dib needed only 2 minutes, 38 seconds to get rid of Servidei, a southpaw with a great record built on feasting on nobodies in his home country. Dib blew Servidei out, softening him up with a series of right hands along the ropes and then connecting with a right hand to the head that sent Servidei down to his knees on a delayed reaction, even though referee Pete Podgorski somehow did not rule it a knockdown. Knockdown or not, the fight was over moments later. Dib hammered Servidei along the ropes with clean shots from both hands and dropped him with a digging left to the ribs. Servidei went to down to his rear end in the corner and, leaning against the corner post, shook his head and took the full count from Podgorski to put an end to the mismatch.



Saturday at Los Mochis
Victor Terrazas W12 Fernando Montiel

Junior featherweight
Scores: 115-113, 115-112, 114-113
Records: Terrazas (32-2-1, 18 KOs); Montiel (46-4-2, 36 KOs)

Rafael's remark: Many will consider this an upset, but it is only a mild one. Montiel, the former unified bantamweight titlist, had moved up in weight after being knocked out by Nonito Donaire in the second round in February and had won two in a row in the new division as he moved toward another title opportunity. But he has probably seen better days. Terrazas, 28, of Mexico, is a good fighter, even though in his biggest fight, he traveled to England and was knocked out in the ninth round by Rendall Munroe in a title eliminator in April 2010. Terrazas, however, rebounded nicely, and has now won seven fights in a row. He took it too Montiel, 32, of Mexico, dropping him with a right hand in the fifth round, cutting him over both eyes during the middle rounds of the fight and applying pressure throughout the confrontation. Montiel's face was showing the wear from a tough fight, and the fact that the scores were as close as they were could be attributable to the fact that they fought in Montiel's hometown.



Saturday at Acapulco, Mexico
Hugo Cazares KO7 Adan Garcia

Bantamweight
Records: Cazares (36-7-2, 26 KOs); Garcia (17-6-1, 12 KOs)

Rafael's remark: On Aug. 31, Mexico's Cazares, 33, traveled to Japan to defend his junior bantamweight title for his fifth defense and lost a split decision to hometown fighter Tomonobu Shimizu. Now it was time for Cazares to return. He did not take on the most difficult opponent in Garcia, 21, of Mexico, who replaced Jhunriel Ramonal on short notice. Cazares dropped Garcia in the fourth round and again in the seventh before the fight was called off at 1 minute, 41 seconds of the seventh round. Garcia dropped to 2-2 in his last four bouts and has been knocked out in both defeats.



Friday at Santo Domingo, Dominican Republic
Joan Guzman KO1 Florencio Castellano

Junior welterweight
Records: Guzman (31-0-1, 18 KOs); Castellano (17-5, 13 KOs)

Rafael's remark: Guzman is one of the biggest disappointments in recent boxing history. So talented, so good, but so undisciplined that he has wasted his best days despite still being undefeated. Multiple times he has failed to make the contract weight, including more than once screwing up major televised cards. In his last fight 11 months ago, Guzman, 35, a native of the Dominican Republic who lives in New York, not only failed to make weight (by 3 pounds!) for a fight against Jason Davis in Las Vegas, but his second-round knockout victory was changed to a no contest because he tested positive for a banned substance a diuretic, which is often used to assist in weight loss. Guzman was suspended for eight months and it cost him a possible title opportunity. It was also the last straw for Golden Boy, which released him from his promotional contract. Returning to the ring in front of a friendly crowd (and fighting live on ESPN Deportes), Guzman, who weighed in just below the junior welterweight limit of 140 pounds, wiped out Castellano, 31, of Colombia, who has now been knocked out inside four rounds in two of his last three fights. It was easy work for Guzman, who toyed with Castellano until landing a beautiful lead right uppercut that knocked Castellano flat on his back for the full 10-count from referee Roberto Ramirez. If Guzman can regularly make weight and fight with a purpose, he probably can land another meaningful opportunity, but doing it this one time is not enough to turn anyone into a believer just yet.

Argenis Mendez TKO2 Alex Perez

Junior lightweight
Records: Mendez (19-2, 10 KOs); Perez (23-43-4, 18 KOs)

Rafael's remark: On Sept. 10, Mendez, 25, a New York-based Dominican Republic native, traveled to Mexico to challenge hometown fighter Juan Carlos Salgado for a vacant junior lightweight title and came away with a controversial decision loss. In his first fight since, Mendez returned in front of his crowd to score the easiest of blowout wins. Mendez was supposed to face Samir Torres of Colombia, but he dropped out and was replaced on short notice by Miami-based Cuban Perez, a 39-year-old who is the journeyman of journeymen. He simply cannot fight; he lost his 18th fight in a row. How this utter garbage could be approved anywhere on the planet is shocking. Perez put up almost no fight whatsoever as Mendez worked with him in the first round. In the second round, Mendez dropped him to a knee with a flush left hand to the face. During the follow-up attack, Mendez was abusing Perez with shot after shot until the referee stepped in to end the utter mismatch. Mendez got an easy comeback fight. Now, it would be nice to see him step back up into a title fight, ideally a rematch with Salgado, although none of us should hold our breath waiting for that.



Friday at London
Enzo Maccarinelli TKO1 Gyorgy Marosi

Light heavyweight
Records: Maccarinelli (33-5, 26 KOs); Marosi (12-1, 8 KOs)

Rafael's remark: Former cruiserweight titlist Maccarinelli, 31, of Wales, is a terrific puncher, but has no chin to speak of. He has been stopped in all five of his losses, usually in very violent fashion. In September 2010, he suffered one of the most gruesome knockouts you will ever see when Alexander Frenkel put him to sleep in horrible fashion in a European title bout. Maccarinelli thought about retirement and had a long layoff, but elected to return as a light heavyweight. Making his debut in the weight class, he was matched with Marosi, 34, who was fighting for the first time outside of his native Hungary or Slovakia. The fight was a waste of time because referee Jeff Hinds ruined it. Maccarinelli landed some nice shots as he forced Marosi into the ropes with a big left hand. Then Maccarinelli landed a left and a right as Marosi staggered back into the ropes. But the fight had barely started and Marosi did not go down or look to be in very serious trouble. Yet Hinds jumped in and stopped the fight after 1 minute, 31 seconds. It was just an absolutely horrible stoppage. He should refund every fan's ticket money. It's professional boxing. Guys are going to get hit. Maybe Hinds thought he was at the ballet?



Friday at Mexico City
Cosme Rivera W12 Antonio Pitalua

Junior welterweight
Scores: 119-109 (twice), 117-111
Records: Rivera (34-14-3, 24 KOs); Pitalua (52-6-1, 46 KOs)

Rafael's remark: In 1999, Pitalua won a unanimous 10-round decision against Rivera. More than decade later, the veteran former title challengers met again on Sept. 9 and battled to a split draw. It did not take another decade for them to meet in a third fight. Instead, they met in an immediate rematch of the draw in the headline fight on Telemundo and put on an entertaining rumble. Mexico's Rivera, 35, a former welterweight title challenger, evened the rivalry 1-1-1 with a hard-fought decision against Pitalua, 41, a native of Colombia living in Mexico and former two-time lightweight title challenger. Maybe we will see a fourth fight? Regardless, the third fight had plenty of action. Rivera, however, was landing good shots on Pitalua (what was with that hairdo?). Rivera raised swelling around Pitalua's left eye in the fourth round and had him bleeding from the nose by the seventh round. Although there was good action, it was clear by the later rounds that this was Rivera's fight to lose. Pitalua mounted a late-rounds rally when he had Rivera backing up in the 10th round and eating some shots, but it was too little, too late.



Friday at San Juan, Puerto Rico
Eddie Gomez TKO5 Antonio Infante

Junior middleweight
Records: Gomez (7-0, 6 KOs); Infante (6-2, 4 KOs)

Rafael's remark: Gomez, a Bronx, N.Y.-based Puerto Rican who was a standout amateur, is just 19 and looks like a nice prospect. In the nominal main event of Telefutura's "Solo Boxeo Tecate," Gomez took Infante apart, showing poise and power. Gomez was in control all the way (although he was warned for a clear low blow in the second round). In the fifth round, Gomez staggered Infante, 33, of Miami, with a right uppercut, and that might as well have been the end of the fight. Infante tried to hang in there, but Gomez did not let up. He took his time and landed several hard shots as Infante was in retreat. Finally, Gomez landed another cracking right uppercut that knocked Infante's head back, and referee Roberto Ramirez Jr. intervened at 2 minutes, 17 seconds. Infante lost his second fight in a row by knockout.
Dan Rafael is the boxing writer for ESPN.com. Follow him on Twitter @danrafaelespn.
Boxing
2013 BWAA Nat Fleischer Award winner for excellence in boxing journalism
ESPN.com boxing writer since 2005
Five years at USA Today
SPONSORED HEADLINES
MORE BOXING HEADLINES
MOST SENT STORIES ON ESPN.COM