Mayweather measures up with greats
Floyd Mayweather Jr. can make a statistical case for being boxing's best ever
Updated:
May 3, 2012, 2:31 PM ET
By
Igor Guryashkin
| Special to ESPN.com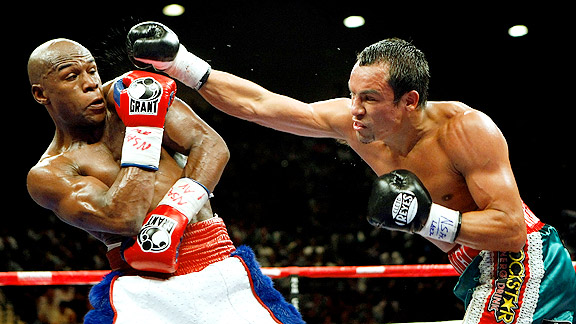 Ethan Miller/Getty ImagesFloyd Mayweather Jr. reigns supreme in the hit-and-don't-get-hit game.
"Hit and don't get hit," goes the old adage in boxing. And from a statistical perspective, at least, it seems no one is better at living up to that credo than Floyd Mayweather Jr.
According to Bob Canobbio, owner and founder of CompuBox -- a computerized scoring system that counts every punch a boxer throws and lands -- Mayweather's average connect rate of 46 percent, compiled during his past nine fights (a "prime" designated by CompuBox), ranks as the best among current active fighters.
Power In Numbers
Baseball has Bill James and the Oakland A's Beane counters. The NBA has its Sloan Conference. Even the NFL, often seemingly stuck in a "Mad Men" time warp, is starting to answer the siren song of statistical analysis.
But boxing? Turns out the sweet science isn't so scientific after all.
Our hope is to change that, or at least to get fight fans talking and thinking about how even basic statistics can help reveal truths about the sport we love.
Skeptical? You should be. Boxing stats have been virtually ignored, in so much as they exist at all. Whereas baseball has batting averages and ERAs (and now WHIPs and OPSs) -- treasured artifacts that also spark cogent, data-driven debate -- boxing has win-loss records, knockouts and ... little else.
But maybe we can help nudge the sport, and its fans, toward a state of statistical bliss. We don't expect the numbers we cite to prove anything more than a meticulously considered pound-for-pound list would. Any numbers geek will tell you stats are reductive, not predictive -- ghosts of performances past, not heralds of things to come.
Bottom line: Our little endeavor in analytics is meant to start the conversation, not end it. If you disagree with our findings, let us know. Just keep an open mind and your slide rule handy.
By how much? Well, fellow pound-for-pound greats such as Sergio Martinez and Miguel Cotto (both 34 percent during their primes) just don't hold up. And Nonito Donaire, it seems, isn't as flashy as his "Filipino Flash" nickname suggests, averaging only 29 percent. Mayweather's only competition in the accuracy stakes is super middleweight champion Andre Ward, at 38 percent.
More impressive than Mayweather's own connect percentage is that of Floyd's opponents against him. They land a mere 16 percent of punches thrown, the lowest collective figure recorded in CompuBox's 4,000-fight database.
While most of boxing's cognoscenti debate who should be crowned pound-for-pound king, few would question Mayweather's dominance as the era's best defensive fighter. That's an important distinction. Because although all fighters hit as often as they're physically able, the best boxers connect often and avoid being hit too frequently.
Given that, what can we surmise about Mayweather's station using the CompuBox data? Subtract the average connect percentage of Mayweather's opponents from Mayweather's own hit rate during that designated prime, and the numbers reveal an enormous chasm between Floyd and today's other top fighters.
With a plus/minus connect percentage rating of plus-30 percent, Mayweather is at least twice as effective in the hit-and-don't-get-hit game as any of his contemporaries. Ward, who ranks fifth in Dan Rafael's March pound-for-pound rankings, is next best behind Mayweather with a plus-15 percent differential. And the rest of boxing's elite -- Donaire (plus-7 percent), Martinez (plus-3 percent) and Vitali Klitschko (plus-13 percent) -- don't remotely compare.
In fact, Mayweather's plus-30 rating at welterweight (seven fights, all of them spanning his designated nine-fight prime) measures up as the best of his career. After having dominated at junior welterweight (plus-28), lightweight (plus-22) and junior lightweight (plus-23) during a period that often makes up a fighter's athletic prime, Mayweather, at age 35, seems to be at the peak of his powers.
Mayweather versus Pacquiao
After welterweight champ Manny Pacquiao's lackluster performance against Juan Manuel Marquez, Mayweather seemed to re-emerge as the popular favorite in the Manny-"Money" fantasy bout, should it ever take place. But how does this era's greatest pure boxer stack up statistically against the era's greatest brawler?
Assuming it happens (and that's still quite a reach), there is little doubt that the fight would take place at welterweight. The bad news for Pacquiao: Mayweather is more accurate at this weight than he has been at any other stage of his career. Mayweather has logged a grand total of 68 rounds as a welter, against some of the toughest opponents he has faced in his career, including Zab Judah, Shane Mosley, Juan Manuel Marquez, Ricky Hatton and, most recently, Victor Ortiz.
How 'Money' stacks up
A comparison of Floyd Mayweather Jr. to his current contemporaries in the plus/minus category -- the difference between a fighter's connect rate and that of his opponents.
| Fighter | +/- | Prime |
| --- | --- | --- |
| F. Mayweather | +30 | 9 fights |
| A. Ward | +15 | 7 fights |
| V. Klitschko | +13 | 8 fights |
| Y. Gamboa | +12 | 6 fights |
| M. Pacquiao | +11 | 7 fights |
| T. Bradley | +8 | 6 fights |
| N. Donaire | +7 | 7 fights |
Mayweather beat all comers by throwing 20 fewer punches per round (38.6) than the weight class average of 58.4. Yet despite the relatively low output, Mayweather landed only two fewer punches per round (17.5) than the weight class average of 19.1. Those numbers attest to a fighter who rarely misses, indeed one of the most efficient punchers alive.
So how does Pacquiao compare? The numbers are undeniably impressive. His 21.8 punches connected per round is greater than Mayweather's. But with Pacquiao, the numbers also illuminate his most glaring weakness, one he shares with countless other warriors of the ring: He gets hit a lot.
Measured against Mayweather's plus-30 rating at 147 pounds, Pacquiao's plus/minus is puny (plus-4.7). Manny throws his jab twice as often as Mayweather, but he connects with that punch only 12.3 percent of the time, compared with Mayweather's 41.6 percent jab connect rate.
More telling is the comparison of power punching. Pacquiao's connect rate on power punches is an astronomical 45.3 percent, only slightly below that of Mayweather, who lands at 47.8 percent. But opponents land 33.6 percent of their punches on PacMan. Pretty Boy's foes? They touch him up at roughly half that rate (18.6 percent).
Perhaps this explains why Juan Manuel Marquez had so much success against Pacquiao, while Mayweather recorded a one-sided rout against JMM. Most likely, it was only Pacquiao's industry and granite chin that saved the day in his three wars with Marquez.
Greatest of all time?
Statistically speaking, Mayweather clearly reigns supreme over his contemporaries. But he also stacks up very well against history's pugilistic pantheon.
CompuBox stats suggest Mayweather sits high atop a pile of fighters whose numbers were measured during their designated primes, tabulated using ringside figures and fight films. In a plus/minus comparison, greats such as Marvin Hagler (plus-17 percent) and Sugar Ray Leonard (plus-13 percent) don't come close. Roberto Duran (plus-8 percent), Thomas Hearns (plus-6 percent) and Muhammad Ali (plus-4 percent) fall short, too.
Only heavyweight great Joe Louis, at plus-26 percent, approached Mayweather's peak. And the one area, at least for this particular analysis, in which Mayweather had competition was connect percentage, where Louis and fellow former heavyweight champ Lennox Lewis edged him by 2 percent.
The name on the lips of most who might dispute Mayweather's claim as boxing's GOAT is Sugar Ray Robinson. There is almost unanimous agreement among experts that Robinson's reign at welterweight represented boxing skill at its purest, perhaps not bettered since. Unfortunately, no film footage exists of his exploits at that weight, and we are left to rely only on written accounts of his brilliance.
Full disclosure: The CompuBox statistics for Robinson are sampled from his below-peak middleweight years (although he is also widely considered the greatest middleweight of all time). The absence of comprehensive (and in some cases, any) data from bygone eras is an inherent drawback in any historical statistical analysis, but the numbers we have, combined with anecdotal evidence, give us the foundation to start a Robinson-versus-Mayweather discussion.
Calculating "greatness" by the numbers might be an impossible task. But for the purposes of this analysis, and taking into account that age-old boxing axiom, we may have to concede that Mayweather is every bit as good as he claims to be: the greatest ever.
SPONSORED HEADLINES
MORE BOXING HEADLINES
MOST SENT STORIES ON ESPN.COM