Commentary
Sosa survived; rallied for a victory
Updated:
April 9, 2012, 4:35 PM ET
By
Dan Rafael
| ESPN.com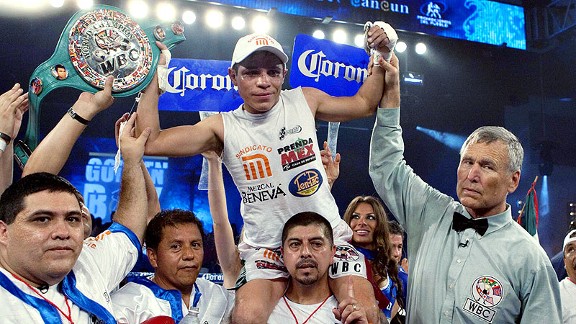 Roberto Fernandez/Mexsport Edgar Sosa survived a knockdown in the first round to win the opportunity to go for the flyweight title
A roundup of the past week's notable boxing results from around the world:
Saturday at Cancun, Mexico
Edgar Sosa W12 Wilbert Uicab
Flyweight
Title eliminator
Scores: 114-111 (three times)
Records: Sosa (45-7, 27 KOs); Uicab (33-7-1, 18 KOs)
Rafael's remarks: What a nice surprise as this battle of little men turned out to be an unexpectedly wild and physical fight filled with action. Sosa, 32, of Mexico, had been a longtime junior flyweight titleholder. In October, he got a mandatory shot at flyweight titlist Pongsaklek Wonjongkam and went to Thailand, where he lost a clear decision. Sosa rebounded with a victory in January to set himself up for this eliminator, which he also won, paving the way for another mandatory shot, this time against Sonny Boy Jaro, who dethroned Wonjongkam in a sixth-round knockout in March in a massive upset.
Sosa, however, did not look like he would make it out of the first round against Uicab, 28, of Mexico, who was fighting in his hometown. Uicab dropped Sosa with a clean left hook in the opening round and had him in deep trouble. But Sosa survived and rallied for the victory, which did not come easily. In the fourth round, referee Jay Nady docked a point from Uicab when he lifted Sosa up and threw him down to the mat when they got tangled up. It was a scene reminiscent of what happened in the Bernard Hopkins-Chad Dawson fight in October. The difference was that Sosa was able to continue. He dropped Uicab in the sixth round, by which time Sosa had established control in the close fight, which was televised live in the United States on a three-hour Fox Deportes show. Uicab dropped his second 12-round decision in a row.
Humberto Soto W10 Claudinei Lacerda
Junior welterweight
Scores: 100-90 (three times)
Records: Soto (58-7-2, 34 KOs); Lacerda (14-3, 10 KOs)
Rafael's remarks: Last week, Golden Boy Promotions watched as lightweight Jorge Linares got stopped by Sergio Thompson in the second round of what was supposed to be an easy tune-up fight and blew a money rematch with titlist Antonio DeMarco, which had already been set for July 7 on Showtime.
For the second week in a row, Golden Boy was in the same precarious position, this time with Soto, a former junior lightweight and lightweight titlist. Soto, 31, of Mexico, entered the fight already set to face Argentine slugger Lucas Matthysse on Showtime on June 23 on the undercard of the Victor Ortiz-Andre Berto welterweight rematch. But that fight was originally supposed to take place on Feb. 11 but was postponed until June 23 because Berto suffered a biceps injury during his training camp. Soto, however, did not want to sit and wait until June and insisted on a fight so he could stay sharp.
Needless to say that after what happened with Linares, Golden Boy (and Showtime) were a bit nervous. But Soto did not pull a Linares, and Lacerda could not duplicate Thompson's shocker. Instead, Soto rolled to the shutout decision. He outboxed and outpunched Lacerda with ease. He never had a single moment of concern against Lacerda, who continually backed up and could never get any offense going. The victory for Soto appeared to be a formality after just a few rounds. The biggest thing was for him to make sure that he could make it out of the fight without hurting his hand, suffering a cut or getting any kind of freak injury. He seemed to come out of the fight unscathed and should be ready for the fight with Matthysse, which shapes up, on paper at least, as one of the best action fights of the summer. Facing his first notable opponent, Lacerda, 31, of Brazil, was outclassed in losing for the second time in his last three bouts.
Saturday at Anaheim, Calif.
Ronny Rios W8 Guillermo Sanchez
Junior lightweight
Scores: 80-72 (twice), 79-73.
Records: Rios (18-0, 8 KOs); Sanchez (13-6-1, 5 KOs)
Rafael's remarks: Rios, 22, of Santa Ana, Calif., is a Golden Boy Promotions prospect who continues to develop fight in and fight out, including in this decent little scrap with Sanchez. Rios, a former United States amateur champion, clearly was the winner in a fight that featured plenty of back and forth action in the main event of Telefutura's "Solo Boxeo Tecate." Rios won the inside battle with Sanchez, 23, a native Puerto Rico living in Buffalo, N.Y., and beat him to the punch throughout the fight. Rios landed good body punches and also enough upstairs to sweep virtually every round from his southpaw opponent. The biggest difference for the shorter Rios was that his punches were quicker and straighter than the slower, wider shots from Sanchez, which added up to the decisive victory. Sanchez lost his fourth fight in a row and dropped to 2-6 in his last eight, including a second-round knockout loss to Adrien Broner (who went on to win a junior lightweight world title) and an eight-round decision to longtime fringe contender Edner Cherry.
Saturday at Southaven, Miss.
James Toney TKO5 Bobby Gunn
Heavyweight
Records: Toney (74-7-3, 45 KOs); Gunn (21-5-1, 18 KOs)
Rafael's remarks: Toney, 43, a former middleweight, super middleweight and cruiserweight champion, has been fighting as a heavyweight for years. In November, after weighing 257 pounds for his previous bout, Toney dropped all the way down to 199 pounds for an interim cruiserweight title bout in Russia against Denis Lebedev. Toney got destroyed. Lebedev brutally beat him from pillar to post for 12 utterly lopsided rounds in a fight that should have been stopped multiple times. With his speech very obviously slurred and even worse than it has been in recent years, Toney, who has financial problems, nonetheless signed for another fight and Mississippi sadly licensed him.
So Toney, of Los Angeles, was back up to 248 pounds to take on Gunn (who was a career-heavy 210 pounds). Gunn is a 38-year-old club fighter from Hackensack, N.J., whose previous bout was a fourth-round knockout loss to Tomasz Adamek in a 2009 cruiserweight title fight, although he had appeared in bare-knuckles fights since. Even a totally shot Toney, still with delusions of challenging one of the Klitschko brothers, was still good enough to defeat Gunn, who was losing when he said he broke a hand in the fourth round and then retired on his stool with the injury following the fifth round. The sad part is that Toney will undoubtedly think the victory means something and attempt to keep fighting. Can't you just see it now? Toney in a rematch with Roy Jones Jr. Somebody somewhere probably would license that mess.
Friday at Tokyo
Takahiro Ao W12 Terdsak Jandaeng
Junior lightweight
Retains a junior lightweight title
Scores: 118-110, 116-112 (twice)
Records: Ao (23-2-1, 10 KOs); Jandaeng (46-4-1, 31 KOs)
Rafael's remarks: Japan's Ao, celebrated his 28th birthday in winning fashion as he made his third title defense against fellow southpaw Jandaeng, 30, of Thailand. Jandaeng had not lost since dropping a decision in a featherweight title bout to American Steven Luevano in March 2008, going 17-0-1 during that busy stretch. For Ao, it was a good bounce back performance after he was heavily criticized for a very questionable split decision win in Japan against Devis Boschiero of Italy in November. Ao opened a cut over Jandaeng's left eye with an accidental head clash in the second round. With the WBC's woeful open scoring system in place, the crowd knew the fast-paced fight was 38-38 on all three scorecards after four rounds. With Ao playing the boxer role to Jandaeng's brawler, he was able to outjab the challenger.
The scorecards reflected it after eight rounds, when the scores were announced again with Ao ahead on two of them, 78-74, 77-75 and 76-76. Ao's work rate over the final four rounds sealed the deal for him. He was landing many punches in the final few rounds as Jandaeng slowed down but did not go down. Ideally, Ao would finally meet fellow titlist and Japanese countryman Takashi Uchiyama in a 130-pound unification fight. But forget about it. They fight on different television networks in Japan and that is a major issue, the same way it would be in the United States if one fighter was exclusively on HBO and the other on Showtime.
Shinsuke Yamanaka W12 Vic Darchinyan
Bantamweight
Retains a bantamweight title
Scores: 117-111, 116-112 (twice)
Records: Yamanaka (16-0-2, 11 KOs); Darchinyan (37-5-1, 27 KOs)
Rafael's remarks: Yamanaka, 29, of Japan, claimed a vacant belt (one of the titles given up by Nonito Donaire when he moved up in weight) in November when he stopped Christian Esquivel in the 11th round, also in Tokyo. He was making his first defense against Darchinyan, 36, of Australia by way of Armenia, who has a big name but has clearly been on the downslide.
Darchinyan, a longtime staple on Showtime, was a beast as a flyweight and junior bantamweight champion but he has not been able to hack it at the top of the bantamweight division as he dropped to 2-3 in his last five bouts, including losses in two bantamweight title bouts in a row after losing a totally one-sided decision to Anselmo Moreno in December. Darchinyan is now 0-3 in bantamweight title fights. This one was not that lopsided as the Moreno fight, but Yamanaka clearly was the better man in a battle of southpaws.
As usual, Darchinyan tried to pressure and attack early hoping to land one of his bombs. He was in the fight early. Because the fight used the WBC's hideous open scoring system, the scores were announces after the fourth round, 38-38 (twice) and 39-37 for Darchinyan. But Yamanaka eventually settled into a nice rhythm of outjabbing the wild-swinging Darchinyan, who, of course, complained afterward that Yamanaka did not stand and trade with him. Why would anybody do that? Just move a little bit laterally and stuff a jab in his face and Darchinyan has no chance because he is too one dimensional. Darchinyan suffered a bad cut over his right eye in the fifth round, which was examined by the ringside doctor and again in the sixth. After the eighth round, when the scores were revealed again, Yamanaka was in the lead, 78-74 and 77-75 (twice). Darchinyan was following him around at this point and Yamanaka nearly dropped Darchinyan in the 11th round. Yamanaka seems to have a bright future. Darchinyan? Not so much.
Hozumi Hasegawa TKO7 Felipe Carlos Felix
Featherweight
Records: Hasegawa (30-4, 13 KOs); Felix (18-1, 10 KOs)
Rafael's remarks: Hasegawa, 31, of Japan, was a long-reigning bantamweight titlist before winning a vacant featherweight belt via decision against Juan Carlos Burgos in November 2010. But Hasegawa, a southpaw, lost the belt in his first defense when Jhonny Gonzalez of Mexico went to Japan and knocked him out in the fourth round in last April. Fighting for the first time since, Hasegawa returned from the year layoff to notch a victory over Felix, 30, of Mexico. Hasegawa, who suffered a cut from a head butt in the fifth round, had his way with Felix, who managed to land a few decent right hands but not much else. In the seventh round, Hasegawa really asserted himself. Felix was bleeding from the nose as Hasegawa dropped him to his backside with a hail of punches. Felix barely beat the count but there was still a little more than a minute for him to last to make it out of the round. Hasegawa went on the attack again and was landing shots even though Felix was able to stay on his feet and throw a couple of weak punches back. But when Hasegawa caught him on the ropes with a clean head-snapping left, the referee stepped in at 2 minutes, 28 seconds. Hasegawa could again be a factor in the featherweight division.
Thursday at Brno, Czech Republic
Lukas Konecny KO7 Salim Larbi
Junior middleweight
Wins a vacant interim junior middleweight title
Records: Konecny (48-3, 23 KOs); Larbi (17-2-1, 4 KOs)
Rafael's remarks: Konecny, 33, who was fighting at home in the Czech Republic, faced Larbi and stopped him in the seventh round of a fight that featured a good deal of action. Konecny pressured Larbi from the outset. But in the third round Larbi came back as they produced a terrific round. Konecny was pounding away on him early, basically walking right to Larbi and throwing punches. But midway through the round Larbi began to hammer Konecny to the body and also connected with a series of head shots. Konecny fought back and the toe-to-toe battle was on, although Konecny emerged from the round with a bloody cut near the bridge of his nose. By the seventh round, Konecny was back in control and digging shots to Larbi's body and backing him up when he nailed him with a right hand to the body. Larbi collapsed to the canvas, the crowd went wild and referee Andre Van Grootenbruel counted him out on his knees at 2 minutes, 42 seconds.
Konecny won his 12th fight in a row since losing a majority decision challenging then-titlist Sergiy Dzinziruk in April 2008, who was stripped of the title late last year for no real reason. That made interim titlist Zauerbek Baysangurov the WBO's full titlist and then it created yet another pointless interim title because Baysangurov had to delay a mandatory fight against Konecny. Why Larbi, 24, of France, was in a world title bout is anyone's guess. He has zero resume to speak of.
Wednesday at Myakinino, Russia
Denis Lebedev KO2 Shawn Cox
Cruiserweight
Retains an interim cruiserweight title
Records: Lebedev (24-1, 18 KOs); Cox (16-2, 15 KOs)
Rafael's remarks: Lebedev, 32, of Russia, is one of the top cruiserweights in the world but continued his recent trend of feasting on guys with no chance to win. Since a split decision loss in a world title fight against Marco Huck in December 2010, a fight many thought Lebedev won, he has won three in a row but against nobody with a pulse. He knocked the shot Roy Jones Jr. cold in the 10th round, dished out a scary 12-round beating to the equally shot James Toney and then put away the obscure Cox with ease.
Lebedev won the first round and had Cox on the defensive in the second round. Lebedev was landing clean shots, albeit one at a time, but they were doing damage. Finally, he cracked Cox with a wide-open left hand. It sent Cox down to his backside against the ropes, where he tried to beat the count but was counted out by referee Giuseppe Quartarone with 20 seconds left in the round.
Lebedev's blowout should come as much of a surprise. Cox, 37, of Barbados, had never faced a quality opponent. The most notable name on his resume was in his previous fight, a first-round knockout of former titlist Wayne Braithwaite in February. But Braithwaite had not fought in two years and is about eight years past his best. Lebedev is the WBA's second-tier titleholder as Guillermo Jones holds the regular belt. They should be forced to fight each other and end the ridiculous scam of there being two active titlists in the same division with an organization's title.
Dan Rafael is the boxing writer for ESPN.com. Follow him on Twitter @danrafaelespn.
Boxing
2013 BWAA Nat Fleischer Award winner for excellence in boxing journalism
ESPN.com boxing writer since 2005
Five years at USA Today
SPONSORED HEADLINES
MORE BOXING HEADLINES
MOST SENT STORIES ON ESPN.COM