Viloria gets revenge against Nino
Updated:
May 14, 2012, 5:17 PM ET
By
Dan Rafael
| ESPN.com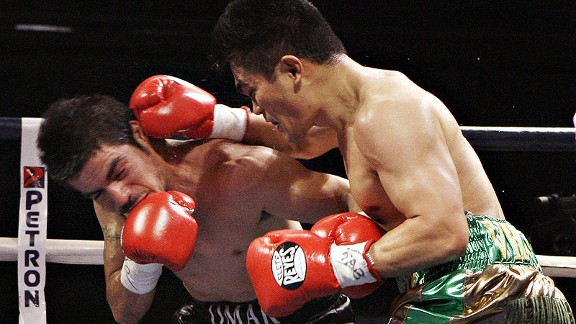 AP Photo/Aaron FavilaBrian Viloria, right, got his revenge by knocking out Omar Nino in nine rounds Saturday.
A roundup of the past week's notable boxing results from around the world:
Saturday at Pasig City, Philippines
Brian Viloria TKO9 Omar Nino
Flyweight
Retains a flyweight title
Records: Viloria (31-3 18 KOs); Nino (31-5-2, 13 KOs)
Rafael's remarks: Viloria, 31, a Filipino American from Hawaii who has been fighting regularly in the Philippines, waited almost six years to exact revenge on Nino and finally was able to get it in a strong knockout performance in the second defense of his 112-pound title. Viloria, a 2000 U.S. Olympian, and Nino were supposed to meet March 31, but the fight was postponed because of a long overdue fine that Nino owed to the Nevada State Athletic Commission. The WBO, which sanctioned the title fight, refused to do so until Nino squared up with the commission. Nino owed the money to Nevada from a fine he incurred in 2006. That is when he and Viloria fought twice in Las Vegas in junior flyweight title bouts.
Nino, 36, of Mexico, won a clear decision in the first meeting to take Viloria's 108-pound belt in what was Viloria's first career loss. They met in an immediate rematch three months later. Viloria had been lethargic and barely threw any punches in the first fight. In the second fight, Viloria fought much better, but he was saddled with a draw in a fight many thought he won. Nonetheless, Nino kept the title -- briefly. After the fight, he tested positive for a banned substance. He was stripped of the title, the result was overturned to a no-decision, and Nino was suspended and fined by the NSAC. That fine of $11,250 is what had caused the third fight with Viloria to be postponed until it was cleared up.
So Viloria waited an extra couple of months, and it was worth it for him. Viloria looked very good in winning his fifth consecutive fight since suffering a 12th-round knockout and losing a junior flyweight title to Carlos Tamara in January 2010. Viloria's punches had snap on them, and he rocked Nino repeatedly, including with a left hand in the fourth round. He landed the same punch to hurt Nino again in the fifth round, a round in which referee Michael Ortega docked a point from Nino for a low blow. Viloria was cruising when the fight suddenly came to an end. Viloria staggered Nino with a right hand and followed up with a brutal attack that caused Ortega to intervene and call off the fight at 2 minutes, 7 seconds, just as Nino's corner seemed to be throwing in the towel to have the fight stopped. Nino, who had lost a junior flyweight belt in a major upset to Gilberto Keb Baas in November 2010, had won a return fight to set up the third fight with Viloria. Nino had not been knocked out since 2004, so for Viloria to not only exact revenge on his rival but to do it by stoppage had to be very sweet.
Viloria has been fighting as well as he has in many years. At this point, Showtime or HBO really needs to look hard at helping to finance a fan-friendly fight between him and fellow flyweight titleholder Hernan "Tyson" Marquez or power-punching junior flyweight titlist Roman Gonzalez.
Rodel Mayol W10 Julio Cesar Miranda
Junior bantamweight
Scores: 100-87, 99-90, 97-91
Records: Mayol (31-5-2, 22 KOs); Miranda (37-7-1, 29 KOs)
Rafael's remarks: On paper, this was a solid match between two former titleholders looking to get back to the top. It turned out to be a crowd-pleasing, albeit one-sided fight. Mayol, 30, a native of the Philippines now living in Los Angeles, surprisingly dominated Miranda. A former junior flyweight titlist who lost his belt to main event loser Omar Nino by unanimous decision in June 2010, Mayol scored three knockdowns and won by virtual shutout even though Miranda, 31, of Mexico, gave it everything he had.
Miranda had lost his flyweight belt to main event winner Brian Viloria via unanimous decision in Viloria's native Hawaii in July but had won two fights in a row before running into Mayol.
Simply put, Mayol, who spent time in Manny Pacquiao's training camp in the Philippines while Pacquiao prepared for his June 9 fight with Timothy Bradley Jr., outfought Miranda, who tried to press the action but ultimately paid for it. In the first round, Mayol floored Miranda with a left hand to the chin. He hurt Miranda worse in the second round, hammering him with a flurry of punches before dropping him again with a pair of flush left uppercuts. Miranda went down to his knees but got up quickly, even though he was clearly shaken. The third knockdown came in the fifth round when Mayol sent Miranda into the ropes with a right hand to the belly and followed with several more shots, including a right hand that dropped him again seconds later. Mayol connected with many more hard shots throughout the bout, but Miranda was able to stay on his feet while throwing back as best as he could to make it a pleasing fight.
Given his connections to Pacquiao and a strong performance, Mayol figures to get another title opportunity, most likely at flyweight, where a previously canceled shot against Hernan "Tyson" Marquez, called off over a disagreement about the weight, could be rescheduled.
Saturday at Brovari, Ukraine
Gennady Golovkin TKO3 Makoto Fuchigami
Middleweight
Retains a middleweight title
Records: Golovkin (23-0, 20 KOs); Fuchigami (19-7, 10 KOs)
Rafael's remarks: Golovkin, 30, was a star amateur and 2004 Olympic silver medalist for Kazakhstan, and make no mistake, he would give any middleweight in the world a tough fight, including lineal champion Sergio Martinez.
Making the fourth defense of his paper belt, Golovkin dispatched the overmatched, undeserving Fuchigami, 28, a southpaw from Japan, with violent ease. Golovkin opened a cut over Fuchigami's right eye in the first round. In the second round, Golovkin dropped him with a short right hand. And in the third round, Golovkin put him down again with a huge right hand-left hook combination that forced Fuchigami to crumple in the corner. He made it to his feet, but Golovkin was all over him and referee Jose Ignacio Martinez stopped the mismatch seconds later at 1 minute, 17 seconds.
Although Fuchigami was a joke of a title challenger, Golovkin had a chance to show off his considerable offensive skills in a performance that should make fight fans want to see more of him. Epix bought the U.S. rights to the bout and could show it on a delayed basis. It has interest in future Golovkin bouts. He is promoted by the Klitschko brothers' K2 Promotions, which hopes to have him fight in the United States in the near future. But Golovkin's biggest fight is in Germany, where he lives. He is the mandatory challenger for titleholder Felix Sturm -- one of those absurd cases where the filthy WBA crowns multiple titleholders in one division -- but it remains to be seen if Sturm will dare step into the ring with him. The bout has been mandated to take place by Sept. 30.
Fighting outside Japan for the first time, Fuchigami's nine-bout winning streak came to an end.
Zaurbek Baysangurov W12 Michel Soro
Junior middleweight
Retains a junior middleweight title
Scores: 117-111, 116-111, 115-112
Records: Baysangurov (27-1, 20 KOs); Soro (18-1, 11 KOs)
Rafael's remarks: Baysangurov, 27, of Russia, waltzed into a world title after winning an interim belt against a D-level opponent and being elevated after Sergiy Dzinziruk was stripped. Baysangurov, whose only loss was a fifth-round knockout by Cornelius "K9" Bundrage -- who later won a version of the junior middleweight title -- in 2008, got quite a test in his first defense from the unknown Soro, 22, who was fighting outside his native France for the first time. Soro put on a good performance against Baysangurov, who came away with the victory after surviving some harrowing moments and wearing Soro down in the later rounds. Out of nowhere, Soro dropped Baysangurov in the second round with a straight left hand followed by a grazing right. Baysangurov was clearly hurt and wobbling from the shot when the fight resumed, but Soro was unable to put him away. Baysangurov recuperated and got back into what was an excellent action fight. They had plenty of toe-to-toe exchanges, especially in the fourth round. Baysangurov set a tremendous pace, and Soro had trouble hanging with him later in the fight. While Baysangurov seemed to be getting stronger, Soro was fading, and Baysangurov took advantage. Baysangurov had a huge 10th round as he landed numerous hard body shots -- a good weapon for him throughout the fight -- and some stinging left hooks. He had Soro holding on for dear life as the round came to an end. Near the end of the 11th round, Baysangurov rocked Soro with a left hand. Soro had the opening to pull the upset in the second round but let the moment escape.
Saturday at Woodland, Calif.
Vicente Escobedo W10 Juan Ruiz
Junior lightweight
Scores: 100-90 (twice), 99-91
Records: Escobedo (26-3, 15 KOs); Ruiz (23-10, 7 KOs)
Rafael's remarks: This was what it was supposed to be: easy work for Escobedo with another major fight on the horizon. Fighting in his hometown for the second consecutive bout, Escobedo, 30, outclassed Ruiz, 33. It is hard to understand why Ruiz would be approved to be in a televised main event on Telefutura's "Solo Boxeo Tecate" as he fell to 1-8 in his past nine fights. He should not be in a main event on television with that kind of horrible recent record. It was no surprise that Escobedo, who won his fourth fight in a row since a wide decision loss to Robert Guerrero in a November 2010 lightweight fight, dominated.
Ruiz was game, came forward and tried but did not have nearly enough ability to hang with Escobedo, a 2004 U.S. Olympian, who jabbed him throughout the fight, moved just enough to throw him off and landed some solid right hands. With the victory safely tucked away, Escobedo can move on to the fight that has been his target all along -- a July 21 shot on HBO against junior lightweight titleholder Adrien Broner in Broner's hometown of Cincinnati. Broner was supposed to have what amounted to a tuneup against Gary Sykes on May 19 on the Lamont Peterson-Amir Khan II HBO undercard, but the card was canceled because of Peterson's positive random drug test, so Broner (23-0, 19 KOs) will move right into the title defense against Escobedo, who is a solid contender in the weak 130-pound division but will be a prohibitive underdog against Broner.
Friday at Las Vegas
Willie Nelson W10 Yudel Jhonson
Junior middleweight
Scores: 97-92 (twice), 95-94
Records: Nelson (18-1-1, 11 KOs); Jhonson (12-1, 8 KOs)
Rafael's remarks: This was a superb win - and an unexpected one - for Nelson, who showed a lot to survive a huge knockdown and rally for the victory. The last time that Nelson, 25, of Cleveland, was on Showtime's "ShoBox: The New Generation" was in April 2011, and he suffered three knockdowns in an eight-round majority decision loss in an upset to Vincent Arroyo in an undercard fight. Nelson rebounded with one victory and then returned to "ShoBox" in the headline fight, this time as the underdog to Jhonson, 30, a 2004 Olympic silver medalist from Cuba who defected and now lives in Miami.
With his amateur pedigree and place on the powerhouse Cuban national team, Jhonson was supposed to win this fight, make no mistake about it, but Nelson did a good job. He got out to a nice lead and survived some rocky moments. In the second round, the 6-foot-4 Nelson, who towered over the 5-10 southpaw Jhonson, was rocked by a left hand. Nelson rebounded by landing a clean right hand that sent Jhonson down for the first time in his career. In the fourth round, Jhonson landed a sensational left hand to the jaw that dropped Nelson hard along the ropes. Surprisingly, Nelson, who was badly shaken up, survived the final 30 seconds of the round. Jhonson was gunning for the knockout and ripping Nelson with shots, but he also pushed Nelson down to the canvas. Referee Robert Byrd warned Jhonson for the infraction, which helped Nelson -- who was working with new trainer Jack Loew, moving on with his career after parting ways with former middleweight champion Kelly Pavlik -- get a few seconds of rest that he needed to survive the round. From there, Nelson was able to keep his composure and avoid any more big left hands.
Badou Jack W8 Alexander Brand
Super middleweight
Scores: 77-75 (twice) Jack, 77-75 Brand
Records: Jack (11-0, 8 KOs); Brand (17-1, 15 KOs)
Rafael's remarks: At 28, Jack is a little older than your normal prospect with just 11 fights, but he has ability. Nicknamed "The Ripper," Jack was born in Sweden, lives in Las Vegas and, in 2008, was the first boxer to make the Olympics for the African country of Gambia, where his father was born. Jack turned pro in 2009 and fought four times but fought only once in 2010 because he was relocating to the United States and changing his team.
Although Jack defeated Brand, 35, of Colombia, it was not easy, and honestly, he did not look very good in the opening bout of the "ShoBox: The New Generation" card on Showtime. Mainly, however, it was because of Brand's extremely unorthodox, winging, scattershot, messy style. Jack's co-promoters, Lou DiBella and Leon Margules and their matchmakers, did not do Jack any favors by matching him with Brand, who will make anybody look bad. Jack was clearly the harder puncher, but Brand moved all night against him and threw punches from crazy angles that made it tough for Jack to get into a groove. When Brand stopped moving long enough to engage, they did have some nice exchanges. Brand was at his best in the first half of the fight and he gave Jack a good run for his money, but he was not consistent enough with his offensive output to take enough rounds.
Perhaps the most memorable moment from an otherwise forgettable bout came in the eighth round when Brand's protective cup came undone and fell through his trunks, prompting referee Tony Weeks to call a timeout as trainer Pablo Sarmiento had to get into the ring to put it back into place. After that, Jack and Brand finished the fight with its best action as they both went eight rounds for the first time in their careers. Ideally, the next time Jack is in a televised bout, his promoters and matchmakers put him in with somebody who won't stink him out.
Dan Rafael is the boxing writer for ESPN.com. Follow him on Twitter @danrafaelespn.
Boxing
2013 BWAA Nat Fleischer Award winner for excellence in boxing journalism
ESPN.com boxing writer since 2005
Five years at USA Today
EDITORS' PICKS
Thurman excited about headlining first PBC show.
Brian Campbell »

Provodnikov, Matthysse set to settle their differences.
Rankings »

Moonves, Roach and a restaurant waiter play key roles.
Dan Rafael »
MOST SENT STORIES ON ESPN.COM