Magdaleno siblings shoot at stardom
Updated:
August 6, 2012, 11:14 AM ET
By
Dan Rafael
| ESPN.com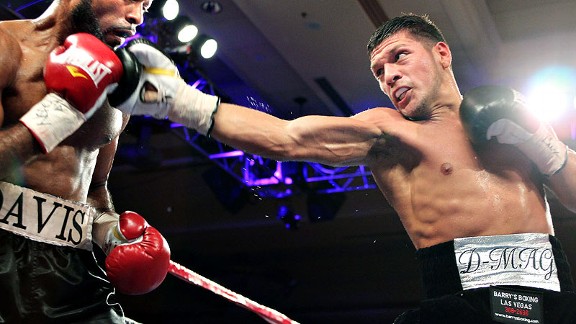 Chris Farina/Top Rank Diego Magdaleno, right, seems to be ready for a title shot early next year.
A roundup of the past week's notable boxing results from around the world:
Saturday at Las Vegas
Diego Magdaleno TKO4 Antonio Davis
Junior lightweight
Records: Magdaleno (23-0, 8 KOs); Davis (29-8, 13 KOs)
Rafael's remarks: Top Rank has designs on getting Magdaleno, 25, a title shot later this year or early next year, possibly against the winner of the Sept. 15 bout for a vacant belt between Roman "Rocky" Martinez-Miguel Beltran Jr. With a title shot in his near future, this bout, which headlined "Solo Boxeo Tecate" on Telefutura, served as what will be his likely final tune-up fight before a title opportunity. Therefore, Magdaleno was matched relatively softly against the 40-year-old Davis, a former three-time junior lightweight title challenger from Atlanta who was once a decent contender. Now he is 3-4 in his last seven bouts with each loss coming by knockout after Magdaleno routed him, as expected. Fighting in front of his hometown fans, Magdaleno was on his game against the slower Davis. Magdaleno, a southpaw, repeatedly hurt Davis with combinations and punches from all angles. He worked the body and head and had little concern for Davis' limited offensive attack. With only about 20 seconds left in the fourth round, Magdaleno badly hurt Davis with a short left uppercut. Davis was in bad shape and trying to cover up but Magdaleno continued to work him over. Magdaleno was destroying him until referee Joe Cortez stepped in to call off the fight at 2 minutes, 59 seconds -- just as one of Davis' cornermen had stepped up onto the ring apron to throw in the towel. Ideally, Top Rank will line up the title shot for Magdaleno. He looks like he is ready.
Jose Benavidez TKO4 Javier Loya
Junior welterweight
Records: Benavidez (16-0, 13 KOs); Loya (7-1, 6 KOs)
Rafael's remarks: Benavidez, 20, of Phoenix, was a star amateur who probably would have been competing in the London Olympics had he not turned pro. He is so gifted that he was granted a special waiver by the Nevada State Athletic Commission to begin his pro career when he was 17 instead of waiting until he was 18, which is the rule. Although he has had some hand issues that have forced him into longer-than-anticipated layoffs, Benavidez is a stud prospect. Loya, 26, also of Phoenix, was undefeated and game but utterly outclassed. Benavidez was in full command going into the fourth round when he finally stunned Loya and put together a sustained flurry of blows that had Loya on the verge of going down. Benavidez was rocking Loya's head all over the place with clean shots until referee Tony Weeks correctly intervened at 1 minutes, 41 seconds. Benavidez is a top prospect to keep an eye on.
Mike Lee TKO2 Tyler Seever
Light heavyweight
Records: Lee (10-0, 6 KOs); Seever (13-12-1, 11 KOs)
Rafael's remarks: Lee, 25, of Chicago, continues to gain experience as he moved into double digit victories. If you follow boxing, you ought to know about Lee by now. He graduated from Notre Dame with a finance degree and could have gone onto a lucrative Wall Street job. Instead, he decided to pursue his dream of professional boxing and also wound up with a Subway restaurant endorsement deal to boot. With some early knockouts, Lee's bout made the "Solo Boxeo Tecate" broadcast on Telefutura and joined the early knockout parade. Lee dominated the first round and landed some solid right hands. In the second round, Lee finished Seever, 28, of St. Joseph, Mo., dropping him twice -- both times with hard right hands -- until referee Russell Mora called off the fight following the second knockdown at 1 minute, 35 seconds. Seever's five-fight winning streak came to an end as he was stopped for the ninth time. As for Lee, who simply overpowered Seever, he will move on to a coveted spot on HBO PPV undercard of the Sergio Martinez-Julio Cesar Chavez Jr. middleweight world championship fight on Sept. 15 at the Thomas & Mack Center in Las Vegas. His presence on the televised portion of the card is because of a deal between Top Rank and Subway to come on board as a sponsor of the event, according to Top Rank's Bob Arum.
Saturday at Mobile, Ala.
Deontay Wilder TKO1 Kertson Manswell
Heavyweight
Records: Wilder (24-0, 24 KOs); Manswell (22-6, 17 KOs)
Rafael's remarks: Four years ago right around this time, Wilder, 26, of Tuscaloosa, Ala., was in Beijing on his way to a heavyweight bronze medal. He was the salvation for a historically awful Team USA, which had only Wilder's medal to show for its efforts in the boxing tournament. As a professional, Wilder has been brought along by Golden Boy extraordinarily slowly as he has racked up one easy win after another against a series of woeful soft touches. He was supposed to take a small step up in competition against undefeated Kelvin Price in the main event of this Fox Sports Net/Fox Deportes card, but Price dropped out a few weeks ago because of an injury and was replaced with Manswell, 34, of Trinidad, who at least had a lot of experience but was otherwise a punching bag in recent fights. Wilder blew him out and barely broke a sweat doing it. The most competitive part of the fight was the pre-fight staredown in the center of the ring when they went literally forehead to forehead during referee Keith Hughes' instructions. Then they spent the first 75 seconds of the fight doing nothing but feinting, staring and pawing jabs before the imposing 6-foot-7, 228½-pound Wilder dropped Manswell to his backside with a couple of right hands, the first shots of any consequence thrown in the bout. A right hand-left hook combination floored Manswell almost immediately when the fight resumed and moments later Manswell went down for the third time off a right hand, and Hughes stopped the farce at 2 minutes, 10 seconds. Wilder can certainly punch, especially with his right hand, but it is really time for his handlers to dramatically raise his level of competition. He has fought abysmal opposition and probably gets better work in the gym than he did from Manswell, who lost his third fight in a row and for the sixth time in eight fights. At least Wilder looks the best of the good opponents Manswell has been facing. Wilder got him out in the first round while a series of notable heavyweights took longer to erase him: Alexander Ustinov (three rounds), former world titleholder Ruslan Chagaev (eight-round distance), former world title challenger Cedric Boswell (10-round distance), prospect Mike Perez (three rounds) and fringe contender Bermane Stiverne (two rounds). Even though Wilder has never faced an opponent with even a faint pulse, he called out the heavyweight champion brothers Wladimir and Vitali Klitschko after the fight. Try not to laugh. Maybe someday it won't be so funny, but right now it is hilarious.
Saturday at Mazatlan, Mexico
Johnriel Casimero W12 Pedro Guevara
Junior flyweight
Retains a junior flyweight title
Scores: 116-111, 114-113 Casimero, 114-113 Guevara
Records: Casimero (17-2, 10 KOs); Guevara (18-1-1, 13 KOs)
Rafael's remarks: In February, Casimero claimed a vacant interim belt via 10th-round knockout of Luis Lazarte in Lazarte's native Argentina that ended in a wild riot in which fans at ringside were throwing chairs and debris into the ring following the stoppage in a fight that Lazarte fought by breaking just about every rule known to man. Casimero and his team were lucky to escape. Last month, Casimero's interim belt was upgraded to a full title because titlist Ulises Solis, who is injured (non-boxing related) was stripped for being out of action for 11 months with several more to go before he can fight again. Casimero, 22, of the Philippines, has fought all over the world -- Philippines, Mexico, South Africa and Argentina -- so he had no problem going to Mexico for a second time and to Guevara's hometown for his first defense. He escaped with the split decision after a very tough fight with Guevara, who was in easily the most notable fight of his five-year career. He acquitted himself well, but Casimero, whose two losses had come in previous title bouts in 2010 and 2011, got the deserved nod. Casimero's margin of victory came thanks to a flash knockdown in the first round. He caught Guevara cold with a right uppercut only about 40 seconds into the fight. Guevara shook it off and made a fight out of it the rest of the way.
Friday at Las Vegas
Mercito Gesta TKO9 Ty Barnett
Lightweight
Records: Gesta (26-0-1, 14 KOs); Barnett (20-3-1, 13 KOs)
Rafael's remarks: Gesta, 24, a native of the Philippines living in San Diego, has been a professional fighter since 2003 so it is hard to call him a prospect any more but he is still gaining experience, and notched a nice win against Washington, D.C.'s Barnett, 29, who was in tremendous condition. Gesta, a southpaw, is not the next Manny Pacquiao and probably not the future star that Top Rank promoter Bob Arum hypes him up as sometimes, but he's a good fighter who can please the crowd and still can get better. Headlining ESPN2's "Friday Night Fights," Gesta spent a bit too much admiring his shots and throwing one punch at a time early on instead of keeping the pressure on Barnett, but he eventually broke him down. He got Barnett's attention in the first couple of rounds by landing wide open left hands until Barnett settled into a bit of rhythm. There were some exciting moments of back-and-forth action throughout the fight. In the fifth round, Gesta seriously rocked Barnett with a series of blows. His legs went to jelly for a moment, he staggered backward and had to fend of Gesta's aggressive attack for the rest of the round. Gesta seemed like he was on his way to a 10-round decision win before ending matters in the ninth round. He caught Barnett with two straight left hands that messed up his legs and then unloaded seven shots, including a clean uppercut, that dropped Barnett. He made it to his feet and referee Jay Nady allowed the fight to continue but only until Gesta landed a right and a left that dropped Barnett hard just as the bell ending the round sounded. Barnett made it to his feet again but his legs were gone and Nady properly called it off. This is a good win for Gesta, who is sort of spinning wheels against average competition in the hopes that Top Rank can deliver him a world title opportunity.
Jesse Magdaleno TKO2 Aldimar Silva Santos
Junior featherweight
Records: Magdaleno (11-0, 8 KOs); Silva Santos (17-3, 9 KOs)
Rafael's remarks: As good as junior lightweight contender Diego Magdaleno is, 20-year-old younger brother Jesse looks like he has even more potential. He was a U.S. national amateur champion and a National Golden Gloves champion. Had he remained an amateur, Magdaleno almost certainly would have been a member of the 2012 U.S. Olympic team in London, but he turned pro and is off to a fantastic start to a career that has future champion written all over it. Magdaleno, easily one of the most impressive prospects in boxing, has looked good from Day 1 of his pro career. But he really impressed in June when he destroyed typically durable former Puerto Rican Olympian Carlos Valcarcel by vicious first-round knockout on ESPN2's "Friday Night Fights." Returning to the series, Magdaleno, who has a fan friendly style and excellent power and speed, made another violent statement with a smashing knockout of Santos, 31, of Brazil, who was fighting in the United States for the first time. What a tough way to make an American debut. Magdaleno, fighting in front of his hometown fans, wasted little time getting started as he took it to Santos right away. He was banging his body and pushing him around before landing a series of right hands to the head that dropped Santos late in the first round. Magdaleno was patient with his attack in the second round before connecting with a left hand that dropped Santos. He beat the count but there were still 45 seconds left in the round and Magdaleno battered him. He finally pinned Santos along the ropes and teed off with a series of shots that badly buckled his knees, forcing referee Robert Byrd to step in at 2 minutes, 54 seconds. Another sensational performance from a possible future star.
Thursday at New York
Thomas Oosthuizen W12 Rowland Bryant
Super middleweight
Scores: 118-110, 117-112 (twice)
Records: Oosthuizen (20-0-1, 13 KOs); Bryant (16-2, 11 KOs)
Rafael's remarks: Oosthuizen, 24, of South Africa, was fighting in the United States for the second time in a row -- and third overall -- as he headlined promoter Lou DiBella's "Broadway Boxing" series, which was, for the first time, available live via a web stream and on the Fight Now TV network. Oosthuizen, a 6-foot-4 southpaw with a fan-friendly style nicknamed "Tommy Gun," is closing in a title opportunity. DiBella said he was offered a shot at titleholder Carl Froch in November but that the money was "so ridiculously low" that the offer was declined. In any event, Oosthuizen found himself matched with Bryant, 32, of Altamante Springs, Fla., who made a name for himself on April 21 when he scored a surprising third-round knockout of longtime contender Librado Andrade. Oosthuizen worked off his jab. As the taller man, he was trying to keep Bryant on the outside. Oosthuizen also landed some solid body shots. Overall, he was busier than Bryant and more accurate with his jab. Oosthuizen's fairly dominant performance was punctuated in the 12th round when he opened a cut over Bryant's right eye. This was another solid victory for Oosthuizen, who figures to get a title shot eventually, one for which he can make a good payday.
Dan Rafael is the boxing writer for ESPN.com. Follow him on Twitter @danrafaelespn.
Boxing
2013 BWAA Nat Fleischer Award winner for excellence in boxing journalism
ESPN.com boxing writer since 2005
Five years at USA Today
SPONSORED HEADLINES
MORE BOXING HEADLINES
MOST SENT STORIES ON ESPN.COM