Burns overpowers pal Mitchell
Updated:
September 24, 2012, 5:07 PM ET
By
Dan Rafael
| ESPN.com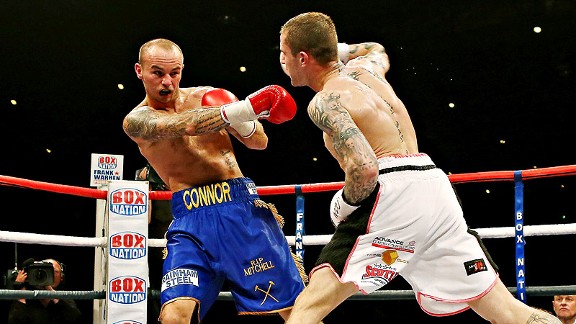 Scott Heavey/Getty ImagesKevin Mitchell is known for his power, but it was Ricky Burns who scored the knockout Saturday.
A roundup of the past week's notable boxing results from around the world:
Saturday at Glasgow, Scotland
Ricky Burns TKO4 Kevin Mitchell
Retains a lightweight title
Records: Burns (35-2, 10 KOs); Mitchell (33-2, 24 KOs)
Rafael's remarks: What a fantastic performance from Burns, who turned in perhaps the most impressive fight of his career. Making the second defense of his belt, and doing it in front of a pumped-up hometown crowd, Burns, 29, took on England's Mitchell, 27, who had rebounded with a pair of wins since losing to Michael Katsidis by third-round knockout in May 2010. One of those wins was a big-time performance against countryman John Murray, which put Mitchell back into title contention.
Outside the ring, Burns and Mitchell are good pals. But they set that friendship aside to handle business inside the ring Saturday. It was expected to be a closely contested fight. Burns is a very good boxer but isn't known for his power. Mitchell has very good power but isn't the most technical fighter. It was Burns, though, who outslugged Mitchell in surprisingly easy fashion.
The first round was close. It probably could have gone either way. But from then on, Burns, a former junior lightweight titleholder who vacated his belt to move up in weight this past November, dominated a crowd-pleasing action fight that featured ample toe-to-toe slugging. Burns landed a lot of clean right hands while absorbing the hard shots Mitchell landed, and, in the fourth round, he ended the fight in style with a pair of knockdowns and a definitive stoppage.
First, Burns landed a clean left hook to dump Mitchell to his rear end with about 40 seconds left. Mitchell's legs were unsteady, and Burns knocked him down again, pounding him to the mat with a series of right hands that sent Mitchell down face-first. Again, he survived -- but was in even worse shape. Burns rushed him and was teeing off with a series of unanswered shots, including a massive left hand while Mitchell was pinned along the ropes, when referee Terry O'Connor stepped in with just one second left in the round. The crowd went crazy, and Burns had earned himself a huge victory -- one that was so good that many will view him as the best 135-pounder in the world. Burns is likely to make his next defense in December.
On the undercard, troubled former featherweight titlist Scott Harrison (27-2-2, 15 KOs), 35, of Scotland, now fighting at lightweight, won the second fight of his comeback, a six-round decision against Joe Elfidh (7-2, 0 KOs) of England. Harrison launched a comeback in June after being out of the ring, mainly because of legal problems, since 2005. Believe it or not, promoter Frank Warren is talking about a possible match between Burns and Harrison, which probably would be a big deal in Scotland, even though Harrison doesn't remotely warrant a title opportunity.
Saturday at Belfast, Northern Ireland
Carl Frampton TKO6 Steve Molitor
Retains Commonwealth junior featherweight title
Records: Frampton (15-0, 10 KOs); Molitor (34-3, 12 KOs)
Rafael's remarks: Frampton has the look of a tremendous young fighter who is destined to win a world title. And if he gets the opportunity, it might happen sooner than later. The ultra-impressive prospect -- really more of a contender now -- was fighting in front of his hometown fans and looked absolutely sensational against Molitor, 32, a former two-time titlist from Ontario.
Granted, Molitor is a bit past his prime and was coming off a 10-month layoff. But, although he took the fight on about a month's notice after Frampton's original opponent (former European champion Kiko Martinez of Spain) withdrew because of an injury, Molitor was by far the most notable opponent of Frampton's career. His only previous losses were a fourth-round knockout defeat in a world title unification bout against Celestino Caballero in 2008 and when he lost his title for the second time via decision to Takalani Ndlovu (whom Molitor had beaten twice previously) in March 2011.
Molitor is vastly more experienced than Frampton, but the 25-year-old had too much youth, strength and hunger for Molitor. He beat down Molitor, who could not take Frampton's suffocating pressure or avoid the clean shots. Molitor already appeared to be in trouble by the third round, when he went down from a barrage of blows. He was off his feet multiple times in the fight, even though most were ruled slips. Still, his legs were in bad shape, and he probably went down just from the strength of Frampton's body on him. Frampton dropped Molitor again in the fourth round and finished him in the sixth.
Frampton, nicknamed "The Jackal," closed Molitor out without landing any really telling punches in the final sequence. He landed a couple of shots that sent Molitor to a knee, but Molitor took the knee more out of resignation than because of any brutal shots. He rose from the knockdown, but it was obvious he didn't really want to continue. His body language was terrible as he walked away from referee John Keane, then had his head down when Keane was talking to him. Keane made the right call to stop it at 2 minutes, 21 seconds.
It was the first time Molitor had lost a fight in the United Kingdom, where he was 4-0, including when he won his first world title by knocking out Michael Hunter in 2006. Frampton has a very bright future and some outstanding potential matches to prove 122-pound supremacy in the U.K., including against Rendall Munroe or Scott Quigg.
Saturday at Wroclaw, Poland
Krzysztof Wlodarczyk W12 Francisco Palacios
Retains a cruiserweight title
Scores: 117-112, 116-112, 116-113
Records: Wlodarczyk (47-2-1, 33 KOs); Palacios (21-2, 13 KOs)
Rafael's remarks: In April 2011, Wlodarczyk, of Poland, defended his belt against Palacios, a New York-based Puerto Rican. Wlodarczyk, now 31, won a split decision in one of the worst, most boring and unwatchable fights in recent history. The WBC ordered a rematch, inflicting the fight on the world for a second time, after each man had won an interim bout. So they met again, and Wlodarczyk won again -- this time by unanimous decision in a fight that wasn't very good but that made their first encounter look like an Arturo Gatti-Micky Ward fight.
Wlodarczyk, a basic fighter with good skill, outworked Palacios, 35, through the entire fight. There were many close rounds, but Wlodarczyk, who retained his title for the fourth time, won virtually all of them. Neither man seemed willing to take much of a risk, and the result was another yawner -- although Wlodarczyk did land a solid left hand in the final 15 seconds of the 10th round that shook up Palacios, who fought at such a weak pace that he had no prayer to win a decision on the road.
Now that Wlodarczyk is free of a mandatory defense, don't be surprised to see him line up a defense against faded former pound-for-pound king Roy Jones Jr., whose most recent fight was a split decision win in Poland against Pawel Glazewski in June. Jones has said his goal is to try to add a cruiserweight title to his collection of other belts spanning from middleweight to heavyweight.
Saturday at Los Mochis, Mexico
Jorge Arce W10 Mauricio Martinez
Featherweights
Scores: 99-90 (twice), 97-92
Records: Arce (61-6-2, 46 KOs); Martinez (36-13-1, 24 KOs)
Rafael's remarks: Mexico's Arce, one of the most exciting fighters of his time, had been offered a shot at unified junior featherweight titlist Nonito Donaire on HBO on Oct. 13, but he priced himself out of the fight. Instead, the former four-division titlist (with an interim belt in a fifth weight class) elected to take an easy fight in his hometown against Martinez, a long-faded fighter who held a bantamweight title from 2000 to 2002. The result was an easy victory for 33-year-old Arce, who bounced back from an unsatisfying second-round no-decision against Jesus Rojas on the Manny Pacquiao-Timothy Bradley Jr. undercard in June, when Arce could not continue after an accidental foul.
Arce cruised to the lopsided decision against Martinez in a fight that, to the surprise of most, didn't produce many fireworks -- mainly because Martinez seemed more interested in surviving than in fighting. Martinez, 37, of Panama, fell to 1-5 in his past six fights.
Juan Carlos Sanchez KO9 Rodel Mayol
Retains a junior bantamweight title
Records: Sanchez (15-1-1, 8 KOs); Mayol (31-6-2, 22 KOs)
Rafael's remarks: Fighting in his hometown and making his second defense of the belt he won in February, Sanchez, 21, was matched with Manny Pacquiao-promoted Mayol, 31, a former junior flyweight titlist from the Philippines. In what had been a competitive action bout, Sanchez began to take over in the seventh round. Sanchez began to punish Mayol in the eighth round and nearly knocked him down. In the ninth, a fading Mayol, who was cut over his right eye from an accidental head-butt earlier in the fight, went down for good. Sanchez landed a left-right combination that spectacularly knocked him through the ropes and onto a TV Azteca television commentators table at ringside. Referee Allan Huggins counted Mayol out at 2 minutes, 25 seconds, ending the fighter's five-fight winning streak.
Saturday at Buenos Aires, Argentina
Diego Gabriel Chaves TKO2 Jose Miranda
Retains an interim welterweight title
Records: Chaves (22-0, 18 KOs); Miranda (12-12-3, 8 KOs)
Rafael's remarks: Chaves, 26, of Argentina, won a wholly unnecessary interim belt with a second-round knockout of Ismael El Massoudi in July. For his first defense, Chaves faced one of the weakest title challengers imaginable in Miranda, 32, of Panama, whose record was atrocious. Miranda dropped to 3-5 in his past eight fights after Chaves got rid of him with ease.

Miranda went down in the center of the ring on a body shot and a right hand in the second round. He was wobbly but allowed to continue -- just not for long. Chaves was poised as he went after Miranda again. He had him cornered and eventually was teeing off on him. Chaves landed several clean, hard blows that bent Miranda over at the waist. He was defenseless and not throwing anything back when referee Roberto Ramirez Sr. stepped in at 1 minute, 59 seconds to wave it off. The sad part is that Chaves' name has come up as a potential opponent for Amir Khan in December, presumably merely to give Khan, coming off a knockout loss, a chance to win a cheap belt.
Friday at Bethlehem, Pa.
Gabriel Rosado TKO10 Charles Whitaker
Junior middleweight title eliminator
Scores: 99-90 (twice), 97-92
Records: Rosado (21-5, 13 KOs); Whitaker (38-13-2, 21 KOs)
Rafael's remarks: Rosado, 26, of Philadelphia, is having quite a year, winning his third consecutive nationally televised bout. All three were impressive performances: a fifth-round knockout of rugged Jesus Soto Karass in January, a ninth-round knockout of fringe contender Sechew Powell in June and now this knockout of Whitaker in a title eliminator that has earned Rosado a world title shot as the mandatory challenger for Cornelius "K9" Bundrage. Rosado, who won his seventh fight in a row since a majority decision loss to Derrick Ennis in 2010 and a second-round knockout loss to Alfredo Angulo in 2009, has earned his way into the legitimate 154-pound top 10.
Rosado did a number on Whitaker, 38, of the Cayman Islands, who was riding an eight-year, 14-fight winning streak, albeit against modest opposition. Rosado scored four knockdowns to win in resounding fashion. He dropped Whitaker with a tremendous right hand late in the fifth round, which sent Whitaker skittering across the canvas into a corner. The fighters went toe-to-toe over the final few seconds of the round, which had the crowd cheering. A few seconds into the seventh round, Rosado nailed Whitaker with a fast left hand, dropping him to all fours. Whitaker was fading early in the 10th when Rosado put together a three-punch combination to floor him for the third time. It was simply a matter of time until Rosado finished Whitaker, which he did when he dropped him again from an accumulation of shots, forcing referee Steve Smoger to call off the fight at 1 minute, 50 seconds. It was yet another excellent showing for Rosado, who has earned his title opportunity.
Sergey Kovalev TKO3 Lionell Thompson
Light heavyweights
Records: Kovalev (19-0-1, 16 KOs); Thompson (12-2, 8 KOs)
Rafael's remarks: Kovalev, 29, of Russia, was supposed to face former light heavyweight titlist Gabriel Campillo in this card's main event, but Campillo withdrew a couple of weeks before the fight because of a back injury. When that happened, Kovalev was dropped to the undercard and matched with late sub Thompson, 27, of Buffalo, N.Y. Thompson came in confident, but he got smashed by Kovalev, who was much stronger than Thompson and thoroughly outclassed him.
Kovalev rocked Thompson with a right hand late in the first round and did much more damage in the second round, dropping him twice in the final 20 seconds. The first knockdown, which flattened Thompson with a right hand, was spectacular. Surprisingly, Thompson made it to his feet. He was quite wobbly, though, and Kovalev landed one more right hand at the bell to end the round that caused Thompson to touch his glove to the canvas for another knockdown. The one-minute break between rounds didn't help Thompson, who was still in bad shape when the third round began. Kovalev almost immediately landed a left-right combination to drop Thomson for the third time, and referee Gary Rosato called it off without a count 14 seconds into the round.
The loss was Thompson's second in a row. Kovalev looks like somebody to watch out for at 175 pounds. He's fan-friendly, packs a punch and is anxious to step up his competition.
Antwone Smith W10 Ronald Cruz
Welterweights
Scores: 96-94 (twice) Smith, 96-94 Cruz
Records: Smith (22-4-1, 12 KOs); Cruz (17-1, 12 KOs)
Rafael's remarks: Smith, 25, of Miami, came into the fight at 150 pounds, three over the welterweight limit, meaning he wasn't eligible to win the minor belt that was at stake. That didn't matter much to Smith, who went out and won a close decision in what has to be considered an upset.
Smith, who barks annoyingly with each punch, had worked his way to legitimate prospect status a couple of years ago by pulling upset after upset. But then he hit some tough times. He got knocked out by Lanardo Tyner and came into this fight with Cruz in a 3-3 rut, including a loss in his previous fight in March. Cruz, 25, was fighting in his hometown, where he is a good ticket seller, but that advantage didn't help him with the judges.
Smith did a solid job of outworking Cruz just enough. He worked his jab well and touched Cruz to the body. Cruz finished pretty strong but got edged out in a fight that probably could have gone either way. It was just a surprise that it didn't go Cruz's way, considering he was in his hometown. For what it's worth, Cruz had the advantage in the CompuBox punch statistics, landing 253 of 623 blows (41 percent) compared with Smith's 186 on 666 (28 percent).
Friday at Santa Ynez, Calif.
Jonathan Romero W12 Efrain Esquivias Jr.
Junior featherweights
Scores: 120-107, 119-108 (twice)
Records: Romero (22-0, 12 KOs); Esquivias (16-2, 9 KOs)
Rafael's remarks: Romero, 25, of Colombia, moved a step closer to a mandatory shot at one of the 122-pound belts held by Nonito Donaire with this lopsided decision against Esquivias, 29, of Gardena, Calif. The fight was for the No. 2 position in one of the alphabet organizations, meaning Romero is on track for an official title eliminator soon.
Romero, who opened a lot of eyes this past November when he won a split decision against Chris Avalos, was fighting in the United States for the third time in a row and for the fourth time in his past five fights. He had little trouble with Esquivias and was in command all the way, so his lead was simply padded when referee Lou Moret docked a point from Esquivias for hitting after the bell to end the seventh round. Five-foot-9 Romero, who held a four-inch advantage, beat Esquivias when they battled on the inside as well as when Romero used his legs to outhustle him -- although it wasn't the most crowd-pleasing fight.
Romero was pleased with his performance, saying afterward: "I felt very good every single round. I prepared hard for this fight. I sparred with guys that came forward all the time. I knew what he was coming to do because I'd seen him fight. I'm ready to become world champion." Esquivias, who has been a sparring partner for notable fighters such as junior featherweight titlist Abner Mares, featherweight titlist Daniel Ponce De Leon and former two-division titleholder Jorge Linares, dropped his second fight in a row, having lost a majority eight-round decision to former titleholder Rico Ramos on June 23.
Roman Morales W8 Jonathan Arellano
Junior featherweights
Scores: 78-72 (twice), 77-73
Records: Morales (13-0, 6 KOs); Arellano (13-1-1, 3 KOs)
Rafael's remarks: Morales, 23, of San Ardo, Calif., notched the biggest win of his career with a solid performance against Arellano, 25, of Ontario, Calif. After scoring an eight-round decision against Alexis Santiago in July, Morales, a 2010 U.S. national amateur champion, was taking a bigger step up in competition against Arellano. He displayed a crisp jab and fared well in a good, competitive scrap that saw both guys hit the deck.
Morales went down for the first time in his career when he tasted the canvas in the third round, going down to his rear end courtesy of a left hook to the head. Morales returned the favor, dropping Arellano with a left hook in the pit of the gut midway through the sixth round on his way to a victory that probably could have been a bit closer on the scorecards.
Boxing
2013 BWAA Nat Fleischer Award winner for excellence in boxing journalism
ESPN.com boxing writer since 2005
Five years at USA Today
EDITORS' PICKS
Carl Frampton dominates, stops Chris Avalos.
Dan Rafael »

Tyson Fury stops Christian Hammer in eight rounds.
ESPN UK »

The WBA ordered a rematch between Ward and Froch.
Dan Rafael »
MOST SENT STORIES ON ESPN.COM