Darchinyan proves he isn't done yet
Updated:
October 1, 2012, 5:10 PM ET
By
Dan Rafael
| ESPN.com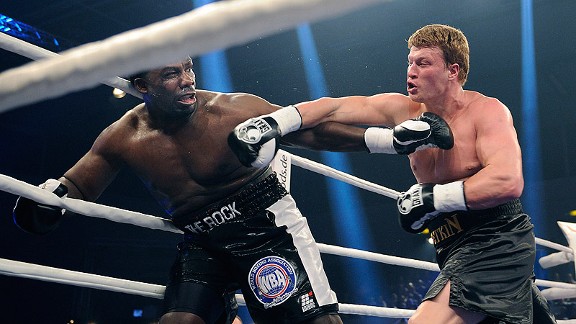 AP Photo/Axel HeimkenHasim Rahman gave Alexander Povetkin virtually no resistance Saturday in Hamburg, Germany.
A roundup of the past week's notable boxing results from around the world:
Saturday at Hamburg, Germany
Alexander Povetkin TKO2 Hasim Rahman
Retains a heavyweight title
Records: Povetkin (25-0, 17 KOs); Rahman (50-8-2, 41 KOs)
Rafael's remarks: Hasim Rahman will be remembered in history for the thunderbolt right hand that flipped the boxing world over on that night in South Africa in 2001 when he knocked out Lennox Lewis in the fifth round to win the legitimate heavyweight championship of the world in a massive upset -- one of the biggest ever. Lewis, of course, flattened Rahman in the fourth round in the rematch seven months later and referred to Rahman not as "Hasim" but as "Has Been." And that was more than a decade ago. So you can imagine how shot Rahman is all these years later.
That's why it was absurd that Rahman was a mandatory challenger for Povetkin's second-class belt. Although Rahman did fight a who's who of heavyweight contenders and titleholders after the Lewis fights, he lost or drew with most of them. And before Saturday, he hadn't been in a fight of note since 2008, which is when the real heavyweight champ of the world, Wladimir Klitschko, crushed him in seven one-sided rounds. Rahman came back with five wins against five stiffs and, even though he hadn't fought in 15 months, was handed the mandatory title shot against Povetkin. There was no way this was going to end well for Rahman, who is 39 but fights more like he is 59.
The fight was originally scheduled for July 14, but it was postponed because Rahman needed surgery to remove a cyst from his wrist. It would have been a favor to everyone if it had never been rescheduled. Rahman, a Baltimore native, showed up in Germany in horrible condition and didn't look like he wanted to be there, or that he had taken the match seriously. On top of that, his trainer, Eddie Mustafa Muhammad, never made it to the fight (supposedly because of a passport issue) and was replaced by conditioning coach Rodney Crisler. Based on the shape Rahman was in, it was pretty obvious that Crisler didn't have much to do during training camp for the fight.
Povetkin, 33, the 2004 Olympic super heavyweight gold medalist from Russia, had no problem blowing out Rahman in his first bout with new trainer (and International Boxing Hall of Famer) Kostya Tszyu in his corner. Povetkin badly hurt Rahman with the very first punch he landed in the fight, an overhand right that messed up Rahman's ancient legs early in the first round. From there, it was only a matter of time.
In the second round, Povetkin caught Rahman with a left hook that stunned him. Rahman went to the ropes and Povetkin proceeded to tee off. Rahman threw back maybe a few punches, but he ate a whole bunch in return. Even when referee Gustavo Padilla broke up the fighters, giving Rahman a slight reprieve, the challenger stayed glued to the ropes and Povetkin unloaded punches until Padilla had no choice but to intervene at 1 minute, 46 seconds. It was the end of a mismatch that should never have taken place, especially given Rahman's postfight story about being dehydrated the night before and having been in the hospital receiving fluids.
Rahman, hopefully, will simply retire. He's a nice guy with a family, and nobody wants to see him get hurt, which is where this situation is going if he keeps fighting. Povetkin, who made his third defense, really needs to step up his competition. His first defense came against 42-year-old Cedric Boswell, who never had a chance. His second came against cruiserweight titlist Marco Huck, who was smaller than Povetkin, yet Povetkin was lucky to get the gift majority decision. And then came this disaster against Rahman. Povetkin is a mandatory challenger for Klitschko, whom he has repeatedly ducked as a mandatory in the past. Hopefully, this time Povetkin will step up and challenge himself against the best.
Kubrat Pulev KO11 Alexander Ustinov
Title eliminator and retains European heavyweight title
Records: Pulev (17-0, 9 KOs); Ustinov (27-1, 21 KOs)
Rafael's remarks: Pulev, 31, of Bulgaria, was a standout amateur and has quickly developed into a legitimate heavyweight contender in just three years as a pro. His handlers have moved him quickly. In his fifth pro fight, Pulev stopped former title challenger Matt Skelton; in his ninth fight, he beat 2000 Olympic bronze medalist Paolo Vidoz; and in his 10th bout, Pulev beat one-time top contender Dominick Guinn. He has also defeated the likes of Derric Rossy, Travis Walker and Michael Sprott, all experienced opponents.
In May, Pulev scored a big win when he won the vacant European title with a ninth-round knockout of top-10 contender Alexander Dimitrenko. That outstanding victory set up the 6-foot-4½, 249-pound Pulev to face Ustinov, 35, of Russia, who is 6-7, 305 pounds, for the first defense of his European belt. Adding to the significance of Saturday's fight was the fact it was an official eliminator to become one of world champion Wladimir Klitschko's mandatory challengers.
Although Ustinov dwarfed Pulev in size, he was no match for him in a surprisingly one-sided fight. Pulev excelled in every facet. He was faster, more accurate with his punches, far busier and controlled the pace. Pulev also doubled and tripled with a power jab that could not miss and had Ustinov's face bloody early on. Ustinov packs a punch, but he is slow and was unable to land more than one at a time. That wasn't enough to take Pulev out of his game. Other than getting wobbled with a really good right hand in the seventh round, Pulev dominated. Ustinov, a former kickboxer, was eating more and more shots as the fight went on and seemed to be fading fast in the 11th round when Pulev landed a left hook to the temple. In a delayed reaction, Ustinov went down to a knee. He didn't appear to be badly hurt, but he took the full count from referee Philip Edwards, who counted him out at 1 minute, 28 seconds.
Pulev has a lot of ability and a good style to watch. He seems to be going places in the heavyweight division. It's hard to imagine him beating Klitschko, but he would be an interesting opponent for just about any other top heavyweight and would have an excellent chance to beat any of them.
Saturday at Mashantucket, Conn.
Edwin Rodriguez TKO8 Jason Escalera
Super middleweights
Records: Rodriguez (22-0, 15 KOs); Escalera (13-1-1, 12 KOs)
Rafael's remarks: Rodriguez, a standout amateur, has been brought along deftly by promoter Lou DiBella and manager Larry Army. He has the potential to win a title and is just about ready to step up to a fight with a real contender. In March, he made his HBO debut on a Sergio Martinez undercard with a good decision win against Donovan George. But let's be honest: It was a boring performance, which isn't typical of Rodriguez. Still, he stuck to trainer Ronnie Shields' game plan perfectly and didn't put himself in danger against the power-punching George. This time out, in the main event of Saturday's card, Rodriguez took a few more chances and was back to his fan-friendly ways in what turned out to be a lopsided domination of Escalera.
Rodriguez, 27, a native of the Dominican Republic but a longtime resident of Worcester, Mass., laid a beating on Escalera, who ate numerous right hands. It seemed as though every time Escalera got hit with a clean shot to the face, which was often, his mouthpiece came flying out. He wasn't spitting it out on purpose, but referee Steve Smoger still properly warned him to bite down or it would eventually cost him a point.
Rodriguez got off to an exceptionally fast start, battering Escalera throughout the first round. Although there was no knockdown, he dished out so much punishment that it was still a 10-8 round. That set the tone for the rest of the fight as Rodriguez hammered Escalera nearly nonstop. As soon as the eighth round began, Rodriguez drove Escalera into a corner with a powerful left hand. He followed with a few more shots, including a left hand that turned Escalera's right ear into a bloody mess, before Smoger jumped in to stop the fight 12 seconds into the round.
Escalera, 27, of Union City, N.J., was as game as fighters come. He was willing to trade and showed great heart and a fan-friendly style. Take nothing away from him there. But he was simply out of his depth against Rodriguez. It was questionable that HBO would approve him for a main event given his extraordinarily limited résumé and the fact he was coming off a draw in May -- even though this card was designed as a lower-budget show in order to honor a contractual commitment.
After the fight, Rodriguez, who put on 20 pounds between the weigh-in and fight night to go from 166 to 186 pounds, said he would be willing to go up to light heavyweight for the right fight. With prompting from DiBella, who was whispering in his ear, Rodriguez said he would like to fight super middleweight (and former middleweight champ) Kelly Pavlik. He also mentioned former light heavyweight champ Jean Pascal, a friend, as a potential foe. Whomever Rodriguez winds up facing next, he figures to be in a far more notable fight than this one against Escalera.
Saturday at Los Mochis, Mexico
Vic Darchinyan W10 Luis Orlando Del Valle
Junior featherweights
Scores: 99-91 (twice), 96-94
Records: Darchinyan (38-5-1, 27 KOs); Del Valle (16-1, 11 KOs)
Rafael's remarks: Guess what? Darchinyan isn't done just yet. In fact, he looked pretty darn good in a fight in which he was supposedly the "opponent." The whole idea of the match was for the 25-year-old Del Valle to etch the name of a well-respected but smaller and past-his-prime former champion on his résumé. It's the tried and true way to build a young fighter. But Del Valle's co-promoters, Lou DiBella and Gary Shaw (who also promotes Darchinyan), drastically misjudged Darchinyan and overestimated Del Valle's readiness.

Del Valle, of Puerto Rico, was anxious to step up again after a solid 10-round decision win against Christopher Martin in April. But there's a massive difference between Martin and Darchinyan, who will be a borderline Hall of Fame candidate when he's through. Darchinyan, 36, a native of Armenia who calls Australia home, is a former flyweight and unified junior bantamweight champion. He has been one of the most fan-friendly fighters in the sport for years because of his go-for-the-knockout mentality, and he has fought everybody.

But as a bantamweight, Darchinyan struggled. Struggled a lot, in fact, losing four times since 2009, to Abner Mares and in world title fights to Joseph Agbeko, Anselmo Moreno and Shinsuke Yamanaka. Darchinyan came into the fight 3-3 in his past six bouts and had lost two in a row. To make matters worse for Darchinyan, he was moving up yet another division, to 122 pounds. Del Valle had only recently come down to 122 after fighting most of his bouts as a featherweight. He had even fought at junior lightweight and lightweight. Clearly, he had the size advantage.

But Darchinyan couldn't have cared less. He fought the same guns-blazing style he always does and turned in a surprisingly dominant performance. His awkward southpaw style and all-out aggressiveness was too much for Del Valle to handle. Throughout the fight, Darchinyan landed the harder shots. By the later rounds, Del Valle had taken tremendous punishment but showed a great chin and the heart not to go down. There was good action throughout the fight, but it was mostly Darchinyan doing the damage. Del Valle's only prayer to win was to land something big late in the fight. He nearly did, rocking Darchinyan with a left hook in the ninth round. But the moment escaped and Darchinyan rolled to the final bell for the kind of victory that will resuscitate his career.

Suddenly, Darchinyan is in the conversation for another title fight at 122 pounds, perhaps against titlist Guillermo Rigondeaux or against unified titleholder Nonito Donaire, should Donaire beat Toshiaki Nishioka on Oct. 13. A Donaire-Darchinyan fight would be quite interesting, as it would be a rematch of the flyweight title fight that served as Donaire's coming-out party in 2007, when he handed the then-prime champion his first defeat by a huge fifth-round knockout. A rematch was talked about a lot in the years that followed, but it never happened.
Antonin Decarie TKO6 Alex Perez
Welterweights
Records: Decarie (27-1, 8 KOs); Perez (16-1, 9 KOs)
Rafael's remarks: Originally, light heavyweight Isaac Chilemba was supposed to take on former light heavyweight and cruiserweight titlist Zsolt Erdei in the opening bout of this HBO tripleheader, but Erdei suffered two broken ribs in training and pulled out of the fight. That left the network and promoter Lou DiBella to put together a fight on short notice. They came up with Decarie, 29, of Montreal, against Perez, 30, of Newark, N.J. It was a great opportunity for both fighters to show a national TV audience what they could do. Although they put on an entertaining fight, it was a one-sided affair as Decarie, who had a lot more experience, laid a beating on Perez, who let the punches fly but was never in the fight.
Decarie was pitching a hard-hitting shutout on two judges' scorecards through five rounds and had won four of the first five rounds on the other scorecard when, in the sixth, he nailed Perez with a terrific left hook that made him do something like the chicken dance. As Perez, a southpaw, was reeling around and about to go down, Decarie crushed him with a sweeping right that knocked him down. Perez was in terrible shape when he got up, but the fight resumed and Decarie nailed him with four more booming right hands before referee Danny Schiavone stepped in at 2 minutes, 54 seconds -- perhaps a punch later than he should have.
Perez was game but outclassed. The CompuBox statistics tell the story: Perez landed just 56 of 313 punches (18 percent), while Decarie connected on 110 of 229 punches (48 percent) -- including a whopping 99 of 150 power shots (an absurdly high 66 percent). Decarie looked very sharp and was crowd pleasing. There is no reason he shouldn't be back on TV against a better grade of opponent.
Chilemba (20-1-1, 9 KOs), 25, of South Africa, still fought on the card, but he was demoted to the non-televised portion of the show after Erdei dropped out. He faced Rayco Saunders (22-17-2, 9 KOs), 38, of Pittsburgh and easily outpointed him, winning via 80-72 shutout on all three scorecards.
Saturday at Indio, Calif.
Julio Diaz TKO5 Hector Sanchez
Welterweights
Records: Diaz (40-7, 29 KOs); Sanchez (19-3, 9 KOs)
Rafael's remarks: Diaz, 32, a native of Coachella, Calif., and the crowd favorite for this Telefutura main event, has twice held slices of the lightweight title -- but not since 2007, and he has had his ups and downs since. He usually beats secondary opponents but has struggled against top foes, including a third-round knockout loss to former junior welterweight titlist Kendall Holt three fights ago, in May 2011. He rebounded from the defeat in July for an easy win against low-level opponent Henry Aurad. In Sanchez, 26, of Puerto Rico, Diaz wasn't facing a top opponent. Sanchez was at one time considered by many to be a serious prospect when he turned pro in 2005, but he never lived up to the hype and has struggled in recent years.
Diaz and Sanchez put on a fast-paced, fan-friendly fight, but Sanchez was getting hit way too much for the fight to go the distance. In the second round, they were in a fierce exchange when Diaz caught Sanchez with a short overhand right on the inside to floor him. Diaz landed several more clean shots during the rest of the round, but Sanchez survived. In the fifth round, Diaz, who is five inches shorter than the 6-2 Sanchez and had a six-inch reach disadvantage, nonetheless took him out in good style. He landed a dynamite left hook that really hurt Sanchez, whose legs went all crazy. Sanchez backed into the ropes and had no balance as Diaz ripped him with roughly a dozen unanswered blows. Sanchez threw one wild shot back that missed, but referee Tom Taylor had seen enough and jumped in to save him at 2 minutes, 3 seconds. Sanchez lost his second fight in a row and third in his past four. Diaz looked good enough, but Sanchez was no real contender.
Boxing
2013 BWAA Nat Fleischer Award winner for excellence in boxing journalism
ESPN.com boxing writer since 2005
Five years at USA Today
SPONSORED HEADLINES
MORE BOXING HEADLINES
MOST SENT STORIES ON ESPN.COM
EDITORS' PICKS
Rios revives his career with win against Alvarado.
Scorecard »

Rios dominates Alvarado in their rubber match.
Dan Rafael »

Gilberto Ramirez wins decision over Maxim Vlasov.
Dan Rafael »