Ivan Calderon comes up short
Updated:
October 8, 2012, 2:23 PM ET
By
Dan Rafael
| ESPN.com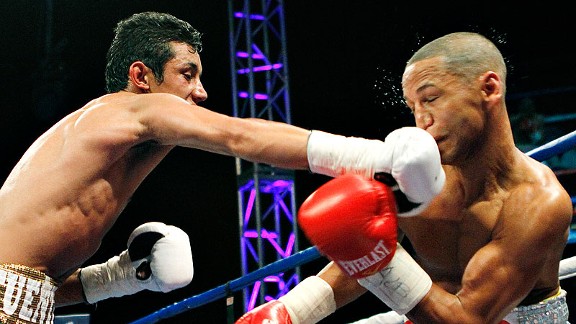 PRBBP/Jose PerezMoises Fuentes used younger, fresher legs to outwork and wear down Ivan Calderon on Saturday.
A roundup of the past week's notable boxing results from around the world:
Saturday at Bayamon, Puerto Rico
Wilfredo Vazquez Jr. KO7 Jonathan Oquendo
Junior featherweights
Records: Vazquez (22-2-1, 19 KOs); Oquendo (22-3, 15 KOs)
Rafael's remarks: Vazquez, 28, of Puerto Rico and the son of former three-division titlist Wilfredo Vazquez Sr., won a vacant junior featherweight title in 2010 and made two successful defenses before losing it by 12th-round knockout in an upset to Jorge Arce in May 2011. Vazquez bounced back with a victory and then squared off with Nonito Donaire in February for his old belt, which had become vacant. Donaire dropped Vazquez in the ninth round and won a decision. Vazquez was due to return from that defeat against former champ Rafael Marquez, but Marquez dropped out of the fight twice, claiming injury (even though he is scheduled to fight somebody else later this month). So Oquendo, 29, of Puerto Rico, who was supposed to fight on the undercard, was moved into the main event of the pay-per-view card.
Oquendo was riding an eight-fight winning streak since being stopped by former junior featherweight and featherweight titlist Juan Manuel Lopez in a regional title bout in 2008. But Oquendo was also coming back after a year layoff because of injuries suffered when he crashed his ATV -- an accident that sadly killed his girlfriend, who was a passenger.
It turned out to be a worthy replacement fight filled with good two-way action that kept a raucous crowd going wild throughout. Oquendo started very well. Vazquez has always been a slow starter, but he seemed surprised by Oquendo's speed and power, and was losing the early rounds. Oquendo appeared to win the first three rounds, but Vazquez eventually got going. In the fifth round, the fight turned into the slugfest many were anticipating. The fighters were trading shots when Oquendo rocked Vazquez with a little more than a minute left in the round. Vazquez's legs went to jelly and he touched both of his gloves to the canvas for what should have been a clear knockdown, but referee Jose Hiram Rivera missed it and the battle raged on in a fantastic round (which could merit round of the year honorable-mention status).
In the seventh round, Vazquez was all over Oquendo, who suddenly looked like he was tiring and falling apart. Vazquez was landing solid right hands to the head and continued to pound the gassed Oquendo, backing him into a corner and driving him to a knee. Oquendo took out his mouthpiece and had a look of resignation on his face. With one arm on the ring rope, he patiently listened to Rivera, who counted him out at 2 minutes, 33 seconds, before he stood up.
Oquendo gave it a good go but simply couldn't hang with the more experienced Vazquez, who scored a quality victory and probably will find himself back in a world title bout before too long. More important, if you spent the $39.99 on the pay-per-view show -- a bit steep for this caliber of card -- at least there was some good action in both the main event and the Moises Fuentes-Ivan Calderon co-feature.
Moises Fuentes TKO5 Ivan Calderon
Retains a strawweight title
Records: Fuentes (16-1, 8 KOs); Calderon (35-3-1, 6 KOs)
Rafael's remarks: This fight was all about one thing: What does Calderon have left? The answer -- very little -- was obvious after the Puerto Rican star suffered three knockdowns and a resounding defeat. At 37, Calderon's legs are gone, and though he fought well early on, the old legs weren't up to the task of dealing with Mexico's Fuentes, a man 10 years his junior.
There was a time when the saying in boxing went like this: Death, taxes and Calderon by lopsided decision win. Those days are long gone for the 2000 Puerto Rican Olympian and one of the greatest defensive fighters and purest boxers of modern times. He is punchless, but he made many fighters look foolish for years as he rolled to dominant victory after dominant victory as a two-division champion and the greatest strawweight in history not named Ricardo Lopez. From 2003 to 2007, Calderon held a strawweight title, unified belts, claimed the lineage in boxing's lightest division (105 pounds) and made 11 defenses, many against the best opponents the division had to offer. In 2007, he moved up to junior flyweight, won a world title in his first fight in the weight class and went on to make six defenses, also against quality opposition. But then he ran into Giovani Segura, and it has been all downhill since. Segura, much bigger and a very powerful puncher, knocked out Calderon in two fights in a row.
Calderon decided to return to strawweight and struggled to a split-decision win against .500 fighter Felipe Rivas last October. One year later, Calderon got a long-discussed shot at his old belt by facing Fuentes, who was making his second title defense. Early on, Calderon, a southpaw, looked pretty good. He darted around the ring, made the taller Fuentes miss and countered nicely, even though his punches, as always, had no pop on them.
Calderon kept it up for 3½ rounds, and some must have thought, "Yup, he still has it." But Fuentes continued to press the action and finally began to tag Calderon late in the fourth round. He nailed Calderon repeatedly and had him trapped on the ropes, exactly where Calderon should not have been. He tried to roll with the shots, but Fuentes was landing and Calderon had to have been happy to hear the bell end the round.
In the fifth round, Calderon was fading and Fuentes appeared to be in great shape. He blasted Calderon with combinations and he went down to a knee after taking an accumulation of shots. Moments after the fight resumed, Fuentes landed another series of head and body shots as Calderon backed into a corner. Then, under heavy fire and after taking one more right to the body, Calderon took a knee. He got up again, but it was obvious he had injured his right arm, which he shook and then didn't use. Calderon tried to box, stay away and grab Fuentes when he had to. But Fuentes was too much. He worked the body and, after landing one more right hand to the midsection, Calderon took a step back and dropped to a knee, at which point referee Luis Pabon called it off without a count at 1 minute, 22 seconds.
It was the biggest win of Fuentes' career and brings Calderon's career as a serious contender to a close. He has been knocked out in three of his past four fights, and his age would make him old for any fighter. But for a strawweight, 37 is ancient. Calderon said after the fight that he would think about retirement. If he indeed calls it a day, there should be a space for him in the International Boxing Hall of Fame in five years.
Saturday at Sacramento, Calif.
Yoshihiro Kamegai D10 Jorge Silva
Welterweights
Scores: 95-95 (twice), 96-94 Kamegai
Records: Kamegai (21-0-1, 18 KOs); Silva (19-2-2, 14 KOs)
Rafael's remarks: Fighting in the United States for the second time, Kamegai, 29, of Japan, figured to beat Silva, 20, of Mexico, but had to settle for a majority draw in an entertaining scrap that headlined a Fox Deportes card. Although one judge had Kamegai winning six of the 10 rounds, it was hard to argue with the two who had it even. The fight was indeed very close, round after round, and featured good two-way action.
There wasn't a lot of boxing being done by either man. Instead, they elected to stand in front of each other for most of the fight and try to bang away with power shots. And they both connected often, taking turns having their moments. In the fourth round, Kamegai trapped Silva in a corner and cracked him with several shots. Just before the end of the sixth, it was Silva who rocked Kamegai with a right hand that buckled his knees and nearly caused him to touch his glove to the canvas to steady himself. Kamaegai was very close to going down and grabbed on to Silva to steady himself. Had he gone down and Silva received a 10-8 round, Silva would have won the fight.
In the action-filled seventh round, they traded back and forth on even terms. It went like that for much of the fight, which is why, in the end, it's hard to complain about a draw. The result shouldn't hurt either man in his attempt to continue moving up the ladder. If anything, it probably helped because they were seen by a national television audience, neither lost and together they made a good action fight.
Jorge Linares W10 Hector Velasquez
Lightweights
Scores: 100-89, 98-91, 97-91
Records: Linares (32-3, 20 KOs); Velasquez (52-18-3, 35 KOs)
Rafael's remarks: It's not too much of an overstatement to say that Linares, 27, of Venezuela, needed to win this fight to keep his career alive as a contender or potential titleholder. The former featherweight and junior lightweight titlist had fallen on hard times, and that doesn't even include when he was drilled in one round to lose his junior lightweight belt to Juan Carlos Salgado in 2009. After that defeat, Linares won four fights in a row to earn a fight with Antonio DeMarco for a vacant lightweight belt. They met last October and Linares, the huge favorite, was cruising along and winning easily on all three cards through 10 rounds. But Linares had also been severely cut and was fading when DeMarco stopped him in the 11th round to win the title and score the major upset. A rematch was signed and set, but Linares took an ill-advised tune-up fight against underrated Sergio Thompson in March and got whacked in the second round. It was the second loss in a row for Linares, and the rematch with DeMarco went down the tubes.
Having parted ways with trainer Freddie Roach and reunited with longtime cornerman Sendai Tanaka, Linares was matched with faded 37-year-old former lightweight and junior lightweight title challenger Velasquez, who is a pretty good puncher and vastly experienced (including losses to such notable opponents as Manny Pacquiao, Edwin Valero and Israel Vazquez). Although Velazquez dropped to 2-7-1 in his past 10 bouts, this was no walk in the park for Linares, despite the lopsided scores. He worked for the win, and Velazquez had his moments -- which isn't really a good sign for Linares, who hopes to get one more tuneup fight and then another title shot. He would love a rematch with DeMarco, who will first have to get past Adrien Broner on Nov. 17.
Velazquez attempted to pressure the faster Linares throughout the bout but had a hard time staying with him because of the speed. Linares, who has a tendency to get cut, suffered one over his left eye during the fourth round, although it didn't become a major factor. He continued to get off shots before Velazquez and also was able to effectively counterpunch when necessary, piling up the points. In the end, Linares got what he needed: a victory without too many problems. It could lift his confidence, but you have to wonder after he struggled even a little with a Velazquez whether we have seen the best days of Linares.
Saturday at Toluca, Mexico
Adrian Hernandez TKO6 Kompayak Porpramook
Wins a junior flyweight title
Records: Hernandez (25-2-1, 16 KOs); Porpramook (46-4, 31 KOs)
Rafael's remarks: In December 2011, Hernandez traveled to Porpramook's native Thailand to defend his 108-pound title. It was a terrific action fight, which Porpramook won on a 10th-round knockout. A rematch was inevitable. Hernandez, 26, of Mexico, won two nontitle bouts this year and got the rematch with Porpramook, 30, who was making his second defense and who agreed to come to Mexico for the sequel, which aired on Azteca America.

The rematch wasn't nearly as intense or action-packed as the first bout, but it was still a good fight. Hernandez dropped Porpramook with a clean right hand to the jaw late in the third round and tried to put Hernandez away, but Hernandez took the follow-up shots well. And they kept coming, too, because referee Hector Afu didn't hear the bell to end the round -- nor did the fighters -- over the boisterous crowd. They continued to fight for several seconds after they should have been in their corners resting. Porpramook was hurt and shaky when they finally were separated.

In the fourth round, Hernandez suffered a cut on his left eyebrow from an accidental head-butt. The WBC has a terrible rule under which, if there is a head-butt and one of the fighters is cut, the uncut fighter loses a point. So Afu docked Porpramook one point. The cut didn't seem to hamper Hernandez, though. He continued to attack Porpramook, whose face was swelling. In the sixth round, Hernandez landed several good body shots and uppercuts before finally nailing Porpramook with a right hand to the jaw that sent him down in sensational fashion. Porpramook struggled to his feet, but his legs were gone and Afu properly stopped the bout about 20 seconds into the round as Hernandez regained his title in highlight-reel style.
Saturday at Kiev, Ukraine
Zaurbek Baysangurov W12 Lukas Konecny
Retains a junior middleweight title
Scores: 119-109, 118-110, 117-111
Records: Baysangurov (28-1, 20 KOs); Konecny (48-4, 23 KOs)
Rafael's remarks: Baysangurov, 27, of Russia, held a pointless interim title when he was handed the full title after Sergei Dzinziruk was stripped. And then Konecny, 34, of the Czech Republic, won an also-unnecessary vacant interim title in April. Finally, they were forced to fight each other in a mandatory bout as Baysangurov made his second defense.
There was a glove controversy before the fight. Both fighters were supposed to wear 10-ounce gloves, and Konecny's team produced a pair that were marked 10 ounces at the Friday rules meeting. But Abel Sanchez, Baysangurov's trainer, thought they looked suspicious and requested that the WBO supervisor weigh them. Sure enough, the gloves weighed only 8 ounces and were disallowed, forcing Konecny to pick a new pair at the right weight.
As for the fight, the scores were wide and well-deserved for Baysangurov, but the win wasn't as easy as they made it look. He had to battle through a rough bout fought at a pretty good pace. There were no knockdowns, but both men took some punishment -- although Baysangurov, who is a training partner of middleweight titlist Gennady Golovkin (who also trains with Sanchez in Big Bear, Calif.), was clearly winning. He had the fight in hand when it turned bloody in the 12th round after Konecny suffered a bad cut over his left eye.
All in all, it was a good victory for Baysangurov, who won his ninth fight in a row and hasn't lost since being stopped in the fifth round in Germany by Cornelius "K9" Bundrage, who later won a version of the world title. Konecny's 12-fight winning streak ended. He hadn't lost since dropping a majority decision in a world title fight to Dzinziruk in 2008.
Saturday at Tepic, Mexico
Jesus Silvestre TKO4 Takuya Mitamura
Retains an interim strawweight title
Records: Silvestre (26-3, 19 KOs); Mitamura (12-1, 2 KOs)
Rafael's remarks: Silvestre, 22, of Mexico, was making the first defense of the unnecessary interim belt he won with a unanimous decision against Edwin Diaz of Panama on July 14 in Mexico. Fighting in his home region, Silvestre was facing Mitamura, 28, the Japanese national champion who was fighting for the first time outside of Tokyo. Although Silvestre suffered a cut over his eye from an accidental head-butt in the third round, he finished Mitamura in the fourth round, landing enough shots for referee Rafael Ramos to jump in and halt the contest 40 seconds into the round.
Boxing
2013 BWAA Nat Fleischer Award winner for excellence in boxing journalism
ESPN.com boxing writer since 2005
Five years at USA Today
SPONSORED HEADLINES
MORE BOXING HEADLINES
MOST SENT STORIES ON ESPN.COM
EDITORS' PICKS
Sergey Kovalev-Jean Pascal is under discussion.
Dan Rafael »

Manny Pacquiao still chasing Floyd Mayweather Jr.
P4P list »

How good is American women's boxer Claressa Shields?
Aimee Berg »