Five keys for Erik Morales
Plotting a path to victory against Danny Garcia
Originally Published:
October 18, 2012
By
Diego Morilla
| ESPNdeportes.com
Veteran fighters have a hard time finding reasons to leave the sport to the younger generations, and sometimes the reasons are not as evident to them as they are to the rest of us.
Former four-time champion and future Hall of Famer Erik "El Terrible" Morales (52-8, 36 KOs), 36, from Tijuana, Mexico, is currently in that position after a March defeat against 27-year-old Philadelphia native Danny "Swift" Garcia (24-0, 15 KOs) for a vacant junior welterweight title. This Saturday, Garcia and Morales will clash again in the inaugural boxing card at Brooklyn's Barclays Center (Showtime, 8 p.m. ET/PT).
Regardless of how close he was to beating Garcia the first time around, Morales will have an even greater challenge this time against a more mature and confident champion who is coming off a career-best performance against Amir Khan. But judging by the spirited and sustained attack he was able to put together in his losing effort the first time, there's no reason to doubt Morales will make an equally terrific fight once again that can be even closer than the first with only a few minor adjustments.
With the stage set, here are five keys to victory for Morales in this exciting rematch:
Catch the step
| | |
| --- | --- |
| | In his fight against Pablo Cesar Cano in September 2011, Morales was one step ahead of his opponent's moves, staying in front of him and throwing bombs all night, landing most of them. The result? By the ninth round, Cano's face looked like a steak after it had been run over by a Mack truck. Against a cut-prone Garcia, who ended the first fight with severe facial swelling, Morales must catch that rhythm again and reclaim the initiative in the attack. Releasing that looping right volley after feinting a body punch (a signature move by Morales) also will serve as an alternative to keep Garcia honest and on the defensive. |
Why jab when you can lead?
| | |
| --- | --- |
| | Common boxing knowledge indicates it's always a good idea to "establish the jab." My advice: not this time, Erik. Morales tried to work behind the jab the first time around, and all he got was a constant and very effective wide counterpunching attack in return. And Garcia is not even the best counterpuncher out there. Morales had much more success with his lead right hand after a soft, feinting jab, and when he landed it, Garcia's head snapped back more often than not. And what's with that half-baked jab to the body, anyway? Every time Morales tried it, he found himself wrapped in a cocoon of hooks. If he stays with the power punches, he has a much better chance of softening Garcia up. |
Watch the flying right hand, part 2
| | |
| --- | --- |
| | We said it the first time, and it's worth saying again -- Morales needs to pay more attention to that looping right cross. After he dismissed Garcia's left hook as "weak," I was surprised to see Garcia drop Morales with one of those (although to be fair, Morales walked right into it after missing with a wild punch and losing his balance). But still, Garcia causes most of his damage with that long right hand, and then he follows up with that two-fisted attack Morales mocked in the ninth round of the first fight by loosely waving his arms in the air after a break, taunting his opponent for his lack of repertoire. Morales needs to be more ready this time, and finding a way to avoid that right cross might be the key to neutralizing the rest of the combination. |
The sun is always there
| | |
| --- | --- |
| | And so is the hole in the ozone layer. Sometimes we don't see them, but they're there. Garcia's gaping holes in his defense are always there as well, and a quick review of the first fight could help Morales figure out where to aim in a blind counter attack. The right side of Garcia's face will have to be a target for that sneaky but still powerful left hand of Morales. He has a unique way of walking into dangerous territory with his head hanging low to find his ideal range and then coming upstairs with a thudding left hook. If he manages to put a GPS tracer on that missile, his chances of scoring a KO will improve greatly. |
No rope-a-dope this time
| | |
| --- | --- |
| | It might have worked that one time, and it might be a lot of fun to do it. But just as people are not lining up to jump from a helium balloon at the edge of the stratosphere, neither are fighters practicing how to lie on the ropes to absorb punishment and wear their opponents down in the process. The "rope-a-dope," made famous by Muhammad Ali in his fight against George Foreman (38 years ago this month) is more a measure of last resort than a credible defensive move. And there are other ways to wear down a banger like Garcia, such as making him miss repeatedly with hit-and-run tactics or keeping him on the move and swinging wildly without a target. Whatever he does, Morales must avoid using his body as a punching pad again, as he did in the middle rounds of the first fight. Leave the macho outside the ring, and bring the old cagy boxer instead. The improvement will be noticeable. |
Diego Morilla is a contributor to ESPNdeportes.com.
SPONSORED HEADLINES
MORE BOXING HEADLINES
MOST SENT STORIES ON ESPN.COM
BARCLAYS' BOXING DEBUT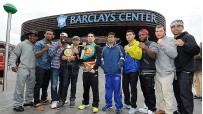 Boxing made its return to Brooklyn with four world title fights, including the rematch of junior welterweight champ Danny Garcia and former four-division titlist Erik Morales.
POSTFIGHT
DANNY GARCIA VS. ERIK MORALES
UNDERCARD
NEWS
MORE ANALYSIS AND CONTENT
OTHER LINKS