Five keys for Danny Garcia
Plotting a path to victory against Erik Morales
Originally Published:
October 18, 2012
By
Diego Morilla
| ESPNdeportes.com
The path of a young champion necessarily implies the need to dominate his veteran counterparts, demonstrating superior skills and will in the process, before dealing with the challenges of younger and hungrier opponents. And in his first world title fight in March, 27 year-old Philadelphia native Danny "Swift" Garcia (24-0, 15 KOs) proved against former four-time champion and future Hall of Famer Erik "El Terrible" Morales (52-8, 36 KOs), 36, from Tijuana, México, that he's a force to be reckoned with in the talent-rich 140-pound division. On Saturday, Garcia and Morales will clash again in the inaugural boxing card at Brooklyn's Barclays Center (Showtime, 8 ET/PT) in a new challenge for both of them after their terrific, albeit one-sided first fight.
Garcia will enter the rematch as a more mature and confident champion coming off his career-best performance against Amir Khan in his most recent outing. But judging by the spirited and sustained attack that Morales was able to put together in his losing effort the first time around, there's no reason to doubt they will make an equally terrific fight once again, which can be even closer than the first one if Morales figures out Garcia's style even further than in the first meeting.
Here are five keys to a possible victory by Garcia in this exciting rematch:
It don't mean a thing ...
| | |
| --- | --- |
| | "...if you ain't got that swing" is a classic Duke Ellington tune, yes. But it can become Garcia's motto, as well. He has found some success with his wide, swinging volleys with both hands, and he did a lot of damage with those against Khan and even Morales, who taunted him in the ninth round of their first encounter by mocking this move during a break. Garcia was lucky to fight a Morales who had momentarily forgotten how to lead with his right hand straight through the middle. If he had, Morales would have peppered Garcia's face with long, punishing rights (he landed a few beautiful ones, very effectively) to stop him dead in his tracks, and all due to Garcia's free-swinging attack which leaves him dangerously open to counterpunches. Bottom line: keep the swinging to a minimum. Morales is old and savvy enough to know how to make adjustments here, and my bet is that he will. |
You got it (the right stuff)
| | |
| --- | --- |
| | OK, we've gone from Ellington to the New Kids on the Block in one paragraph (they both played at the Apollo, so there's some connection here). Garcia is dangerous with his wild, two-fisted swinging attacks, but he does an even more damaging job with that long, looping right hand that comes in with no warning at all and always lands flush. Morales found himself in trouble trying to avoid that right hand, and he will walk right into it once again if he is not careful enough. It is Garcia's best punch, and it needs to be at its best for this fight, especially knowing that he can put Morales in trouble if he outlasts him and accumulates punishment on him. He needs a go-to punch to use if he has Morales in trouble like he did in the 11th round of the previous fight, and the long right could very well be that one punch. |
Ring of fire
| | |
| --- | --- |
| | Morales has a great control of the spaces in the ring and he rarely gets cornered, but Garcia managed to do just that in the first fight, putting his opponent against the ropes and making him look trapped and confused. The continuity of this tactic is a key in Garcia's chances of victory. Space and distance should be dominated by the young champion, and even though he did a great job in both during the first fight, there's still room for improvement. Garcia is more than able to put a ring of fire around Morales and engulf him in his own world of wild, long ambidextrous pressure. Probably the easiest task in Garcia's to-do list for this fight, if we look at how easily he solved this the first time around. |
Think with the whole brain
| | |
| --- | --- |
| | I said it before, and it remains true: something tells me Garcia would have been a great converted right-hander. He has tremendous accuracy with his right hand, not to mention his power, and is quite clumsy with his left -- two features that can be somewhat easily improved by switching stances. It's already too late for that, but it's always a good time to start mixing it up and trying new combinations that he never tried before. Sometimes it looks as if Garcia was having a tough time deciding which hand or punch or combination is better or more effective. A word of advice: try something new, maybe at the end of those beautifully destructive six-punch combinations, once Morales is already in retreat. Who knows, maybe that left hand will come alive and get more work in the future. |
Hook it like Rocky
| | |
| --- | --- |
| | In the previous fight, I described Garcia as a rarity: a Philly fighter with a bad left hook. My bad: the kid had it in him, he just needed to let it go. And he did, dropping Morales with a very precise left hook in the 11th round of the first meeting (although to be fair, Erik just walked right into it after missing with a wild punch and losing balance). Still, most of the time, what we see is a lazy, weak, inaccurate left hook to the head that pales in comparison with his decent body work. A little practice won't hurt, I guess. We'll see whether Garcia has improved a little bit with this punch, but my bet is that he'll be more confident with it and that he will make it count when the time comes. Only then, will his Philadelphia citizenship be reinstated. |
Diego Morilla is a contributor to ESPNdeportes.com.
SPONSORED HEADLINES
MORE BOXING HEADLINES
MOST SENT STORIES ON ESPN.COM
BARCLAYS' BOXING DEBUT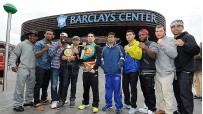 Boxing made its return to Brooklyn with four world title fights, including the rematch of junior welterweight champ Danny Garcia and former four-division titlist Erik Morales.
POSTFIGHT
DANNY GARCIA VS. ERIK MORALES
UNDERCARD
NEWS
MORE ANALYSIS AND CONTENT
OTHER LINKS