Commentary
What if Pacquiao had KO'd Marquez?
How might the fighters' storied rivalry, and their careers, have been different?
LAS VEGAS -- If Saturday night's main event at the MGM Grand lasts the distance, Manny Pacquiao and Juan Manuel Marquez will have swapped punches for 48 rounds. And if the final 12 are anything like the first 36, they are likely to be closely fought and to culminate in a close and controversial decision.
It has been the defining rivalry of both men's careers, and yet, by the end of the first round of their first contest in May 2004, it seemed unlikely that it would last another three minutes, let alone extend into three more fights. Pacquiao, fresh off overwhelming Marco Antonio Barrera, tore into Marquez, dropping him three times in the opening frame and leaving at least one observer convinced that the evening's work was done.
Topics: Pacquiao-Marquez
For more on Pacquiao-Marquez IV, check out our topics page.
"After the first knockdown I thought it was over, after the second one I thought it was over, and after the third one I definitely thought it was over," said Pacquiao's trainer, Freddie Roach. "It didn't come true of course. Marquez showed he was very resilient. He's a very tough guy. He got up from three knockdowns, and the third one was a hard shot."
Importantly, however, the third man in the ring wasn't ready to go home just yet.
"I was looking at [Marquez] close," said Joe Cortez, who was the referee that night. "He was begging me, 'Please don't stop it,' and of course I took that into consideration and I let it continue. Given that it was two flash knockdowns and his eyes looked pretty good to me, I let it go."
But what if Cortez had stopped it? Or what if there had been a three-knockdown rule that mandated he do so? What would have happened then? How might the career paths of both boxers have been different?
For Pacquiao, it's possible that little would have changed. Perhaps he might have defended the 126-pound title he would have taken from Marquez before going on to do what he did anyway -- stepping up to 130 pounds to take on Erik Morales.
[+] Enlarge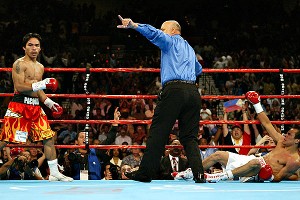 AP Photo/Joe CavarettaManny Pacquiao nearly forced the hand of referee Joe Cortez in his first fight with Juan Manuel Marquez in 2004, but Marquez survived the first round and helped launch a classic rivalry.
The loss in that bout with Morales forced Roach to double down on turning the southpaw Pacquiao into less of a left-hand-happy brawler -- it's stunning to watch the first Marquez fight anew and see how unvaried the Filipino's arsenal was, especially in comparison to his later peak years -- and into a more complete fighter. That led to Pacquiao defeating Morales in a rematch and crushing him in their third contest, and created a springboard from which he launched himself through multiple weight divisions, annihilating Hall of Fame-caliber opponents along the way.
All of that probably would have been as likely to happen if his fight with Marquez had been called after three knockdowns.
The big question is how different things might have been for Marquez. After all, even after his comeback and the disputed draw in the first Pacquiao bout, almost another four years passed before the fighters met again.
"He complains a lot about why we waited so long for the second fight," Roach said, "but he's the one who turned down $750,000 and chose to go to Indonesia and get beat."
After the Pacquiao fight, Marquez made two defenses of his featherweight title, one at the MGM and one at the Mandalay Bay. Needless to say, had he lost that title in a one-round blowout, he probably wouldn't have been making back-to-back appearances on Las Vegas Boulevard in his subsequent outings.

Would he have worked his way back into contention? Would he still have traveled to Indonesia to face Chris John, as he did in March 2006? If so, and if he had lost a points decision in that alternate universe much the same way he did in this reality, what then? It's hard to imagine that a fighter as talented as Marquez wouldn't have resurfaced at some point, but with a one-round stoppage to Pacquiao and a defeat to John in close proximity, would he have been given the same opportunities to defeat Barrera or win epic battles against Joel Casamayor, Juan Diaz and Michael Katsidis? Would the call ever have arrived to face Floyd Mayweather Jr.?
And how much demand would there have been to face Pacquiao again?
"If we didn't have an experienced referee in the first fight," Roach said, "there would have never been a second fight."
But there was an experienced referee on hand, and there was no three-knockdown rule. And so Marquez survived the first round, and the second. Then he turned the tide and completed the first episode of a saga that will reach its fourth, and presumably ultimate, installment Saturday.
"Little did I know that it would turn out to be a helluva fight and I made the right move," said Cortez of his decision to allow the first fight to continue. "It was probably one of the best moves I made in my career."
Boxing
Kieran Mulvaney covers boxing for ESPN.com, HBO.com and Reuters, and also blogs for Discovery Channel News.
SPONSORED HEADLINES
MORE BOXING HEADLINES
MOST SENT STORIES ON ESPN.COM