Roll with the punches
The Boxing HOF recently lost Carmen Basilio, but it isn't about to throw in the towel yet
Originally Published:
December 11, 2012
By
Chris Jones
| ESPN The Magazine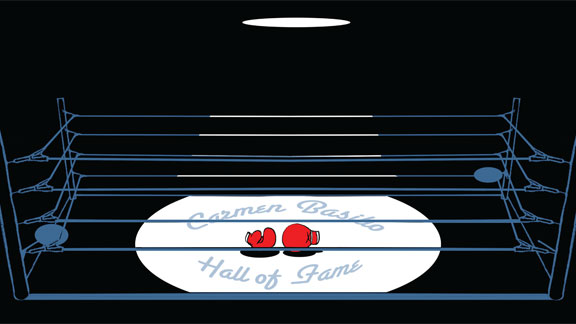 Istvan Banyai for ESPN The MagazineThe underdog Boxing Hall of Fame isn't about to throw in the towel.

This story appears in ESPN The Magazine's Dec. 24 Hall of Fame Issue. Subscribe today!
THE FLAG OUTSIDE the International Boxing Hall of Fame in Canastota, N.Y., is finally back at the top of its pole, snapping at winter's first snow. "It's spent a lot of time at half-staff," says Ed Brophy, the museum's executive director. The 55-year-old native of this pretty blue-collar town -- and the only curator its 23-year-old Hall of Fame has known -- has spent more time lately on eulogies than he would have liked. Brophy is a builder, a true believer, at heart, but he's also in love with a sport that's known more for its endings than its beginnings. Joe Frazier, trainers Angelo Dundee and Emanuel Steward, writer Bert Sugar and artist LeRoy Neiman, gone in rapid succession, the flag here rising and falling like fortunes. The worst blow came with the passing of Carmen Basilio on Nov. 7. That's when this place lost its saint.
Just inside the museum's front door, the first exhibit seeks to answer an obvious question: Why Canastota? Unlike baseball's union with nearby Cooperstown, boxing wasn't (allegedly) born here. But Carmen Basilio was, in 1927, in a smart green house on Main Street. He grew up to become one of the great brawlers of the 1950s, winning three titles and appearing in five consecutive Fights of the Year, an unlikely win over Sugar Ray Robinson at Yankee Stadium among them. He was not the most skilled or polished fighter, but Basilio was an optimist, and he could take a punch. "He did so much without having a lot," Brophy says.
The same could be said of tiny Canastota. In 1984, a group of locals including Brophy decided it should build a shrine to its boxing heroes. (Basilio's nephew, welterweight Billy Backus, carried on the family's championship tradition.) Five years later, that small shrine -- in the parking lot at the McDonald's -- grew into the sport's first permanent Hall of Fame, in a modest brown building across from the Days Inn. Floyd Patterson, an early supporter, showed up to cut the ribbon; the first class of inductees included Muhammad Ali, who also made the trip to Canastota. Against all odds, Brophy's Hall was on the map.
Basilio, a feature of every induction ceremony since, helped keep it there. More than 20,000 visitors pass through these doors every year, partly because Canastota somehow makes a blood sport seem quaint. Inductees stay at that Days Inn before they hack through a round of golf at the local muni and wave from a parade. Their Hall of Fame plaques are made of wood. The one celebrating the "Upstate Onion Farmer" hangs on the wall between those commemorating Henry "Homicide Hank" Armstrong and Ezzard "the Cincinnati Cobra" Charles. For a time, Basilio's biography still read 1927--, as though he might welcome a new class of boxing greats to Canastota next summer.
"It will absolutely feel like someone's missing," Brophy says, casting ahead to next year's ceremony. "But we can't give up. If you were picking someone to carry inside you, to help you keep up the fight, you couldn't ask for a better spirit than Carmen Basilio."
Brophy has big dreams. He wants to build a new Hall of Fame, more cathedral than church; he has the land next door, but he needs a new saint or two, preferably millionaires. We go down to the low-ceilinged basement, where his nephew, Jeff Brophy, works with a hunch, ducking to keep a meticulous history. Here they catalog the priceless artifacts they don't have room to display: hundreds of robes, drawers filled with programs and ticket stubs, every issue of The Ring bound in leather. Ed Brophy opens two metal cabinets filled with plaster casts of hundreds of famous fists, painted bronze. The moment he swings open the doors is pure goose bumps. "We don't have the money, but we have the treasures," he says.
Compared to our grander Halls of Fame, all those Sugar Ray Robinsons, boxing's is Carmen Basilio coming out of the Yankees' dugout, just one more of the future doomed: Not many people wonder why the flag is at half-staff anymore. It would be easy to be cynical here. It would be easy to dismiss Brophy's dreams and this town's hopes as impossible apparitions. But cynics have never built anything. Cynics have never won a fight. Why Canastota? Because here, they still believe in the power of spirits and saints, and uncles and nephews. Canastota still believes in underdogs. It has to.
Follow The Mag on Twitter (@ESPNmag) and like us on Facebook.
Chris Jones is a feature writer for ESPN The Magazine. He is also a Writer at Large for Esquire.
ESPN The Magazine: December 24, 2012
HALL OF FAME FEATURES

HALL OF 100

COLUMNS

MORE FROM THE HALL OF FAME ISSUE
MOST SENT STORIES ON ESPN.COM