Superfight No. 9: Holyfield-Bowe I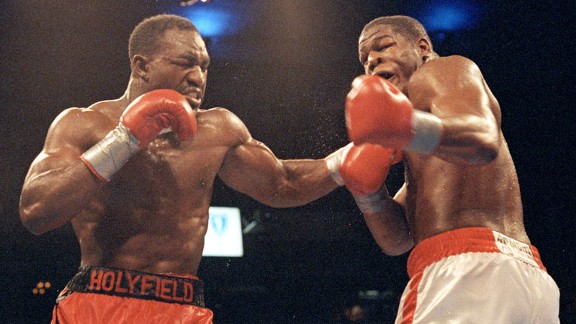 Holly Stein/Getty ImagesEvander Holyfield, battered and fading in the late rounds, recovered to nearly upend Riddick Bowe.
It's a boom time for boxing, with one of the sport's finest years in recent memory barely two-thirds finished and a handful of blockbusters still to come before the calendar flips again.
TOP 10 SUPERFIGHTS OF ESPN ERA
Count down the most prolific prizefights of the past 30-plus years with us:
• No. 10: Spinks-Tyson | Gallery


• No. 9: Holyfield-Bowe I | Gallery


• No. 8: Holyfield-Foreman | Gallery


• No. 7: Pac-Marquez IV | Gallery


• No. 6: Tyson-Holyfield I | Gallery


• No. 5: Hagler-Leonard | Gallery


• No. 4: Chavez-Taylor I | Gallery


• No. 3: Pryor-Arguello I | Gallery


• No. 2: Leonard-Hearns I | Gallery


• No. 1: Hagler-Hearns I | Gallery

With Floyd Mayweather Jr. defending his pound-for-pound crown against Mexican darling Canelo Alvarez on Sept. 14, Juan Manuel Marquez taking aim at a fifth title against welterweight belt holder Timothy Bradley Jr. on Oct. 12 and Manny Pacquiao preparing to bring world-class boxing to China against Brandon Rios on Nov. 23, there has never been a better time to celebrate the pomp of the must-see prizefight than right now.
And so, over the next several days we'll be counting down boxing's top superfights of the ESPN era (since Sept. 7, 1979, for those of you scoring at home), as picked by our panel of boxing experts. Of course, we know there can be, ahem, disagreement on such a subjective topic, so we'd like to know what you think about our choices, get your picks and hear any other comments you might have related to our project. Just tweet using the hashtag #ESPNsuperfights and we might feature your comment below.
---
The knock on Evander Holyfield had been that he wasn't big enough. Though he had been a tremendous cruiserweight champion, did he have the heft, size and strength to cope with the top dogs in the heavyweight division? But then a funny thing happened: He not only took on those top dogs; he knocked them out.
Former titlist Pinklon Thomas went in seven. Another former belt holder Michael Dokes was stopped in 10. Alex Stewart, then well regarded and undefeated, lasted less than eight. The piece de resistance, of course, was the one-punch annihilation of Buster Douglas that won Holyfield the heavyweight crown. Never mind that it wasn't the trim, focused, determined Douglas who had knocked out Mike Tyson but a more blubbery and seemingly apathetic version thereof. All you can do is beat the man in front of you, and with one right hand, Holyfield dropped and stopped an opponent who outweighed him by almost 40 pounds.
NUMBER TO KNOW: HOLYFIELD-BOWE I

The number of months Riddick Bowe had been a pro when he beat Evander Holyfield in their first fight, at the time the fourth-fastest rise to a heavyweight title in history.
But then ancient George Foreman and marginally less ancient Larry Holmes took him the distance, and Smokin' Bert Cooper had him in trouble before Holyfield tore him apart. So how would he cope with a bigger, stronger young lion in Riddick Bowe?
Analyst Larry Merchant, as was so often the case over the years, presciently foreshadowed the fight when, as the two men stood in their respective corners before the opening bell, he observed on the fight broadcast that, "The conventional wisdom is that Holyfield will try to fight the big Bowe the way he did George and Buster Douglas: staying outside, jumping in with quick combinations. But sooner or later, a fight is going to break out here."
It broke out sooner rather than later. Holyfield, for all his skills, rarely chose any other way. Although appearing dwarfed by his foe, he willingly stepped inside and traded, and Bowe -- despite some question marks going in about his appetite for combat -- was more than happy to respond in kind.
Through nine rounds, the bout was competitive without being exceptionally close, Bowe seeming to gain the upper hand through most of the completed stanzas courtesy of his extra range and leverage. Holyfield's right eye was swollen almost shut, his left eye was cut, and the title seemed to be slipping away. Then in the 10th, Bowe uncorked a right uppercut that snapped back Holyfield's head and sent him staggering backward. Sensing a possible finish, Bowe attacked, a left hook sending Holyfield drunkenly into a corner. Bowe battered him across the ring, but Holyfield kept up his guard. Suddenly his legs looked steadier, a spring returned to his step, and now Holyfield was the one throwing punches, finding his target with vicious left hooks and haymaker rights as his challenger looked spent.
Holyfield finally went down in the 11th, but even then he refused to yield, battling to the last second of the 12th. In many ways, he showed more in that first defeat of his career than he had in his previous wins. We could not know it then, but that night in Las Vegas would prove to be the high-water mark of Bowe's ultimately disappointing career. For Holyfield, there were many more great nights ahead.
Boxing
Kieran Mulvaney covers boxing for ESPN.com, HBO.com and Reuters, and also blogs for Discovery Channel News.
SPONSORED HEADLINES
MORE BOXING HEADLINES
MOST SENT STORIES ON ESPN.COM
EDITORS' PICKS
Martin Murray to face Domenico Spada on ESPN3.
Dan Rafael »

Hamed deserves his place in the Hall of Fame.
Dan Rafael »

Golden Boy promotes rival cards on Dec. 13 in Las Vegas.
Blog »