Superfight No. 7: Pacquiao-Marquez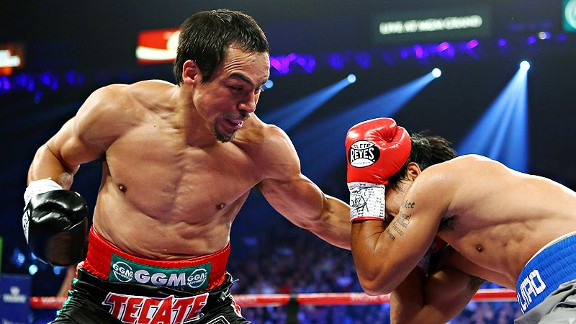 Al Bello/Getty ImagesThe fourth installment of the Juan Manuel Marquez-Manny Pacquiao rivalry was chock full of drama.
It's a boom time for boxing, with one of the sport's finest years in recent memory barely two-thirds finished and a handful of blockbusters still to come before the calendar flips again.
TOP 10 SUPERFIGHTS OF ESPN ERA
Count down the most prolific prizefights of the past 30-plus years with us:
• No. 10: Spinks-Tyson | Gallery


• No. 9: Holyfield-Bowe I | Gallery


• No. 8: Holyfield-Foreman | Gallery


• No. 7: Pac-Marquez IV | Gallery


• No. 6: Tyson-Holyfield I | Gallery


• No. 5: Hagler-Leonard | Gallery


• No. 4: Chavez-Taylor I | Gallery


• No. 3: Pryor-Arguello I | Gallery


• No. 2: Leonard-Hearns I | Gallery


• No. 1: Hagler-Hearns I | Gallery

With Floyd Mayweather Jr. defending his pound-for-pound crown against Mexican darling Canelo Alvarez on Sept. 14, Juan Manuel Marquez taking aim at a fifth title against welterweight belt holder Timothy Bradley Jr. on Oct. 12 and Manny Pacquiao preparing to bring world-class boxing to China against Brandon Rios on Nov. 23, there has never been a better time to celebrate the pomp of the must-see prizefight than right now.
And so, over the next several days, we'll be counting down boxing's top superfights of the ESPN era (since Sept. 7, 1979, for those of you scoring at home), as picked by our panel of boxing experts. Of course, we know there can be, ahem, disagreement on such a subjective topic, so we'd like to know what you think about our choices, get your picks and hear any other comments you might have related to our project. Just tweet using the hashtag #ESPNsuperfights, and we might feature your comment below.
---
Almost from the beginning, Manny Pacquiao had been the popular one, the one whose fans screamed loudest and longest, and who packed arenas to the rafters. When Pacquiao, fresh off his destruction of Marco Antonio Barrera, first fought Juan Manuel Marquez in 2004, I was equally shocked by the violence of the first-round knockdowns and the ear-splitting eruption of enthusiasm that accompanied them (including, notably, from some Filipino members of press row, on which such exultations are not encouraged). And wherever and whenever he fought on his subsequent rampage through opponents and weight classes -- Las Vegas, mostly, but Dallas, too, among a couple of other pit stops -- Pacquiao brought with him a reliable mass of devotees guaranteed to raise the rhetorical roof.
NUMBER TO KNOW: PACQUIAO-MARQUEZ IV
According to Compubox, Pacquiao had a 19-point advantage in power punch connect percentage at the time he was knocked out.
The first time I noted a change was the third time he fought Marquez in 2011. The Mexican's fans, feeling twice aggrieved by decisions that had not gone their man's way, outnumbered those of the Filipino, who, for the first time I could recall, was audibly booed as he made his way to the ring -- and even more lustily when the scores were announced at the end of the fight and he was awarded a victory that Marquez was convinced was rightfully his.
It was even more pronounced for the fourth fight last December, the Mexican contingent again in the ascendant and lusting for justice and vengeance. They did not seem to care how Marquez had come, at the age of 39, to possess an entirely new body, seemingly sculpted of granite -- they yearned only to see him emerge victorious. When he dumped Pacquiao on the seat of his pants in Round 3, they roared him toward the finish line, only for Pacquiao to reassert the control he had established in the opening frame. To the point that, as Round 5 drew to a close, Marquez was looking ragged and on his way to a defeat that, this time, he would not be able to dispute.
[+] Enlarge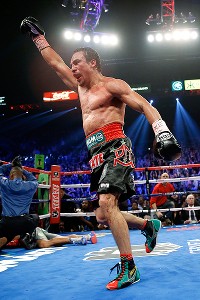 AP Photo/Eric JamisonJuan Manuel Marquez finally gave his fans something to cheer about in his rivalry with Manny Pacquiao.
And then it happened. Pacquiao, from my vantage point, moved in to throw a punch and then disappeared. He had propelled his chin on to an incoming right hand and, instantly relieved of consciousness, dropped face-first like a stone.
"He's not going to get up," I instinctively said amid the tumult, unaware that I was echoing what would become famous lines from Roy Jones Jr. on the HBO broadcast:
"He's not getting up, Jim. He's not getting up, Jim. He's not getting up, Jim."
It is hard, even now, to convey adequately the intensity and variety of emotions that coursed through the MGM Grand Garden Arena in the immediate aftermath of that moment -- a mixture of jubilation, desperation and suspicion, none more powerful than the sight of Jinkee Pacquiao wailing in grief as she struggled desperately to reach her still-prone husband.
For Pacquiao's fans, it was more than a knockout loss suffered by a beloved boxer -- it was a demigod rendered suddenly and shockingly mortal. In his fame and success, Pacquiao had become synonymous and symbiotic with his countrymen, and the nature of his defeat tore at their very essence. For fans of Marquez, there were different feelings: justice, revenge and a sweet victory that they intended to celebrate. Loudly.
So, there is a bigger buzz for Pac-Marquez 4 than 1? #ESPNsuperfights

— Paul Dronette (@Sumthin_Big) August 24, 2013
Marquez vs Pacquiao was not a great fight....but the socking ending is one of the best of the history no doubt!! #ESPNsuperfights

— Jair Florentin (@Jairlak) August 26, 2013
Pacman vs Marquez IV that was an insane war. I thought Pacman was dead #ESPNsuperfights

— Mupharo (@mvpmyambo) August 25, 2013
Boxing
Kieran Mulvaney covers boxing for ESPN.com, HBO.com and Reuters, and also blogs for Discovery Channel News.
EDITORS' PICKS
Provodnikov, Matthysse set to settle their differences.
Rankings »

Moonves, Roach and a restaurant waiter play key roles.
Dan Rafael »

Molina has a plan for Saturday: Test Broner's chin.
Brian Campbell »
MOST SENT STORIES ON ESPN.COM