Mayweather in a league of his own
Originally Published:
September 16, 2013
By
Dan Rafael
| ESPN.com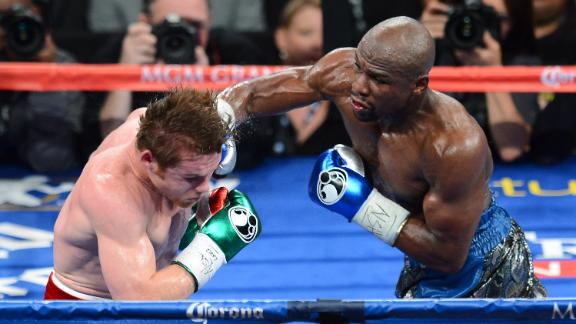 Mayweather Breezes Through Alvarez
Dan Rafael and Teddy Atlas break down Floyd Mayweather's masterful performance against Canelo Alvarez, fight judge C.J. Ross' controversial scorecard, and who's next for Mayweather.
Mayweather Breezes Through Alvarez
A roundup of the past week's notable boxing results from around the world:
Saturday at Las Vegas
Floyd Mayweather Jr. W12 Canelo Alvarez
Unifies junior middleweight titles
Scores: 117-111, 116-112, 114-114
Records: Mayweather Jr. (45-0, 26 KOs); Alvarez (42-1-1, 30 KOs)
Rafael's remarks: Anybody who doubted that Mayweather was the best pound-for-pound before this fight needed their head examined. But if there is anyone who still does not regard "Money" as the best fighter in the world (and it's not close) after this brilliant performance, they need to be committed.
Once again, Mayweather dominated his opponent, but this time against a guy in Alvarez whom many thought would be his toughest test in several years, perhaps since his days as junior lightweight and lightweight champion in the late 1990s and early 2000s. Rather than serve as a test, Alvarez, the 23-year-old Mexican hero fighting on Mexican Independence Day weekend, was fodder for the far superior Mayweather, who dominated so decisively that even Alvarez admitted that he couldn't catch him, that he couldn't find him and that he had lost.
But that didn't stop dubious scoring across the board. While nearly everybody at ringside had a Mayweather shutout or gave Alvarez one or two rounds, the official judges did Mayweather no favors. Judge Craig Metcalfe gave Alvarez three rounds, not great but acceptable. Judge Dave Moretti gave him four rounds, which is bizarre. But judge C.J. Ross -- one of the two judges responsible for giving Timothy Bradley Jr. a split-decision win against Manny Pacquiao in an all-time controversial decision in 2012 -- incredibly scored this one-sided domination a draw, drawing worldwide incredulity for yet another horrible scorecard.
To Mayweather's credit, he stayed calm about the scoring. Mayweather and everybody else -- including Alvarez and his team -- know he won decisively in the year's biggest fight, by far. The fight probably will go down as the richest in boxing history. The sellout crowd of 16,746 at the MGM Grand Garden Arena (where Mayweather was fighting for the eighth consecutive time) generated an all-time record gate of $20,003,150, and the Showtime PPV number is expected by most to top two million buys with a shot at the 2007 Mayweather-Oscar De La Hoya all-time record 2.44 million buys.
What people got for all that money was not a great fight, but an all-time great performance from Mayweather, maybe one of his best. He also holds a welterweight title but moved up to meet Alvarez at a catch weight of 152 pounds, meaning Alvarez had the size and power advantage. In fact, Alvarez, making his seventh defense, weighed 165 on Showtime's fight-night scale while Mayweather, who was officially 150½ at the Friday weigh-in, actually lost weight and was only 150 on fight night. But size and power mean nothing if you can't use the size to your advantage or deliver the power. Mayweather was elusive and remains one of the greatest defensive fighters in history. He befuddled Alvarez, tired in the second half of the fight and never hit Mayweather with a truly solid punch.
Meantime, Mayweather, making his first junior middleweight defense, cleaned up on Alvarez, whose contract called for $5 million although his guarantee was close to $12 million. Although he is not a big puncher, Mayweather -- who earned an all-time record purse of $41.5 million, a figure that will rise by tens of millions once he takes his additional share of the profit from the event -- landed his right hand almost at will and displayed a very good jab. He worked Alvarez up and down and side to side while rarely getting hit. He credited his father and trainer Floyd Mayweather Sr. for a great game plan, once that focuses on defense. It was their second fight in a row together after a long estrangement. Things seemed to go very smoothly during the training camp, translating into yet another near-flawless performance. He landed 232 of 505 punches for a very high 46 percent, according to CompuBox statistics, while Alvarez connected on a mere 117 of 526 punches (22 percent).
Although Alvarez suffered his first defeat, he is still a quality fighter who would probably beat most other junior middleweights. He'll be back next year and it won't come as a surprise if he claims another title in short order and makes plenty of big fights to come. Mayweather says he will fight twice in 2014, in May and September, as he rolls through his 30-month contract for up to six fights with Showtime/CBS. The only real question is not if Mayweather will win those upcoming fights but rather who will be his next victim.
Danny Garcia W12 Lucas Matthysse
Retains world junior welterweight title
Scores: 115-111, 114-112 (twice)
Records: Garcia (27-0, 16 KOs); Matthysse (34-3, 32 KOs)
Rafael's remarks: And so concluded the unofficial four-man junior welterweight tournament that established the real 140-pound champion and crowned the No. 1 man in the division, very obviously Garcia after his excellent performance in a terrific fight. The unofficial semifinals saw Garcia outlast former three-time titleholder Zab Judah in a very tough fight in April followed by power slugger Matthysse slice through Lamont Peterson in three rounds in emphatic fashion in May in a nontitle bout. That set up the showdown with Garcia, perhaps the most anticipated fight in boxing other than the Floyd Mayweather Jr.-Canelo Alvarez main event.
When Mayweather and Golden Boy Promotions added Garcia-Matthysse to "The One" undercard, it turned a strong pay-per-view main event into one of the best PPV cards in history and showcased a fight that very likely could produce Mayweather's next victim when he returns to fight in May. But before either Garcia, 25, of Philadelphia, or Matthysse, 30, an interim titleholder from Argentina and one of boxing's best punchers, could think about the riches a Mayweather fight might bring, they had to deal with each other, and it was a rough going for both men.
Early on, Matthysse was dominating before Garcia came back in the second half of the fight to win convincingly. Garcia had been annoyed that he was made the underdog against Matthysse, even though he was also on a strong run and fighting quality opponents such as Judah and Amir Khan in addition to an older Erik Morales twice. But Garcia, making his fourth title defense, left no doubt as to who the No. 1 junior welterweight was when he survived some very difficult early rounds.
Garcia and his trainer and father, the outspoken Angel Garcia (who said he would cut off his own head if his son lost), had an excellent game plan. Garcia worked Matthysse hard to the body, although some shots strayed low and caused referee Tony Weeks to warn him for the infractions. But Garcia stuck to the plan and began to slow Matthysse down. Garcia, who possesses a tremendous left hook, began to open up in the fourth round, during which he landed some big right hands that the iron-chinned Matthysse stood up to. Matthysse had Garcia in some trouble late in the fifth round and seemed to be breaking him down. But the fight changed dramatically in the seventh round. That is when Matthysse's right eye began to swell badly. It was eventually completely closed and could no longer see Garcia's shots coming from that side and Garcia took big advantage. The fact that there was no end-swell in Matthysse's corner to control the swelling is unforgivable and unprofessional, so the eye got worse as the fight went on because Garcia was targeting it.
Matthysse came into the fight having floored every opponent he had ever faced, even in his two controversial split decision losses to Judah and Devon Alexander. Could he floor Garcia? He sure tried, pressing for the knockout in the late rounds even though he could not see out of the swollen eye. In the 11th round, he creamed Garcia and sent his mouthpiece flying out of the ring, a shot Garcia admitted after the fight had hurt him. But later in the 11th round, Garcia, who kept his composure under the heavy pressure, put together a nice combination and dropped Matthysse for the first time in his career. In the 12th round, Garcia, who had been given multiple warnings for low blows from Weeks, hit Matthysse way low again and was docked a point. But it wound up not making a difference on the scorecards as Garcia won a close, but clear decision to prove he is his division's best while also putting himself squarely at the top of the list of potential Mayweather opponents for next spring.
Carlos Molina W12 Ishe Smith
Wins a junior middleweight title
Scores: 117-111, 116-112 Molina, 116-112 Smith
Records: Molina (22-5-2, 6 KOs); Smith (25-6, 11 KOs)
Rafael's remarks: Although this was just an absolutely terrible fight, Molina got the job done to win a world title in an opportunity that was a long time coming. Molina, 30, of Chicago, born in Mexico, had a long road to get to this spot. After a contract dispute with former promoter Don King kept Molina out of the ring for nearly two years, he returned in early 2011 and was on the bad end of a controversial draw with Erislandy Lara. He fought twice more in short order and notched solid wins against Allen Conyers and former titleholder Kermit Cintron before getting a high-profile fight with James Kirkland in early 2012. Although Molina was winning easily, he was dropped at the very end of the 10th round and then disqualified when his corner came into the ring believing the round was over. It was a terrible call by an overzealous referee and Molina paid the price. But he rebounded with a victory over Damian Frias and then easily outpointed former titlist Cory Spinks in February in a title eliminator that got him the shot at Smith, 35, the first fighter born in Las Vegas to win a world title.
Smith, a former participant on "The Contender" reality series, overcame personal problems and a near suicide attempt to win a world title in February when he outpointed Cornelius "K9" Bundrage. His first defense, the mandatory against Molina, was supposed to take place July 19 in Las Vegas, but Smith suffered a cut eye in sparring and the fight was postponed. Floyd Mayweather Jr., Smith's promoter and pal, decided to reschedule it on his own undercard, giving Smith and Molina a massive opportunity to make a good impression on a worldwide audience on the biggest card of the year. Unfortunately, neither took advantage of the platform.
Instead of either fighter making their case that they deserve bigger fights in the 154-pound division, they instead engaged in a stinkfest. The fight was filled with more clinching, sloppy, sporadic punching and accidental head butts than anything remotely entertaining. Molina was at least more aggressive than Smith, who laid back and tried to counter punch and then grab. In the end, Molina, with a bit more aggression and cleaner punching (it's all relative), came out on top in the deserved majority decision victory.
After the card was over Mayweather suggested that Molina, owner of a new title, would make an ideal opponent for the vanquished Canelo Alvarez to return against. That is probably not doing Alvarez any favors. Still, as bad as a fight as it was, it's hard not to be happy for Molina, one of the truly nice guys in the sport who has worked hard for everything he has gotten.
Pablo Cesar Cano W10 Ashley Theophane
Welterweight
Scores: 98-92, 97-93 Cano, 96-94 Theophane
Records: Cano (27-3-1, 20 KOs); Theophane (33-6-1, 10 KOs)
Rafael's remarks: Cano, 23, of Mexico, always gives a big effort and likes to make brawls, but he had lost his three most significant fights -- a 10th-round knockout to Erik Morales in a 2011 vacant junior welterweight title bout and his previous two fights, a split decision to then-welterweight titlist Paulie Malignaggi in October 2012 (a fight for which Cano did not make weight was, therefore, ineligible to win the title) and a unanimous decision to Shane Mosley in a May brawl.
Coming off two losses in a row and very easy to hit, Cano was supposed to be an opponent for Theophane, 33, of England, to look good against in the opener of the big pay-per-view card. Theophane was put on the show because that is what headliner Floyd Mayweather Jr., his promoter, wanted. Mayweather was impressed by Theophane, the former British junior welterweight champion, when he sparred with him as well as his overall gym work and dedication.
Although the result was a split decision, Cano was a deserving winner. He carried the action, hurt Theophane several times and did a lot more damage.
In the third round, Cano nearly dropped Theophane when he rocked him with a right hand. Cano swarmed Theophane in an effort to get the knockout, but Theophane is resilient and refused to go down. But Theophane was in trouble again in the fourth round and fifth round as Cano landed some heavy right hands. But then, out of nowhere late in the fifth round, Theophane, dripping blood from his nose, nailed the defense-challenged Cano with two rights hands, rocking him each time. But Cano shook off the blows and continued to stalk Theophane and land more than enough blows to get the split verdict. Theophane might have a hard time rebounding from this loss because there is not really anywhere for him to go at this point. Cano, however, because of his exciting, brawling style and the fact that he is coming off a solid victory, surely will get another good TV fight.
Thursday at Las Vegas
Shawn Porter W10 Julio Diaz
Welterweight
Scores: 98-92, 97-93 (twice)
Records: Porter (22-0-1, 14 KOs); Diaz (40-9-1, 29 KOs)
Rafael's remarks: Porter, 25, of Cleveland, and former two-time lightweight titlist Diaz, 33, of Coachella, Calif., first met in December in what was supposed to be a step-up fight for Porter as he tried to get the name of a former world titleholder on his resume. Many considered Porter a blue chip prospect and the heavy favorite against Diaz. But, in a rousing fight, they fought to a split draw.
Both took interim fights after the draw, Porter easily outpointing then-unbeaten Phil Lo Greco in May and Diaz losing a highly competitive decision to former junior welterweight titlist Amir Khan in April. Then the rematch was set and it was another good fight, but this time Porter won a clear decision. Although Porter has deficiencies that he will need to fix if he is ever to become a contender -- such as using some semblance of a jab -- he was the better man than Diaz, who traded a lot of body punches with Porter. But Porter was quicker, controlled the action and landed more accurate punches, although he is not blessed with power. He basically outhustled Diaz, which is what often happens when a young, hungry fighter meets an older fighter who isn't quite as sharp as he once was. Diaz is a veteran who can hang in there with just about anyone, but he was unable to impose himself on Porter or take advantage of his porous defense.
Marco Antonio Periban D10 Badou Jack
Super middleweight
Scores: 95-95 (twice), 96-94 Periban
Records: Periban (20-1-1, 13 KOs); Jack (15-0-1, 10 KOs)
Rafael's remarks: Periban, 28, of Mexico, was coming of a brutal fight and majority decision loss to Sakio Bika in June for a vacant world title. Jack, 29, lives in Las Vegas, where he trains with Floyd Mayweather Jr., but was born in Sweden and represented his family's home country of Gambia in the 2008 Olympics. He was taking a big step up in competition by facing the durable Periban. To many, Jack should have won a fight in which he looked sharp and badly busted up the slower Periban's face. But Periban also landed his share of punches, especially in the action-packed eighth round. In the end, two judges had the bout even. Perhaps there will be a rematch, but this was not a good result for Jack, who was supposed to be the best of the prospects Mayweather promotes.
Julian Williams No Contest 4 Hugo Centeno Jr.
Junior middleweight
Records: Williams (13-0-1, 7 KOs); Centeno Jr. (19-0, 10 KOs)
Rafael's remarks: On paper, this was a good-looking matchup between prospects Williams, 23, of Philadelphia, and Centeno, 22, of Oxnard, Calif. In reality, Williams dominated before the fight ended at 59 seconds of the fourth round because Centeno suffered a cut over his left eye from an accidental head butt. Because the fight had not gone four full rounds, they could not go to the scorecards for a technical decision and it was ruled a no contest. But it was dubious. Williams gave Centeno a bloody nose and seemed to be on the verge of a stoppage when the fight was stopped. Centeno, it seemed, found a way out of the fight because of the tiny cut. It in no way appeared to be the kind of cut to stop a fight, but when the doctor examined him Centeno indicated that he was having problems seeing out of the eye -- suspect considering the cut was all the way to the side. To most at ringside, it looked as though Centeno simply quit and used the cut as an excuse. Williams was not pleased and shouted at Centeno about it.
Jermall Charlo TKO7 Rogelio De La Torre
Junior middleweight
Records: Charlo (16-0, 12 KOs); De La Torre (10-4, 6 KOs)
Rafael's remarks: Charlo, 23, of Houston, is a fine prospect coming along nicely, as is his twin brother Jermell Charlo. He squared off with De La Torre, 24, also of Houston, and put on a strong performance as De La Torre lost his second fight in a row and third in his last four bouts. Charlo, with a decided height and reach advantage, kept De La Torre at the end of his jab and dominated the fight. In the seventh round, Charlo ruined De La Torre's balance with a left hook to the side of his head and then connected with a right hand and another left hook to send De La Torre to the canvas. De La Torre beat the count, but his balance was gone and as he staggered toward referee Tony Weeks, he called off the fight at 1 minute, 50 seconds.
Errol Spence Jr. TKO1 Jesus Tavera
Junior middleweight
Records: Spence Jr. (8-0, 7 KOs); Tavera (5-4, 1 KOs)
Rafael's remarks: Spence, 23, a southpaw from Dallas and perhaps the most talented member of the 2012 U.S. Olympic team, continued to plow through the weak opposition most prospects are matched with in their early pro careers. Spence barely broke a sweat as he demolished Tavera, 26, of Mexico. Tavera looked intimidated from the outset and was backing up when Spence caught him with a solid left to the body for a knockdown. Spence kept the pressure on and was teeing off when he dropped Tavera for a second time and referee Russell Mora immediately waved off the mismatch at 2 minutes, 33 seconds.
Diego De La Hoya TKO3 Luis Cosme
Junior featherweight
Records: De La Hoya (1-0, 1 KOs); Cosme (8-4, 3 KOs)
Rafael's remarks: If the name is familiar, it ought to be. De La Hoya, 19, of Mexico, is a first cousin of Oscar De La Hoya, the former 10-time world titleholder in six weight classes, who also happens to be the youngster's promoter. Diego De La Hoya made his professional debut after standout amateur career in which he had more than 250 fights, although just missed making the 2012 Mexican Olympic team. De La Hoya showed poise as he dominated Cosme, 27, of Puerto Rico. De La Hoya does not seem to be a fierce puncher, but he showed a good finishing instinct. When he hurt Cosme early in the third round, De Le Hoya did a nice job of putting his punches together as he landed a flurry of shots with both hands and dropped Come along the ropes. Referee Robert Byrd called off the bout 53 seconds into the round. Nice performance for De La Hoya.
Boxing
2013 BWAA Nat Fleischer Award winner for excellence in boxing journalism
ESPN.com boxing writer since 2005
Five years at USA Today
EDITORS' PICKS
After his win, Brook wants to face Khan, Marquez.
Scorecard »

Russell proved to be the better man against Gonzalez.
Brian Campbell »

Six months after suffering a severe stab wound, Kell Brook defended his welterweight title with a demolition of Jo Jo Dan in a dominant performance Saturday in England.
ESPN UK »
osunaespn Bernardo Osuna
Media out for @MannyPacquiao tactical session with @FreddieRoach. Prensa sale del gimnasio para sesion tactica. http://t.co/BIcsQ9zk7s
17 minutes ago

ESPNFNF Nigel Collins
Correction: Petr Petrov, who fights this week on FNF, was 2014's BOXCINO's lightweight winner, NOT middleweight.
28 minutes ago

ESPNFNF Nigel Collins
This week FNF features the return of 2014 BOXCINO middleweight champ Petr Petrov, who takes on Gamaliel Diaz in a 10-rounder (9 p.m. ET).
42 minutes ago

danrafaelespn Dan Rafael
New batch of #boxing notes in my blog: @DiamanteVerdejo @HBOboxing debut, @SHOsports's Chavez-Fonfara co-featr, more: http://t.co/8D08BRPpGq
about an hour ago

Gzarce SonRisa_7?
@osunaespn hubiera sabido.. Me peino!! 🙈😆😁😎 te admiro mucho!! Gracias por aser mi dia 😉 @espn ❤️ http://t.co/WO5vGqMMgN
about an hour ago

danrafaelespn Dan Rafael
On April 17, top 154 prospect @Iamboxing will headline #FNF again. My blog: http://t.co/up3yBT5LYL #boxing @loudibella
about an hour ago

AlfredoESPN Alfredo Berrios
@osunaespn interviene en A Los Golpes por ESPN desde el Wild Card Gym. #maypac http://t.co/56t5DNILeP
about 2 hours ago

danrafaelespn Dan Rafael
My story on @trboxing/@truTV deal has details on the new #boxing series & its 1st 3 cards: http://t.co/m7GVT93EIh @ToddDuboef @CarlMoretti
about 2 hours ago

danrafaelespn Dan Rafael
Bob Costas will be part of 4/11 Garcia-Peterson NBC card. Will be on set & do piece on NYC #boxing. Costas,Al Michaels,Marv Albert together.
about 3 hours ago

danrafaelespn Dan Rafael
And how could I forget to include beIN Sports Espanol on the list of networks showing fights. They have had some great fights! #boxing
about 3 hours ago

danrafaelespn Dan Rafael
What a yr 4 #boxing: #MayweatherPacquiao, fights on HBO,Show, ESPN,NBC,NBCSN,CBS,Spike,UniMas,Telmndo,FS1,Fox Deportes,BounceTV & now truTV.
about 3 hours ago

danrafaelespn Dan Rafael
On Provo-Matthysse call, promoter Artie Pelullo ripping Garcia and Peterson for not putting their titles on the line. #boxing
about 4 hours ago

danrafaelespn Dan Rafael
New @trboxing series on @truTV calls for 8 shows this year, including 3 in May. #boxing
about 4 hours ago

danrafaelespn Dan Rafael
Announced today, @trboxing's deal for a new live #boxing series on @truTV, which begins May 1 at the Cosmo in Las Vegas.
about 4 hours ago

danrafaelespn Dan Rafael
Going on call to hear from Provodnikov & Matthysse on 4/18 fight -- fight I'm I look most forward to other than 5/2. #boxing
about 5 hours ago

Faitelson_ESPN David Faitelson
La caída de Johnny,trepidante KO del "Gallito" Estrada y el conteo de Mayweather-Pacquiao hoy en @ALosGolpes_ESPN @Jcchavez115 y @osunaespn
about 5 hours ago

danrafaelespn Dan Rafael
For all the talk, I have very little expectation that Brook-Khan will be made for June even though there is zero reason why it shouldn't.
about 6 hours ago

danrafaelespn Dan Rafael
It was a busy #boxing weekend & it's all covered in the Monday Scorecard: http://t.co/bA6D7gdVW5 @SpecialKBrook @EddieHearn @mrgaryrusselljr
about 6 hours ago

danrafaelespn Dan Rafael
Will Brook-Khan be next? My blog: http://t.co/qyStExe3sK #boxing @EddieHearn @MatchroomBoxing
about 6 hours ago

PatrickSportsTV Patrick Byrne
Poster: @Klitschko vs @BYJennings. #KlitschkoJennings @TomLoeffler1 @GaryShawBoxing @BernieBahrmasel @FightAction http://t.co/U5XI2bhbM9
about 6 hours ago
MOST SENT STORIES ON ESPN.COM