Stevenson impresses; Chavez fizzles
Updated:
September 30, 2013, 12:30 PM ET
By
Dan Rafael
| ESPN.com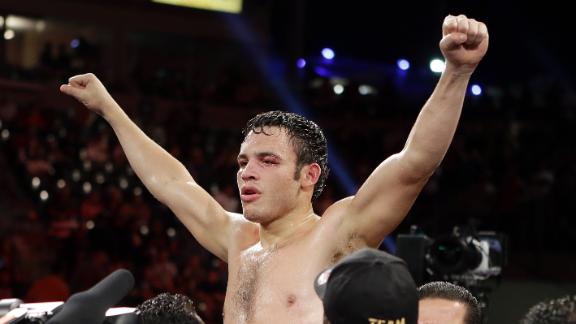 Controversial Result In Chavez-Vera Bout
ESPN senior boxing writer Dan Rafael reacts to Julio Cesar Chavez Jr.'s controversial win over Brian Vera.
Controversial Result In Chavez-Vera Bout
A roundup of the past week's notable boxing results from around the world:
Saturday at Carson, Calif.
Julio Cesar Chavez Jr. W10 Brian Vera
Light heavyweights
Scores: 98-92, 97-93, 96-94
Records: Chavez (47-1-1, 32 KOs); Vera (23-7, 14 KOs)
Rafael's remarks: As a fight, this was an exciting action affair that had the crowd cheering as Chavez and Vera traded fierce shots and put on quite a show for the 5,206 who turned out to the StubHub Center -- although that was a poor turnout considering Chavez's past drawing power. Maybe many of the fans who once supported Chavez are fed up with the prima donna, whose disrespect for boxing knows no bounds and came through loud and clear leading up to the bout.
Outside the ropes, this fight showed some of boxing's ills, between Chavez's complete disregard for professionalism (not to mention the preferential treatment he received) and the horrible judging of a fight that most had Vera winning, except for those who were paid to score it. Judge Carla Caiz's 96-94 card wasn't great, but was at least semi-understandable. But the 98-92 card from Gwen Adair is preposterous and Marty Denkin's 97-93 was almost as woeful. As Vera said after the fight to HBO's Jim Lampley, "Everyone knows I won the fight. Come on, man."
It was easy to feel bad for Vera, 31, of Austin, Texas, the consummate warrior who did everything he needed to do to warrant a unanimous decision win but was ripped off. It was the final indignity of a promotion that treated him like a mere pawn. Remember, Vera expected to fight former middleweight titlist Chavez, 27, the son of Mexican legend Julio Cesar Chavez Sr., at a weight in the low 160s. But by the time the deal was signed, Chavez's camp had brought the weight all the way up to the super middleweight limit of 168 pounds.
And then, during the week of the fight, Chavez, who has always had a tough time making weight, no matter what division he is fighting in, wasn't going to come close to making 168. That set off a round of negotiations that ended with the limit being raised again to 173 pounds and Vera getting a six-figure payment to go along with it -- hey, he wasn't walking away from a $275,000 purse, plus the extra money -- and put himself at what most thought would be a significant competitive disadvantage against a much bigger, stronger man.
Chavez, who made $2.5 million (presumably minus the extra cash that went to the Vera side), looked as though he put on maybe 20 pounds from the weigh-in to the fight. He looked massive compared to Vera. But then a funny thing happened: Vera not only hung in there with the ill-prepared Chavez, he appeared to be the winner when the fight was over. Across the Internet, fans and media had him a clear winner. And Steve Weisfeld, HBO's unofficial scorer for the bout, also had Vera winning a close fight. But then the judges struck, handing Chavez a win he didn't deserve. It's disheartening, to say the least, when one guy is so widely regarded as a winner but three judges have it the other way.
Chavez, whose face was badly marked up, claimed he broke his hand in the fourth or fifth round and also spent a good deal of time complaining to referee Lou Moret about phantom low blows and head-butts. What was really happening was that Vera was eating up Chavez with body shots and landing a lot of clean head shots and combinations.
Chavez did win some of the rounds. He was the heavier hitter and he staggered Vera with a right hand in the sixth round and a left hook in the seventh. But Vera had a big eighth round as Chavez began to visibly tire. In the ninth, as Vera hammered Chavez to the body, Chavez argued repeatedly with Moret, who was having none of it.
Vera appeared to close the fight very strong over the final three rounds, and the CompuBox statistics, although only a guide, appeared to support a Vera victory as well. He landed more punches and threw more punches than Chavez, connecting on 176 of 734 shots (24 percent) while Chavez landed 125 of 328 blows (35 percent).
Although Vera got a raw deal and saw a four-fight winning streak come to an end, he undoubtedly gained a lot of fans and respect for his performance under adverse conditions. Undoubtedly, he will get called on for another fight of note, ideally at middleweight. Chavez, however, is another story. He was fighting for the first time since last September's one-sided decision loss to middleweight champion Sergio Martinez, which was followed by a fine and a nine-month suspension for his second failed drug test in Nevada in three years. You can make a serious argument that between the Martinez fight and the Vera fight, Chavez has lost at least 17 of his past 22 rounds.
Chavez claims he will now campaign at super middleweight, where an eventual showdown with champion Andre Ward or titleholder Carl Froch probably looms, but he should first prove that he can actually make the weight and then beat a serious opponent to earn the shot rather than be handed it, as has been the case for the bulk of his career because of his famous name.
Jose Ramirez W4 Daniel Calzada
Junior welterweights
Scores: 40-36 (three times)
Records: Ramirez (6-0, 4 KOs); Calzada (8-9-2, 1 KO)
Rafael's remarks: Ramirez, a 21-year-old 2012 U.S. Olympian from Avenal, Calif., is a blue-chip prospect who had an easy time with Calzada, 22, of Denver, in an action fight. Ramirez showed poise and precision, especially with his left hook, which is his best punch. He landed it often, as well as shots to the body, while cruising to the shutout decision. Calzada showed heart and made it to the final bell, but he was outclassed while giving an admirable effort.
Karim Mayfield KO8 Chris Fernandez
Welterweights
Records: Mayfield (18-0-1, 11 KOs); Fernandez (21-16-1, 13 KOs)
Rafael's remarks: Mayfield, 32, of San Francisco, may have put himself in position for some kind of title shot with this performance. Fighting for the first time in 11 months -- he had fights fall out and changed promoters -- Mayfield look good, albeit against journeyman Fernandez, 37, of Salt Lake City, who has lost to a who's who, including champion Danny Garcia (in a nontitle fight), Sharif Bogere, Keith Thurman, Paulie Malignaggi and Devon Alexander.
Mayfield controlled the fight from start to finish. He scored a pair of knockdowns in the fourth round and continued to pile up points. In the eighth round, Mayfield landed three left hands to Fernandez's liver, dropping him to a knee. Fernandez was done as referee Ray Corona counted him out with one second left in the round.
Diego Magdaleno W10 Edgar Riovalle
Lightweights
Scores: 100-90 (three times)
Records: Magdaleno (24-1, 9 KOs); Riovalle (36-16-2, 25 KOs)
Rafael's remarks: In April, Magdaleno, 26, of Las Vegas, lost a hard-luck split decision while challenging junior lightweight titleholder Roman "Rocky" Martinez in Macau. After the fight, Magdaleno made major changes. He split from longtime manager and trainer Pat Barry and brought on new manager Frank Espinoza and trainer Joel Diaz. Making his return, the much quicker Magdaleno coasted to a shutout decision against Riovalle, 26, of Mexico, who lost his second fight in a row.
There were also some other notable fighters on the card. Promising middleweight Matt Korobov (21-0, 12 KOs), the 30-year-old 2008 Russian Olympic standout, cruised to a lopsided eight-round decision win against Grady Brewer (30-17, 16 KOs), 42, of Lawton, Okla., winning 80-71, 80-71 and 79-72. Korobov dropped Brewer, a former winner of "The Contender" reality series, in the fifth round and handed him his third loss in a row.
Two-time Mexican Olympian Oscar Valdez (7-0, 6 KOs), 22 and one of boxing's most promising prospects, scored two knockdowns in the third round en route to a third-round stoppage of former 130-pound world title challenger Joe Morales (20-14, 4 KOs), 39, of Denver, who was fighting for the first time in 3½ years.
Saturday at Montreal
Adonis Stevenson TKO7 Tavoris Cloud
Retains world light heavyweight title
Records: Stevenson (22-1, 19 KOs); Cloud (24-2, 19 KOs)
Rafael's remarks: This was another great performance by Stevenson, who is one of boxing's emerging stars. It was very impressive, especially as a follow-up to his championship-winning, 76-second dusting of Chad Dawson on one big left hand in June. Stevenson has what you want to see from a champion: an exciting style, tremendous power, a growing fan base and a work ethic that ensures he always arrives for a fight in shape.
But when he crushed Dawson in such awesome fashion, it also was fair to question just how much the showing taught us about Stevenson. After all, Dawson was viewed as damaged goods by many because he had been so badly beaten in a 10th-round knockout loss to super middleweight champion Andre Ward in his previous fight last September.
So although Stevenson, 36, originally from Haiti but a longtime resident of Quebec, won the title, many wanted confirmation that Stevenson could dominate against a quality opponent. Cloud had lost his version of the title in his previous fight when he was outboxed by grand master Bernard Hopkins. But Cloud is an experienced veteran with a great chin and, although the underdog, was expected to make this a real fight, one that took place in the same Bell Centre ring as the Dawson fight.
Stevenson, however, dominated every second of the bout en route to the stoppage victory. The end came when trainer Al Bonanni, with a bleeding and dejected Cloud, 31, of Tallahassee, Fla., on his stool after taking punishment for seven rounds, did the right thing and threw in the towel.
Cloud took a lot of heavy shots from Stevenson, a southpaw, and showed his great chin, but Stevenson was way too much for him. Stevenson was accurate and sharp with his punches, and did a tremendous job of mixing things up. He fired shots upstairs and also worked the body extremely well. He showed a diverse arsenal, one that Cloud had zero answers for.
Stevenson hurt Cloud in the first round with a left hand, which seemed to injure Cloud's left eye. Stevenson opened a cut over the eye in the fourth round and was hammering him during the sixth and seventh. He opened a cut over Cloud's right eye in the seventh, and when the round ended, Bonanni wasted little time pulling Cloud out of the fight.
Even if you thought that Stevenson would win the fight, the sheer one-sided nature of the beating had to be at least a mild surprise. Give some of the credit to trainer Javan "Sugar" Hill, who devised a great game plan. He is, of course, the nephew of the late Hall of Famer Emanuel Steward, who trained Stevenson before Steward's death. Now Hill carries on his Kronk Gym legacy.
Look for Stevenson to return before the end of the year, probably Nov. 30, for a mandatory defense that is due against Tony Bellew (20-1-1, 12 KOs) of England. Titleholder Sergey Kovalev might appear on the undercard in an effort to build toward that exciting showdown next year. There is also the possibility of a big-time fight with the winner of the Jan. 18 fight between fellow Montreal stars Jean Pascal, the former light heavyweight champ, and Lucian Bute, a former super middleweight titlist. Further down the road, Stevenson could earn a showdown with Andre Ward. The light heavyweight division is an exciting place right now, and Stevenson, as the king, is right in the middle of it.
Jean Pascal TKO5 George Blades
Cruiserweights
Records: Pascal (28-2-1, 17 KOs); Blades (23-5, 16 KOs)
Rafael's remarks: Pascal, the former light heavyweight champ, was supposed to meet former super middleweight titlist Lucian Bute on May 25 in an all-Montreal showdown viewed by many as the biggest fight in Canadian history. However, Bute suffered a serious hand injury and the fight was postponed until Jan. 18. Although Pascal has had his own injury issues (chronic shoulder problems) and hadn't fought since easily outpointing Aleksy Kuziemski in a 10-round fight on Dec. 14, he didn't want to go 13 months without a fight and show up rusty against Bute. So Pascal gambled his seven-figure payday and took a tuneup against Indianapolis resident Blades, 39, who once fought for a light heavyweight world title and got knocked out in the 11th round in Hungary by hometown hero Zsolt Erdei in 2007.
It was not really a matter of whether Pascal would beat Blades, but more whether he could get through the fight without his shoulder giving him a problem. It appears as though Pascal came through against Blades just fine, keeping alive the long-awaited date with Bute.
Pascal and Blades -- in only his second fight since 2010 -- met at a contract weight of 180 pounds, five over the light heavyweight limit, and Pascal dominated. He hurt Blades in the first round with a series of shots and had him holding on, nearly dropped him through the ring ropes with a right hand late in the second round and stunned him repeatedly as the fight wore on. In the fifth round, Pascal dropped Blades when he unloaded with three right hands -- overhand, uppercut, straight right. A body shot and another right hand quickly knocked Blades down again. Pascal went right back at him, and a couple of more right hands dropped Blades for the third time. This time referee Marlon Wright immediately waved off the fight at 2 minutes, 54 seconds. Bring on Bute.
Saturday at Atlantic City, N.J.
Glen Tapia TKO5 Elco Garcia
Junior middleweights
Records: Tapia (20-0, 12 KOs); Garcia (27-9, 13 KOs)
Rafael's remarks: The 23-year-old Tapia, of Passaic, N.J., is a crowd-pleasing prospect who may be only a fight or two away from fighting a contender. In his most recent fight, he stopped then-undefeated Abie Han in July in a fierce battle. This time out, Tapia wasn't matched as tough, as he took on Garcia, a 42-year-old journeyman from Ignacio, Colo., who once got knocked out in the 10th round by the late former welterweight and junior middleweight titleholder Vernon Forrest in 2005.
Garcia proved to be no match for the younger, stronger, hungrier Tapia, who pounded him throughout the fight. This fight amounted to a young man beating up an old man. Garcia was game but outgunned. Tapia, using a mixed attack to the head and body, manhandled Garcia for the first four rounds and then put him out of his misery in the fifth. He hurt Garcia with a series of right hands, forcing him to grab on to stay upright. Then Tapia put together a sustained flurry with both hands until Garcia finally fell to the mat. Garcia, badly dazed, appeared to beat the count, but he was in no condition to continue. Referee Benjy Esteves called off the fight with one second left in the round.
Toka Kahn Clary TKO5 Victor Sanchez
Junior lightweights
Records: Kahn Clary (8-0, 6 KOs); Sanchez (5-7-2, 2 KO)
Rafael's remarks: Kahn Clary, 21, born in Liberia, orphaned and now living in Providence, R.I., was a standout amateur, winning a 2010 National Golden Gloves title as well medals at other top national tournaments in 2011 and 2012. Now Kahn Clary, a southpaw, is a good-looking prospect. He had little issue with Sanchez, 21, of Houston. Kahn Clary was faster, sharper and all-around better than Sanchez, also a southpaw. In the fifth round, Sanchez was clearly losing, but he seemed OK and hadn't taken any big punch. However, referee Steve Smoger called off the fight at 1 minute, 21 seconds, apparently on advice of the ringside doctor.
Also on the card, super middleweight prospect Jesse Hart (10-0, 9 KOs), 24, of Philadelphia, scored three knockdowns in a first-round destruction of Terrance Wilson (6-8, 3 KOs), 31, of Fort Smith, Ark. Hart, a standout amateur and the son of 1970s middleweight contender Eugene "Cyclone" Hart, got rid of Wilson in 1 minute, 57 seconds. Wilson lost his second fight in a row and fifth in his past six.
Saturday at Los Mochis, Mexico
Humberto Soto W12 Mahonri Montes
Junior welterweights
Scores: 118-110, 117-112, 115-113
Records: Soto (62-8-2, 35 KOs); Montes (28-3-1, 21 KOs)
Rafael's remarks: Soto, 33, of Mexico, is a former junior lightweight and lightweight titleholder, but when he was crushed in five rounds by Lucas Matthysse in a June 2012 junior welterweight bout, many figured Soto was just about done. However, he has now won four fights in a row since that defeat, thanks to a careful selection of opponents, including Montes, 23, in a battle for bragging rights in their hometown of Los Mochis.
Like most Soto fights, there was good action, but Soto was getting the better of it for most of the fight. There were no knockdowns, although Montes, who had a bad bruise under his right eye, landed a left hand on a bad low blow in the 12th round that sent Soto to the mat in pain. Referee Jose Cobian called the foul and gave Soto time to recover. There was only about a minute left in the fight, and by then Soto had done more than enough to warrant the unanimous decision and keep his hope alive for a potential 140-pound world title shot.
Saturday at Windhoek, Namibia
Harry Simon W12 Geard Ajetovic
Light heavyweights
Scores: 117-111 (twice), 116-113
Records: Simon (29-0, 21 KOs); Ajetovic (23-9-1, 11 KOs)
Rafael's remarks: Simon, 41, of Namibia, was one of the world's top-rated junior middleweights and middleweights from 1998 to 2002. He won world titles in both weight classes and had been getting American television coverage. But his career has never been the same since he was badly injured in a 2002 car accident that killed other motorists and was then convicted and went to jail for "culpable homicide" as a result of the incident. Simon returned in 2007 for one fight, had two more bouts in 2010 and one in 2012. Now a light heavyweight, Simon has fought twice in 2013, including this victory for a regional title in a fight that was viewed as a big deal by a lot of people in his country, where Simon remains popular.
Simon will beat these kinds of opponents -- he used his jab very liberally against Ajetovic -- but he looks a bit small to be a serious light heavyweight contender, and given his age and all the time spent out of the ring, he is unlikely to ever recapture his past glory. Simon is expected to fight again before the end of the year.
Ajetovic, 32, of Serbia, was an experienced foe, although he had lost to his most notable opposition, including three consecutive middleweight bouts in 2008 to Daniel Geale and Dmitry Pirog (both of whom went on to win world titles) and Matthew Macklin, a former title challenger and longtime contender.
Boxing
2013 BWAA Nat Fleischer Award winner for excellence in boxing journalism
ESPN.com boxing writer since 2005
Five years at USA Today
SPONSORED HEADLINES
MORE BOXING HEADLINES
MOST SENT STORIES ON ESPN.COM