Differing drives of Bradley, Marquez
Bradley still burns for respect, while Marquez is motivated to seal his legacy
Updated:
October 11, 2013, 1:47 PM ET
By
Dan Rafael
| ESPN.com
LAS VEGAS -- Timothy Bradley Jr. and Juan Manuel Marquez are among the best fighters in the world. Each has won multiple world titles, been involved in memorable fights and earned millions. Yet each remains deeply motivated.
Timothy Bradley Jr.- Juan Manuel Marquez
Where: Thomas & Mack Center, Las Vegas
When: Saturday, 9 p.m. ET/PT
TV: HBO PPV
Their motivations, however, are different as they head into their showdown on Saturday night (9 ET, HBO PPV) at the Thomas & Mack Center, where Bradley will defend his welterweight title for the second time when he meets Marquez in a battle of top pound-for-pound fighters.
Bradley is fighting for the respect he believes he still hasn't received, despite his perfect record and status as a two-division titleholder.
"I'm looking for my place in history, to establish my legacy," Bradley, 30, said before Wednesday's final news conference at The Wynn resort. "I should be a top-three pound-for-pound fighter if I win on Saturday."
[+] Enlarge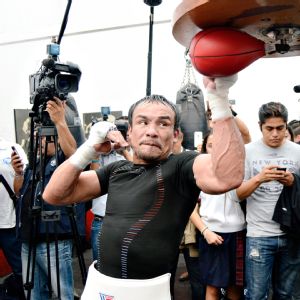 Rafael Soto/Zanfer Promotions Juan Manuel Marquez seeks to separate himself from all other Mexican fighters by winning a title in a fifth division, becoming only the sixth fighter -- and first from his country -- to do so.
Marquez (55-6-1, 40 KOs), the 40-year-old Mexican star, already has established a Hall of Fame résumé, regardless of the outcome of Saturday's fight. However, a victory would go a long way toward enhancing it. Marquez has already won world titles in four weight classes: featherweight, junior lightweight, lightweight and junior welterweight. His motivation against Bradley (30-0, 12 KOs), of Palm Springs, Calif., is to win his welterweight belt and become the first Mexican fighter to own a world title in five different weight divisions.
"When we thought about being a four-division world champion, the fifth was in our grasp and there for the taking," Marquez said. "My legacy will be taken to the next level if I win this fifth title, and it will be something that separates me from other Mexican fighters."
Top Rank promoter Bob Arum offered Marquez and Bradley rematches with eight-division champion Manny Pacquiao this fall -- fights for which they would have earned more money than they will make against each other ($6 million for Marquez and $4.1 million for Bradley) -- but neither wanted it. Bradley and Marquez decided that because they had already defeated Pacquiao, they would rather fight each other, believing a win in that matchup would mean more than another triumph over Pacquiao.
Timothy Bradley Jr.- Juan Manuel Marquez
TV lineup for the Top Rank card Saturday night (HBO PPV, 9 ET) at the Thomas & Mack Center in Las Vegas:
• Welterweights: Timothy Bradley Jr. (30-0, 12 KOs) vs. Juan Manuel Marquez (55-6-1, 40 KOs), 12 rounds, for Bradley's title
• Featherweights: Orlando Salido (39-12-2, 27 KOs) vs. Orlando Cruz (20-2-1, 10 KOs), 12 rounds, for a vacant title
• Featherweights: Vasyl Lomachenko (0-0, 0 KOs) vs. Jose Luis Ramirez (24-2-2, 15 KOs), 10 rounds
• Light heavyweights: Seanie Monaghan (18-0, 11 KOs) vs. Anthony Caputo-Smith (14-1, 10 KOs), 10 rounds
"[Marquez] wants to make history by being the first Mexican fighter to win world titles in five different weight divisions," Bradley said. "[Julio Cesar] Chavez, [Erik] Morales and [Marco Antonio] Barrera never did that. I know he wants to make history. But I want to make my own history, and beating Marquez and denying him of his ultimate goal, in the boxing capital of the world, will do just that.
"He is a legend, the greatest Mexican fighter of his era. He has a great trainer in Nacho Beristain. But they will never stop my will to win. I will win because I have to win. It's in my DNA. And I will be a bigger name because of my will to win. I have one goal: go into the ring, win and retire the great Juan Manuel Marquez."
Bradley, still stung by criticism over the controversial split decision he received against Pacquiao in June 2012, also wanted to move on. He believes beating Marquez would be even bigger than facing Pacquiao again, mainly because Marquez knocked Pacquiao out cold in December in their fourth fight to give their rivalry its first definitive result.
"I want to be a part of Marquez's legacy, and by me beating Marquez, that right there will make me one of the top pound-for-pound fighters in the world -- No. 1, No. 2, No. 3, wherever you want to place me," Bradley said. "Marquez is probably the best fighter I will have ever faced in my career, by far. This fight is going to be a very tough fight, and I am game for war. I know Marquez is, too. I know his trainer very well, and I know they are going to come out hard and try to take me out and take my title.
"I want to shine, and I can do that by having two guys on my résumé [Marquez and Pacquiao] who are by far the best fighters in the world, [future] Hall of Famers. And if I could beat both of these guys, I would be considered one of the best."
Tale Of The Tape: Bradley-Marquez
Bradley
Marquez
Age
30
40
Record
30-0
55-6-1
Knockouts
12 (38.7%)
40 (64.5%)
Height
5-foot-6
5-foot-7
Reach
69 inches
67 inches
Stance
Orthodox
Orthodox
After Bradley's controversial win against Pacquiao, he defended the title against Ruslan Provodnikov in March, eking out a decision victory in a brutal slugfest in which Bradley was nearly knocked out multiple times, suffered a concussion, and was knocked down in the final few seconds of the fight. Bradley didn't feel OK again until two months after the fight.
By taking on Marquez, Bradley is looking for even more respect from fight fans. He went against his usual boxing style against Provodnikov, making a conscious decision to brawl because he was trying to prove something to all those who discredited his victory against Pacquiao and complained about his often-unfriendly fighting style. So he earned a lot of respect with the heart he showed.
But beating Provodnikov, still a relatively unknown fighter, is one thing. Taking down Marquez, a decorated champion, is another, especially considering the respect Bradley has for Marquez.
[+] Enlarge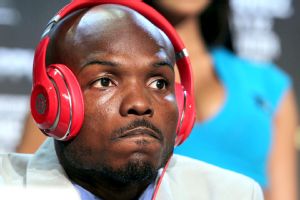 Chris Farina/Top RankTimothy Bradley Jr. has heard his share of criticism about last year's win over Manny Pacquiao, which he says didn't earn him the respect he deserves.
"Marquez has fought everybody. He has been in the ring with all the best fighters in the world. He never ducked anybody," Bradley said. "He's been in there with [Floyd] Mayweather. He fought Pacquiao four times, and there is nothing he has not seen. He is one of the best counterpunchers in the game. People struggle when they fight this guy. He either knocks them out or he wins a decision because he is a great counterpuncher. He's that best name on my résumé. I fought a lot of fighters, young and old, but they are not the caliber of Marquez."
Said Marquez: "I'm impressed with Tim Bradley's last two victories. If he can beat me, he deserves all the respect."
If Marquez claims a fifth title, the feat would separate him from every other Mexican champion. Chavez won titles in three weight classes. Besides Marquez, the only others to do it in four divisions are Morales and Jorge Arce.
A fifth title would also put Marquez in an elite fraternity, as he would become only the sixth fighter in boxing history to win titles in five divisions, albeit during an era when there are more belts and weight classes than there were decades ago. He would join Pacquiao (eight divisions), Oscar De La Hoya (six), Sugar Ray Leonard (five), Thomas Hearns (five) and Mayweather (five).
Bradley, Marquez Punch Stats
An analysis of their past four fights indicates Bradley has been busier, while Marquez has been more efficient.
Bradley
Marquez
Thrown per round
65.2
58.8
Landed per round
19.7
22.5
Connect pct
30.2
38.2
-- Statistical support from Compubox
Marquez holds that he already should have reached that magic No. 5 because he believes, as many do, that he defeated Pacquiao -- then a welterweight titleholder -- when they met for the third time in 2011. Instead, Marquez lost a controversial majority decision.
"I felt that I won the fifth title in 2011 in the fight with Pacquiao, and it was taken away from me by the judges," said Marquez, who trails his all-time series with the Filipino star, 1-2-1. "I want the fifth title in five divisions, something no Mexican has done. I felt I should have the fifth title then, so now I will have to get it by beating Bradley.
"I know this is a challenge. Bradley is an undefeated fighter, an undefeated champion. You are always looking for a big challenge and this is one of them. I know it's a difficult fight because he's a good boxer. But this is something I want to do. He has that title, and that title is something I want very badly."
Boxing
2013 BWAA Nat Fleischer Award winner for excellence in boxing journalism
ESPN.com boxing writer since 2005
Five years at USA Today
EDITORS' PICKS
WBC made Kovalev the mandatory for Stevenson.
Dan Rafael »

Lawson defeats Prescott by split decision.
Watch replay

Charlo hoping for title shot with win over Martirosyan.
Dan Rafael »
Nacion_ESPN Naci\u00F3n ESPN
Will Ferrell y Kevin Hart llegan a Nación ESPN con su película Get Hard: http://t.co/c4GkqbX3jK via @YouTube
about an hour ago

EvaCon4T Eva Conforti
Ferrell and Hart are funny in Spanish too on @nacion_espn https://t.co/IGaS0mK4Vd #MemoandKiko @osunaespn #espncarwash
about an hour ago

danrafaelespn Dan Rafael
The Friday #boxing chat begins at noon ET/9 am PT. Come prepared and protect yourself at all times: http://t.co/adVP9Xxzqo
about 2 hours ago

danrafaelespn Dan Rafael
Interest in #MayweatherPacquiao is so high I just taped an interview about it for, of all places, an NPR show in Los Angeles.
about 2 hours ago

danrafaelespn Dan Rafael
. @HBOboxing announced it will have '2 Days' special on @budcrawford402. Debuts April 6 at 10:15 pm ET/PT, in advance of his April 18 fight.
about 2 hours ago

danrafaelespn Dan Rafael
Haymon could probably bid a big number on the fight. Maybe $4M-$5M if he wanted. No way HBO backs a bid that big IMO. #boxing
about 2 hours ago

danrafaelespn Dan Rafael
I believe @AdonisSuperman/@yvonmichelGYM side will win purse bid. They have big backing of Haymon's PBC $, which can trump HBO's backing.
about 2 hours ago

danrafaelespn Dan Rafael
Spoke with @yvonmichelGYM today. He said @AdonisSuperman will accept purse bid terms for @KrusherKovalev fight. Split is 50-50. #boxing
about 2 hours ago

BCampbellESPN Brian Campbell
Great times catching up with my dude @gamboa last night in Hiahleah. He said a return to the ring is coming soon. http://t.co/u5U2p3VRGX
about 3 hours ago

BCampbellESPN Brian Campbell
Felt some real Tango & Cash vibes working w/@GrishamESPN on #FNF last night. He thought it was more Cagney & Lacey. http://t.co/gGgjlppsph
about 3 hours ago

JoJoDan1 Jo Jo Dan
We have a fight: I have 146.5 lbs / 66.40 KG, #KellBrook 145.9 lbs / 66.18 KG / welterweight max: 147 lbs / 66.67... http://t.co/PMNBCJpgBn
about 4 hours ago

danrafaelespn Dan Rafael
Saturday, @filipinoflash looks to put KO loss behind him in 122 return. My blog: http://t.co/tzTB8hYgLX @trboxing @Knockout_Queen #boxing
about 4 hours ago

larrymarket Lawrence Mercado
s/o to @BCampbellESPN @Rafeboogs @ChrisAlgieri & @GarciaBoxing 4 the realest interview I've heard in a while http://t.co/9xgDnspyjV #maypac
about 10 hours ago

BCampbellESPN Brian Campbell
@rofloespn That show has a lot of balls
about 13 hours ago

danrafaelespn Dan Rafael
From hospital bed & unsure he'd ever fight again to his 1st title defense 6 months later, my story on @SpecialKBrook: http://t.co/EXzdnWHXwN
about 14 hours ago

BCampbellESPN Brian Campbell
Fun fight tonight in the #FNF main event. Lawson dug deep to hold off the always determined Prescott.
about 14 hours ago

alrodriguez99 Alex
My boy @BCampbellESPN spotted at a Miami nightclub http://t.co/czUdoRaXl4
about 14 hours ago

danrafaelespn Dan Rafael
Timing is everything on proposed Stevenson-Kovalev fight. My blog: http://t.co/Ad4N1V9nSm #boxing @Main_Events @Jmizzone
about 14 hours ago

ESPNFNF Nigel Collins
That's it for FNF. Be back April 3. Thanks for watching, scoring & Tweeting.
about 15 hours ago

loudibella Lou DiBella
That Lawson/Prescott fight could have gone either way, but a shame that the BOGUS, incorrect knockdown call cost Prescott the fight @ESPNFNF
about 15 hours ago
MOST SENT STORIES ON ESPN.COM