Discussion
Your team name makes no sense
Some franchise monikers are plain stupid. So we changed them.
Originally Published:
September 23, 2013
By
LaRue Cook and Ty Wenger
| ESPN The Magazine
WHETHER LUDICROUS legacies from long-ago cities (we're looking at you, Utah Jazz) or massive marketing fails (Raptors ... really?!?), some franchise names make as much sense as, well, grizzly bears in Memphis.
So we've orchestrated the world's largest 18-team trade, sending rightful monikers back where they belong. Sound nuts? Hardly more nuts than "lakes" in L.A. Let the trading begin!
DEPARTURE Start Here
IN: SAN JOSE BLADES (NHL) We begin our ...

Read full story
ESPN The Magazine: September 30, 2013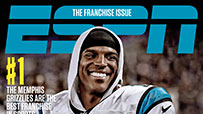 The Mag on Twitter | Facebook | iPad
FEATURES
COLUMNS
MORE