The Thursday Night Football game between the Green Bay Packers and Detroit Lions, well, it had a finish.
Aaron Rodgers hit Richard Rodgers for a 61-yard Hail Mary touchdown with zeroes on the clock, one play after a controversial face mask penalty extended the game after time had expired.
Oh, there was some social media reaction from the sports and celebrity world. Adrian Peterson, whose Minnesota Vikings would have benefited greatly from a Packers loss, shared his thoughts (and corrected his heat-of-the-moment mistake):
Lol, i'm sorry but a thumb hitting the face mask isn't pass interference! Heck of a play =

— Adrian Peterson (@AdrianPeterson) December 4, 2015
I mean face-mask

— Adrian Peterson (@AdrianPeterson) December 4, 2015
= Why all the hate, a brother can't speak his mind?! Guess what?! I forgive & love you still!

— Adrian Peterson (@AdrianPeterson) December 4, 2015
A certain celebrity fan of the Green Bay Packers wasn't really bothered by the call:
I just lost my voice =š=›=š=1=š=›=1=1=1=1=1=1=1=1=1=M=J=O=O=O

— oliviamunn (@oliviamunn) December 4, 2015
Two former Wisconsin basketball teammates were at odds over the call: the Houston Rockets' Sam Dekker, a Wisconsiner and Packers fan, and the Charlotte Hornets' Frank Kaminsky, a Chicagoland native and Chicago Bears fan:
I lost hope for a sec. was before the flag for face mask https://t.co/cuwGnaLMlp

— Sam Dekker (@dekker) December 4, 2015
Yea... "Facemask" https://t.co/Mu5l5p0OxE

— Frank Kaminsky III (@FSKPart3) December 4, 2015
Just in case all the people tweeting at me want to come back from LaLa Land and join the real world https://t.co/u3WRaLwq0U

— Frank Kaminsky III (@FSKPart3) December 4, 2015
With all that being said I think Rodgers is the only QB that can make that last play. Unreal sequence.

— Frank Kaminsky III (@FSKPart3) December 4, 2015
Others also didn't agree with the call, whether or not they were happy about it:
Another poor call by the #nfl officials cost a team a game! I'm sorry @Lions! There was no face mask!! pic.twitter.com/5NTfmwisKc

— Heath Evans (@HeathEvans44) December 4, 2015
Definitely a phantom facemask. #GBvsDET

— Brendon Ayanbadejo (@brendon310) December 4, 2015
Wow that was ridiculous!!!!! Justice serve for that no call on the PI!!!! #GopackGo

— NickBarnett (@NickBarnett) December 4, 2015
Then there were the Lions fans:
Life of a Lions fan. #hailmary

— Jalen Rose (@JalenRose) December 4, 2015
Speechless #Lions

— Justin Verlander (@JustinVerlander) December 4, 2015
As a Lions fan this happens all the time. U get use to it after awhile......

— Jason Richardson (@jrich23) December 4, 2015
And let's not forget the other Packers fans and/or people who were just blown away by the whole thing:
Go Pack go!!

— Anthony Davis (@AntDavis23) December 4, 2015
The last two plays in that packers lions game ... Wow.. Just wow.. Thoughts?

— Wale-Roof Whisperer (@Wale) December 4, 2015
Haha what!? Wow...

— Derek Carr (@derekcarrqb) December 4, 2015
Wow!!!

— Justin Forsett (@JForsett) December 4, 2015
Wow!

— Skylar Diggins (@SkyDigg4) December 4, 2015
Craziest finish I've ever seen!!! #GBvsDET wow @AaronRodgers12 what a play!!!!!

— jarryd hayne (@JarrydHayne) December 4, 2015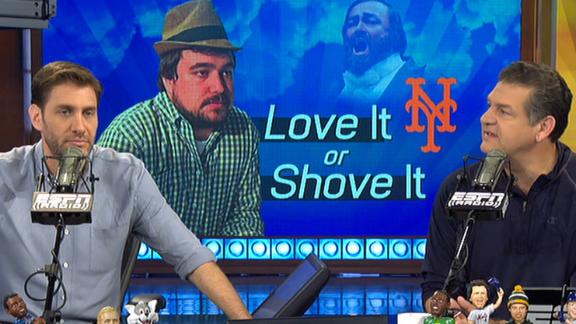 Kobe Bryant is saying goodbye. Tim Duncan isn't -- but he surely will soon. (Right?)
Both players soared over their generational counterparts and won five titles each, albeit in different ways. Kobe flashy, Duncan subdued. Kobe with mountainous highs and abyssal lows, Duncan with a steady run that makes us wonder if he can keep this up for a few more years.
But who was better? Mike and Mike discussed in the video above -- pointing out that it's very hard to choose between the two.
Now it's your turn:
WHITE PLAINS, N.Y. -- How's this for surreal?
Floyd Mayweather sat courtside for Jimmer Fredette's D-League debut on Monday with the Westchester Knicks.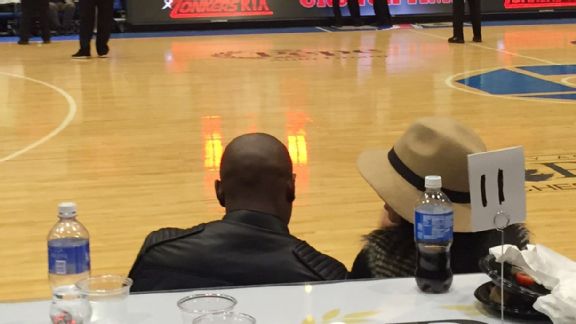 Ian Begley/ESPN
Surrounded by what had to be the biggest entourage in D-League history, Mayweather ate popcorn, drank soda and doled out advice to Fredette from his seat near midcourt.
"He just kept telling me to shoot it," Fredette said. "And I was like, 'All right, I'll shoot it.'"
Fredette ended up with a game-high 37 points on 12-for-17 shooting in Westchester's win over the Grand Rapids Drive.
Mayweather liked what he saw from Fredette, but he attended the game at the 2,000-seat Westchester County Center to support guard Jordon Crawford.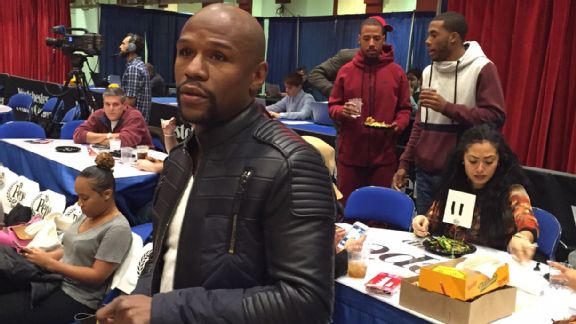 Ian Begley/ESPN
Mayweather told ESPN.com that he flew in from Las Vegas on his private jet that morning to make it to Crawford's game.
"He's my mentor," said Crawford, a 5-foot-6 guard from Bowling Green. "He's like family."
At halftime, Mayweather took pictures with fans and signed autographs. He also took some time to praise Crawford, who went scoreless on Monday but had three steals in 15 minutes.
"The Lakers could really use some help. Not taking anything away from any players, but Philadelphia also really needs help. I think Philadelphia and the Lakers should take a look at Jordon Crawford," Mayweather said.
Sounds like the recently retired Mayweather might be angling for a job in Sam Hinkie's front office.
As for Fredette, the 2011 lottery pick is still looking for an NBA home. He's spent time with four teams, most recently with the New Orleans Pelicans, who released him last month.
Fredette is an NBA free agent, but Westchester owns his D-League rights. The 6-2 guard hopes that some success in the D League will lead to another opportunity.
"I know I can play in the NBA, and I can be a very good player in the NBA. I'm excited to be able to start here," he said. "Sometimes you've got to be able to go backwards in order to get back up to where you want to be."