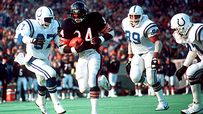 Does Walter Payton top the list of Hall of Famers for the Bears?
Every team hopes to find its franchise player, but who are the all-time gridiron cornerstones?
The NFL regular season is right around the corner and each of the league's 32 teams are sweating out training camp workouts and preseason games in search of the perfect mix to carry them all the way to the Super Bowl. But before we get to the games that count, we need SportsNation's help in naming each franchise's greatest player.
Whether they're teams like the Bears and Packers, with nearly a century's worth of choices, or a newbie like the Texans, every team has one player who stands above the rest.
Voting continues through Aug. 18.