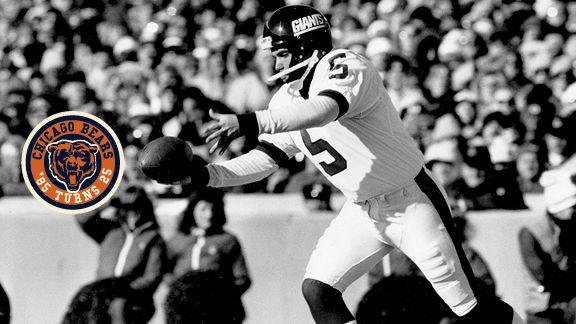 Jerald Pinkus/Getty Images
Determined and dominant
Bears' mauling of Giants in playoff opener proved they were locked in for Super ending
Editor's note: ESPNChicago.com is celebrating the 25th anniversary of the Chicago Bears' dominant 1985 season and victory in Super Bowl XX. We'll have weekly features on each game from '85, video interviews with key figures, photo galleries and more.
In the long and storied history that is New York Giants football, Jan. 5, 1986 is not a date anyone in the organization cares to remember.
"It was not," says former Giants center Bart Oates, "my most pleasant day."
Oates, who would go on to win three Super Bowls with the Giants and the San Francisco 49ers, had to endure not just the 21-0 shellacking handed out by the Bears at Soldier Field in the first round of the playoffs. He also had to suffer the indignity of the Bears' six sacks on quarterback Phil Simms for minus-60 yards, and was forced to watch his long snap to punter Sean Landeta -- albeit upside-down -- wind up a whiff that landed in the arms of Bears' Shaun Gayle, who had to travel just 5 yards into the end zone for the first score of the game.
[+] Enlarge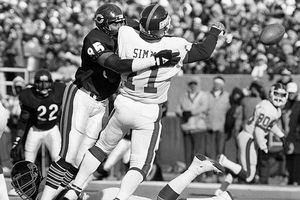 Jonathan Daniel/Getty ImagesRichard Dent was a menace in the Giants' backfield all day with three and a half sacks.
Dennis McKinnon, who scored two third-quarter touchdowns on 23- and 20-yard passes, called it "Christmas," a week and a half late as it was.
Simms, however, had to be reminded of the true bite of the sunny but inordinately frigid Chicago afternoon.
"I remember talking to Phil some years after that and he said 'You know, that Bears game we were so close, we could've won that game,' and I looked at him and said 'Are you smoking crack? I'm not sure which game you were playing in.'
"I didn't get that feeling at all. It was total confusion. They just dominated. To me, felt like a 42-0 game. I think we could have played another eight quarters and would not score another touchdown against them. Our schemes and personnel just didn't match up well with them."
Simms could be forgiven for being disoriented.
Up until the 129 yards the Giants gained on their final two possessions, the Bears held them to -- as the Chicago Tribune's Don Pierson calculated -- 40 inches per play. The fifth-best offense in the league went three-and-out on nine of their first 11 possessions, was 0-for-12 on third-down conversions and 0-for-2 on fourth down.
And Simms was 14 of 35 for 209 yards while running back Joe Morris, the NFL's regular-season touchdown leader with 21, gained 14 yards on his first carry and finished with 32 yards on 12 carries.
In his basement, Bears safety Gary Fencik has a framed tear sheet of Ryan's typed comments to his defense of what it would take to win. "Other than tackle, tackle, tackle," said Fencik, "he just talked about Joe Morris and that we had to stop him and we did."
Morris was knocked out of the game in the first half by Bears defensive end Richard Dent, who tallied three and a half sacks on the day. Morris suffered a concussion, but long before the days of the NFL's cautious approach to head injuries, he returned to the game before missing much of the second half.
It was Dent's first sack, however, that set up perhaps the biggest and certainly most memorable play of the game when he tackled Simms at the New York 12-yard line, setting up a goal-line punt by Landeta.
"I still see it," Oates said of one of the most popular NFL replays. "I saw it about a month ago. My first thought was that it was such a lousy snap, he couldn't even kick it. I thought I was to blame."
Landetta would attribute it to the 13 mph wind for blowing the ball off course on his drop. The "punt" was officially recorded at minus-7 yards.
Fencik was on the sideline and had to be content later with seeing it on replay.
"

It was total confusion. They just dominated. To me, felt like a 42-0 game. I think we could have played another eight quarters and would not score another touchdown against them. Our schemes and personnel just didn't match up well with them.

" -- '85 Giants center Bart Oates
on the Bears
"There was no scoreboard replay or anything back then," he said. "I wondered what happened. I have never seen anything like that, not before and not since. He just missed it. I heard Sean talked about the wind blowing it. I don't know what the truth was, but it was not the wind. It was not that bad."
The play gave the Bears a 7-0 lead but more important was the momentum the Giants could ill-afford to give up. The game had been billed as a defensive battle between the league's top two defenses, but it was the Bears who dictated the tempo all afternoon.
As Giants defensive end Casey Merrill said at the time: "You get behind the Bears, it's a long day. That's when you get 200 guys rushing the passer, all ready with their ears back. ... It gets harder as it goes on."
Defensive coordinator Buddy Ryan called it "Smurf 46," and it was much more intimidating than it sounded. It featured Gayle matching up against the Giants' third wide receiver, Phil McKonkey, and linebackers Otis Wilson and Wilber Marshall splitting to either side of the Giants' line instead of ganging up on one side as was common in their customary 46.
Marshall, strong safety Dave Duerson and middle linebacker Mike Singletary either blitzed or fake blitzed all day, forcing the Giants to keep their backs in to block while Wilson, Dent, Marshall, Dan Hampton and Steve McMichael all rushed the passer.
Dent, whose agent had been threatening to hold his client out of the playoffs if his contract dispute wasn't settled, added to the mayhem by looping back around Hampton and McMichael, both of whom were double-teamed, and hunting down Simms.
The result was a confused New York offense that didn't know who to block and a harried Simms, who rushed his passes.
"This was before you could come to the sideline and look at [still photos] of plays," Oates said, "because I kept coming out and saying, 'Are you guys counting because I'll tell you what, it looks like there are more than 11 Bears out there.' It looked like there were 14 or 15.
"We hadn't seen that kind of scheme before. It was very untraditional and our blocking schemes -- and our personnel -- were just not well-adjusted to executing against it. I don't think anybody did well."
Bears rookie placekicker Kevin Butler uncharacteristically missed all three of his field-goal attempts, but McMahon's two touchdowns to McKinnon -- with Willie Gault double-teamed -- was, as it turned out, more than the Bears needed as they raced out to their final margin of victory in the third quarter. And while Lawrence Taylor and the Giants' defense protested afterward that they should have won the game, the Bears offensive line did not allow a sack against a team that led the league in that department.
With the win, the Bears were on to the conference championship against the Los Angeles Rams, their mission still intact.
"I look back at that Miami [loss in Week 13]," Fencik said, "and I just think that was the reset button we needed. We didn't play particularly well the next week against Indy [a 17-10 Bears' victory] but we got on a roll [with 19-6 and 37-17 wins against the Jets and Lions, respectively, in the final two weeks of the regular season]. And once we got into those playoffs, everyone realized this really is it, this is our opportunity. McMahon is back at full-strength.
"It felt like everything was as good as it gets."
As for the Giants, it would feel just the opposite. But it was ironic in a way, because as the Bears were motivated by their 23-0 defeat to San Francisco in the 1984 playoffs, New York would use their loss to the eventual Super Bowl champs to spur them on the following season.
The Giants defeated the Denver Broncos 39-20 in Super Bowl XXI.
"You learn collectively, 'OK guys, this is how we don't deal with adversity,' " Oates said. "It was unpleasant, but it was definitely a learning experience."
Melissa Isaacson is a columnist for ESPNChicago.com.