Commentary
At their core, Bulls may have enough
The Bulls face much uncertainty, but it's not time to write them off
DEERFIELD, Ill. -- One of the worst things to come from Derrick Rose's knee injury, other than the injury itself, of course, is that we never got to see how good the Bulls could be.
We saw them get awfully close during the regular season. And they were very good. But apparently, now that we have seen how good LeBron James can be, it only stands to reason that the Bulls stink.
Why is this the feeling that has seemingly permeated the mindset of more than just the usual pessimistic Chicago sports fan?
Is it boredom with the NBA's best regular-season record the past two seasons, which translated to a hard-fought Eastern Conference finals appearance in the Bulls' first trip in 13 years and a first-round loss after their top two players were injured?
Whatever the case, there seemed to be even less enthusiasm than usual for the Bulls' 29th pick in the NBA draft on Thursday night, which resulted in the selection of Marquis Teague, a 6-foot-2, 180-pound guard who helped Kentucky to the NCAA title in his freshman season and who was the Wildcats' fourth first-rounder of the night.
Granted, No. 29 has not produced many gems in the past. And traditionally, Bulls picks in the late 20s have followed NBA championships, although don't forget that Taj Gibson, shooting in the Berto Center gym Thursday night before the draft began, was the 26th pick three years ago.
Because of the Bulls' current circumstances, there is more pressure on Teague, younger brother of Atlanta's Jeff Teague, to at least contribute. Does he have a chance? He is athletic and quick, and can penetrate. Early in his college career, he was projected to be a future lottery pick, but his shooting and point guard skills need polishing.
And surprise, the Bulls were excited he was still on the board.
"We feel like we got real value with this pick," Bulls general manager Gar Forman said of Teague, whom the Bulls have followed since he was in high school, which is not as long ago as it sounds.
[+] Enlarge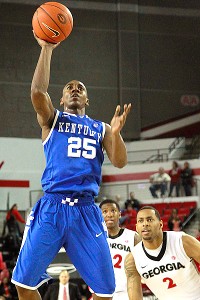 AP Photo/John BazemoreMarquis Teague is the Bulls' newest guard, but it's not as if they're expecting him to replace the team's hobbled star.
The question is whether a backup point guard is worth a first-round investment.
Forman likes Teague's "high ceiling" and the fact that he is from a high-profile, winning program. The Bulls think he can break down defenses, and Bulls coach Tom Thibodeau likes that Teague can push the ball in transition and that he improved as the season went along.
"The fact that he has played in a number of big games helps," Thibodeau said. But he also acknowledged the "big learning curve" Teague faces transitioning to the pro game. One of those parts of the learning curve is to improve defensively, which is sure to be one of his biggest challenges.
At least Forman was blunt when asked how far Teague gets to plugging the hole left by Rose's injury.
"Obviously it's going to take a number of guys to make up for the load that we miss when Derrick's out," Forman said. "The point guard is one of the positions we still need to address as we go into free agency [starting Sunday]."
The 2011-12 configuration of the Bulls will change. That much we know. Rose will not play until at least January 2013, and his doctor predicted he won't find his old form until the following season, although you also know Rose will be ahead of the curve, even with the Bulls being rightfully conservative with him.
And the current "Bench Mob" is likely to be disbanded, as Kyle Korver, Ronnie Brewer and C.J. Watson are all potential casualties of the Bulls keeping Omer Asik and still avoiding the luxury tax.
The 2012-13 season will be a strange exercise for the Bulls, to be sure. Figuring out exactly who they are will be the first order of business. But anyone who doesn't see how Thibodeau could possibly resurrect the same mentality among the reserves, and maintain defensive intensity and be competitive with veterans such as Luol Deng, Joakim Noah and Carlos Boozer, assuming they stay healthy, as well as Gibson, has not been paying attention the past two years.
"We like the core group of guys that we have," Forman said, "and we like the direction we're headed [long term]."
With that in mind, Forman said that while there were conversations, the Bulls were "absolutely not actively shopping any of their players."
Yes, the Bulls might never get fair trade value in return for Deng, but I'll take Deng with a healthy wrist alongside Rose. Two years ago, the Bulls thought they could win a championship if they could find a strong post player to support Noah and a shooting guard to complement Rose. Will the Boozer-Richard Hamilton window, which has yet to come to fruition, have closed over the next year?
Certainly the Bulls could use the amnesty clause on Boozer after next season (for which the one-way player will be paid a staggering $17 million), thus freeing up space under the cap to re-sign Gibson, who will be a restricted free agent and can step into that role.
"The financial piece is always something you look at," Forman said, "but Jerry [Reinsdorf] has been very consistent with us that we want to try to put together the best basketball team that we can put together, and our decisions, up to this point and our decisions this summer, will be basketball decisions and not financial."
No, the rest of the league won't be waiting for the Bulls to pull it back together over the next two years. But the clock stops for no one. Not for the Bulls and not for the Heat, with Dwyane Wade dropping out of the Olympics on Thursday to undergo knee surgery.
Yes, the Bulls are stuck in limbo right now, and it is not an especially comfortable place to be. But they'll still make the playoffs next season, and the 2013 free-agent class should be good. However, neither Bulls management nor the team's fans are looking to keep making the playoffs or even reaching the conference finals.
Thursday night's draft was the Bulls' first official move in the what-are-we-going-to-do-without-Derrick era, and although no one is expecting it to be anything close to a solution, it doesn't necessarily have to be.
Columnist, ESPNChicago.com
Melissa Isaacson is a columnist for espnW.com, ESPN Chicago and ESPN.com. The award-winning writer has covered Chicago sports for most of her 31-year career, including at the Chicago Tribune before joining ESPN in 2009. Isaacson has also covered tennis since 1986.