Commentary
The season of now or never
It's all there for the Bears to either make the best of it or mess up
Updated:
September 7, 2012, 10:17 PM ET
By
Scoop Jackson
| ESPNChicago.com
There's an old saying about excuses. They say they're like ... gallbladders. And until a cholecystectomy, everybody has one.
Starting with the loss to the Green Bay Packers in the NFC Championship Game two seasons ago -- when Jay Cutler sprained a ligament in his knee -- the Chicago Bears have had a lot of excuses for the ways their seasons ended. Last season it was Cutler fracturing his thumb after a 7-3 start, causing a tailspin that resulted in an 8-8 record and missing the playoffs.
[+] Enlarge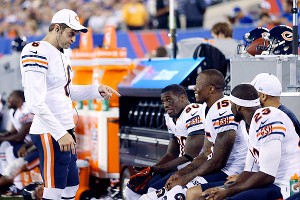 AP Photo/Julio CortezA reunion with former Denver running mate Brandon Marshall should help Jay Cutler find his Pro Bowl form.
These were legitimate reasons the Bears weren't able to succeed, but this has to be the season when all that comes to an end. It's "The Season of Now or Never."
No, the Bears in reality are not better than the Packers. No, the Bears in theory are not supposed to be better than the Lions. But that doesn't mean they shouldn't be able to beat either or both of those teams (at least once) this season. Along with that, beat at least 10 of the 11 other teams they'll face.
The excuses are over. Of course there's nothing they can do about injuries, and they are hoping there's no way the same kind of bad luck they encountered in 2011 strikes again this season, but barring that, the Bears should live up to or pass all reasonable expectations.
Jerry Angelo is done. Matt Forte got paid. The Bears finally acquired a top-tier wide receiver in Brandon Marshall. They'll have Earl Bennett all season this season. There's no Marion Barber to run the ball out of bounds and no Caleb Hanie to impersonate the "Bad Rex" Grossman.
Even in the details it looks good for the Bears: Gabe Carimi gets a chance to live up to what his rookie season was supposed to be about; Roberto Garza gets to finally escape Olin Kreutz's beloved shadow; Shea McClellin, once he pushes through the rookie wall, will have the chance to be the complement Julius Peppers has been looking for since he came here.
At the end of the day, there is no reason Cutler will not be a Pro Bowl-caliber/elite-level/Eli Manning-type of quarterback this year. Phil Emery has given him almost everything a QB can ask for to succeed. There will be no Matt Forte contract drama hanging over the team's head. There's no reason for the defense not to be among the top three in the NFL. There will be no Mike Martz around to sabotage, stagnate and uncoordinate the offense.
There's also no longer any reason to make Devin Hester waste away at wide receiver. The Bears can finally return him to strictly returns so we don't have to continue watching one of the greatest one-dimensional specialists the game has ever seen become insignificant before our eyes. The Bears can get their X factor back.
The only true problem facing the Bears is that they happen to be in a division with two of the best teams in the NFC, if not the NFL. The chances of three teams from the NFC North getting into the playoffs are slim and something the Bears can't afford to hope will happen. Which is more of a reason they must play this season with a type of vengeance that would make Jules Winnfield proud.
The team is loaded. As deep as we've ever seen. The Bears' depth chart is one of the best in the league. Primary players on the team have settled in and had enough time to embrace, fully understand and respect Lovie Smith's coaching philosophy and anti-Rex Ryan style. Star players at every position on the team have been in the league long enough to know what they are personally capable of doing week in and week out. Damn near everything is in place. Emery should be the front-runner for the NFL's executive of the year award.
ESPNChicago.com Bears blog

Get the latest from ESPN Chicago.
Bears blog »
50 Greatest Bears

Not to shoot for the stars, but 13-3, 12-4 and 11-5 are all regular-season-ending records that are attainable and realistic. But this year, .688 and above should be expected. It's all there for the Bears to either make the best of it or mess up. There is no reason for the Bears this season to underachieve or not live up to the team everyone in the city thinks they are.
As Lance Briggs admitted in an interview prior to training camp, this "definitely could be" the best Bears team he's ever been on. He's so right. Now he and his teammates and coaching staff need to go out and make him into a prophet.
So welcome to what should be the start of something special. Welcome to "The Season of No More Excuses." Welcome to what should be the best football ride experienced in Chicago since 1985.
Welcome to what is supposed to be.
ESPN.com columnist
Columnist for ESPN.com and ESPN The Magazine
Wrote for Slam, XXL, 6 years with NBA; 4 years with Nike