BULLS HAVE MORE AT STAKE

By Jon Greenberg
ESPNChicago.com
Archive
With their goaltending situation at critical mass, and the emotional weight of the province upon them, the Vancouver Canucks are in the throes of an historic collapse. Meanwhile, the visiting Chicago Blackhawks should be skating free and easy Tuesday night, knowing they have won more than they deserve to.
Game 7 is house money.
The Bulls are in an opposite situation, having put together a relatively unimpressive 3-1 lead over the Indiana Pacers. Top seed Chicago has been unable to find separation against a pesky Pacers team, winning three close games and nearly winning another.
But as much it will pain the puckheads to read this: The Bulls have a better shot of winning their clinching game Tuesday for the obvious reasons.
For one, the Bulls are at home, while the Hawks play in Vancouver. But also, crazy as it sounds, the Bulls have more to play for. Hear me out, Hawkey fans.
The Hawks have won just by making it to Game 7, a seeming impossibility after losing the first three games. Momentum is on Chicago's side, to be sure, but if the Canucks get a lead at home Tuesday, they will ride it to the win. Count on it. History and momentum can only do so much.
Yes, the Canucks' goaltending is woeful, but Roberto Luongo has every chance to recover in his own building. Famous tears aside, I don't buy the "Hawks are in his head" mumbo-jumbo.
The Bulls have had troubles all year putting away mid-major opponents, but they usually do beat them. Derrick Rose is out to prove that his sprained ankle is OK, and Carlos Boozer needs to play a "man's game" in the worst way. The Bulls didn't win 62 games by accident, and I think Saturday's loss will serve as a wake-up call to take care of business.
While I think the Blackhawks can pull out a Game 7 victory, I know the Bulls will eliminate the Pacers on Tuesday.
Jon Greenberg is a columnist for ESPNChicago.com.
BLACKHAWKS HAVE ALL THE MOMENTUM

By Jesse Rogers
ESPNChicago.com
Hawks blog
The Chicago Blackhawks have the best chance of closing out their playoff series Tuesday simply because of their momentum.
They've won three in a row after dropping the first three games of their best-of-seven series with the Vancouver Canucks. Two of the wins were blowouts, including a 5-0 shutout in Game 5.
Not only have the defending champs beaten the Canucks, but they've cast doubt on the confidence level of goaltender Roberto Luongo, who was pulled during Games 4 and 5 and yielded the winning goal in Game 6. It's not even certain if Luongo will start Tuesday.
And the Hawks marginalized the home-ice advantage by turning many fans in Vancouver into skeptics.
The Chicago Bulls still have a cushion in their first-round series, up 3-1, so the desperation level isn't as high as it would be in a Game 7.
The Bulls have yet to play a complete game and are coming off a loss. The Indiana Pacers, considering their low seed, must have some confidence knowing they've played four decent games, though winning only one.
Additionally, Derrick Rose is nursing a sprained ankle. Knowing the Bulls can afford to lose another game, or even two, reducing Rose's minutes to protect his ankle is certainly a possibility if the Pacers open up a wide lead.
The Hawks have history on their side, they've eliminated Vancouver in each of the past two postseasons while the Canucks have a full-blown goalie controversy.
Vancouver has nothing going for it while the Pacers have a few things in their corner. That's why the Hawks have the best chance of closing out their series on Tuesday.
Jesse Rogers covers the Blackhawks for ESPNChicago.com and ESPN 1000.
You've heard our takes; now give us yours. DISCUSS
LISTEN LIVE!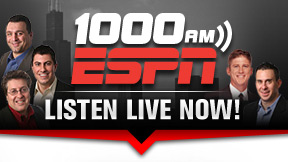 Want to sound off on today's Hot Button topic? Give us a call at 312.332.ESPN. Listen Live

ESPN CHICAGO CHATS
Michael Wilbon

Nick Friedell