IT'S TOO EARLY TO PANIC ABOUT WILLIAMS

By Melissa Isaacson
ESPNChicago.com
Archive
CHICAGO -- Two misses in one preseason game. Two.
Now granted that based on the (bad) reaction of new Bears receiver Roy Williams when they were called "drops," even he was sensitive to his rather unimpressive first impression.
It also does not help Williams' cause that his intensity level his first weeks of practice as a Bear was more akin to, say, lawn croquet than professional football.
And yes, he should have probably caught both those passes against the New York Giants this past Monday night, definitely the first, which he said was knocked out of his hands by the defensive back.
But why are we allowed to accept the offensive line's improvement in the second preseason game -- one that came along with utter failure in the red zone -- but take Williams' two misses as a sign of certain futility in the regular season?
And why is it not perfectly reasonable to expect that Williams will get better as he develops more on-field chemistry with his quarterback?
"It's just going to be a matter of time with him of getting more reps and getting comfortable with us, and me getting comfortable with him and the spots he's going to be," said Jay Cutler. "But I see nothing wrong with Roy and where he's at right now. I think by the Atlanta game, he's going to be right where we need him."
The Williams debate also must qualify what a failed experiment will look like. Less than 80 catches? Less than 70?
With more realistic expectations and perhaps a more suitable role than offensive savior, Williams can definitely be of some service and for a reasonable investment. Let's not forget this is not a first-round draft choice or a Peppers-esque free agent acquisition we're talking about.
"I don't think we expect Roy to be the greatest receiver ever," Cutler said. "He's going to come in here, he's going to fill a role and he's going to catch balls. Roy's just got to understand that he can't do too much out there on the field. This offense, you don't really know where the balls are going to go from week to week. He might have 10 catches one week and he might have two or none the next week. It just depends on the defense, and Roy's been in the league long enough to understand that."
The Bears must hope so, because Williams' attitude will be more important than ours.
Melissa Isaacson is a columnist for ESPNChicago.com.
You've heard our takes; now give us yours. DISCUSS
PREPARE TO MEET PUBLIC ENEMY No. 11

By Jon Greenberg
ESPNChicago.com
Archive
When the 2011-12 season ends, we won't be talking about Roy Williams' drops in the preseason. By January, I expect Williams to be Public Enemy No. 11 to distraught Bears fans. What Roy Williams giveth, he also droppeth away.
Don't sweat the preseason. But also don't think he's going to turn it on and become Jay Cutler's go-to guy just because he was once a promising, dangerous receiver.
In my opinion, and feel free to call me out on this later, Williams is going to be the classic veteran disappointment -- an annual tradition in Chicago on seemingly every team. He's really a "Just Another Guy" who is tantalizing enough to fool some coaches through nostalgia.
He's not washed up, per se, because he will have a few good games, and if they come at opportune times, this should be judged as a good signing.
But we will cry foul over those drops when they happen during the real season. Oh, he will hear about it.
Williams, seemingly a pretty funny dude, is already getting salty about critiques of his preseason performance. But it's not a media creation.
The new parlor game at the Halas Hall media room? How soon until Johnny Knox (who caught 51 percent of balls thrown his way) gets his starting job as "X" receiver back?
"If things don't start changing, then Johnny's going to be in there," receivers coach Daryl Drake said. "That's straight from the horse's mouth."
Williams, now in his ninth season, comes to Chicago with a reputation for making amazing catches and dropping routine balls. He's nowhere near his prime, and Dallas was glad to see him go.
Last year with Dallas, for instance, he had a 58 percent catch rate (according to Football Outsiders), a decent figure and up from a dismal 44 percent in his previous two seasons with the Cowboys. He didn't see many passes, just 64, of which he caught 37, and all five of his touchdowns came before Tony Romo was knocked out in Week 7.
Williams' lapses in concentration are firmly a part of his identity. Last season, he had three fumbles (two lost), which doesn't seem like a large number, until you realize it tied him with Santana Moss and Mike Williams for the most among qualified receivers, according to Football Outsiders. He has nine for his career.
We will see the real Roy Williams this year. The regular season is coming up soon enough.
Jon Greenberg is a columnist for ESPNChicago.com.
LISTEN LIVE!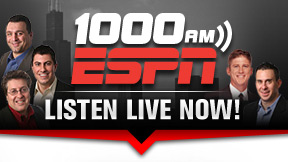 Want to sound off on today's Hot Button topic? Give us a call at 312.332.ESPN. Listen Live