THERE'S PLENTY OF ROOM ON BEARS' BANDWAGON

By Jon Greenberg
ESPNChicago.com
Archive
There's every reason to be pessimistic about the Chicago Bears.
Reason No. 1, it's the Chicago Bears. The Bears are a fashionable preseason pick about as often as Jay Cutler reads my stuff.
Even when they're good, like last season, most knowledgeable Bears watchers are just waiting for the other cleat to drop. Halas Hall produces more cynics than quarterbacks.
If it's not the offensive line, it's the shallow depth of the linebacker corps. If it's not Mike Martz's head-scratching calls, it's the rotating lineup of safeties. Always something.
But I'm going against the grain this season and predicting a 10-6 season. Don't make plans for Jan. 8 or 15. I'm far from a homer, but I can see this team returning to the playoffs. I like going against the public, but there is the danger of being a contrarian for the sake of being a contrarian.
I also picked the White Sox to win 92 games, so don't bet the mortgage on my advice.
Sure another playoff run seems unlikely now, especially when you see Atlanta, New Orleans and Green Bay up first, but the NFL is amusingly tough to predict. I say amusing because it seems like every other prediction made around Labor Day is proved false by Halloween. And everyone is always so sure of themselves.
Few prognosticators are predicting the Bears to be anything other than a mediocre .500 team.
"I understand it," receiver Roy Williams said. "We like it. We like the Detroit Lions being (picked ahead of the Bears), everybody talking about the Lions. I mean, they deserve it. They're an up-and-coming team, but the Bears aren't going anywhere."
The Bears get their first chance to back up their confidence Sunday against a Falcons team that is a popular pick for the Super Bowl and three-point favorites at Soldier Field.
I'm picking a Bears victory. There's still room on the bandwagon.
Jon Greenberg is a columnist for ESPNChicago.com.
MATH DOESN'T ADD UP FOR THE BEARS

By Gene Wojciechowski
ESPN.com
Archive
Do the math.
There are only six available NFC playoffs spots, so something has to give. That means unless the Green Bay Packers are kidnapped and held hostage for the entire season, the Bears aren't going to win the NFC North. Which means they'll have to compete with at least five other teams for those two precious wild-card openings.
Problem is, the Atlanta Falcons or the New Orleans Saints are likely to get one of those wild-card slots. That leaves the Bears to have a postseason fistfight with the Dallas Cowboys, Detroit Lions, Tampa Bay Buccaneers and New York Giants (assuming the Philadelphia Eagles win the East). Can the Bears beat those odds? Sure. Will they? Uh, doubtful.
An 8-8 record -- which sounds about right for these guys -- won't be enough. Somebody, mostly likely the Cowboys or Lions, are going to finish with nine or 10 wins.
I'm not saying you can't make a case for the Bears to sneak in. You can, but you have to use your imagination. You have to pretend the Bears' offensive line is going to be better without veteran Olin Kreutz, that O-line coach Mike Tice can perform more miracles. You have to pretend the Matt Forte/Lance Briggs contract drama doesn't bubble to the surface during the season. You have to pretend Roy Williams can be a No. 1 receiver, that Brandon Meriweather is smarter than Bill Belichick, and that all the 30-somethings on the Bears don't play old all at once.
Offensive coordinator Mike Martz has asked Bears fans to take a leap of faith. Now it's time for him to reward their patience. The defense will do its part, but unless the offense, ranked 30th last season, makes that quantum leap, the Bears are doomed for .500-ville.
Each of those teams competing for the wild-card spots has issues and questions. The Bears, it seems, have more of them, though. And when you do the math, that equals a season without a Chicago playoff appearance.
Gene Wojciechowski is the senior national columnist for ESPN.com. You can contact him at gene.wojciechowski@espn.com. And don't forget to follow him on Twitter @GenoEspn.
You've heard our takes; now give us yours. DISCUSS
LISTEN LIVE!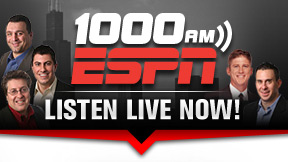 Want to sound off on today's Hot Button topic? Give us a call at 312.332.ESPN. Listen Live